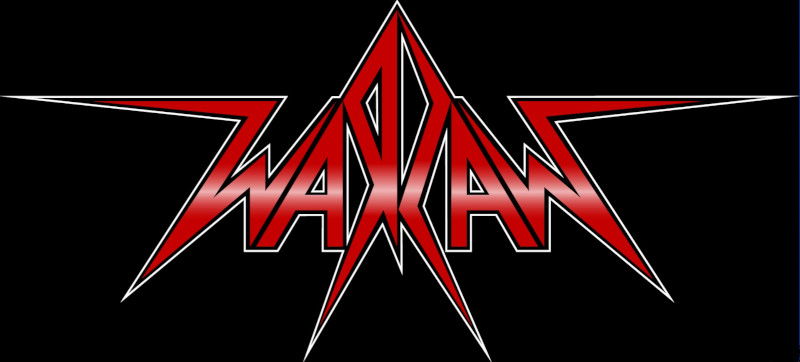 !!!HEAVY METAL FROM NORWAY!!!
Welcome to the FILTHY DOGS OF METAL Webzine.
Tell us a few things about WARZAW (Members, Starting Year etc).
TROND: We are a heavy metal band from Trondheim, Norway that recently released our debut album ''Werewolves on Wheels''. The band formed in 2020 and consists of people who has done a lot of other projects in the Trondheim metal scene.We just started playing for fun and the goal was to be a feelgood live band that wanted to play as much live as possible.Of course the pandemic kinda derailed the plan of playing live, but on the other hand we have gotten a lot of time to write new songs.We are already hard at work on our second studio album.So keep your eyes peeled for the second Warzaw album which we hopefully will release later this year!

You have recently released your album ''Werewolves on Wheels''. What is the Feedback from your audience as well as from the Press?
TROND: The feedback so far has exceeded our expectations!Considering how fast we did everything on this album we can't complain really. The audience seems to be digging the album as well! It's not always easy to get a new band off the ground, but we've been pretty lucky to get a couple of great press coverages and interviews to help us grow.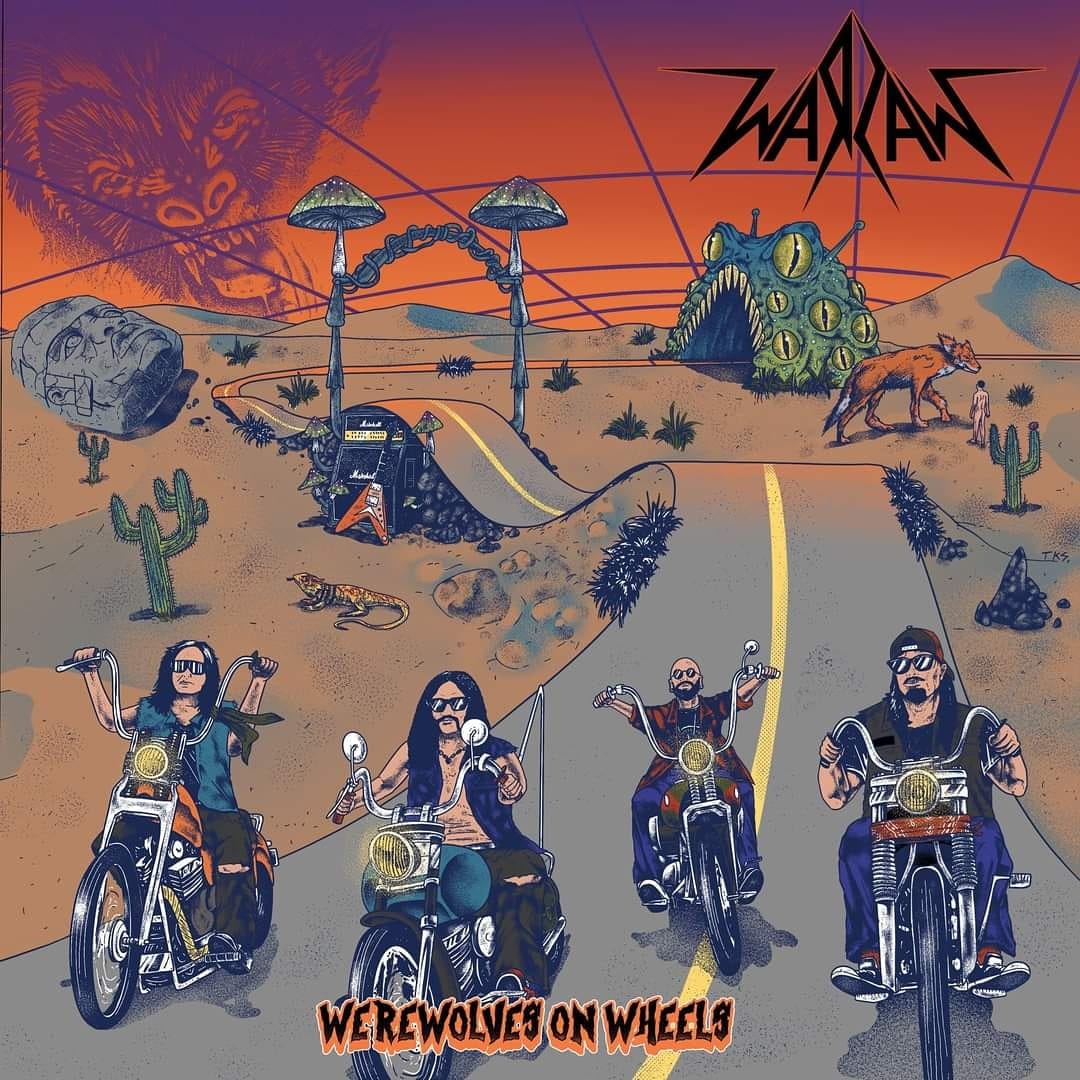 Label or DIY and why?
TROND: We are DIY all the way at this moment and I'm pretty sure we're gonna do the next album by ourselves as well. If a great offer comes along we will look at it, but doing it yourself ain't that hard these days. You can keep all the revenue for yourself and having full creative control is also really nice.It seems like a lot of the bigger bands are going this route as well, just not the small indie bands like us.

Do you prefer Vinyl, Tape, CD or Digital Format and why is that?
ALVAREZ: We all like digital formats, it definitely has made it easier for people to find and get to know new bands like us! We have been getting a lot of response from the US, Canada and South America and I do not think that would have been possible for us without streaming. That being said, it seems that the popularity of CDs and tapes have declined lately and the big thing is vinyl. Almost all the requests we have gotten for physical products have been for vinyl and I love it! I think a properly structured album on vinyl is the best way to experience music you pretty much have to listen to it in the order the artist intended and you get a much better visual platform to go along with the music. All of Warzaw`s music will be available on LP as soon as possible.

Your music style is Heavy Metal. Which are your main influences (Favourite Artists / Bands etc.)

ALVAREZ: We all listen to and get inspired by lots of bands and genres.
Judas Priest, Motorhead and a Norwegian band from the early 2000s called Griffin are the big ones for this record. But I also have to mention bands like Dokken, Loudness, early Ted Nugent, Black Sabbath and Skid Row. Every bandmember brings something to the table and we are all influenced by different things!

Which things, do you think, a Band should sacrifice in order to succeed?
Have you ever sacrificed anything in your life for a better future of your Band?
ALVAREZ: Well, that's a difficult one. I think that is very individual and everybody probably have their own opinion on that. I think the most important thing is to use as much time as you possibly can on the band and the music. You have to agree that the band is the most important thing so when obstacles come up everybody pulls in the same direction. To always choose the music,and be prepared to spend some money and a lot of time to get things going would be my short answer!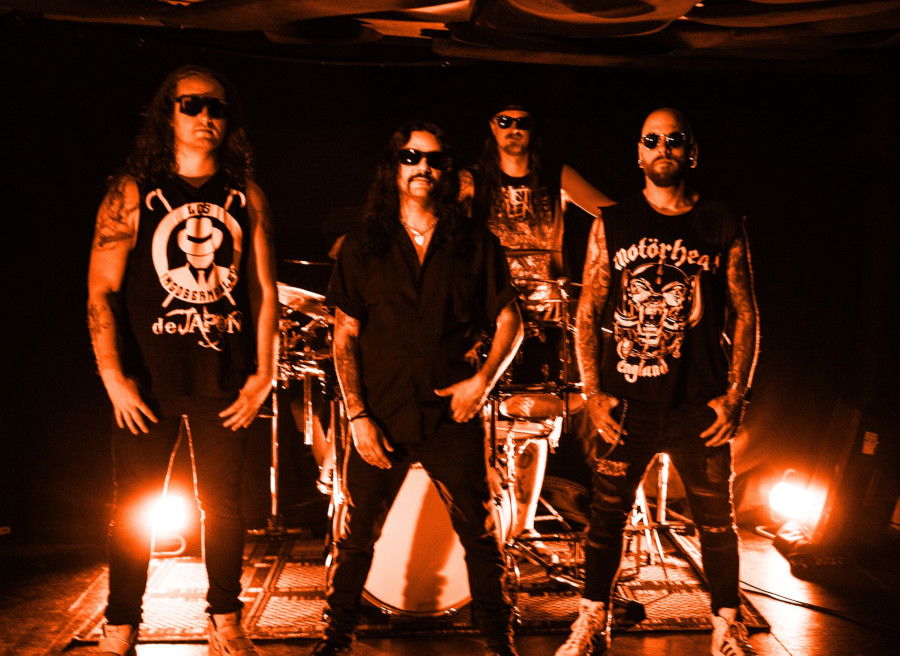 Describe your ideal live show as a performance Band. Have you already experienced that?
DANIEL: The best live performance is when we are able to convey the joy of playing to the fans! We deliver a damn real show, which the audience sincerely loves,and at times get touched by. As a vocalist, I can and will not rest for a second. I'm everywhere. I flirt with the audience. I jump out, surfing on top of the wave of the people.. I make the audience jump in ecstasy with the music The best is when our music hits the audience like Thor's Thunder. We must be as badass as Conan, but smooth and sexy as Prince. We move like Jagger, Sweat like Axl Rose and flirt like Bon Scott. And last but not least, Headbang like Phil Anselmo (with hair). we have not played many shows with Warzaw lately, due to covid19. But as soon as the world reopens, we will definitely realize the perfect live performance.

Which attributes, do you think, that a new Heavy Metal Band should have in order to gain identity and be unique?
DANIEL: Originality is an important attribute in today's music market, but it is difficult to reinvent the wheel every time.The most important thing for us is to create a catalog of songs, which has great breadth in the musical expression.From aggressive, hard-hitting, heavy rock via more radio-friendly things like the occasional ballad. We have to convey the strength and distinctiveness of the songs as best we can from the stage - a quality that is perhaps the most important thing for a rock band to possess.

Do you believe that Bandcamp and other Digital Platforms help the new Heavy Metal Bands? Which, do you think, is the ideal way for a Band to promote its work?
DANIEL: Sure, everything helps. But it is difficult to promote without a proper record company by your side.There are many opportunities to promote via social media etc, but you quickly drow in the masses.I think the ideal way to promote the band, is to take the show on the road and perform live as much as possible. If you are good and work hard, you get the opportunities you deserve.

Tell us a few things about the New Underground Metal Scene in Norway (Bands, Fanzines, Webzines, Metal Clubs etc.)
MATS: The underground metal scene is actually packed full with awesome bands in Norway, and the quality of the music is really good as well. Just in our little city of Trondheim we have many different metalbands that are putting out music, a few are more active than others but alot of them are great quality metal. The metal scene is great in Norway, unfortunately not enough venues and festivals to support any way of making a living out of it here but the scene is alive and well and we are proud of our metal heritage! We strive to keep it going and we are sure it will never die out as the genre is allways interesting and keeps evolving. Regarding the fanzines and magazines its not huge but it's great. You have your blogs/podcasts/Facebook groups and a handful of magazines and radio shows but considering the population the reach is quite low, but praise to those who keep on promoting the local and Norwegian scene and they are very appreciated! we love those guys and wish them all the best.Metal clubs are a few and far between but in Trondheim we are lucky enough to have Good Omens, Bror and Fru Lundgreens and a couple local promoters like Aftermath/Legend, Zone Booking, Trondheim MetalFest (no longer that active though) and the local spot UFFA for the more underground bands that are keeping the scene alive. Across the country we have more venuesand hopefully everyone can stay open after the lockdown. We're looking forward to going back to Seb's in Hamar, Last Train, SubScene and Rock In in Oslo, Hulen in Bergen, RIP in Porsgrunn. Felix in Lillehammer, Feelgood in Halden and i'm sure i forgot a couple here but we aim to visit everyone as soon as possible. The slightly bigger venues would be Rockefeller and Sentrum in Osloand we hope to get those packed for us sometime in the future aswell. oh and ofcourse a couple metalfestivals like Inferno, Tons of Rock, Karmøygeddon, Totsåsrock. Odal Rockfestival, Ørland Rockfest and a couple more i'm sure i forgot.Other than that the bands that are active are supportive of eachother and help out in many ways when there's new releases, gigs, videos and such.Shoutout to all the Metalbands and heads in our little city! To name a few: Check out Hypermass coming with a new album soon, Arania, Summit, The Hate Colony, Reckless Souls, Haunted By Silhouettes, Ghetto Ghouls, Strandhugg, Vandrer, Triosphere and Griffin!

Do you know anything about the Hellenic Metal Scene?
MATS: Me personally I can only remember Rotting Christ, Septicflesh and Firewind/Gus G right now. Of course I would love to know about even more but I'm going to have to do a quick google search to see if I can find any goodies I'm sure are there.
What are your future plans?
MATS: Right now we are working on our second album and are pretty much done with the demos, gonna be starting recording early this summer and hopefully be releasing this fall.with little to no opportunities for supporting our first album with liveshows we went straight back to writing and it came through real quick with Håvard and Trond carving out the songs and all of us have had a couple sessions for getting some vocals and lyrics done so we think it's gonna be packed with bangers and metal goodness with a lot of references to the great bands of the early era with our spin on it of course. Currently our only show booked is the Totsåsrock Festival but we will be looking at any possibilities for booking across the country and hopefully supporting both releases with sweaty, headbanging, beerfueled and awesome shows later this year as the main intention of starting this band was to do as many shows as possible (timing was bang on there).

Thank you very much for your time & Keep up the good work! The closure is yours.
MATS: Thanks Filthy Dogs Of Metal for having us and checking us out, we appreciate that! Looking forward to checking out some more of the Hellenic metal scene. Would like to thank Roar Nubdal for mix/master and recording drums on Werewolves On Wheels. Big Thanks to Aina and the others at Good Omens, Rune and Nina at Fru Lundgreens, Frank at Bror and all the other guys putting our bands on stages for the last years ( Ståle Solem RIP we miss you, Holm brothers on Aftermath/Legend Trondheim, Jan Roger at Zone, Erik and all the others who worked on Trondheim Metalfest) Keep watching our FB Page, Instagram and Youtube for more releases and videos coming soon. Merch and vinyl available for ordering later this year to make your days better with music and looking great! Support your local scene where you are and support the venues that are struggling in these times! Cheers from all of us in Warzaw!
By Steve the Filthy Dog.
WARZAW CONTACT:
https://www.facebook.com/warzawband
https://www.instagram.com/warzawband/
https://open.spotify.com/artist/2pJZWxMzv2TwO99Y3HIDFb?si=pVWg8Ie3Q8Cdkxv9NYuymQ