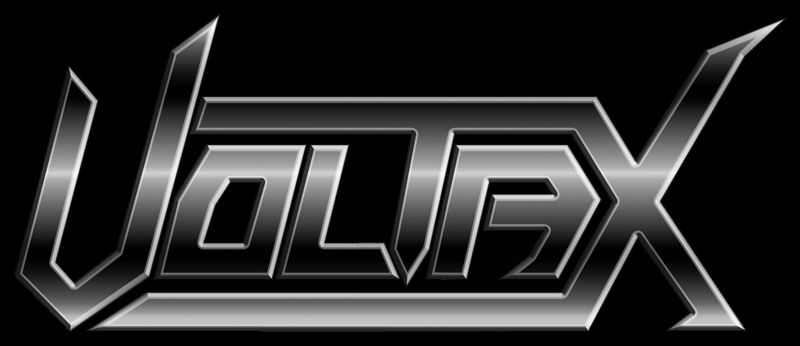 !!!MEXICAN HEAVY METAL!!!
Welcome to the FILTHY DOGS OF METAL Webzine.
1. Tell us a few things about VOLTAX (Members, Starting Year etc).
Voltax goes back to 2006 releasing the first demo on that same year (check it out on our youtube channel, its heavy and raw stuff!), around that time the thrash revival was barely starting to take form in Mexico and around the world and most of the bands in Mexico were either Brutal Death Metal, Gore-Grind, or horribly boring Black Metal or equally horrible attempts of euro-power metal.
The band has been a 5 piece band since the beginning, debut album was released in 2007 but it wasn´t until the second album "Fugitive State Of Mind" was released in 2010 that Voltax took a more serious approach as well as a more defined sound and style. There have been a few line-up changes throughout the years, being Jerry (vocals) and Hector (first drums then bass) the only two original members, myself (Guitars) got into the band by the end of 2007. Right now we are working in new material and also preparing very special shows in Mexico (hopefully abroad too) celebrating the tenth anniversary of our second album.
2. Your last work was the EP ''Death Race and the Forbidden Demos''. What was the Feedback from your audience as well as from the Press?
To be precise ,we just wanted to release a single ,it was the record label "Burning Leather" that came up with the great idea of adding a never released before demo from 2011, those tracks were later recorded for the third album "Hiding into Flames" but the feeling and the melodies on those demo tracks are superb and unique.Death Race is the first track recorded with the current line-up ,we wanted to show ourselves how far we could go with the new line-up technically speaking but also how intense and heavy we could get.While many bands from our same generation are "sweetening" their sound, we naturally flowed to the other side of the spectrum, letting our extreme metal influences do the magic.No one was expecting blast-beats and and extreme metal vocals (guest appearance from a true mexican underground extre metal legend Antimo Buoannano)surprisingly most of the fan base liked it or at least I got to read mainly positive comments in Mexico, it is outside our country that did´nt reach as much coverage as we would wanted to ,so to anyone reading this, head quickly to our Bandcamp page and play that song max volume now!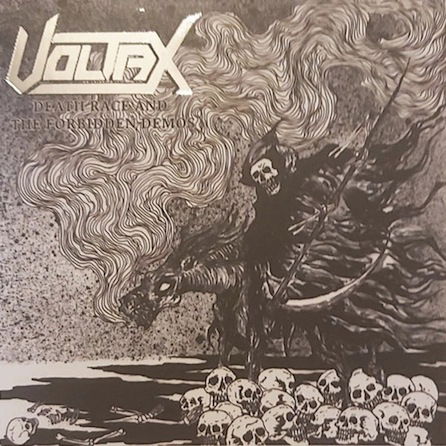 3. Label or DIY and why?
Quick answer DIY! but then again there are some positive sides of having a label ,specially talking about distribution and media coverage. However we now prefer DIY, that way we have complete control of the music we compose and record,the artwork we use for covers of posters/flyers, and of course the type venues or festivals we play at.
4. Do you prefer Vinyl, Tape, CD or Digital Format and why is that?
I was all into CDs when I started collecting music back in middle school, I grew up with that format due to my older brother´s influence, I still think CD as a good and practical format to enjoy music. Nowadays my taste has turned into Vinyl way more , yes it does sound different and I like it, and yes, having a cool cover artwork on a bigger size in front of you is a huge Pro for me. tapes are messy and get fucked up after many plays, digital form sucks soundwise, still useful if on the road or taking a long walks which I usually do.
5. Your music style is Heavy Metal. Which are your main influences (Favourite Artists / Bands etc.)
They range from very classic stuff as Black Sabbath, Judas Priest and UFO to heavier stuff like Mercyful Fate and Accept to even faster and heavier sounds like the ones from Iron Angel ,Savage Grace or even early Slayer.We also listen to loads of late 60s/early 70s bands with heavy doses of psych and prog being Quicksilver Messenger Service one of the mos important ones for me. Finally we listen also to lots of Death and Black Metal bands, I think some of the most interesting acts are coming from those scenes.
6. Which things, do you think, a Band should sacrifice in order to succeed? Have you ever sacrificed anything in your life for a better future of your Band?
Jobs, family time, money, many hours of sleep sometimes even band members that hold up the development of the band but at the same time you are big friends with, now that is a real hard situation. These things plus maybe some others have been faced on our road.
7. Describe your ideal live show as a performance Band. Have you already experienced that?
We are somewhat simple on that, as long as the sound is loud and clear, and the equipment is of good quality we can give our 100% ,but what makes it perfect is a not so big sold out venue, this way we can connect with all the audience on a deeper state, and there is where the exchange of energy flows better, that connection is not found in big Open Air festivals although we have had good times on those too. We experienced that back in 2015 in Montreal ,Canada, at Wings Of Metal Festival, just perfect.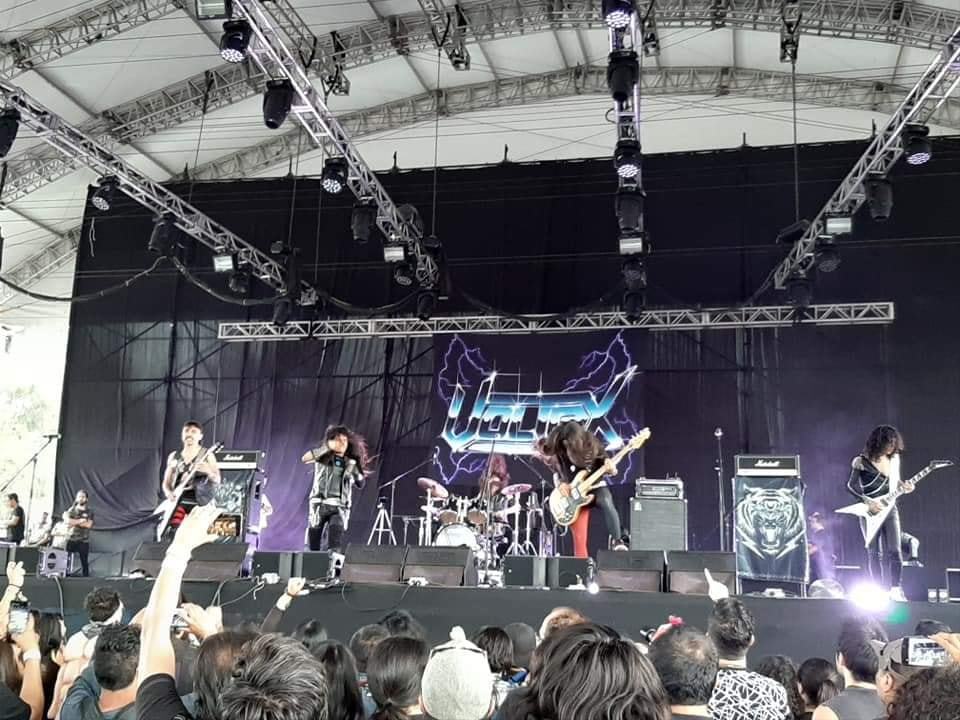 8. Which attributes, do you think, that a new Heavy Metal Band should have in order to gain identity and be unique?
They need to be serious about what they are doing in every aspect, from the sound to the looks, it is ok to have a band "just for fun" but don´t expect real recognition with that attitude. Nowadays you also need to have good skills and fresh ideas to promote yourself well ,specially in social media. And finally ,a new band should have loads of musical influences from different styles and genres in order to find its own unique sound.
9. Do you believe that Bandcamp and other Digital Platforms help the new Heavy Metal Bands? Which, do you think, is the ideal way for a Band to promote its work?
Although I´m not a big fan of digital promotion, you have to do it if you want to get your name out there. On the particular case of Bandcamp, I think is one of the best platforms for independent undergound bands right now (an improved version of Myspace from back in the day), also they do give a fare share of the profits you make from your music and merch. Not the case as with Spotify, which they just basically give you peanuts for every play you get on their platform, they dont care about the music, they just care about money obviously.
10. Tell us a few things about the New Underground Metal Scene in Mexico (Bands, Fanzines, Webzines, Metal Clubs etc.)
The "scene" has become huge specially in the last five years, for example most of the new bands are technically far better than us compared to when we started, but there is also the negative side, it´s starting to get saturated with bands sounding and looking the same , specially with genres like Thrash and Heavy Metal. Other genres like Doom, Black or Death metal have in my opinion the best newcomers(as stated before ,for me the most interesting things are happening there and that means Mexico too). We are also experiencing a Boom for big festivals, so bands that I never imagined to see live in my country are now playing for big open air festivals or even smaller festivals with a niche crowd, that was not common at all say 10 years ago. We are barely starting to see metal clubs in Mexico city, which is also something new for the country. Overall the mainstream still prevails for most people but there are many new spaces getting opened for the underground metal.
11. Do you know anything about the Hellenic Metal Scene?
I like a lot 80´s bands like Crush, Spitfire and Flames, I also know Greece maniacs are huge fans of US Epic Metal, Battleroar is a great Greek example I enjoy of a band doing that sound. I also like a lot Rotting Christ and Varathron,specially their early works! also big fan of black metal band Acherontas.
12. What are your future plans?
The future is uncertain always, but currently we are creating new music , and again it will be something different from our past works, but still showing the same essence. On the other side we are planning very special anniversary shows for the tenth anniversary of "Future State Of Mind" album.
13. Thank you very much for your time & Keep up the good work! The closure is yours.
Thanks so much for the the interview, we really hope to visit Greece sometime soon, and be sure that you will always receive real Heavy Metal from Voltax no matter what the current trend is!
By Steve the Filthy Dog.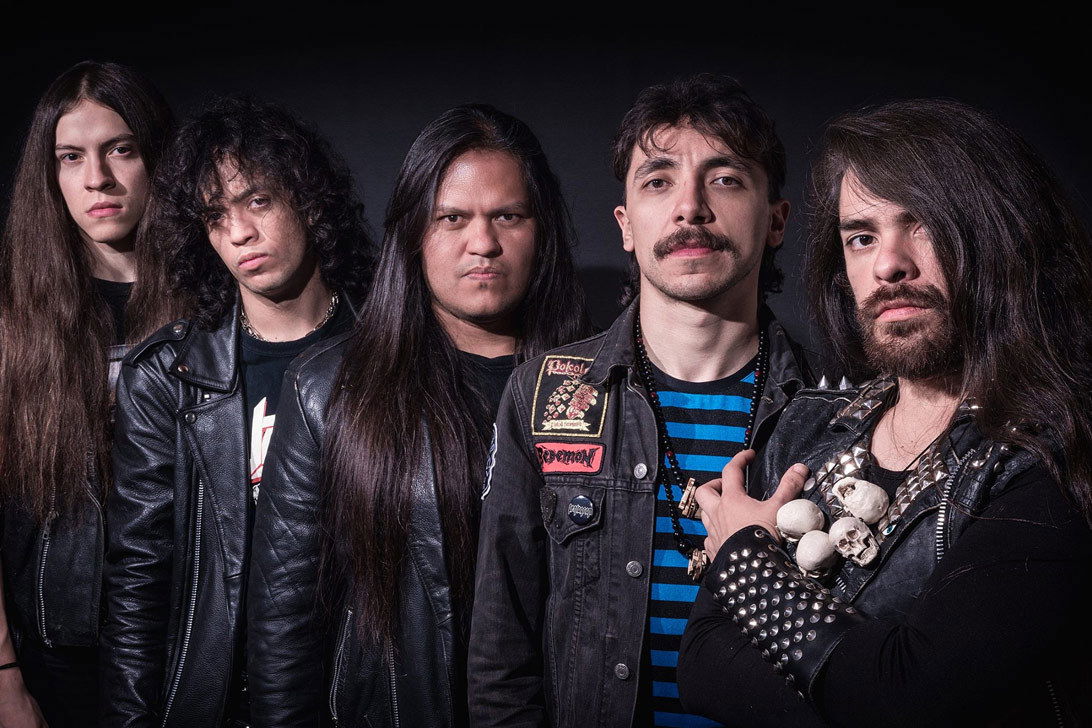 VOLTAX CONTACT:
https://www.facebook.com/voltaxband
https://open.spotify.com/artist/1A5Dt5zgajoli6BFEiL4P2?si=IIEFqOqSS_GOKR45XRbNsg