!!!HEAVY METAL THUNDER STRIKE!!!
We had a conversation with THUNDERSSON. Enjoy!
Welcome to the FILTHY DOGS OF METAL Webzine.

1. Tell us a few things about THUNDERSSON (Members, Starting Year etc).
Thundersson is a solo project, so I'm the only full time member. The original plan for the project was to just make a couple songs for fun, maybe release an EP or something, but as I was writing and demoing the songs the inspiration started flowing and I ended up with a full album. I started actively working on the project in the winter of 2018, but some of the riffs come from years ago.

2. You have recently released your new album ''Thundersson''. What is the feedback from your audience as well as from the press?
The feedback so far has been great! Lots of people seem to have listened to the record and the comments so far have been very positive.
3. Label or DIY and why?
At the moment I'm doing most of everything DIY, and that includes all the designs, album art and layouts as well. There is a tape release coming and for that I'm doing everything myself, but there are plans for CD as well and that release I'm doing with a really cool label. More info on that will be coming very soon.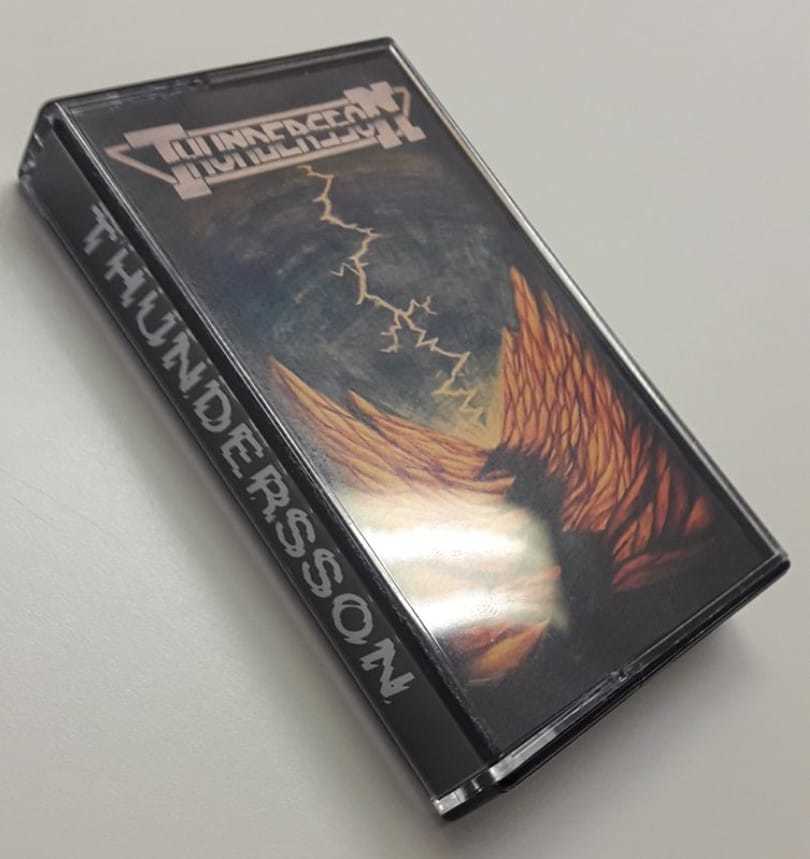 4. Do you prefer Vinyl, Tape, CD or Digital Format and why is that?
I'm a huge fan of physical media and especially vinyl, because the visual aspect of an album cover on vinyl cannot be beaten by other formats. CDs and tapes have their own strong points too, tapes are really easy and quite cheap to DIY, and CDs are great because they're so accessible and portable. That being said, the convenience of digital music is really hard to beat, especially when you're a starting band it's nice to be able to put your stuff out there digitally basically for free. Really helps with finding an audience and connecting with labels.
5. Your music style is Heavy Metal. Which are your main influences (Favourite Artists / Bands etc.)
The big (and obvious) one is Iron Maiden. The twin guitars, big melodies and the solid rhythmic foundation they have perfected really shaped my idea of what kind of heavy metal I want to write. King Diamond, Running Wild... basically all the big ones have influenced me in one way or another, but I'm also really into more underground stuff like Helvetets Port (the new double album was killer!) and a bunch of Japanese bands. Metalucifer and Sabbat are the obvious ones, but for a while now I've been really into this band called Ningen Isu. I do listen to a lot of non-metal music too, but I like to keep genres separate so you're not gonna be hearing a rockabilly song on a Thundersson record any time soon.

6. Which things, do you think, a Band should sacrifice in order to succeed? Have you ever sacrificed anything in your life for a better future of your Band?
Time is the big one. Writing, rehearsing and recording take up a bunch of time, but most of that is pretty fun so it doesn't really feel like a sacrifice in the end. Thundersson being a one man thing I get to work on the band when I want to without having to plan and schedule with other guys, but that actually ended up delaying the album a bunch because I'm a lazy bastard. Maybe I should sacrifice the freedom of being a one man thing, and find other members to make sure I actually write stuff instead of laying around on my ass eating pizza? Who knows.
7. Describe your ideal live show as a performance Band. Have you already experienced that?
The ideal show is one where everyone has the an amazing time, both the performers and the audience. I'm not really a technical player and I don't mind if I screw up a few notes here and there, the most important thing is to have fun on stage because I think that feeling carries over to the audience. I used to live in Japan for a while, and back there I had a rock and roll band with a few local guys. We had to quit for the time being because I came back to Finland, but our last show was an amazing experience. We invited a bunch of friends' bands to play with us and a lot of people came so it really was just a huge party. Everyone played a great show and both the performers and the audience had a good time, and that is the ideal for me.
8. Which attributes, do you think, that a new Heavy Metal Band should have in order to gain identity and be unique?
I think that the best thing a new metal band can do in order to establish their own identity is to write music that is honest to themselves, without thinking too much about whether it will find an audience or not. If you write your songs with fame or record sales in mind I think the audience will figure it out, and I don't think many people want to listen to that kinda dishonest bullshit. The best thing to do is to write the songs that you want to find, and there's bound to be someone who finds your stuff and likes it.
9. Do you believe that Bandcamp and other Digital Platforms help the new Heavy Metal Bands? Which, do you think, is the ideal way for a Band to promote its work?
Releasing music digitally is a great way for new bands to enter the scene without spending a bunch of money on their early releases. In my case the best promotion ended up being word of mouth, a couple of friends shared the album after I released it on youtube, their friends and a couple pages shared it further, and so on. Youtube channels like NWOTHM Full Albums (can't thank them enough!) also do an amazing job in getting new releases out there to great effect. And of course zines like the Filthy Dogs of Metal that are kind enough to interview underground guys like me. It really is a group effort.
10. Tell us a few things about the New Underground Metal Scene in Finland (Bands, Fanzines, Webzines, Metal Clubs etc.)
I follow a couple Finnish bands and there's real talent in the scene, but I'm not too familiar with the local zines and stuff like that.
I try to make it to a heavy metal show every now and then, but since I don't live in Helsinki or other major city it's always a bit of a hassle.
11. Do you know anything about the Hellenic Metal Scene?
Not too familiar actually! Gotta look into it! I know that you have a couple awesome festivals over there that I'd like to attend some day, and that the heavy metal fans there are really heavily invested in the scene! The album has gotten a bunch of positive feedback from Greece and I am very grateful for that.
12. What are your future plans?
For now the plan is to get the album out in as many formats as possible, and make it available for as many people as possible. I've been thinking about getting a live lineup together and rehearsing the material, but there's no real progress on that yet. Maybe some day. Oh yeah, and merch! A t-shirt is in the works for now, other stuff like patches may be coming later. As for new stuff, I'm always writing new riffs and coming up with song ideas, but another full lenght album is gonna take a while to shit out. I'm planning a couple smaller releases for the time being. I'll be posting about new stuff on my facebook page, so keep an eye out for that if you want to know what's up!
13. Thank you very much for your time & Keep up the good work! The closure is yours.
Thanks a lot! Thundersson has only gotten started, and I can say for sure that the Thunder will strike again!
Keep fighting the good fight for Heavy Metal!
By Steve the Filthy Dog.

THUNDERSSON CONTACT:
https://www.facebook.com/thundersson666/