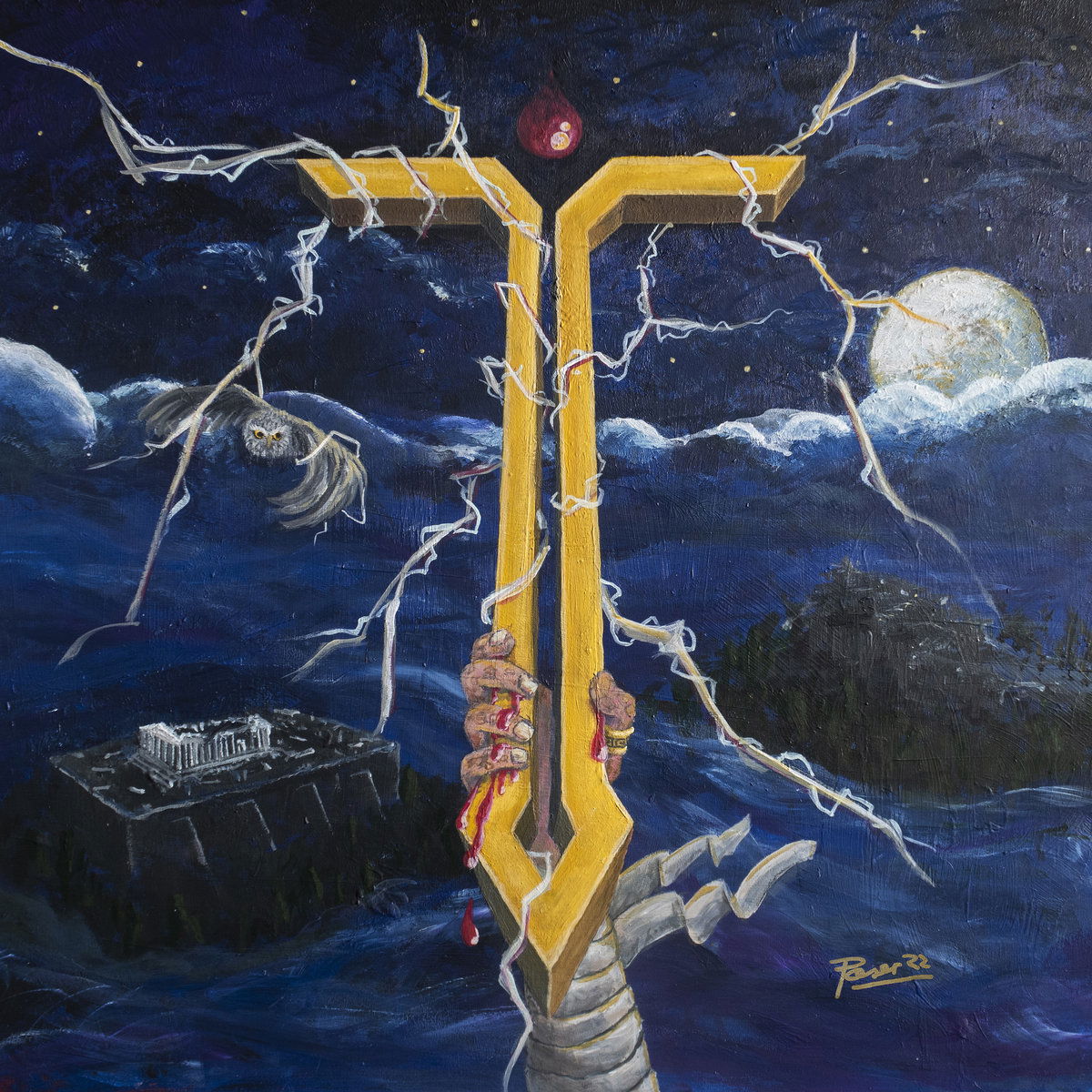 !!!CLASSIC HEAVY METAL FROM AUSTRIA!!!
We had a conversation with Axecutor. Enjoy!
Welcome to the FILTHY DOGS OF METAL Webzine.
Tell us a few things about THUNDERLORD (Members, Starting Year etc).
It must have been 1993 when Screamer (lead-guitar,singer, songwriter) got his first E-guitar & Amp. He had a classical music education background. He already had been touring worldwide as a kid, with the famous Vienna boy´s choir before. About 1994 i got my equipment, and right soon afterwards we started jamming and making music together. It was a day with stormy weather, when we received the mighty sign from the heaven above, and "the lord of thunder" showed up with his most powerful sound - that, my Cypriot family background and the spirit of true heavy metal, led then to the ancient-Greek inspired band name. Everybody can check more info on the bandhistory on https://www.metal-archives.com/, THE source for all Info about heavy music on the web, which really lives up to its name as encyclopaedia metallum (Thanks for the nice support HellBlazer!).
You have recently released your EP ''Thunderlord''. What is the feedback from your audience as well as from the press?
These recordings are almost 25 years old, and never have been released properly. I received very good feedback about the remastering quality, finally it is possible to listen to the songs without feeling aural-pain ;) Funny thing is that, even when it is over 20 years ago, we still have fans who like to listen to our music, even when so much time has passed! Also very positive was, that right after the EP release, the Austrian metal label "running wild productions" (https://rwp-at.onlineweb.shop/) offered the participation on a split-album release with other bands ("BLASTFROMTHEPAST") which maybe will become reality !
Label or DIY and why?
Remastering (and some live-thunder-recordings!) have been done at www.ton.wien studios last year. I know Markus since the 90ties, he was very long time into heavy music too (i think i am the biggest fan of his perfect pitch until today...you maybe know him? he played rhythm guitar on Siren´s Cry´s "center of might" debut-album, was founding member of Jetleg, or toured with Darkside). So we still have a good "music-feeling" connection and it took only few days to get things done. The 90ies-recordings itself was DIY...push the record button and play!
Do you prefer Vinyl, Tape, CD or Digital Format and why is that?
I am a heavy metal Vinyl collector. It is definitely the most beautiful "thing", Vinyls are big size, more to see and to touch. If there is the demand for a Thunderlord Vinyl release, i will have it done! At the moment, and also due 2020ies functional reasons, I am fine with the digital release at www.thunderlord.bandcamp.com (by the way, thanks to Alex from the bandcamp-crew for the nice and uncomplicated support!)
Your music style is Heavy Metal. Which are your main influences (Favourite Artists / Bands etc.)
Actually i listen a lot to another (music) "God" with Greek roots, Bill Tsamis´ and Mark Zonder´s Warlord. My idol since ever, for metal-guitar composing and playing is definitely André Corbin (Helstar-Nosferatu)! As for singing, another passion of mine, voice-magicians like Steve Grimmet (Grim Reaper-See you in hell), Charlie Dominici (Dream theater - When dream and day unite) and Rob Halford keep me inspired. MY ex-bandmate Screamer always kept saying "we have simple been Metallica kids" (speed-/thrash metal! nothin after the Black Album), which for sure is true somehow. Even when one of the first metal bands i paid attention to f.e. was Brazilian Sepultura. Screamer was also a lot into Iron Maiden, when i listened to Pantera. Our drummer - Drumtormentor, an exceptional talent, was into progressive metal like Psychotic Waltz, Dream Theater and Symphony X. Finally our bassplayer, ComtedeBasstard, who nowadays plays guitar with www.highheeler.com (now Andee Overtone), he already at the time being was into the real glam-, hair-, and the down-to-earth original heavy metal stuff.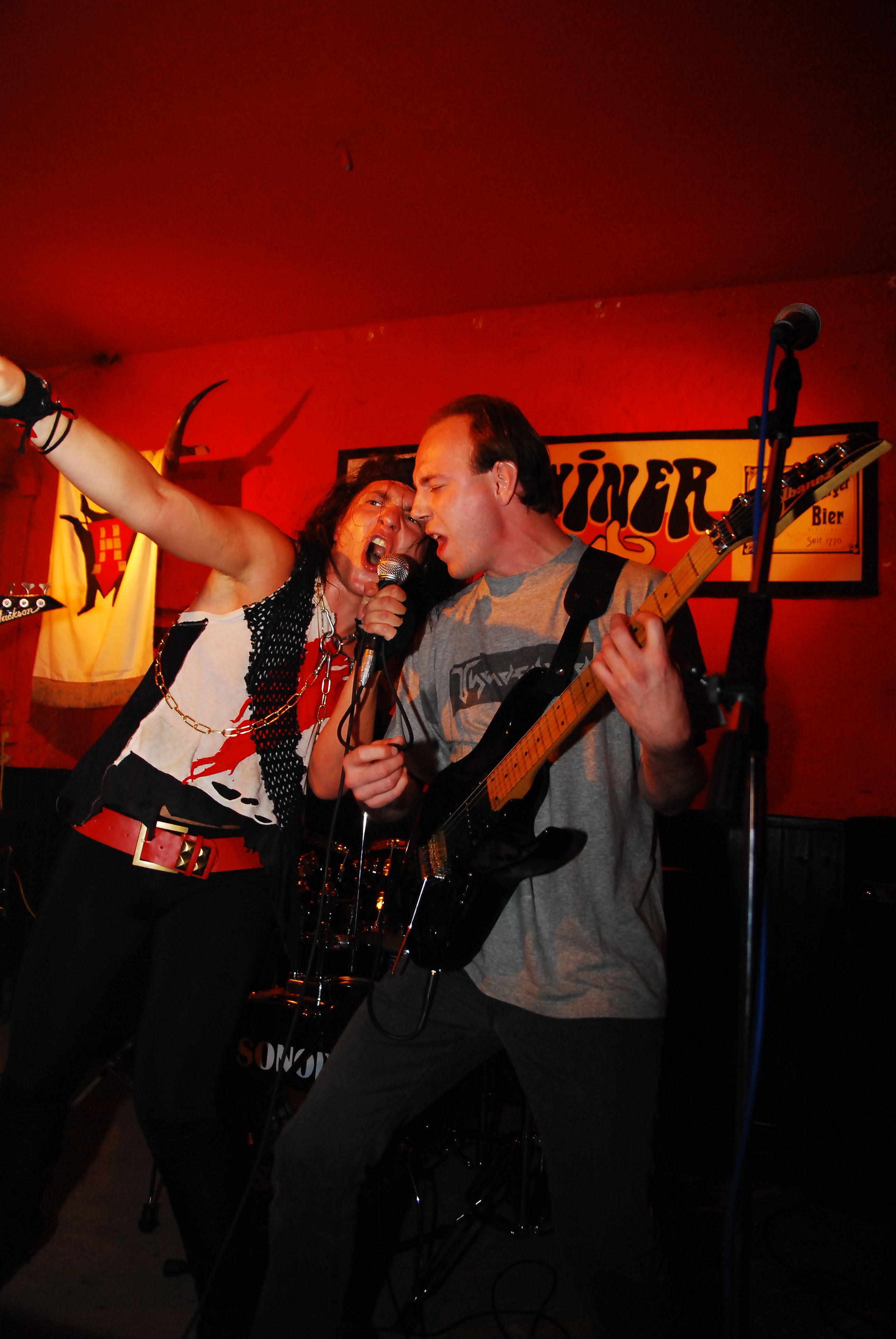 Screamer from Thunderlord performing "Wings of Fury" as a tribute to Thunderlord, at a High Heeler concert 2008 - with singer PoisonPoser from Highheeler
Which things, do you think, a Band should sacrifice in order to succeed? Have you ever sacrificed anything in your life for a better future of your Band?
Success is a very individual thing to be defined i think. Maybe its because i am a family father now i see things quite different than when we have been young and wild wannabe-rockstar kids. Whatever way you go in live and which goal you want to reach, sloth and - at the opposite - perfectionism are many times reason for defeats. The biggest sacrifice I personally made for the success of my band, was to quit school and spend my time instead of studying for composing texts, music and practice the guitar.
Describe your ideal live show as a performance Band. Have you already experienced that?
We had only a few shows, around 1999-2000, heavy metal was dead in Austria. Even then, these have been great Gigs and a lot´s of fun! We had superb fans, mainly other musicians, who supported us and made us feel like real rock stars for the glimps of an eye. I will never forget that experience. Its like when you have sex the first time ;) -> Far away from perfect technique, its no impressive show to look at, but the feelings! WOOOW!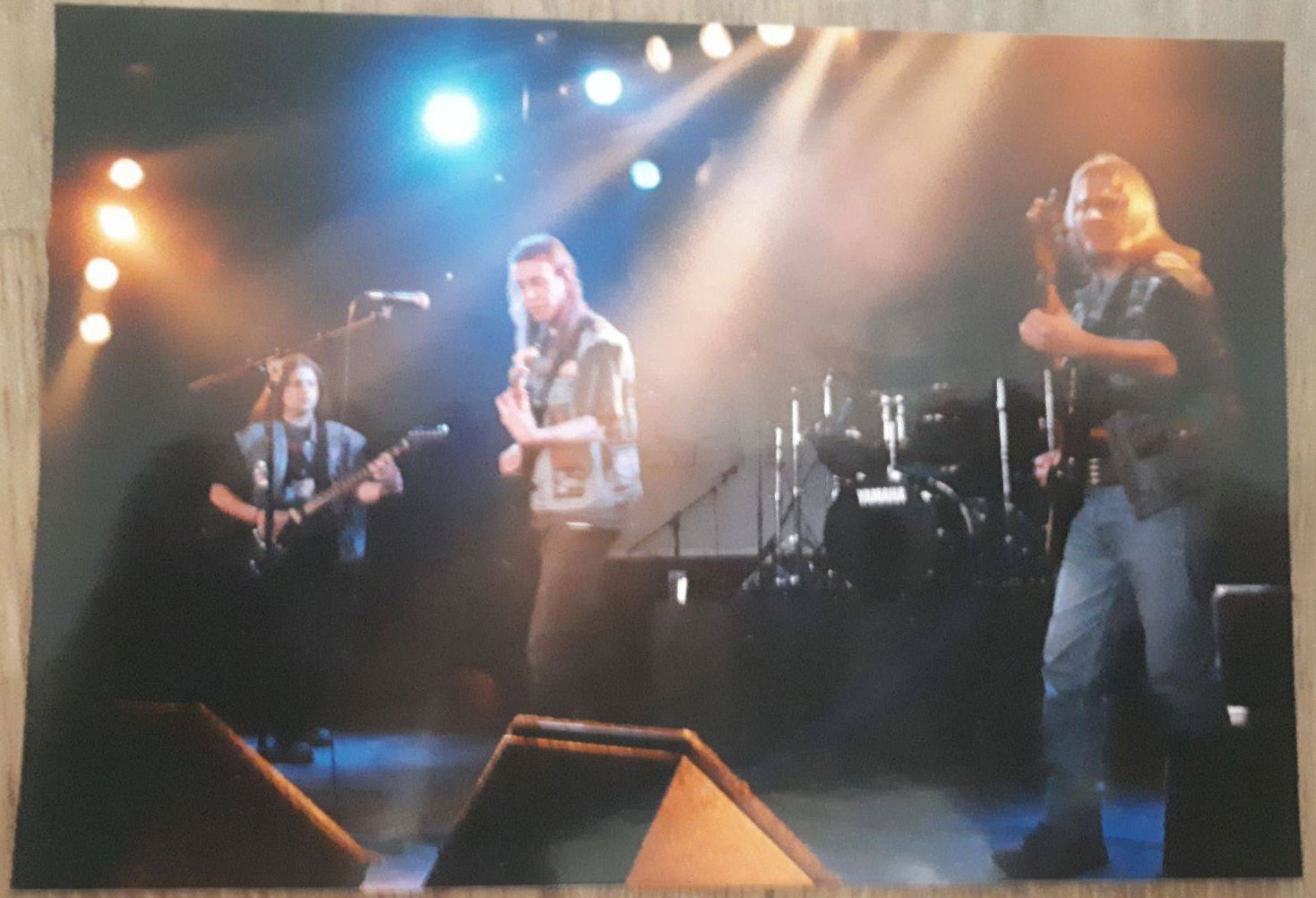 Around 1999 at a concert, from left to right Axecutor, Screamer, ComtedeBasstard
Which attributes, do you think, that a new Heavy Metal Band should have in order to gain identity and be unique?
Honesty and self esteem. Because if you believe in yourself and your uniqueness, being true to yourself and to others at the same time, than you gain unseen creativity and style. Sometimes the difference between an inspired-song- and a copied-song-idea are so small, but at the same time HUGE. It´s alot about attitude i think, if you make music because you want to be a star or get rich, you failed - many times even before your journey has begun.
Do you believe that Digital Platforms help the new Heavy Metal Bands? Which, do you think, is the ideal way for a Band to promote its work?
I am not experienced on this field, but the digital world is real and a (important) part of most of our lives. That's why i also published the videos of one of our 1999 liveshows on yt, https://www.youtube.com/channel/UC7kZkcjJ2SUZpOSlXBEe08A. Promote always includes the intention to sell something. Bands and music shouldn´t be about that, that's the best way to promote it, i think. Show - your love, passion and ability. If people appreciate it, the music will promote itself.
Tell us a few things about the New Underground Metal Scene in Austria (Bands, Fanzines, Webzines, Metal Clubs etc.)
I am a big fan of Austria, since ever, because music is a very important part of our traditions and culture. So over the years, i became really fan of our local Viennese heroes, like www.highheeler.com , a phaenomenal band ! (you interviewed them before...they are recording new stuff actually ;) PoisonPoser, singer&bassist of the band, is a friend of mine and also the genius behind the Thunderlord demo album-cover - painting. (I LOVE IT, YOU ARE MY HERO FLO!) He is a creative genius, Siren´s cry mastermind Phillip, https://www.philliprporter.net/ became really a professional in heavy music, cool stuff! The Austrian heavy metal alliance is a nice project i want to mention, check their latest release here https://austrianheavymetalalliance.bandcamp.com/releases.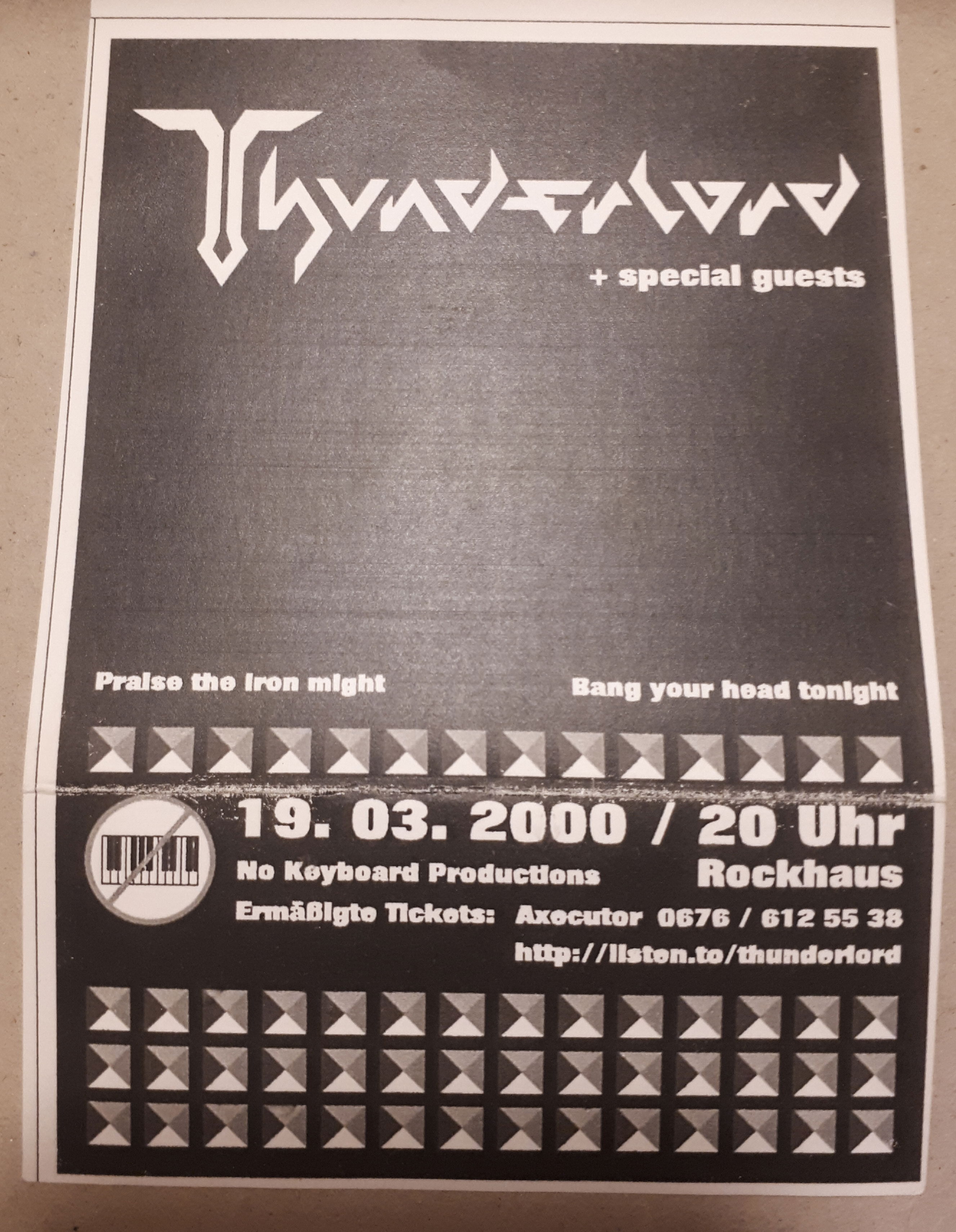 Original flyer from a Gig in the year 2000
Do you know anything about the Hellenic Metal Scene?
Sure! Greece was always a good ground for heavy music. One of the best (metal-)moments in my life was when at the beginning of the 2000´s I met occacionally Helstar singer James Riviera in an internet-cafe and had the opportunity to have a "private"-talk about Andre´s time with the band, Nosferatu and the split up of Helstar...and guess what, it was in Thessaloniki!! Warlords performance i love most, was a DVD recorded live in April 2013, with the best metal-crowd possible, in Athens!! As I am half Greek-Cypriot, my heart especially beats for bands like Astronomikon.
What are your future plans?
I want to learn to sing, get to practice more guitar again and finally find musicians that are metal-enthusiast like me, to continue Thunderlord´s journey. Music is best when its live - it makes you feel ALIVE.
Thank you very much for your time & Keep up the good work! The closure is yours.
Thank You, you Filthy Dog of HEAVY Metal ;) !!! It was my deepest pleasure to answer your questions, and have the opportunity to tell a bit about me and Thunderlord´s story.
By Steve the Filthy Dog.
THUNDERLORD CONTACT:
Mail:
thunderlord.axecutor@gmail.com

Videos:
https://www.youtube.com/channel/UC7kZkcjJ2SUZpOSlXBEe08A

Music:
https://thunderlord.bandcamp.com/

History:
https://www.metal-archives.com/bands/Thunderlord/3540499969