!!!STREET METAL FROM GERMANY!!!
We had a conversation with Christopher Westphal (Guitars). Enjoy!
Welcome to the FILTHY DOGS OF METAL Webzine.
Thank you for having us!
Tell us a few things about THRILLER (Members, Starting Year etc).
We started Thriller in Summer 2020, the best time possible to found a new band. After a band called "The Nästy" disbanded in 2019, the ex-members Julian Mason (Vocals) and the brothers Rudolf (Guitars) and Viktor (Bass Guitar) Emich wanted to continue making music. With me, Christopher Westphal, they found another Guitar player together with Arnold Wein on drums. After three years of covid, lockdowns relating to "different" songwriting and recordings, we finally released our debut "Street Metal" on October 21, 2023.
You have recently released your album ''Street Metal''. What is the feedback from your audience as well as from the press?
We are overwhelmed by positive feedback all the way, all over the world. We didn't expect the listeners to like it that much. From 10/10 reviews over "memorable Heavy Metal standouts"- to "Record of the year"- comments. We're so stoked about that wave of positivity and our music to bring good vibes into other peoples lives.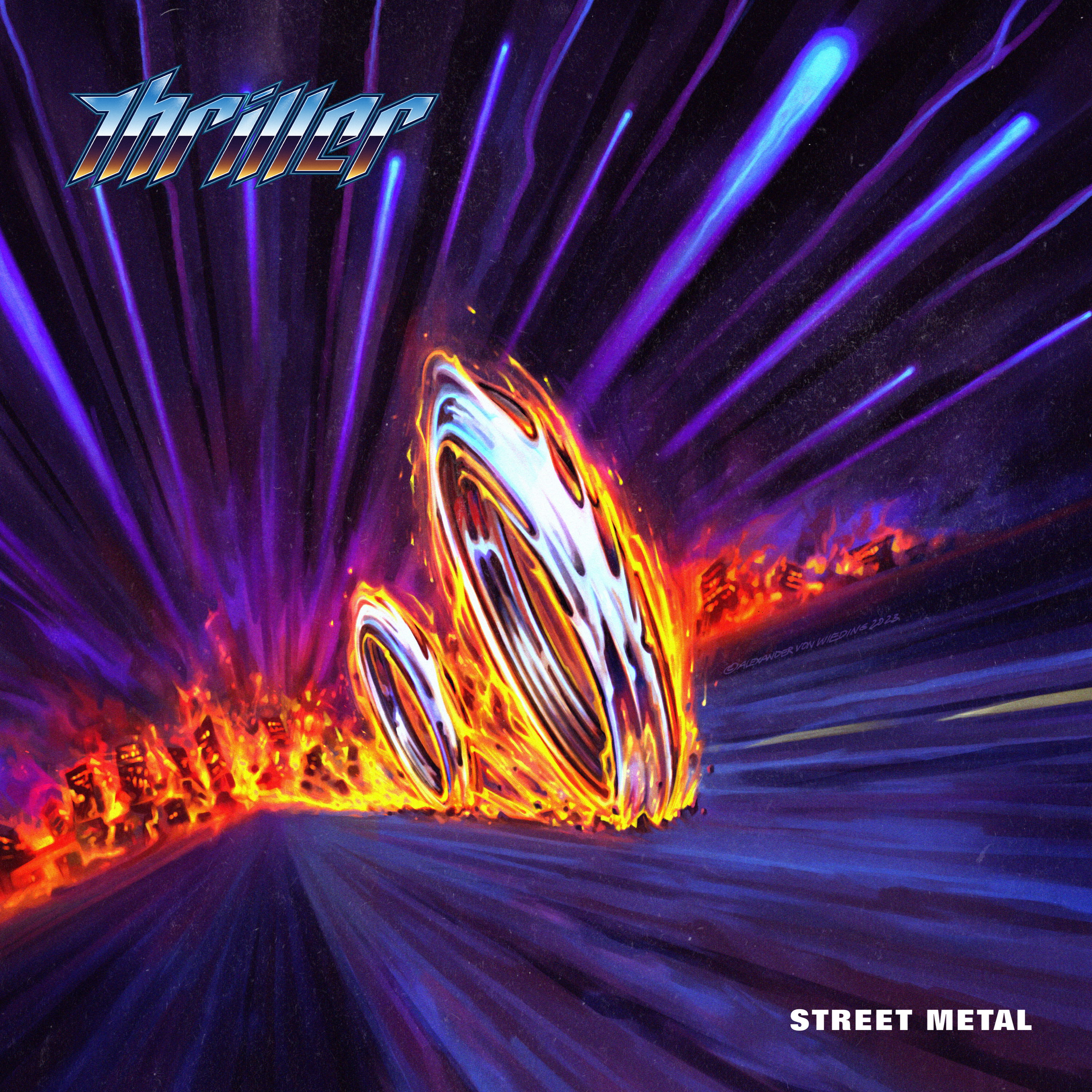 Label or DIY and why? DIY.
We got in touch with some labels, but none of them was interested. So we decided to create and release it all on our own.
Is there any funny or weird story from the recordings or from your live shows that you would like to share with us?
In the middle of one of our songs the whole song stops and after a short break only the guitar is continuing. For our second show we decided to extend this break, without telling the drummer (not on purpose, he was just not there and no one recognized it). During the long break he was kinda confused and thought something bad happened. After the show he came and asked: "Dudes, what happened?" That was kinda funny. The whole recording sessions were weird. Due to the pandemic, lockdowns etc., every single member was forced to record on his own in his home studio.
Do you prefer Vinyl, Tape, CD or Digital Format and why is that?
We are working on physical release right now, many people asked for it. We started with a digital release. But as long as people are enjoying our music, any media is fine. For me personally, I prefer digital during the day, physical at home.
Your music style is Heavy Metal. Which are your main influences (Favourite Artists / Bands etc.)
There are many. But Judas Priest, Accept, Helloween or Iron Maiden will come to mind for most people.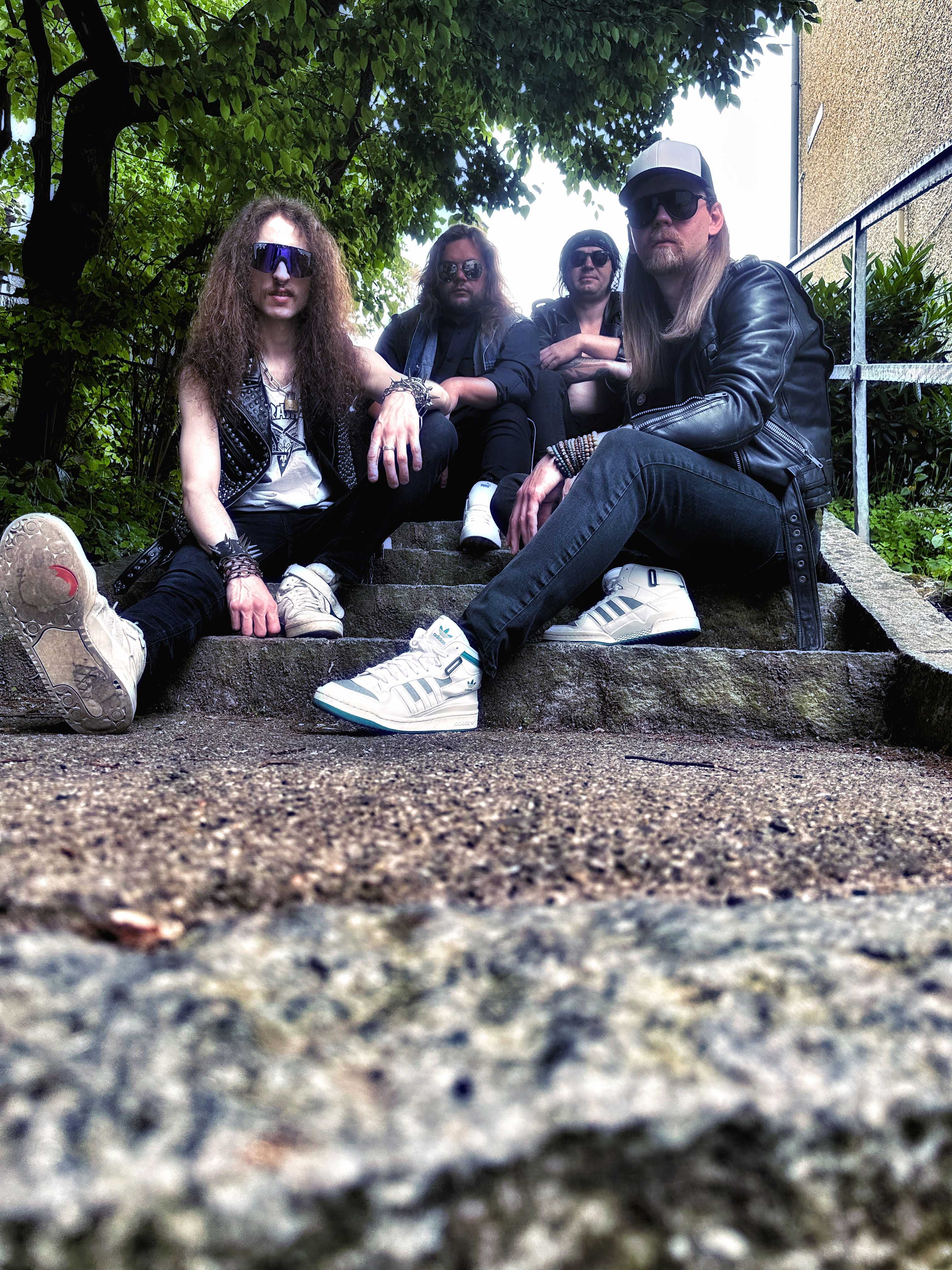 Which things do you think a band should sacrifice in order to succeed? Have you ever sacrificed anything in your life for a better future for your band?
We just started our journey, no one had to sacrifice something yet. I think nowadays its tough enough to reach a point sacrifice is actual needed. And when you're not recognized or have the potential (standout, look, talent) to be a industry plant, we cannot talk about success.
Describe your ideal live show as a performance band. Have you already experienced that?
That starts before the show. The drive to the venue, band chemistry, being nervous before the show. Going on stage, play a killer set, the 5 mins after. The adrenaline, When the crowd is cheering, headbanging and after all telling you they will come again. When everything works, for the band, the host, and the crowd. For me that's a perfect live show.
What attributes do you think that a new Heavy Metal Band should have in order to gain identity and be unique?
Next to talent, interesting, fresh songwriting, but also catchy and well known i would say: Thinking out of the box, being not to limited in view or attitude. Keep going!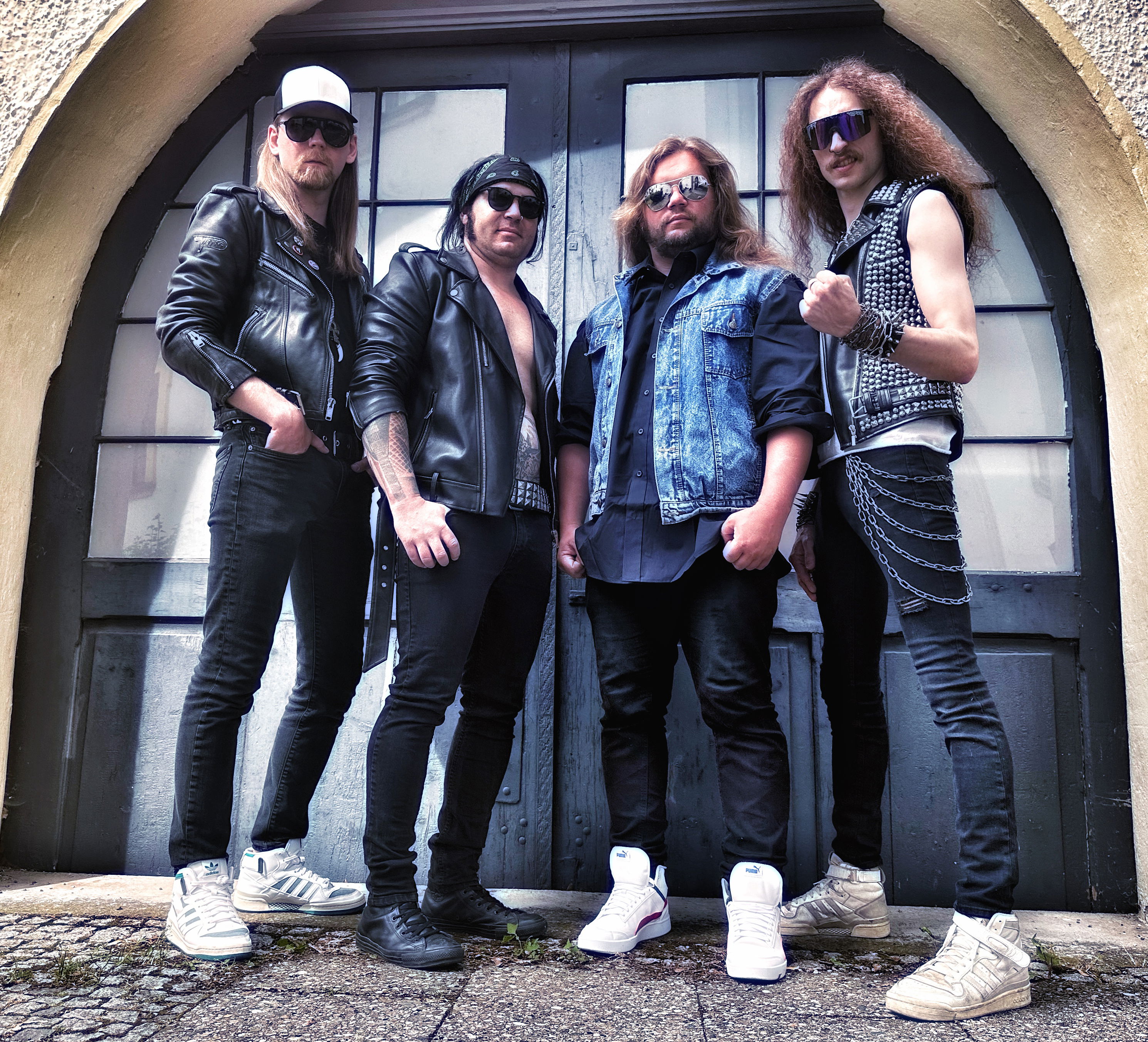 Do you believe that Digital Platforms help the new Heavy Metal Bands? Which, do you think, is the ideal way for a band to promote its work?
I believe. I personally got into so many awesome new bands just because of digital platforms. But to promote your band in this times of unlimited online content, i think next to digital platforms you need contacts and playing live, playing live, playing live.
Tell us a few things about the New Underground Metal Scene in Germany (Bands, Fanzines, Webzines, Metal Clubs etc.)
The Underground Metal scene was quite active the last years (before and after the pandemic). There are many wonderful people, clubs, venues, new bands, new releases, concerts and festivals all over Germany. I will not name any, just to defend myself for being fronted for those I've not named haha.
Do you know anything about the Hellenic Metal Scene?
I know that the Greek Metal scene is a big name right now, with festivals like Up The Hammers, or standout bands like Septicflesh or Suicidal Angels. The Hellenic Black Metal scene with Bands for of course Rotting Christ is a name too. When you mean that. If not, enlighten me then. I hope to get in touch with Greek fans soon!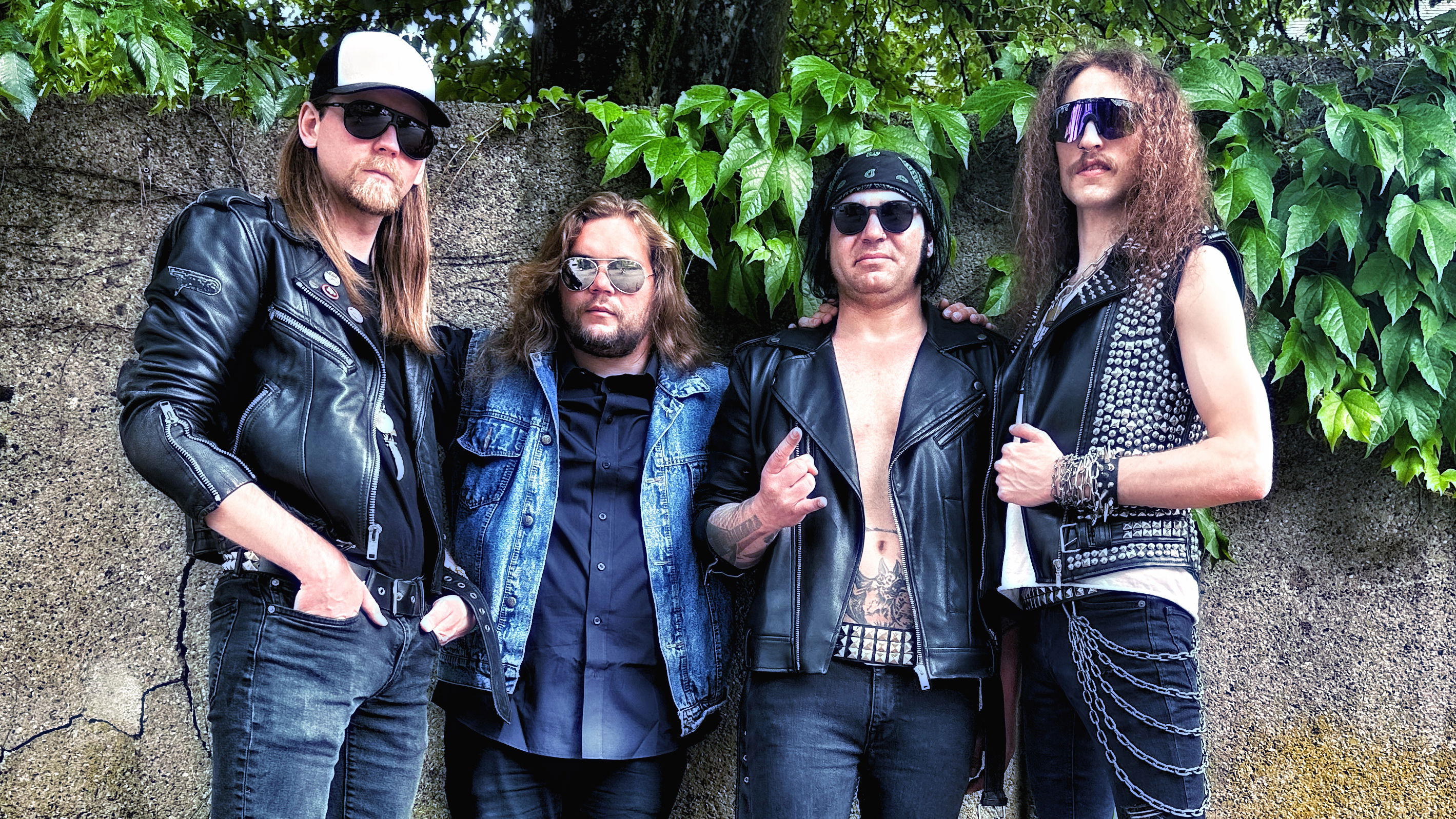 The last 3 years, worldwide in the world, we have faced many dark, strange & new situations in our everyday life (covid, lock-down etc.) Did all of this affect you positively or negatively?
Neither positively, nor negatively. I already knew before humans could act like shit, in the pandemic or the latest new wars, they've just dropped the mask for me again.
What are your future plans
Enjoying making music. Releasing new music, being creative, new songwriting, but first of all: playing live to see all of you out there!
Thank you very much for your time & keep up the good work! The closure is yours.
Thank you for having us! It was a pleasure! Go to concerts, support your local scene, support the bands, support YOUR music, break out of your daily routine to keep your mind clear ;)
By Steve the Filthy Dog.
THRILLER CONTACT:
https://www.facebook.com/thrillermetal
https://www.instagram.com/thrillermetal/
https://thrillermetal.bandcamp.com/album/street-metal
https://open.spotify.com/artist/3llL7bsniIYFegpGhOatqN
https://music.apple.com/us/artist/thriller/1711845241