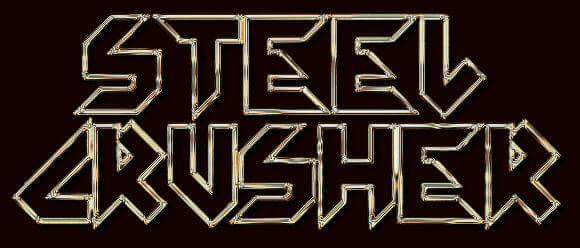 !!!TRUE METAL FROM GERMANY!!!
We had a conversation with Thorsten Sadlutzki (Rhythm guitar).

Welcome to the FILTHY DOGS OF METAL Webzine.

Tell us a few things about STEEL CRUSHER (Members, Starting Year etc).
Steel Crusher consists of 5 members, which are Daniel "Danu" Wamsler (Vocals), Sven-Erik Kruse (Lead Guitar), Thorsten Sadlutzki (Rhythm Guitar), Christian "Prinzi" Prinz (Bass) and Gonne Jensen (Drums). The first beginnings of the band were already in 2014 when Prinzi gathered some musicians around him to start a Heavy Metal band, but it took some time to get the band complete with musicians that had the ability and time and will to rehearse regularly to get together a good setlist of own songs to play them live. So the band was not complete until early 2016, when singer Danu joined the band. Like the the other current members he has played in other bands before, f.e. FROM THY ASHES, a progressive Power Metal band from southern Germany, where he used to live before he moved in our area, which is north of Hamburg, near the Danish border. Sven joined STEEL CRUSHER in 2018, when the former lead guitar player left the band, because he didn't like our lyrics. Besides STEEL CRUSHER Sven also plays in another Metal called DEAD MANS HAND. Prinzi has experiences from various bands before like MINDCRIME, PAINMACHINE. Me and Gonne played together in the Heavy/Speed Metal band DISCREDIT some years ago.
You have recently released your EP ''Metal Possessed''. What is the Feedback from your audience as well as from the Press?
So far the reactions were fantastic. We have received good reviews in Web-fanzines, such as Totentanz, X-crash, Reaperzine, Metal Integral. The fans, who gave their opinion, said that they really liked the CD and partied while listening to our music (as far as possible in these times of course) or liked to listen to it while driving. At a local online-radio (Förde-Radio) there was held a contest for the best newcomer-band that they have played in their show. We were the only Metal-band there, but we were voted second best.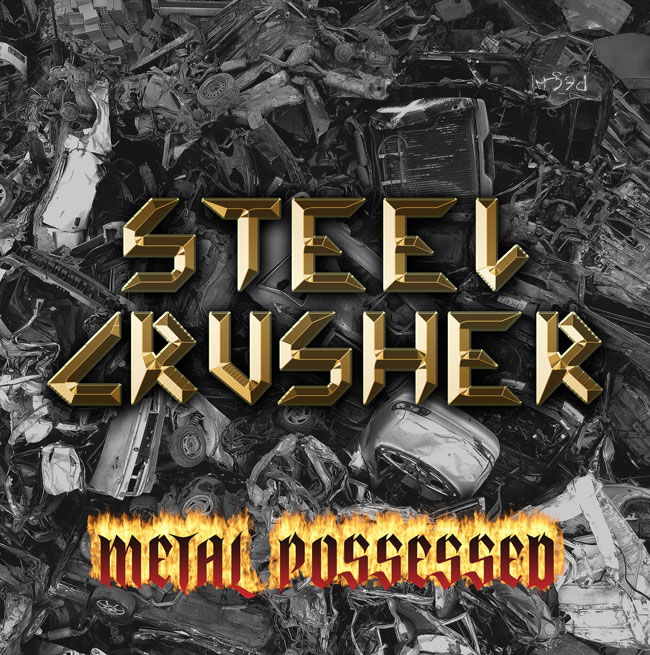 Label or DIY and why?
Both have pros and cons. If you are on a label, usually you can produce a better product, concerning sound quality, booklet and you don't have to care much about distribution, which is done for you, I presume. On the other hand it can put you under pressure f.e. to get your recordings ready at a certain time or to go on a tour in a determined time to promote the record . This would not be easy for us, as we all work, some of us have families and one even runs his own business, which makes it difficult to be away for a longer time. But we have not been offered a record deal yet. If this happens, we will think seriously about everything.

Do you prefer Vinyl, Tape, CD or Digital Format and why is that?
Besides playing in a band, I also listen to music often and I collect Heavy Metal vinyls, tapes and CDs. I personally prefer a real sound carrier that you can hold in your hand, to enjoy the cover drawing and perhaps read the lyrics. But I know that others in the band also listen to music by streaming. That's okay.

Your music style is Heavy Metal. Which are your main influences (Favourite Artists / Bands etc.)
I think the kind of music that all of the members like, is 80's Heavy Metal. For example the well known bands like JUDAS PRIEST, IRON MAIDEN, DIO, ACCEPT, MANOWAR.... Some of us also like 70s Hard Rock: AC/DC, RAINBOW, BLUE OYSTER CULT ... or even Thrash and Death Metal. Difficult to say what are our main influences, I think everything I mentioned except Death Metal. My personal favourite new bands are: SAVAGE MASTER, SANDSTORM, MARTYR (Ger).
Which things, do you think, a Band should sacrifice in order to succeed? Have you ever sacrificed anything in your life for a better future of your Band?
A sacrifice means something really serious that effects your life in a bad way. Honestly I would say I haven't sacrificed anything for the band yet. Of course sometimes you come home late at night from a gig and then you have to get the equipment back into the rehearsal room after being on your feet the whole day before. Or we spend much time doing the recordings and mixing of our CD over and over again, because we were unexperienced with that topic before and didn't want to be finished until we are satisfied with the result. But that`s not what I would call a sacrifice, because that's what we like to do.

Describe your ideal live show as a performance Band. Have you already experienced that?
You can realize it from the beginning , when an ideal show will happen that night. The audience already stands at the edge of the stage and wants you to start.Then, during the show the crowd does headbanging and some girls dance and they all sing along with us. It`s a great party and after the show we talk to the fans and have some drinks. This happens sometimes, so that is why we really like to play live.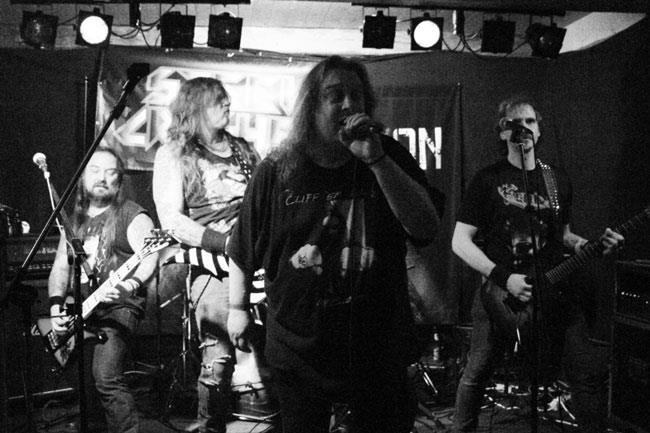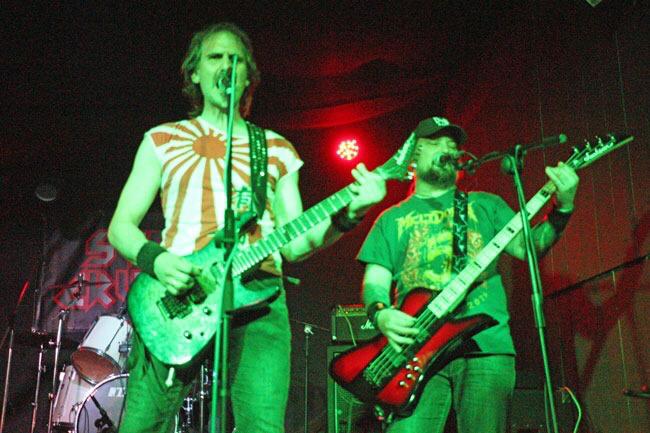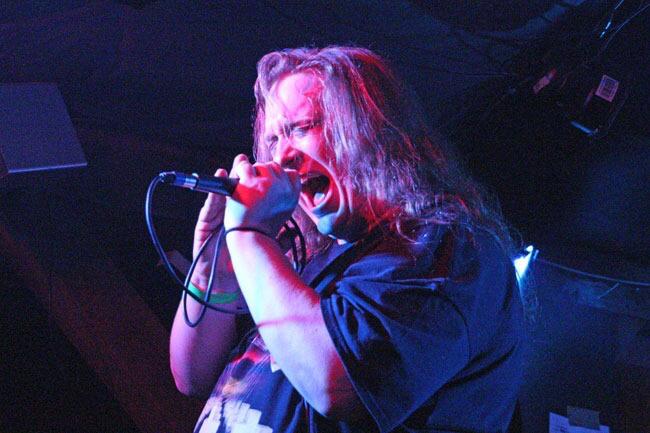 Which attributes, do you think, that a new Heavy Metal Band should have in order to gain identity and be unique?
In my opinion most important is to write and perform good songs, with catchy riffs and vocal melodies, that really excite the listeners and rouse them into a special mood, especially in a live concert.The bands, that have become big, they all have great songs, that are listened to even decades after their release. It is the music that makes the difference. Of course you also have to be persistent on following your path and be convinced of what you do. That means: Always go on creating great music, play live as often as possible, going further step by step, but not cramped, it should be fun mainly.
Do you believe that Bandcamp and other Digital Platforms help the new Heavy Metal Bands? Which, do you think, is the ideal way for a Band to promote its work?
So far we have promoted the band only on our Facebook page, which can be opened even when you`re not a Facebook member and by appearance in mags like yours, which helps us a lot. To be honest we haven't focused yet what effect a platform like Bandcamp can have for the band.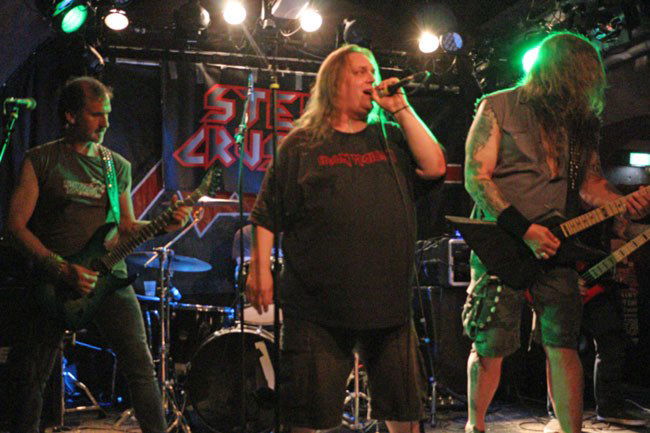 Tell us a few things about the New Underground Metal Scene in Germany (Bands, Fanzines, Webzines, Metal Clubs etc.)
Well, I can tell you about the Metal underground in our area, which is between Hamburg and the Danish border. That's the area where we mostly play live and meet people. The bands from here we have played the most concerts with together, are CASKET INC (Heavy/Power Metal) and COFFIN CREW (Metal Rock'n'Roll), both of them very cool. If you like Thrash Metal I recommend TYSON from Kiel, which have enormous precise power. There are some venues where you can see good live acts regularly, especially in Hamburg, for example the clubs "Bambi Galore". or "Bar 227" where even international acts play, such as RAVEN, AIRRAID, MEGACOLOSSUS. Sometimes we are lucky that promoters ask us to be a support band on these evenings. About new fanzines, I like to read "Sound And Action", a german-written printed fanzine mainly dealing with German Metal. The Webzines, I already mentioned before, additionally I like Heavy-Metal-Heaven.de.

Do you know anything about the Hellenic Metal Scene?
Oh yes. My first contact with Greek Metal was in the 90s when I bought an LP from a German Mailorder distributor. It was CRUSH "Kingdom Of The Kings" and I still listen to it regularly to this day. An outstanding record !! After that experience I got interested, thinking there must be more like this in Greece. So I read Greek fanzines like Steel Conjuring and Singing Swords and in there I found some reviews of Greek Bands. I ordered some CDs and tapes directly from the bands, my faves were OUTCAST "Full Speed Ahead", POWERCRUE "Stay Heavy", HATRED, STORMLORD ... Later on I got to know the music of MARAUDER, also very good, thanx to a Greek guy I met on a holiday trip on Kreta. Our singer also told me about a Greek Sleaze band called FOR MY ADDICTION, he considered to be very good. In general it is known in Germany, that Heavy Metal is quite popular in Greece.
What are your future plans?
Just go on, create more music, play as often live as possible (hope that will be soon), because it's so much fun !

Thank you very much for your time & Keep up the good work! The closure is yours.
Thanks to you Stavros, for giving us the space in your webzine and for supporting the Underground. We really appreciate what you do. Greetings to the Greek Metal Fans !! Yamas !!
!!!ATTENTION METAL HEADS!!! To grab a copy of the ''Metal Possessed'' CD, you can contact at this e-mail address: steel-crusher@freenet.de
The price is 12 € including postage to Greece in a registered letter.
By Steve the Filthy Dog.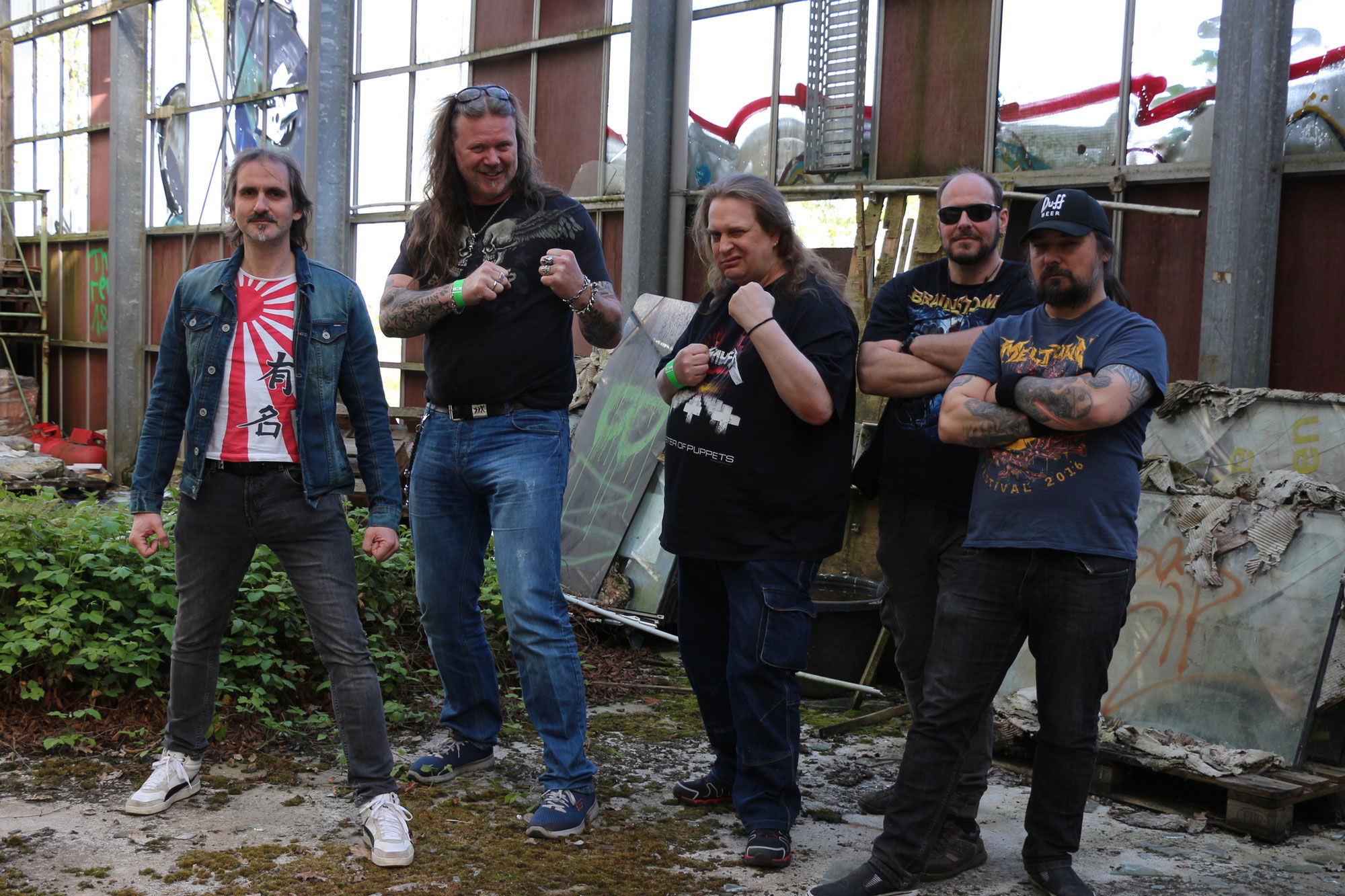 STEEL CRUSHER CONTACT:
steel-crusher@freenet.de
https://www.facebook.com/Steelcrusher999