!!!US HEAVY METAL!!!
We had a conversation with Steve Hays.Enjoy!
Welcome to the FILTHY DOGS OF METAL Webzine.
Tell us a few things about STAR FIGHTER (Members, Starting Year etc).
Star Fighter was started by Steve Hays. Most recently, Steve was the bass player for American Metal band Space Vacation.
After a successful tour in support their last album "The Black Divide", Steve decided to leave Space Vacation and start his own band in 2019.Steve is a multi instrumentalist and songwriter. After writing the album "Metal Hero", he wanted to put a proper band together but after a few miss connections, he decided to go another route.He had played in a couple of cover bands with singer Percy Ross (not to be confused with Ross Percy from Australia).Steve knew Percy had an amazing voice and would be perfect for the band. So, as it was, this became a two man group. Once the songs were recorded, one element was missing...a blistering Lead guitar player.Steve had been friends with Mark McGee (Vicious Rumors, Greg Allman) since the 80's. He called him up and Mark delivered all the solos for the album in about 4 hours. His playing really took the songs to another level.Another friend, Adam Bernie played B3 organ on 2 songs.
You have recently released your album ''Metal Hero''. What is the feedback from your audience as well as from the Press?
The response from fans and the press has been spectacular.When I set out to make this album I wanted to make a record that brought me back to when I first discovered Hard Rock/Heavy Metal at 13 years old.It was kind of a selfish endeavor as I wanted to please myself first and foremost. The fact that other people are enjoying it is a bonus and makes us as a band very happy.We have been compared to late 70's, early 80's Scorpions, Dio, Trance,... It's a great compliment as those bands were early influences of mine.
Label or DIY and why?
We released the album independently.It wasn't our first choice and we did get interest from several Metal labels. But with the Covid pandemic, everything seemed to be on hold with these labels.We made the decision to release it ourselves and hope through word of mouth and interviews such as yours, fans will eventually discover the album.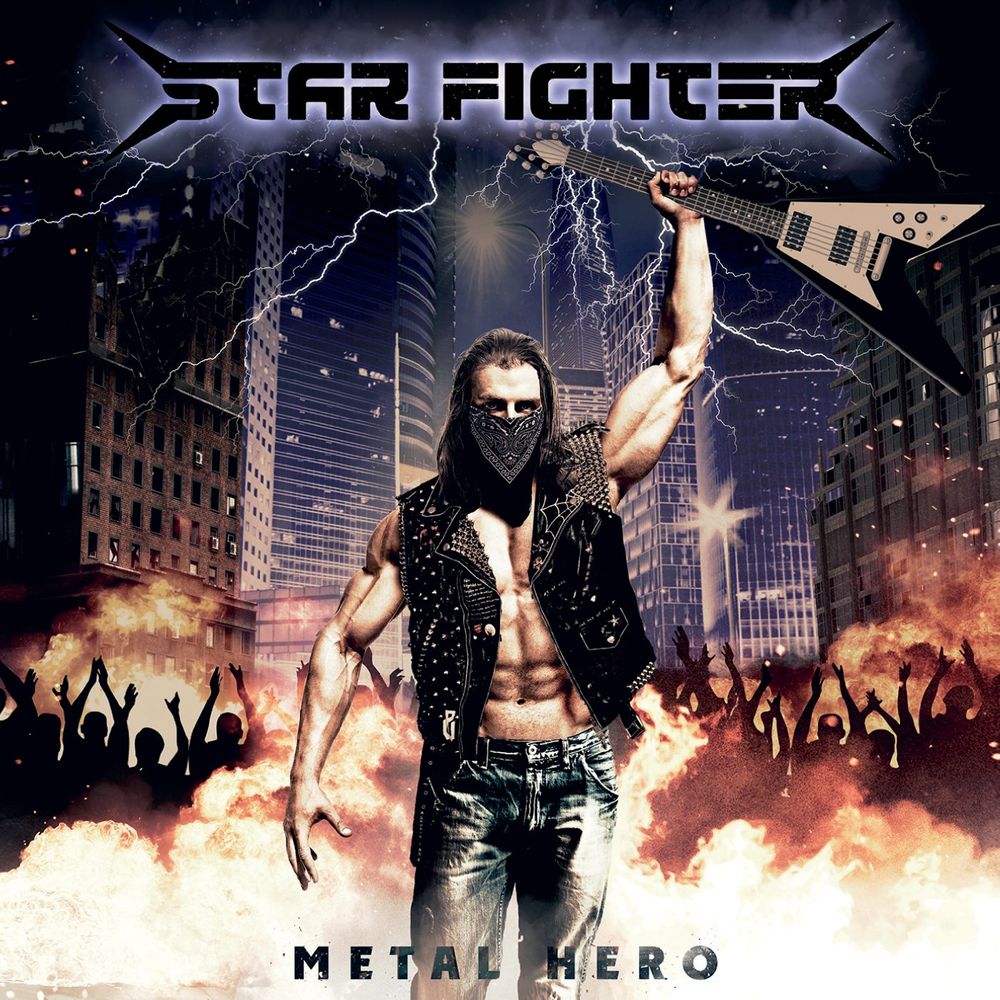 Do you prefer Vinyl, Tape, CD or Digital Format and why is that?
If I had a choice, everyone would still buy vinyl and only vinyl. First, it sounds better and second the cover art was always a big part of enjoying music.The best example for me is discovering Iron Maiden by the cover alone. I had never heard the music but when I saw the artwork in the record store, I knew I had to buy it.I know a lot of people listen strictly to Digital streaming and that's part of the future of music.Unfortunately as you know, bands do not make a lot of money from streaming services. It's a shame.
Your music style is Heavy Metal. Which are your main influences (Favourite Artists / Bands etc.)
Our main influences are late 70's, early 80s Hard Rock/Heavy Metal. Scorpions, Michael Schenker Group, Iron Maiden, Rainbow just to name a few.
Which things, do you think, a Band should sacrifice in order to succeed? Have you ever sacrificed anything in your life for a better future of your Band?
To make it in music you have to be willing to sacrifice comfort and security. It's not like a regular job and there is a lot of uncertainty.The days of big record contracts are over and few are lucky enough to make a living playing in a band.You have to love playing music for the sheer pleasure of it and if something comes of it then you are one of the lucky ones.
Describe your ideal live show as a performance Band. Have you already experienced that?
Percy and I are recruiting members to play live shows as we speak. We cannot wait to play these songs on the stage in front of people.I think playing outdoor festivals is the ultimate as a band. Playing Wacken is on my bucket list! One can dream!
Which attributes, do you think, that a new Heavy Metal Band should have in order to gain identity and be unique?
As far as uniqueness and identity I think everything as been done before in Rock music. My advice for all it's worth would be to stay true to yourself.Do what you love and make yourself happy when you write as song. Don't worry if it's trendy or unique, that usually sounds forced. If it comes from the heart, the fans will enjoy it.
Do you believe that Bandcamp and other Digital Platforms help the new Heavy Metal Bands? Which, do you think, is the ideal way for a Band to promote its work?
There are a lot of platforms like Bandcamp or Reverberation. I'm still trying to figure out if they are helpful, lol. I will say that the internet has made it a lot easier for bands to self promote.
Tell us a few things about the New Underground Metal Scene in San Francisco Bay Area, California USA (Bands, Fanzines, Webzines, Metal Clubs etc.)
The club scene in the Bay area is really suffering due to Covid. I truly hope these clubs will still be there when it's over. As far as Metal bands in the Bay area, my personal favorite is Hell Fire.I think Space Vacation is awesome (they are about to record a new album), Cultural Warfare is great & Niviane are an awesome Power Metal band.
What are your future plans?
Star Fighter on stage!
Thank you very much for your time & Keep up the good work!
By Steve the Filthy Dog.
STAR FIGHTER CONTACT:
https://www.facebook.com/starfighter.us/
https://www.deezer.com/en/album/157498862
https://music.apple.com/us/artist/star-fighter/1521075283