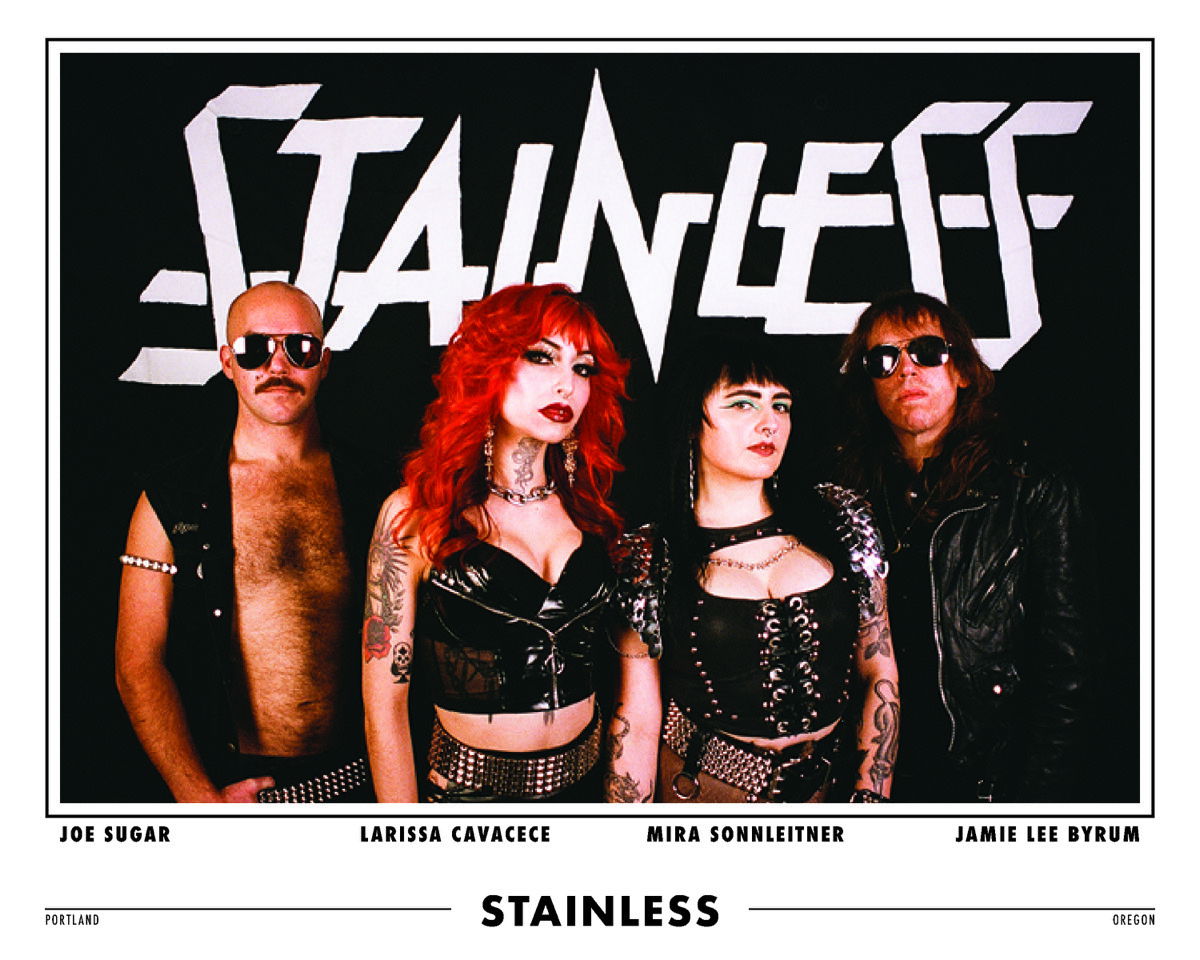 !!!HOT HARD 'N' HEAVY METAL FROM THE USA!!!
We had a conversation with Jamie (Guitars). Enjoy!
Welcome to the FILTHY DOGS OF METAL Webzine.
Tell us a few things about STAINLESS (Members, Starting Year etc).
Stainless formed in Portland, Oregon in 2022. The beginnings of the band started when the pandemic hit in 2020 but 2022 is when we really became a band and the lineup consisting of Larissa Cavacece: Vocals, Mira Sonnleitner: Bass, Joe Sugar: Drums and Jamie Byrum: Guitar was finalized.
You have recently released your single ''Snakebite/Too Hot to Steal''. What is the feedback from your audience as well as from the press?
Well there hasn't been any reception from the press yet but people locally seem to dig it and the reception on social media has been great so far. We're thankful for everyone who gives it a listen!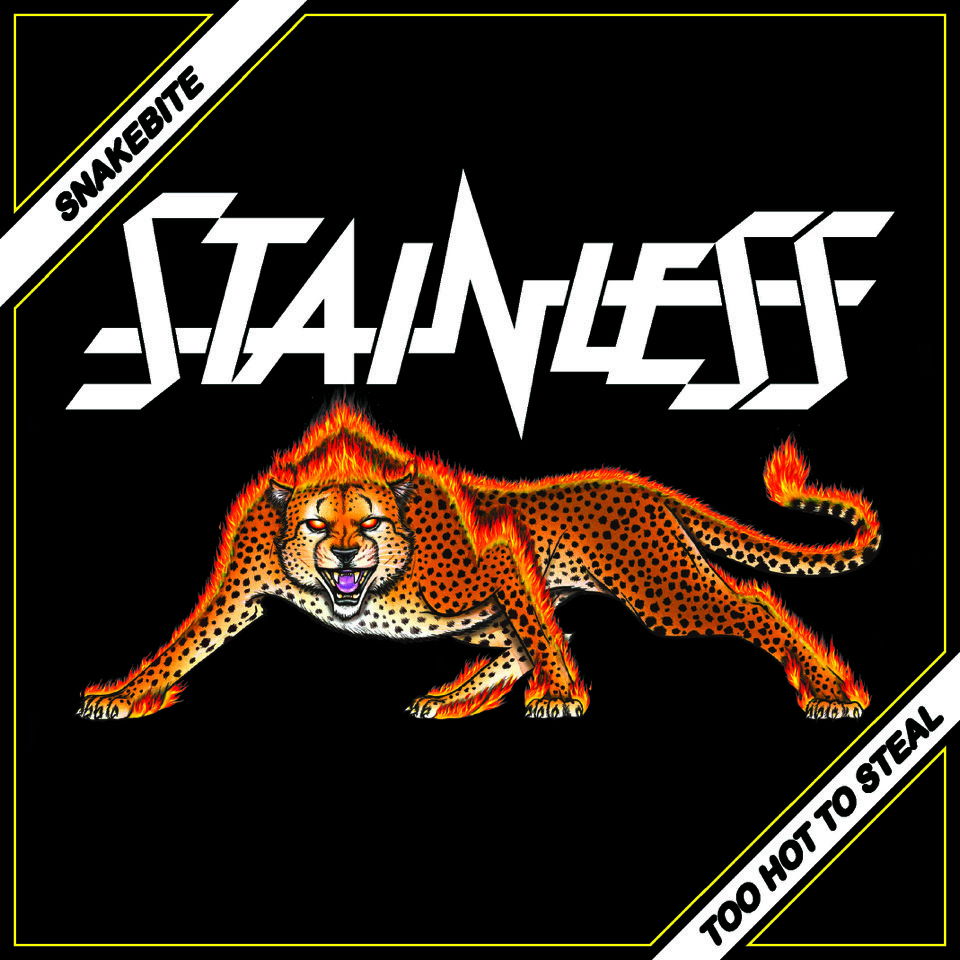 Label or DIY and why?
Both have their pros and cons. Stainless comes from the DIY Punk and Metal scene and while we don't obviously show it in our sound, the lessons learned from DIY Punk will always affect how we operate. On the flip side, being on a quality label that shares your vision can offer opportunities and resources that you might not be able to achieve on your own so there's major benefits to that as well. I think it just depends on a bands goals and the opportunities available to them that determines which is better. The Snakebite single is being released by Stainless and is a DIY effort.
Do you prefer Vinyl, Tape, CD or Digital Format and why is that?
All of the above. Vinyl will always be #1 but whatever gets people listening to your music is cool with me.
Your music style is Hard 'n' Heavy Metal. Which are your main influences (Favourite Artists / Bands etc.)
There's a lot, but Hard Rock, Heavy Metal, AOR, Glam, Power Pop and Punk are all ingredients we incorporate in our sound and will be more evident on future releases. Some bands (ok, a shitload haha) in no particular order: Riot, Accept, Def Leppard, Montrose, Lynyrd Skynyrd, Blackfoot, Mountain, 38 Special, Saxon, Motorhead, UFO, MSG, Dictators, Dead Boys, Hanoi Rocks, Manowar, Ramones, Scorpions, Mercyful Fate, Harlequin, Shooting Star, Toronto, Pat Benatar, AC/DC, Van Halen, Girlschool, Venom, Status Quo, Nazareth, Judas Priest, Sweet, Slade, Black Sabbath and Kiss.
Which things do you think a Band should sacrifice in order to succeed? Have you ever sacrificed anything in your life for a better future for your Band?
I can't really comment on specific things that should be sacrificed in order to succeed because it depends on the band and their goals. But I think being in a band at any level requires some degree of sacrifice. And the best bands are willing to sacrifice the most. As far as personal sacrifice? Everything really, at one point or another. Health, money, shelter, relationships etc. have all been sacrificed because of being in a band. But at the end of the day the music and the shows are always the reward.
Describe your ideal live show as a performance Band. Have you already experienced that?
Probably a large packed out squat or sleazy club where is everyone is going apeshit, throwing beer and stage diving and there's actually a good PA system and sound engineer. And yep, I've been there ;)
Which attributes, do you think, that a new Hard 'n' Heavy Metal Band should have in order to gain identity and be unique?
Great songwriting. I'm not too concerned with originality, I just want to love what I'm hearing and listen to it over and over again.
Do you believe that Digital Platforms help the new Hard 'n' Heavy Metal Bands? Which, do you think, is the ideal way for a Band to promote its work?
It's the way everyone promotes their music now so love it or hate, it's really the only way to go. In regards to the second part of this question I think live concerts are the ideal way to promote a band, though social media and streaming will probably get you noticed by a larger audience quicker. Live music is still the best.
Do you see any differences between US Metal Market & EU Metal Market (Labels, Bands, Fans etc)?
I think they're pretty similar in regards to the underground. As far as Mainstream Hard Rock/Metal, in America it seems to be more focused on Nu Metal and Grunge where in Europe traditional Hard Rock/Metal bands might have greater success. But I'm no expert on what's hot in music right now.
The last 2 years worldwide we have faced many dark, strange & new situations with our everyday life (covid, lock-down etc.) Did all of this affect you positively or negatively?
I'd say both. It gave me more time to practice and write songs and work on other aspects of my life. But not being able to play live or tour for all that time really sucked.
Tell us a few things about the New Underground Hard 'n' Metal Scene in Portland, Oregon (Bands, Fanzines, Webzines, Metal Clubs etc.)
There's a shitload of punk and death metal in Portland which is great, we love that. There's not a ton of Hard Rock/Traditional metal but some local bands doing the style are of course Danava, R.I.P., Leathurbitch, Blade, Hog, Time Rift, Silver Talon, Dead Feather. If you happen to be in Portland and looking for vinyl be sure to stop by Blackwater Records.
Do you know anything about the Hellenic Metal Scene?
Not really to be honest. I spent some time listening to the more well known bands like Rotting Christ, Septicflesh, Nercromantia when I was younger, but it's been awhile. I do really like Dead Congregation. I'd love to learn more about it!
What are your future plans?
Make records and tour!
Thank you very much for your time & Keep up the good work! The closure is yours.
Thanks so much for reaching out and to everyone reading this and checking out Stainless! There's more to come!
By Steve the Filthy Dog.
STAINLESS CONTACT:
https://www.instagram.com/stainlesspdx/
https://stainlesspdx.bandcamp.com/album/snakebite