!!!OCCULT HEAVY ROCK!!!
We had a conversation with Nate Tyson (Vocals). Enjoy!
Welcome to the FILTHY DOGS OF METAL Webzine.
1. Tell us a few things about SPELLBOOK (Members, Starting Year etc).
We started the band in 2007 under the name Witch Hazel. Our current line up is Nate Tyson (vocals), Andy Craven (Guitar), Seibert Lowe Jr. (Bass Guitar) & Nicolas Zinn (Drums).
2. You are going to release your album ''Magick & Mischief ''. Tell us a few things about this project.
Our latest album is called Magick & Mischief and is coming out Sep. 25th on Cruz Del Sur Music. You can pre order the album now at spellbookband.bandcamp.com for U.S. orders and https://www.cruzdelsurmusic.com/store/index.php?route=product/product&product_id=2275 for international orders.This is hands down the best production we have achieved with a record and the songs and performances are next level.
3. Label or DIY and why?
This is our first album with proper label support. We decided to go with Cruz Del Sur Music for this album. They really believe in this record and are helping expose us to a much wider audience which we could never do on our own.
4. Do you prefer Vinyl, Tape, CD or Digital Format and why is that?
Vinyl brings such a big warm sound to it. Especially with hard rock and heavy metal. It's the best way to experience a lot of music. I do however listen to music a lot digitally simply out of convenience.
5. Your music style is Hard 'n Heavy Metal. Which are your main influences (Favourite Artists / Bands etc.)
We formed this band out of our mutual love for 70's rock n roll. Our main influences are Black Sabbath, Deep Purple, Thin Lizzy, Blue Oyster Cult, Rainbow, UFO, Alice Cooper, Kiss, Pentagram, Sweet, Nazareth etc.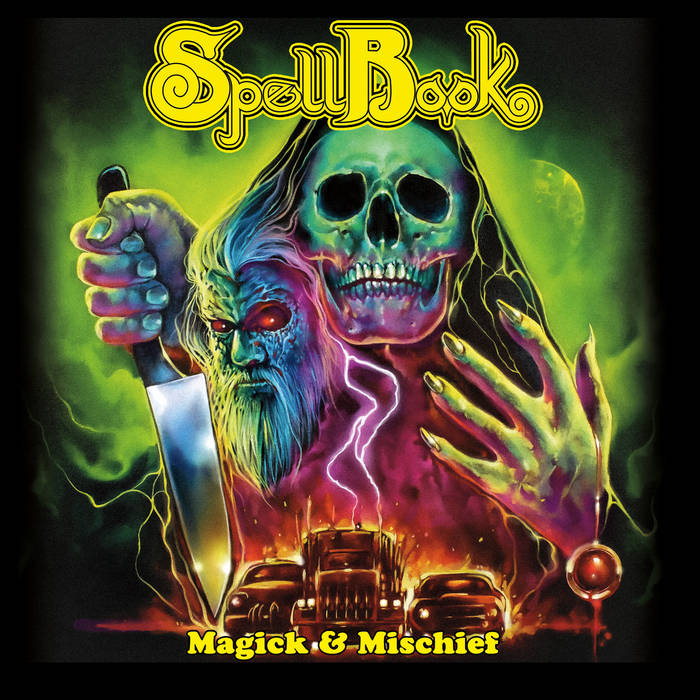 6. Which things, do you think, a Band should sacrifice in order to succeed? Have you ever sacrificed anything in your life for a better future of your Band?
Being in a band and making music has been my dream since I was 10 years old. I have molded my entire life around being in a band. The band always comes first.
7. Describe your ideal live show as a performance Band. Have you already experienced that?
The best show experience for us is when every member is on fire, playing at the best of their abilities with the highest energy possible. A large audience is a plus but we only know one way to perform. Whether it's 500 people or just the other bands watching us...we go for the kill.
8. Which attributes, do you think, that a new Hard 'n Heavy Metal Band should have in order to gain identity and be unique?
Have more than 1 influence. Don't be afraid to blend genres.
9. Do you believe that Bandcamp and other Digital Platforms help the new Hard 'n Heavy Metal Bands? Which, do you think, is the ideal way for a Band to promote its work?
In the past we only had Facebook, Instagram, Spotify and Bandcamp to use to promote ourselves. Those platforms can only do so much for an underground band.In our experience having a label with a proper PR department backing our album has exposed and promoted us better than any social media format.
10. Tell us a few things about the New Underground Hard 'n Heavy Metal Scene in York, Pennsylvania USA (Bands, Fanzines, Webzines, Metal Clubs etc.)
The central Pennsylvania scene has a lot of cool bands varying in rock/metal genres. Some of them worth checking out are Wrath of Typhon, Cultic, Olde Tigers, Metalwulf, St. James & The Apostles, Prince Diamond, Almost Honest etc.Also some fun local podcasts to check out, Are You Morbid? Podcast and Getting It Out Podcast.As far as venues that support original music and bands we only really have Skid Row Garage and The Chameleon Club. But as of now there are no live shows happening due to Covid 19. We really hope once the pandemic is over we will still have local venues to play at.
11. Do you know anything about the Hellenic Metal Scene?
The main band that comes to mind from that area is Rotting Christ which I saw open for Mayhem a few years back. That was a great show. We would love to play in the Hellenic scene and learn more! Any bands we need to be checking out?
12. What are your future plans?
Our plans for the immediate future is to promote the release of our new album "Magick & Mischief " out September 25th via Cruz Del Sur Music. Once live shows are allowed to happen again we plan on hitting the road as much as possible in support of the new record. Until then we are already working on new material for our follow up album. We already have a blue print of what that is going to be.We hope to see you all in person. The music never stops! MAGICK & MISCHIEF INFECTS EVERYTHING IN SIGHT.

By Steve the Filthy Dog.
SPELLBOOK CONTACT: