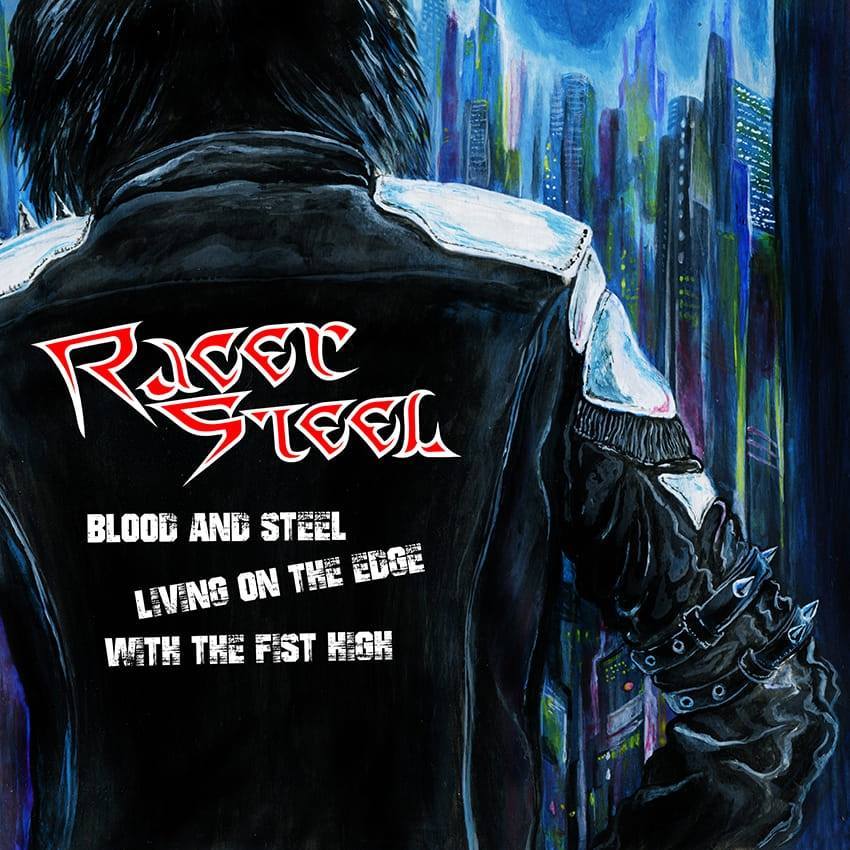 !!!HEAVY METAL FROM CHILE!!!
We had a conversation with RACER STEEL.Enjoy!
Welcome to the FILTHY DOGS OF METAL Webzine.
1. Tell us a few things about RACER STEEL (Members, Starting Year etc).
Greetings Maniac!!! Before start we want to thank you for contacting us from your Maniac lands of metal!
To continue, Racer Steel is formed in 2017 by the Guitar Necrocristo, since the start all the members had a clear vision about what the sound and the riffs of the band would be,and that's how os formed Racer Steel, nowadays the members are Necrocristo (Guitar), Jonny The Best (vocal), Speed Maniac (Drums) Thanatos (bass) and Marcelo (Lead Guitar)
2. Your song ''Living On The Edge'' is a classic powerful Speed Heavy Metal track. How many songs you have till now ?
Ufff, that song has all the essence and speed, it represents the band's proposal in every aspect, we currently have 7 songs composed and recorded for our first LP that we hope will be released this year.
3. Label or DIY and why?
It is always good to have the support of a label as it denotes that the musical work you are doing is good, besides a label has musical experience and you can have possibilities for future work and quality in production,unlike doing it by yourself because limits you in future productions, number of copies, the type of format, and also limits us in economic issues.
4. Do you prefer Vinyl, Tape, CD or Digital Format and why is that?
We will always prefer the physical format so as not to lose the roots and the essence of the metal, although it is true that any means of diffusion is acceptable for the distribution and promotion of the band,among the digital formats the physical format will always prevail for us. Physical format.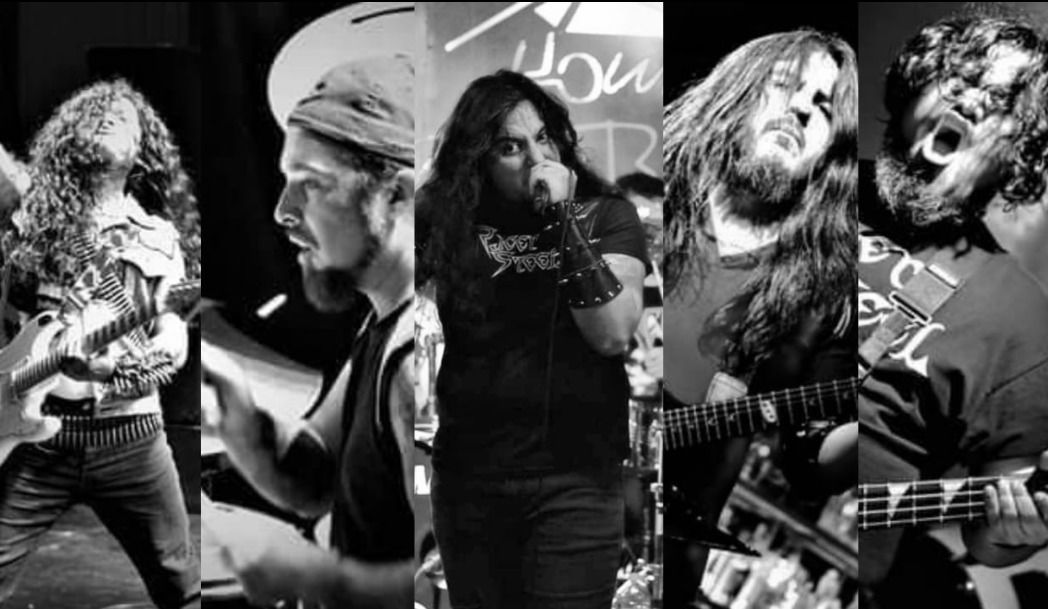 5. Your music style is Heavy /Speed Metal. Which are your main influences (Favourite Artists / Bands etc.)
RACER STEEL has always been defined as a Heavy Metal band, the Bangers have cataloged us as a Heavy Speed Metal band and this translates to the composition of our songs being all different, you can find old school heavy metal songs like our song Blood and Steel, other songs like living on the Edge with a speed metal style etc.This generates that we are pigeonholed in these two styles, although the band is not at all uncomfortable with this, it is more pleasing to us that this small debate is generated due to the style of the band.Our clearest influences as a band will always be IRON MAIDEN, JUDAS PRIEST, MANOWAR, HELLOWEEN, IRON ANGEL, ANGEL DUST, RIOT CITY to name a few,but each member has different influences in band from the most classic sound, bands and artists to the most rotten and dark black metal and when it comes to composing.Everything flows and we create a very unusual sound and composition to listen to in current bands.
6. Which things, do you think, a Band should sacrifice in order to succeed? Have you ever sacrificed anything in your life for a better future of your Band?
It is a difficult question, since each person has a different meaning of sacrifice, but as a band it is sometimes necessary to focus only on the goals as a band, put aside friendship at times and think about the future and musical projection, since the friendship can be a distraction in the moments of composition, regarding your second question the sacrifices we have not yet reached the limit of generating a great sacrifice for music,it is not yet time to leave the family which is the most important thing we have each one of the members, although we do not know what the future holds for us, if we will continue to grow musically or earn a place with iconic bands, but for the moment we have not sacrificed anything in important life.
7. Describe your ideal live show as a performance Band. Have you already experienced that?
The first thing would be to be on a big stage, the place must be full of Bangers yelling and chanting the name of Racer Steel.
Before starting to play, a stage with an initial atmosphere of dry smoke on the stage floor, beginning the intro of a song with a blinding play of light.Behind the drums a giant curtain with the cover or the name of Racer Steel and everything else that flows from the production,It would be great to play at least 1 hour: 30 minutes and the rest is up to us as we always give 1000% in each presentation so with that support it would be a perfect concert.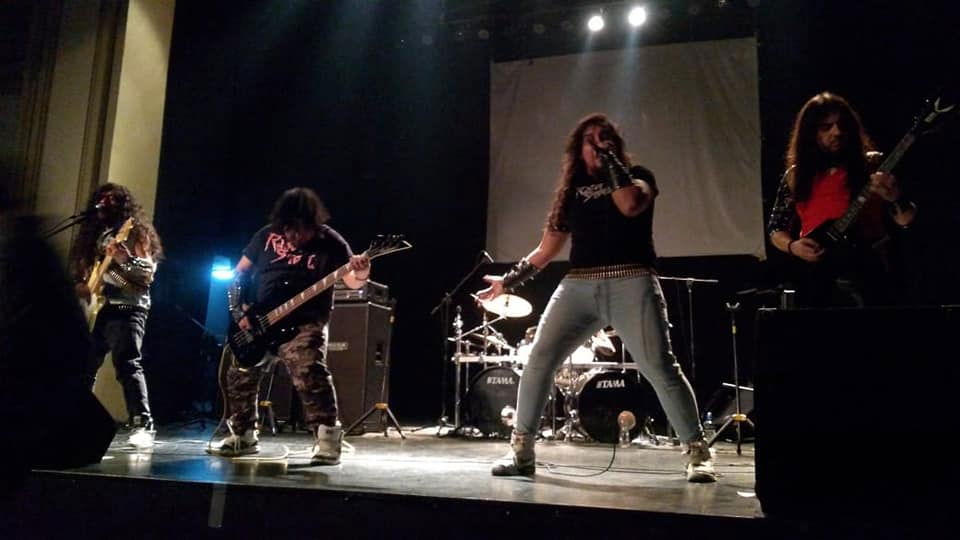 8. Which attributes, do you think, that a new Metal Band should have in order to gain identity and be unique?
One of the attributes to our thinking that provides identity in itself is the staging, what we refer to the clothing, long life to sneakers with cane, jeans, leather, tips, bullet belts, chains, leather wristbands the presence.It is a main factor to give identity and obviously a devastating sound according to the presence, the main thing is to maintain the old lineage since it must not die.
9. Do you believe that Bandcamp and other Digital Platforms help the new Heavy Metal Bands? Which, do you think, is the ideal way for a Band to promote its work?
Sure, Bandcamp, Spotify, YouTube etc. they help lot at the time of spreading and just beginning as it is difficult to start making a name by yourself on the scene and appear on important posters.But for us the ideal would always be the physical, both for sound, quality and not lose the roots of the metal.
10. Tell us a few things about the New Underground Metal Scene in Chile (Bands, Fanzines, Webzines, Metal Clubs etc.)
Regarding the Chilean scene, it is more active than in any previous era ... new ones are emerging, demonstrating class and unique brand when it comes to executing metal,from the most classic in terms of heavy metal sound to the darkest Black metal bandas, it is amazing the scene in our country, the fanzines are too important in our lands,they are still ultra active these are printed on paper which are duplicated to make more copies and not necessarily a good quality paper by the same publisher Bangers to keep spreading the plague everywhere in this country.There are webzines that are already making a name for themselves today, such as raymanrock, which contributes a lot to the underground scene ...And with regard to metal clubs, I prefer to omit comments since the few places that were left have been closed by force majeure. and we are running out of places to execute metal,there are many bars where a certain sector of Bangers is concentrated but they are very false and addicted to taking photos and they are dead weight, eternal hatred of those "conchetumadres" (mother fuckers in chilean slang) .
11. Do you know anything about the Hellenic Metal Scene?
We have also heard some bands from your lands, the most well-known Septic Flesh, Firewind, Nightrage, Crosswind, Paladine, although the style from Black Metal, Death Metal, Power Metal is well-stocked and they are some of the ones we find and they are good works what they have done.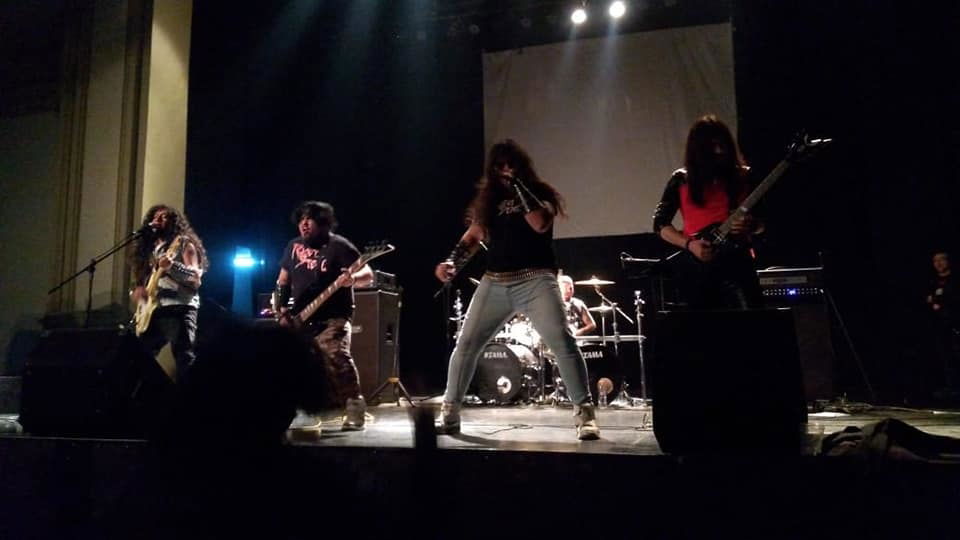 12. What are your future plans?
Future plans to move forward would be to get the support of a label to edit our first album, which is a 7-song LP, and if possible get to release it in all physical formats (including vinyl), continue working on new songs for a new album, and keep performing live in our country and why not outside the country too.
13. Thank you very much for your time & Keep up the good work! The closure is yours.
Thank you very much Filthy Dogs of Metal for giving us this chance to share our work.Bangers are invited to visit our Facebook and YouTube pages.And thank you very much again a hug and see you on the road !!
By Steve the Filthy Dog.
RACER STEEL CONTACT: