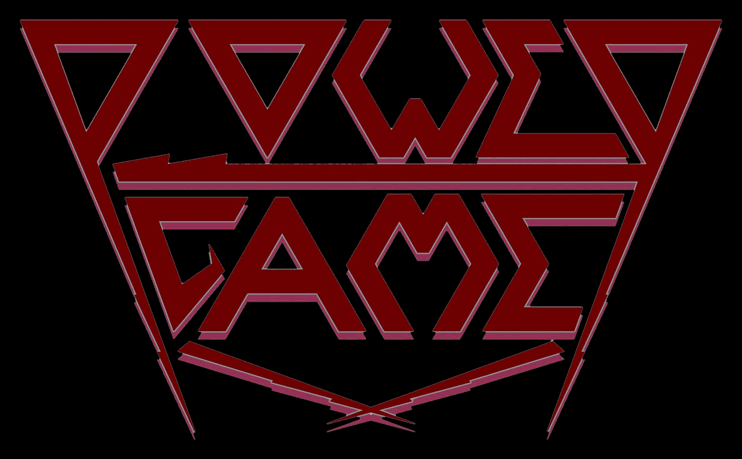 !!!GERMAN HEAVY METAL WARRIORS!!!
We had a conversation with Matthias "Matty" Weiner (Vocals/Guitar). Enjoy!
Welcome to the FILTHY DOGS OF METAL Webzine.
Tell us a few things about POWERGAME (Members, Starting Year etc).
First of all: thank you for having us, we are glad about this opportunity. The questions are answered by lead singer/lead guitarist Matthias "Matty" Weiner. Okay then, here we go. POWERGAME was founded in 2012 by me. It had always been a dream of mine to play in a traditional Metal band that refers to bands like Tokyo Blade, Jagura or Iron Maiden. Until then - and some more years simultanously - I've been in a Thrash-band called Lost World Order. That has always been a lot of fun, but I had so many musical ideas that didn't really fit in there. Plus, I wanted to gain some experience by working with different musicians. It didn't take long to recruit some musicians I've known for a long time, including the Lost World Order-bass player Marc Zimmermann. We did some live shows and recorded a demo in 2013. It felt really good, so we continued on with our very first album "Beast On The Attack". Everything became more serious, and we played some more shows and wrote songs. But at one point, when we had already had 4 guitar players – I was just the lead singer at that time – and the bass player had left the band, something didn't feel right at all. So, I decided to completely reassemble the band. I wrote 5 songs for an EP that was supposed to be called "Masquerade", and I recorded everything plus a Cover of the Scorpions-tune "Blackout". I did all the guitars (except for the main solo in "Blackout" which was actually played by Lost World Order-guitar player Henrik), the bass guitar and the vocals, the drums were recorded by Klaus-Gerald Fedeler as a session drummer.
While I were at the Soundlodge studio to record, there was an idea of Soundlodge-boss Jörg Uken playing the drums in POWERGAME. Thus, I decided to write some more songs and make a whole album out of "Masquerade". Jörg recorded the drums, Marc Zimmermann had already returned and played the bass guitar, I did all the rest. Again, only one guitar solo was recorded by somebody else, this time it was Tobias Hoppe, who had already played in POWERGAME. "Masquerade" turned out to be a great success for us, but the line up-issues were still our companion. Jörg Uken lives some hundred kilometers from us and is really busy with his studio, so he wasn't able to join us on a regular basis. So, Klaus-Gerald Fedeler became our steady drummer in the end of 2019. Also in 2019, we were lucky enough to find Marc-Philipp Längert, an amazing guitar player with massive knowledge about music theory. I am really happy with this line up consisting of the two guys mentioned before, Marc Zimmermann and myself. The funny thing is, that there are actually three out of four Lost World Order-members playing in POWERGAME, so much for an experience with other musicians, haha. In the time of the lockdown we weren't able to rehearse too much, but we somehow managed to write and record the songs for our brandnew EP "The Lockdown Tapes". I'm really proud of these recordings and of the fact, that this is a product of a real band, not just me and some guests. Those songs are completely new – of course except for the Tank-cover "Shellshock" -, and the songs we had already written for our next album are still in the pipeline. We will visit the studio again in September 2021 to record a brandnew album, and I Can't wait for it!
You have recently released your EP ''The Lockdown Tapes''. What is the Feedback from your audience as well as from the Press?
Until now, it is critically acclaimed, the first reviews are quite positive, sales are pretty good for a not so well-known band I guess, the overall feedback is really good. We shot a no-budget-videoclip for the song "Unnatural Rites", which can be found on Youtube, and the feedback on this one is very positive, too.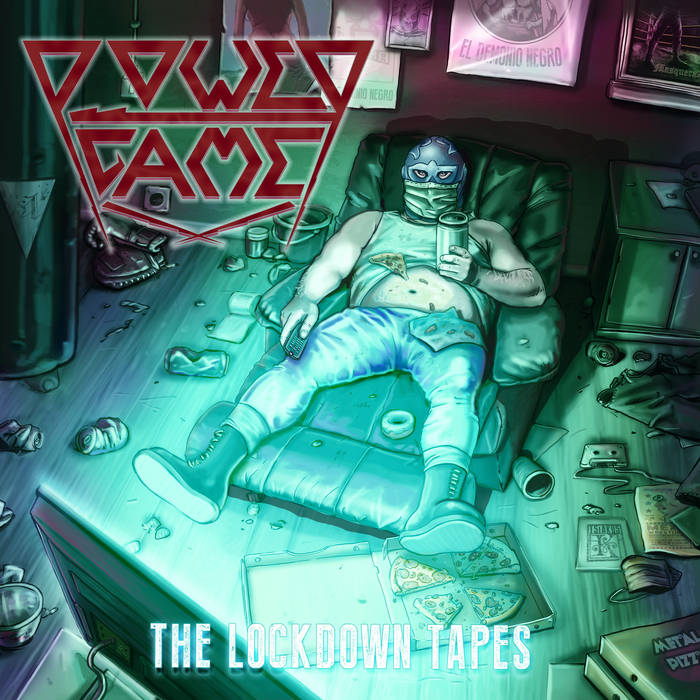 Label or DIY and why?
It is a mixture. The CD was released by Iron Shield Records, the vinyl by Fucking Kill! Records, and the tape is self-released. Labels help a lot, because they have many contacts all over the world. So, they help spreading the word. For a band like us it is not important how many CDs we sell, because the numbers aren't high at all. We want the people to listen to our music, we want them to come to our shows, and we'd like to touch them emotionally. This is what music is all about in my opinion, emotions. Laughing, crying, loving, hating, all this and much more can be found in music. So, the more people we can reach, the better. No matter if there is a label or not. But we are really thankful, both labels do an awesome job and are run by extremely cool guys.
Do you prefer Vinyl, Tape, CD or Digital Format and why is that?
You'll find them all in my collection, but I'm not a big fan of tapes, because they sound awful compared to the other formats. CDs are okay, but I prefer the good old vinyl. It sounds amazing, the cover is bigger, and listening to vinyl is a kind of ritual. Needle to the vinyl, the first sizzles, and then the music. Listening, reading the lyrics, enjoying the artwork, I can't get enough of that.
Your music style is Heavy Metal. Which are your main influences (Favourite Artists / Bands etc.)
I listen to all kinds of Metal (alongside Rock and Hardrock), from the more melodic stuff to Death- and Black Metal. I started listening to Metal in February 1991, so a little more than 30 years ago. First, there were AC/DC, Maiden, Metallica, W.A.S.P. and Manowar, but it just took 6 months or so to get me into Death Metal with Morbid Angel. Back in the day I had no money to buy albums, so I borrowed them and recorded it on tape. I had some really weird compilations back then. I remember a tape with Morbid Angel's "Blessed Are The Sick" on the A-side and Alice Cooper's "Hey Stoopid!" on the flipside, haha. Thrash Metal has been huge in my world, but nowadays there are only few bands like Alitor or In Malice's Wake who can really inspire me. Fortunately, there are many new Speed Metal-bands who are pretty cool, as well as Black Thrash - Blackevil, Black Viper, Aggressive Perfector, Evil Invaders, Black Cyclone, Chainbreaker and so on. I think we live in a great time for Metal, for there are so many great new bands as well as the old bands that are still there. One of the most inspiring new bands to me is Dream Tröll, and I fell in love with the latest album of Midnight Priest, "Aggressive Hauntings". But that was not the question, sorry. Of course, I am heavily influenced by Maiden and Priest, as well as King Diamond/Mercyful Fate, Overkill, Running Wild, Sacred Steel (my favorite German band ever) and the classic NWOBHM-stuff – Angel Witch, Diamond Head, Tokyo Blade, Tygers Of Pan Tang, Jaguar, Demon, Bleak House, Grim Reaper, Samson and so on. What really got me hooked when I first heard it when I was 17 or 18 was "Chasing The Storm" by Tröjan. I love that album, it had a huge impact on me. US Metal is another big influence, bands like Agent Steel, Omen, Manilla Road or Riot are awesome. Morbid Angel, Death, Unleashed, Dismember and Morgoth were the five most important Death Metal-bands for me in the early Nineties, and when it comes to second wave-Black Metal I prefer Emperor, Limbonic Art, Mayhem, and the first three albums of Opera IX.
Which things, do you think, a Band should sacrifice in order to succeed? Have you ever sacrificed anything in your life for a better future of your Band?
First of all, there must be a proper definition of the term "success". Am I successful because I sell some hundred albums? Surely not for somebody who associates success with arena tours and big paychecks. But I see myself as a successful musician, because I can do what makes me happy and also reach out to the people. Of course, I'd love to play in arenas, but club shows are great, too. And honestly, we play underground Metal, we'll never make it to the stadiums. If sacrificing means giving up your convictions and compromising when it comes to songwriting, sound and artwork, I am not willing to sacrifice anything at all. But I actually gave up some opportunities for my former band. I had planned on working abroad as a mechanical engineer 25 years ago, but I never did, because I didn't want to miss any rehearsals. I've always enjoyed playing in a band more than anything else, so I decided to stay in my hometown. That is kind of a sacrifice I guess, depends on the point of view. I've always been aware of the fact that I'm not playing music for the masses, so why should I sacrifice anything in my life like friendships or family in order to gain a little success? I am happy to be a part time musician. I have enough time to write songs, I can rehearse with the boys, play some cool shows here and there, what more could I wish for? As long as I feel the spirit, everything is alright.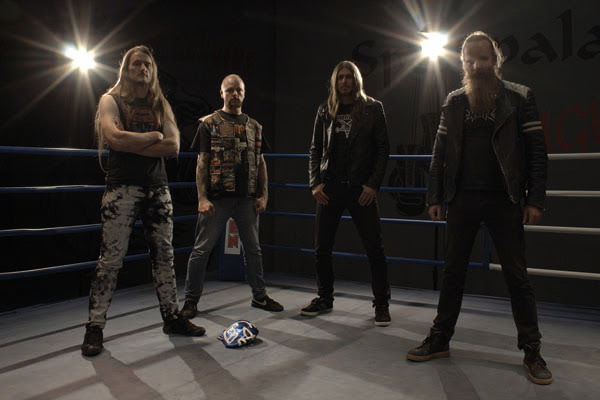 Describe your ideal live show as a performance Band. Have you already experienced that?
Yes, I was lucky enough to play some shows that I'd call perfect. The most important thing is the organization, from welcoming the band to catering, from a cool stage to sound and light equipment to professional staff. When all these boundary conditions are ensured and the band is in good shape, there is nothing that can stop playing a very good show. You know, we always give all that we have. We play for our lives, we sweat like hell, every show we play is the most important one at this point. But as a band you can easily fail when everything around you sucks. There are many aspects that can destroy a show for the audience. As an example, just think of a band with much double bass and the engineer doesn't manage to make both bassdrums sound equally loud. Horrible. So, as a band you are always kind of dependent, what is not so cool when you are a control freak like I am, hahaha.
Which attributes, do you think, that a new Heavy Metal Band should have in order to gain identity and be unique?
Wow, that is a tough one. I think there are basically two ways to start a band. The first one is just starting and writing some original songs. The second one is starting it all with concrete plans. Many bands who chose the second way are kind of unique but have a lack of passion in my opinion. When you start a band as a kid you don't think about identity, you just want to play music like your idols do and become as good as possible. Later on, some bands start to change some details. Maybe other harmonies, a different vocal approach or the desire of being the heaviest or fastest band on earth. That's how many subgenres started. When you think of early Thrash, Death or 90ies-Black Metal, the first bands of these waves all sounded unique. Just because there were no older bands they could copy. After some time the copycats are always coming up, some of them even more successful than the original bands. When I started POWERGAME, all I wanted was playing some good old fashioned traditional Metal. But then the band developed, we added many harmony guitars, my vocals improved and we got our mascot, the Mexican wrestler El Demonio Negro. But there was no greater plan behind of that. We never sat down and said "we all have to wear the same clothes on stage, we will write all our lyrics about just one main topic, we have to include industrial samples and d-beat" or something like that. At the end of the day, the most important thing is that the music of a band is enjoyable for people and the musicians themselves. If it's unique, great! If not, who cares as along as the music is good?
Do you believe that Bandcamp and other Digital Platforms help the new Heavy Metal Bands? Which, do you think, is the ideal way for a Band to promote its work?
The internet in general is one of the most powerful instruments for promotion nowadays. You can spread the word on social media platforms, in forums, there are lots of online magazines, and you can easily contact everybody, be it labels, distributors, local dealers, journalists or the fans. Bandcamp is pretty good to sell your stuff. It is easy to buy and sell there with a professional shop system and paying via Paypal. Of course, they keep some money from every purchase, but that is just fair, because they provide webspace and a powerful, well-known platform for free use. On the other hand, promoting a band in the internet is like standing naked in front of a big crowd. Everybody is brave enough to insult bands (and other people) online, because they are sitting in their homes safely. Catching up with a band after a live show and telling them they had just sucked is way more tough and challenging. But being in that naked position is okay for me, because it is always my own choice to be a public person, and that means I have to stand criticism, even if it's expressed in an unfair way. Fortunately, the positive comments clearly prevail. I'm extremely thankful that we can work with labels who do some of the promotion for the band. But the very best way to promote your music is – and will always be – playing live shows. Nothing can ever beat the energy of a great Heavy Metal-show, and I can't wait to hit the stages again after the pandemic will have come to an end.
Tell us a few things about the New Underground Metal Scene in Germany (Bands, Fanzines, Webzines, Metal Clubs etc.)
I think, Germany has a really good infrastructure when it comes to live clubs, festivals and a stable fanbase. But in the last years, there have been so many shows that not all of them were frequented as good as necessary for being profitable. My favorite live location is the MTS in Oldenburg, because the stage is right in the middle of a record store. This is so cool, you can buy some CDs or vinyls, watch a band, get drunk and play with the giant Carrera they have in a second room next to the bar. We had the honor to play there twice, and it both was a blast. My favorite festival is the Keep It True, what is kind of a twin brother of the Greek Up The Hammers-fest. Besides the great music you can buy thousands of records and have countless chats with fans from all over the world. Plus, there are countless great open air festivals. Honestly, I'm not so deep in the fanzine scene, but I think there are not too many fanzines for traditional Metal in Germany, most of them specialize in the more extreme subgenres of Metal. The three ones that come to my mind are Eternity, That's Metal and Underground Empire (I don't think there will ever be another issue, for the last one was published many, many years ago). My favorite fanzine is the Snakepit, but that is actually a French one, haha.
The best major mag around is the Deaf Forever, no doubt about it. There are some webzines in Germany, the most famous ones are Metal.de, powermetal.de, vampster.com and bleeding4metal.de I guess. I don't know if they still have the same standing nowadays that they used to have like ten years ago, because there is so much going on in social media. There all the information is gathered and can be found quickly. There are many good bands around as well. We are close friends with Nightfyre and Torian, and I like bands like Old Mother Hell, Wheel, Viper Queen, Messerschmitt, Hell Patröl, Avian, Dawn Of Winter, Chapel Of Disease, Sulphur Aeon, Goblin's Blade or Command The Machyne. I think I don't have to mention the older and more famous German bands here, but let me just tell that I'm glad Rage found back to old strength with their three latest albums.
Do you know anything about the Hellenic Metal Scene?
When there was the first lockdown in March 2020, we raised some money in order to help out the organizers of Up The Hammers who had to cancel their festival in the very last minute. Therefore we recorded an early version of "Pandemic Nightmare", what can still be found on our Bandcamp-page.
Unfortunately, I've never made it there yet, but I really hope I will someday in the future. There are some great labels in Greece, like No Remorse Records, Eat Metal Records, Sonic Age / Cult Metal Classics, or Arkeyn Steel Records. I own a lot of their releases, and they all are important for the Metal movement in general. When we were looking for an artist to create the front cover of "The Lockdown Tapes", I went through my collection and fell in love with the cover of Solitary Sabred's latest album "By Fire & Brimstone". The artist was Kostas Tsiakos who painted the artwork of our EP, so there are some Hellenic connections in our own music, haha. Back in the 90ies, when I discovered the more extreme forms of Metal, bands like Rotting Christ or Necromantia had already been there. My favorite Greek album from that era is "Athenian Echoes" by Nightfall, which is still awesome after all those years, even despite the drum computer. Have you heard their cover of Manowars "Thor (The Powerhead)", which was included in the "Eons Aura"-EP? Very cool version. I like many Hellenic bands, like Battleroar (well, you know my opinion about Sacred Steel, and their lead singer Gerrit P. Mutz was at least on two of their albums), the above-mentioned Solitary Sabred, Validor, Wrathblade and many more. My latest find is Steel Arctus from Thessaloniki, a great Epic Metal band. That was a Bandcamp-find, what is another proof that pages like these play an important role in promoting your band. Browsing other peoples' collections to find new music is really inspiring. As far as I can see from abroad, the Greek scene seems to be a really enthusiastic one with lots of dedicated fans, musicians and labels. I support it by buying lots of music with Greek origins. And trust me, I'd love to play some shows in Greece or just visit some and share some drinks with the Hellenic Metal warriors!
What are your future plans?
As long as there won't be any opportunity to play live in 2021, we'll use the time to write and record a new album which will hopefully be ready for release in early 2022. There are already 8 or 9 songs written, and I think we will record 11 or 12 at all. Maybe we'll keep 3 of it for a later EP or maybe a seven inch. This time there will probably be one song with a playing time of over 10 minutes included. I hope that we are able to keep all the positive vibes we received lately and use it to record a great album. We'll give all we got!
Thank you very much for your time & Keep up the good work! The closure is yours.
Thank you for the cool questions and the opportunity to talk about POWERGAME on your zine. We are Metal to the bone, try out our music, follow us on Facebook or Instagram, attend our shows. You won't regret it. If you are a promoter and want us to play in Greece, or if you are a fan and want to find out more about the band or just want to talk about Metal in general and tell me about great bands, don't hesitate to get in touch: powergame666 [at] web.de Stay safe everybody, let music be your guide through dark times. POWERGAME and El Demonio Negro will be back with a vengeance!
By Steve the Filthy Dog.
POWERGAME CONTACT:
https://powergameheavy.bandcamp.com/