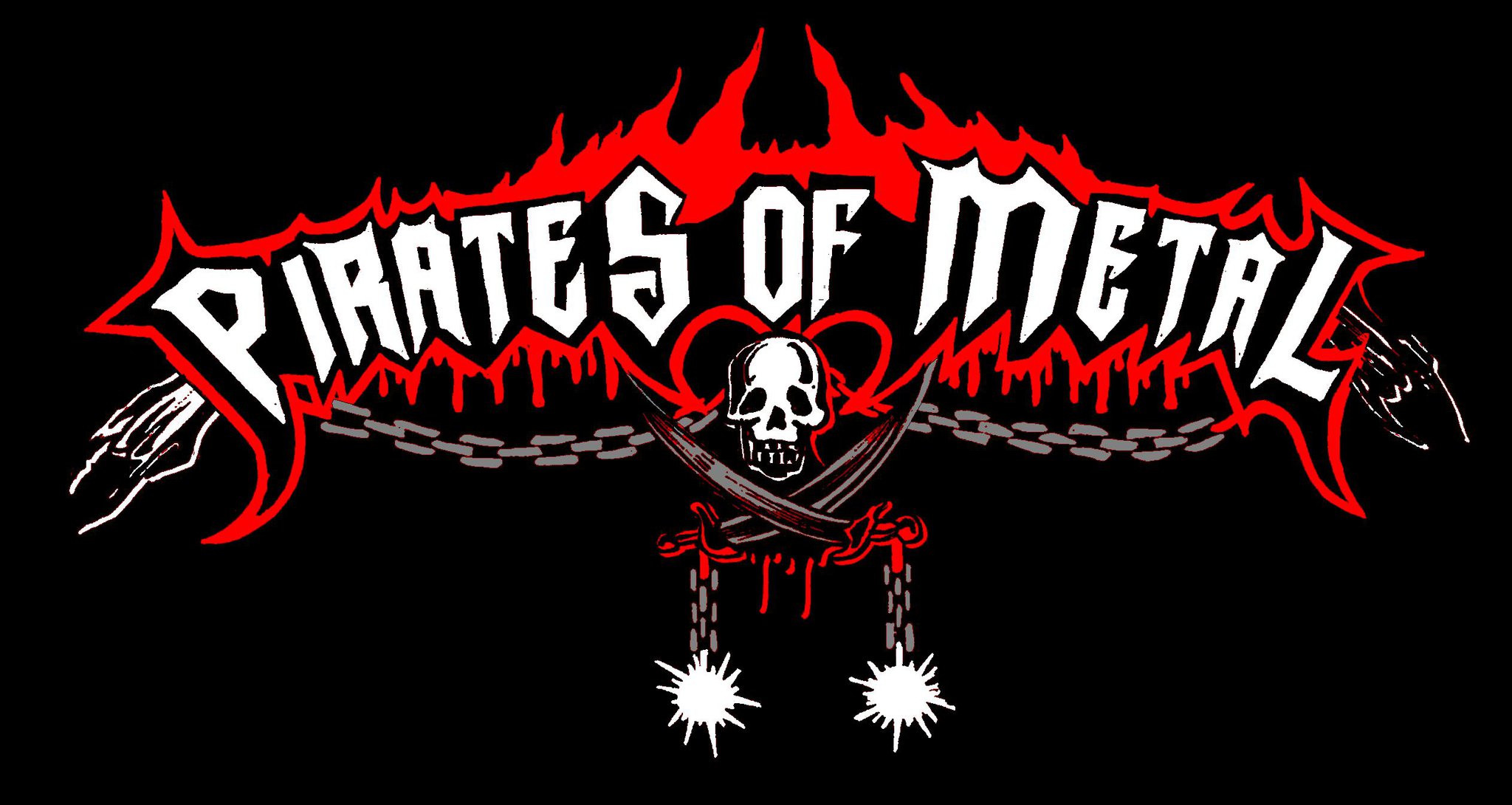 !!!HEAVY METAL FROM THE UK!!!
Welcome to the FILTHY DOGS OF METAL Webzine.
Tell us a few things about PIRATES OF METAL (Members, Starting Year etc).
Pirates Of Metal formed in 2004 when the founding members were at school together. We play traditional heavy metal with a thrash and speed metal influence, with a pirate twist.
The current line-up is:
Ewan Mackay - Vocals
Srdjan Bilic – Lead/Rhythm Guitar
Alistair Hodgson – Lead/Rhythm Guitar
Ed Rule – Bass
When we were growing up most bands were playing emo or metalcore, and most of the time the lyrics were about feeling sad or angry. We wanted to do something completely different and fun, while celebrating all of the amazing metal from the 80s which was being forgotten at that time! Also, we really like pirates. Thus, the Pirates Of Metal were born.
You have recently released your EP ''Cuts from the Deep''. What is the feedback from your audience as well as from the press?
We have been humbled and surprised by all the incredibly positive reviews we have received so far (rock-garage.com, hardrockinfo.com, metalgodstv.com to mention but a few) and by the number of international sales. It's our first recording in many years and we love the way the record sounds. Alessio Garavello of Rogue Studios, where we recorded the vocals, Milan Jejina, who helped us out with the drums, and Luka Matkovic of Citadela Sound Production, who mixed and mastered the record, have done a phenomenal job. We played the songs live for the first time recently at Sub89 in Reading, in the UK, and the audience were fantastic. Hearing them belt out "Give Me Grog (Or Give Me Death)" was a particular highlight. The EP is a mix between thrashier, riff-based songs like "Dread Wolf" and "Ship Of Doom" and catchy, melodic songs like our new single "Mutiny". In this way, we hope to offer something for all metalheads to enjoy!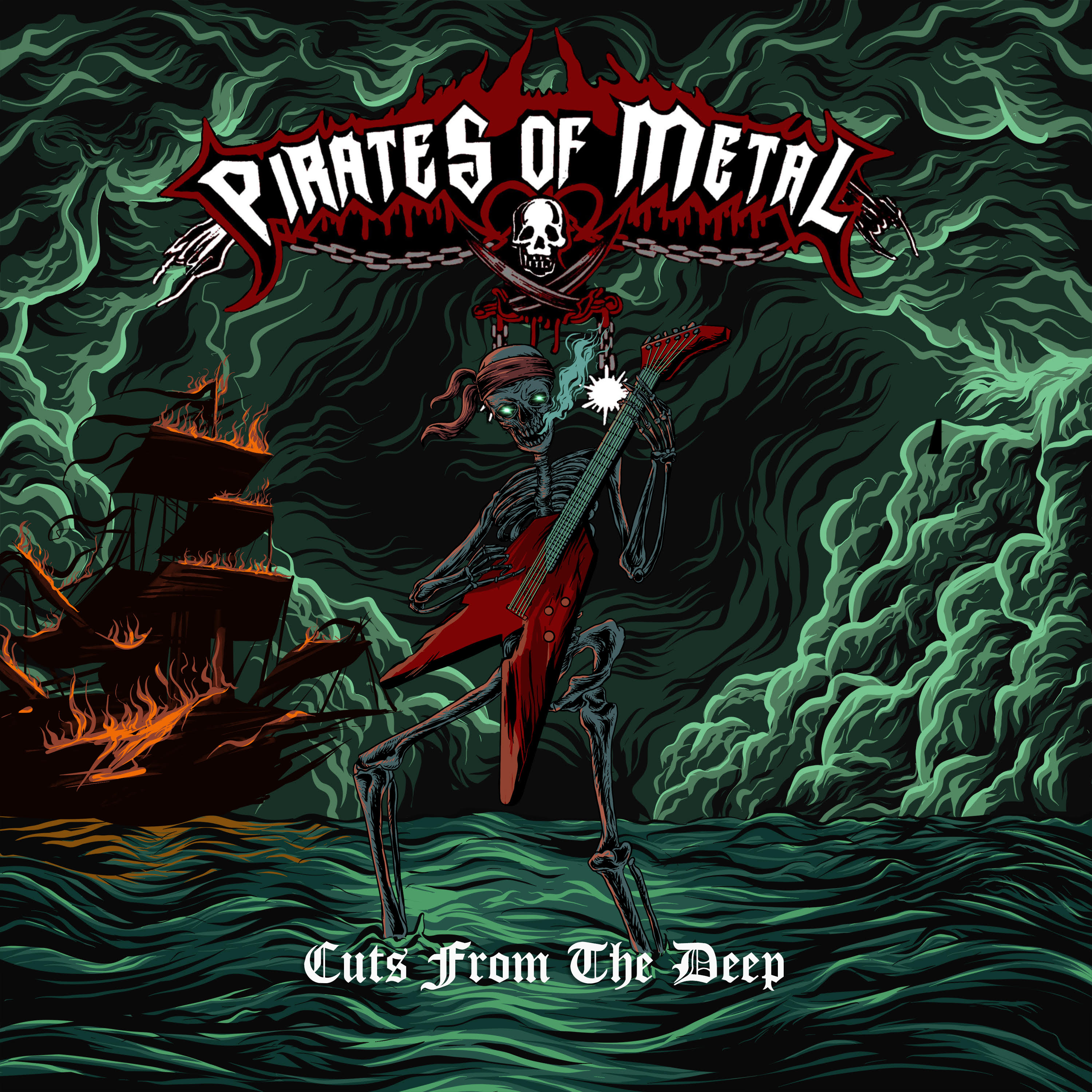 Label or DIY and why?
We went with DIY for this recording. It is our first record in a long time, and we wanted to have total control over the sound and the scale of the production. The results that bands can achieve on a budget nowadays are incredible, and recording technology has really progressed since we were growing up. We're really pleased that we were able to replicate the powerful, aggressive sound of our live shows in a CD format.
Do you prefer Vinyl, Tape, CD or Digital Format and why is that?
It depends! Digital format is fantastic for sharing our music far and wide and gaining new listeners quickly, however the new EP is available in physical format as a digipak. In my opinion, having a CD or vinyl in your hands is absolutely priceless and the best way to rock out. It sounds amazing on a car stereo, with the speakers turned up loud, driving past your favourite metal bar.
Your music style is Heavy Metal. Which are your main influences (Favourite Artists / Bands etc.)
We all grew up loving classic heavy metal bands like Judas Priest, Saxon, and Iron Maiden, but we also love faster angrier metal like Annihilator, Testament and Megadeth. Our sound is probably somewhere in between, with other influences creeping in. Srdjan loves Yugoslavian Rock music and A.O.R. and Ewan loves shred albums like Speed Metal Symphony and Trilogy. We don't mind a huge power metal chorus every now and then either!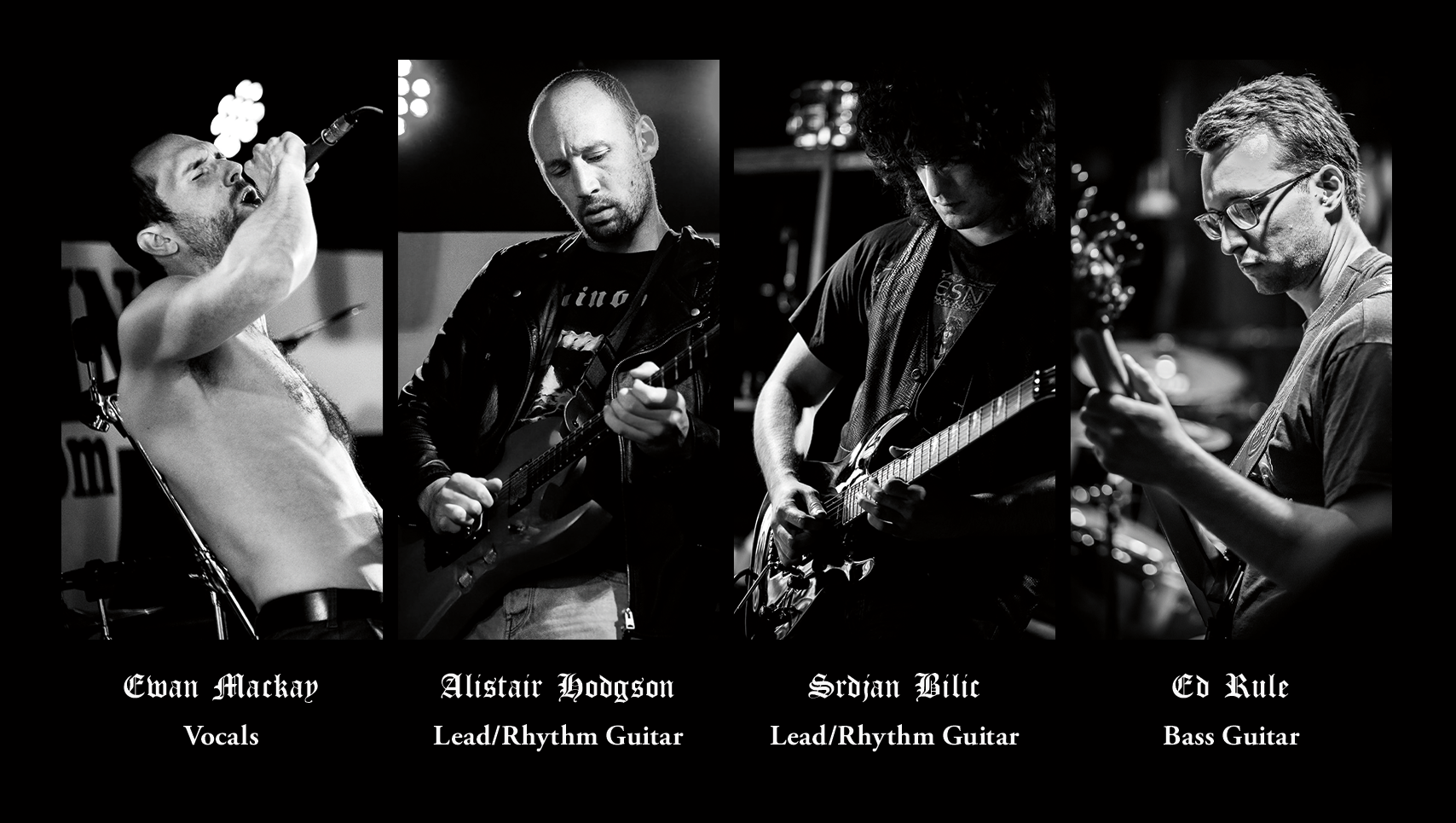 Which things, do you think, a Band should sacrifice in order to succeed? Have you ever sacrificed anything in your life for a better future of your Band?
We've poured a lot of time, money and love into our new EP 'Cuts From The Deep'. However, we wouldn't describe it as much of a sacrifice as the rewards have been well worth the effort. One thing that all bands should be willing to sacrifice however is anyone who doesn't believe in the project – we've always been 100% committed to pirate heavy metal and that's the way we like it!
Describe your ideal live show as a performance Band. Have you already experienced that?
We love intimate gigs where we are up close and personal with the fans, hearing them roar and watching them bang their heads, jumping down into the pit with them and rocking out. Our ideal live show however would be a European festival like Up The Hammers or Belgrade Beer Fest. We'd love to one day build our own pirate ship on stage, blasting cannons into the crowd and launching beers at our fans.
Which attributes, do you think, that a new Heavy Metal Band should have in order to gain identity and be unique?
Heavy metal is definitely making a welcome resurgence, but getting noticed in the field can be very difficult. I think it is all about being loud, brash and offering a mix of more traditional styles. People can smell bullshit and if you don't believe in what you're launching.
Do you believe that Digital Platforms help the new Heavy Metal Bands? Which, do you think, is the ideal way for a Band to promote its work?
New digital platforms have transformed the scene for sure. It means that metal fans all over the world can listen to new artists and it's a great way to get exposure. I think it really helps to promote new work, but as a listener it is easy to get over-saturated. Platforms like Spotify/Youtube have playlists with lots of subscribers which are probably the easiest and best way to get noticed.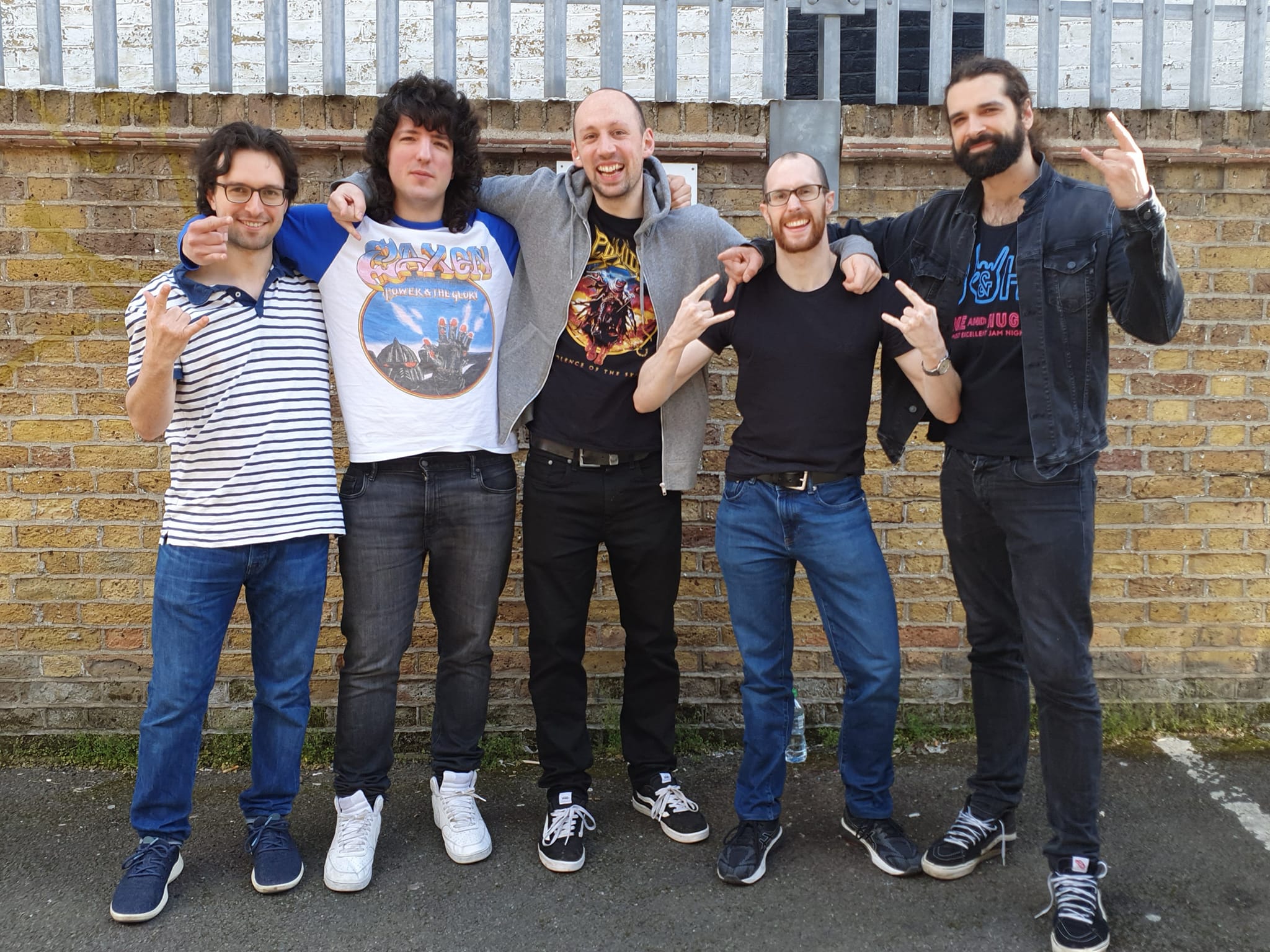 Tell us a few things about the New Underground Metal Scene in the U.K. (Bands, Fanzines, Webzines, Metal Clubs etc.)
There's a huge wave of traditional heavy metal sweeping the UK at the moment. We have been lucky enough to play with a lot of talented bands such as Primitai, Toledo Steel and Fury to mention but a few. There are a number of really cool jam nights that artists across London have been playing at post-covid which have also taken our interest. "Jake and Hugo's Jam night" has been a great way to link up with like-minded metal musicians and have a lot of fun – basically a big open mic night for lovers of metal. The vast majority are in well-established bands (Angel Nation, Death Valley Knights, Primitai etc.) and it's been a pleasure to share the stage with such great musicians. Unfortunately, a lot of our favourite metal clubs have been slowly closing down, so it's important to support those that are still around – The Black Heart, The Dev and The Underworld in Camden are particular favourites for sure.
Do you know anything about the Hellenic Metal Scene?
Growing up we were all big fan of SepticFlesh and it's so cool to see that they are still around and kicking ass! We're close friends with Tasos Lazaris from FORTRESS UNDER SIEGE. He's an incredibly talented musician based in London/Athens and is definitely going places as a guitarist and a vocalist – check out his stuff! We've received quite a few orders already for our new EP from Greece, so it's great to see such a strong metal community there. We would love to play a show or two out there in the future and party with you guys – let us know if you're a promoter!
What are your future plans?
It's an exciting time for the band at the moment - We have a few great UK gigs lined up including a Pirate Rum Festival at Southampton on July 30th and we're looking at touring Europe soon. A chance to drink a lot of rum, play some metal and party all night! We are then going to get straight back to writing some new material and aiming to release a new album in 2023 – watch this space!
Thank you very much for your time & Keep up the good work! The closure is yours.
Thanks very much for the support! It's so great to see a real revival in the traditional metal scene and we look forward to partying with our Hellenic friends in the near future!
By Steve the Filthy Dog.
PIRATES OF METAL CONTACT:
https://piratesofmetal.bandcamp.com/releases
https://www.facebook.com/PiratesofMetal/