!!!SWISS HEAVY THRASH METAL!!!
We had a conversation with PIRANHA. Enjoy!
Welcome to the FILTHY DOGS OF METAL Webzine.

1. Tell us a few things about PIRANHA (Members, Starting Year etc).

J: I know George since 2005, keeping up a great friendship since then. He was the one to introduce me to Andy ( Voc.), both being in a Band called 2Black.
George was looking for a second Axeman,so I joined them, if I am not mistaken in 2011. Somehow things got bad within the Band and we all three decided to leave around 2012 or was it 2013?
Couple of months later, one sunny afternoon we met for grill and beers and somehow a friend of us of the sudden said to us,"hey guys, you are getting all so well together, why you just don't start a band?"
So, this friend is somehow the biological father of Piranha, right? :-) and the things started to roll. I met Reto the first time at the practice room.
Did not know anything about him, but when he started to beat the living shit out of his drums, I was like "Holy Hell!!". And after years of looking for a bass player finally we found Dave in 2019.
This guy came in for rehearsal one evening, setting up his huge Stack,and I swear, he played all the songs the way they have to be played.
We could have played live that evening with no one noticing that it was his first time with us. A very skilled and the most important, great guy, just perfect for Piranha! And let me add some interesting facts about Dave.
He moved in his late teens to London when the NWOBHM was at its peak.
He played in Gaskin, Chinatown, Shogun and he was in Tytan on temporary basis while Kevin Riddles was recovering from health issues.
Once back in Switzerland Dave was in China, and he was also in Killer. In my opinion an impressive track record.
Well, one last thing I want to say about the Piranha Line-up. I never, and I mean never, felt so comfortable being in a Band.
The boys are just a bunch of crazy maniacs, good hearted and very important,honest! There is no Bullshit between us. We might not be the most efficient band around, and I tell you why this is.
When we write songs, and this is a thing we do all together,we need the magic moment. And as you can imagine a thing that not happens all the time.
But when it comes to it, we all know it, then it's there. Like Ronnie James Dio stated once, when they were recording Holy Diver they knew that it's going to be big.

2. Tell us a few things about your New Album ''First Kill''. What is the Feedback from your audience as well as from the Press?

J: Overall, the whole production wasn't a piece of cake. There were many obstacles in our way, as from personal perspective point of view as from the production process side.
It was like something wanted to avoid the record to come out. It started all smooth but then things got really heavy and getting somehow out of control. I won't go into details, but we recorded the whole thing twice. Incredible but it's true.
Not going to throw with shit on someone here, just leaving it like this, we went to the Crypt Studios to re-record the whole CD again.
Regarding the Crypt Studios I like to add, that it's a Studio or unfortunately was, more specialised in Black and Death,and therefore being the first "Thrash" band for them,which results in that the overall sound of "First Kill" is pretty raw and unpolished.
It has something quite 80's about it if you ask me.
Well, not that we have recived to many reactions from the press, neither from the audience, as the record is not out yet while we are having this interview.
But overall, receiving fantastic feedback by all the people that got the chance to prelistening "First Kill", and also the people that have listened to the two songs we have posted online on our YouToube Channel.
But still, getting already nervous when it comes to think about the reviews in the Big 3 of the print medias, Metal Hammer, Deaf Forever and Rock Hard. I do not even know yet, if I'm going to read it :-)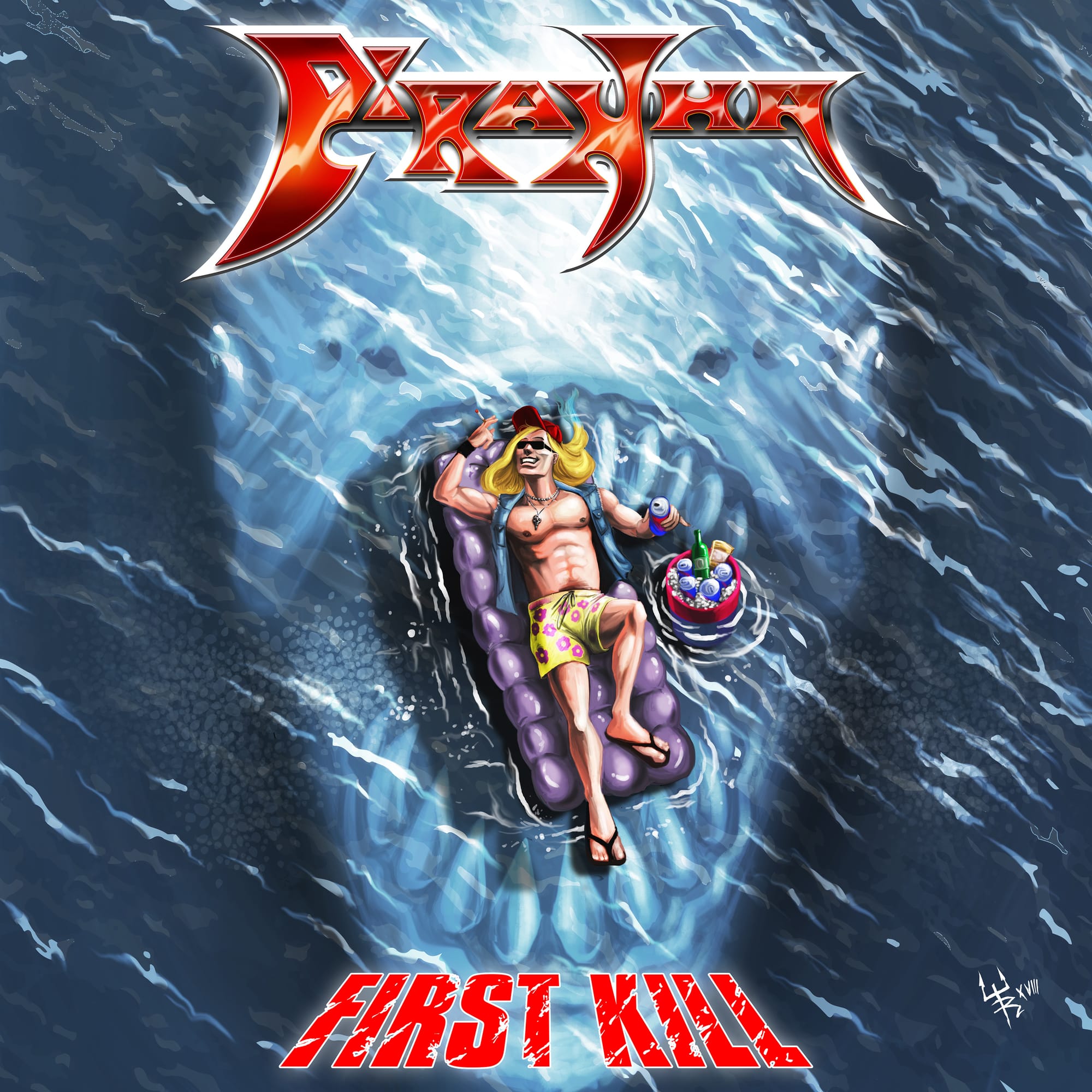 3. Your music style is Heavy/Thrash Metal. So which are your main influences (Favourite Artists / Bands etc.)?

J: Well, as my person is concerned, I am a huge NWOBHM enthusiast, same goes for French and Spanish Metal!
Venom and Raven's ''Wiped Out ''was my introduction to the more extreme side of Heavy Metal back in the days, yeah, being somehow kinda life changing,
Maiden's ''Killers'' being one of the most important records for me as well as it was Sabbath's ''Heaven and Hell'', ''Wild Cat'' from Tygers of Pan Tang and "Filth Hounds of Hades" by Tank,
introduced me to the NWOBHM, or let me say it's when I heard of the movement for the first time, Def Leppards ''High 'n' Dry'' shall be mentioned as well, tons of great riffs!
Baron Rojo from Spain, my heroes! Oh and ''Rocka Rolla'' from Judas Priest, wow! that was a blast!
A very significant record for me, havin' great memories with it...''Restless and Wild'' from Accept, Motorhead's ''Ace of Spades'', but honest I loved ''Another Perfect Day'' from Day one which made it on my top 3 of Motorhead Releases! and what else..?..
Ahhh yes!! of course... KISS, The Who and AC/DC's ''Back in Black'' started it all for me! UFO, MSG, Ozzy's ''Diary of a Madman'' and ''Bark at the Moon'', Scorpions, Queensryche's EP and ''The Warning'',
Thin Lizzy, Mercyful Fate, Witchfinder General, ZZ Top, Molly Hatchet, Blue Oyster Cult and last but not least...''Ride the Lightning'' from Metallica!!
Ouh Man, just too many to mention :-) By the way, lately, not so long ago I discovered a Band called Apollo Ra, which is one of my absolute faves now!
But you know, these are the kind of questions, on reflecting about my answers the next day you are going like "ahhh damned!! I forgot to mention this and that!"
But as this is not a one man show,I hope you allow me to add some more in relation to the rest of the guys in the band.
Some members are into Dream Theater and Machine Head, Slipknot, The Haunted, Overkill or Alter Bridge as well. George e.g. is a Status Quo Maniac,
Slade and Uriah Heep should also be mentioned here, Belgiums Acid, Exodus, Flotsam and Jetsam, Exciter, Nasty Savage, just to name a few are high above in his list and Dave is a lot into Maiden and Rush!
But to end it, Piranha is swimming in a wide pool of endless inspiration!

4. Do you prefer Vinyl, Tape, CD or Digital Format and why is that?

J: Depends on the Circumstances to be honest. I mean,my car does not have a CD Player, so I am really depending on the digital medias like Spotify, Tidal etc. In my private envoirement I enjoy playing a Vinyl record or a CD.
But just when it comes to the Format I prefer Vinyl in the End, as usual Heavy Metal Records come up with some great Cover Art, like ''Powerslave'' or ''Killers'', where you get lost of all details coming up in a smaller format.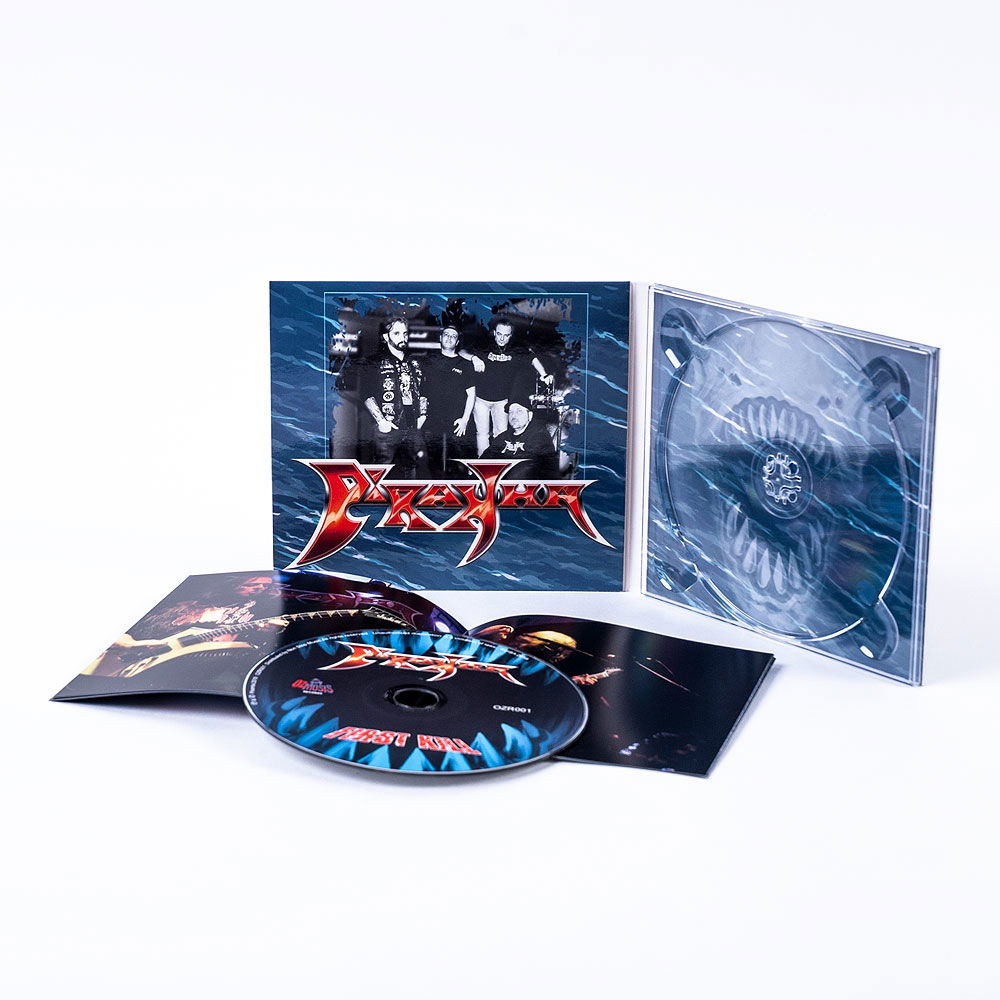 5. Label or DIY and why?

J: I would prefer a Label to be honest, I mean seeing and experiencing all the efforts and hard work George is going through to promote the release, it must be great having everything done by a record label.
But as there was no other option or alternative for us,"First Kill" is 666% DYI, released on our own Label Ozmosis Records.
It's not bad to say so, everything stays in the band in the end, but as already mentioned, ask George what this is all about...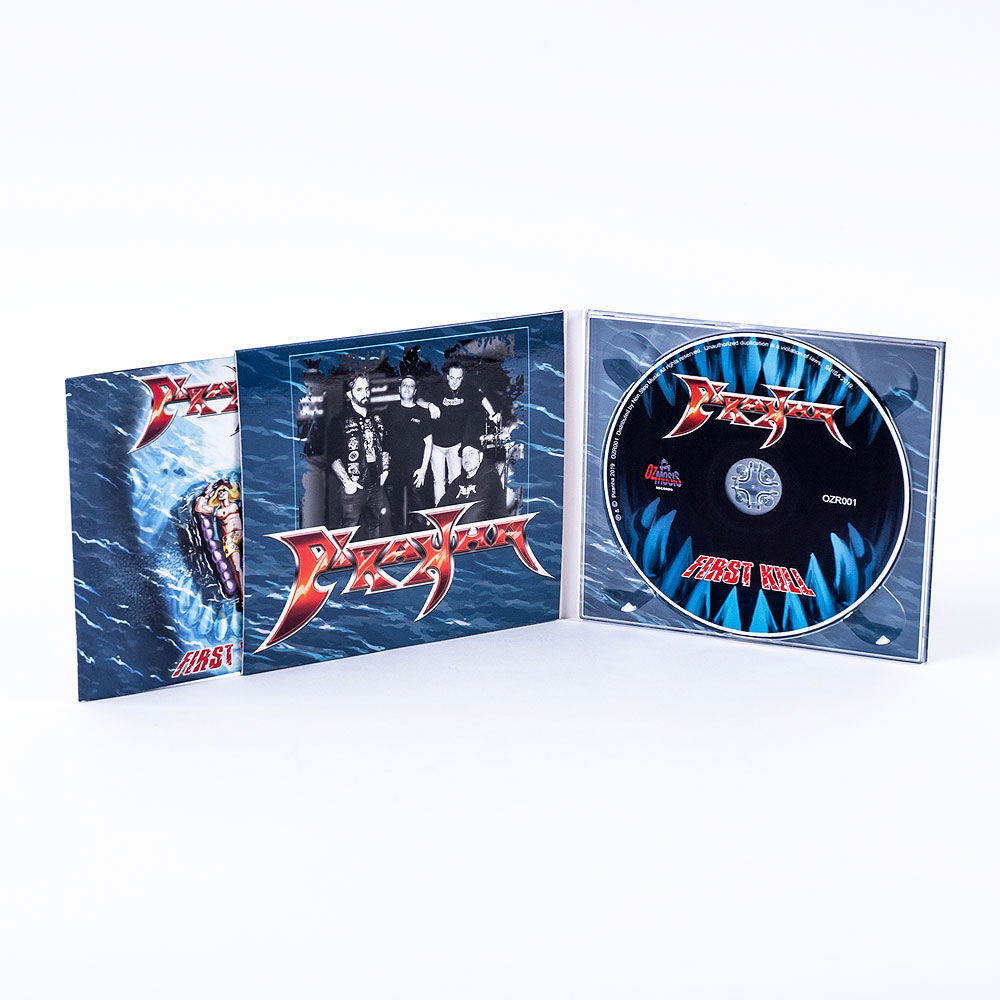 6. Describe your ideal live show as a performance Band. Have you already experienced that?

J: Lots of Hail Hail! shouts by the crowd, lots of hedbanging and moshing while we are delivering our very best.
If there is an interaction with the crowd I guess nothing can go wrong to make it a perfect experience for both, Band and Audience, which in fact we experienced opening up for the Girls of the Iron Maidens and at the Full Metal Festival in Hessen, Germany.
Both shows were close to perfect. I also enjoy the after show moments, just talking to people, having a laugh and some beers with my Team Mates and the Metal Fans.....Okay, some pyros and elevating drum risers would be very nice :-)

7. Do you believe that Bandcamp and other Digital Platforms help the new Heavy/Thrash Metal Bands? Which, do you think, is the ideal way for a Band to promote its work?

J: If you allow me to go back in time for a while, I mean, I just trying to reconstruct how we did in the past.
There was no Internet, or enough Magazines to cover all bands and all the new releases.
Well there were a few guys, e.g Martin Ain (RIP) who was very well informed of what was going on in the underground, (specially regarding the U.S. Metal Scene ),
so this guys came up with demo tapes they got due letters they wrote to all the bands they have have heard of ( don't ask me how the ever have heard of all the bands anyhow :-) ) in the end doing some promo for all the unknown bands etc....
and of course the record stores were on track with all releases around the world. Therefore we spent hours in a record store listening to the newest releases just because of the cover or the band name or even the Band Pic.
Making a long stroy short, getting up our asses and going out to explore the unknown by ourselfes.
To get back to your question, we are living in a very privileged world, everything is from here to there within seconds, you can promote your art on different social media platforms, Magazines, YouToube, Bandcamp, Reverbnation you name it,
no matter where your band is located, right?
You can record a song and within an hour you are able to post it online...but honest, in my humble opinion, okay?
It's difficult to keep an overview of all releases. Besides of new releases, there are thousands of re-releases, box-sets..ufff, you know what I mean?
It needs hours, days and months to keep up with all the new bands around....to promote your band it might be the best way to play live as much as you can and get a reputation, so that a lot of people are starting to talk about your band...mhhh kinda ol'school approach, right?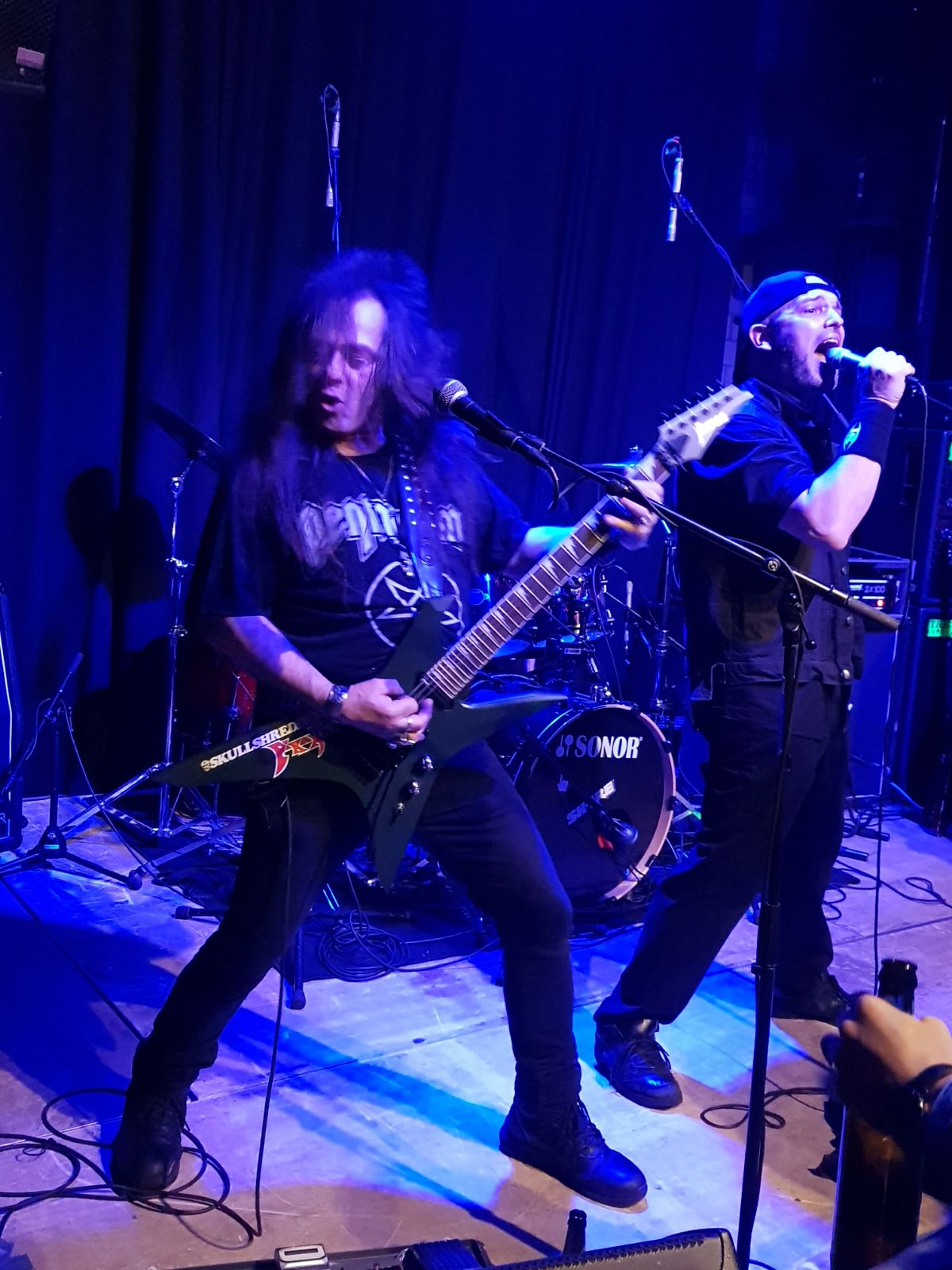 8. Which attributes, do you think, that a new Heavy/Thrash Metal Band should have in order to gain identity and be unique?

J: Great question by the way, though not easy to answer. I admit that it's difficult if not even impossible no to be influenced by other bands.
I could start 20 bands with different musical styles to be honest but there is no time to do so, therefore I would say, do the hell you want! try not to find yourself fixed in a straightjacket.
Never be afraid to enhance your music with elements coming from other genres, as you can perfectely hear on "Slaves of the New Age" just to give you an example.
What is also important? mhhh...to have a Trademark. That means in a Piranha context kinda way, Andy is not the kind of singer anyone would expect to hear when it comes to the style we use to play, right?
I mean, no matter what you do with your instruments, he gives the Piranha sound the identity and I think as a Band you must be able to suprise the audience.
Today I would regard many of the new Black Metal- and / or Doom Bands as kinda avantgarde, really trying to something different, being ahead of their time.

9. Tell us a few things about the new Heavy/Thrash Metal Scene in Switzerland.

J: Today there are so many more bands in Switzerland compared to the early days.
Deathcult, Bolzer, Matterhorn, Sin Starlet, Burning Witches, Comaniac, Wolfs Counsel, Emerald, just to name a few, though the latest are not that new.
I would even consider them veterans within the Swiss scene. But all of them have one thing in common for sure...all of them do not sound the same, which was and still is a Trademark of the Swiss Music landscape if you ask me.
There is no way to compare Coroner with Celtic Frost, Celtic Frost sounds not the same as Messiah, like Messiah never sounded in any way like Drifter, and Drifter did not sound like Bloody Sixx.
Switzerland might not have as many bands as the nordic countries, but the style landscape is much more diverse talking from a proportions point of view in my humble opinion.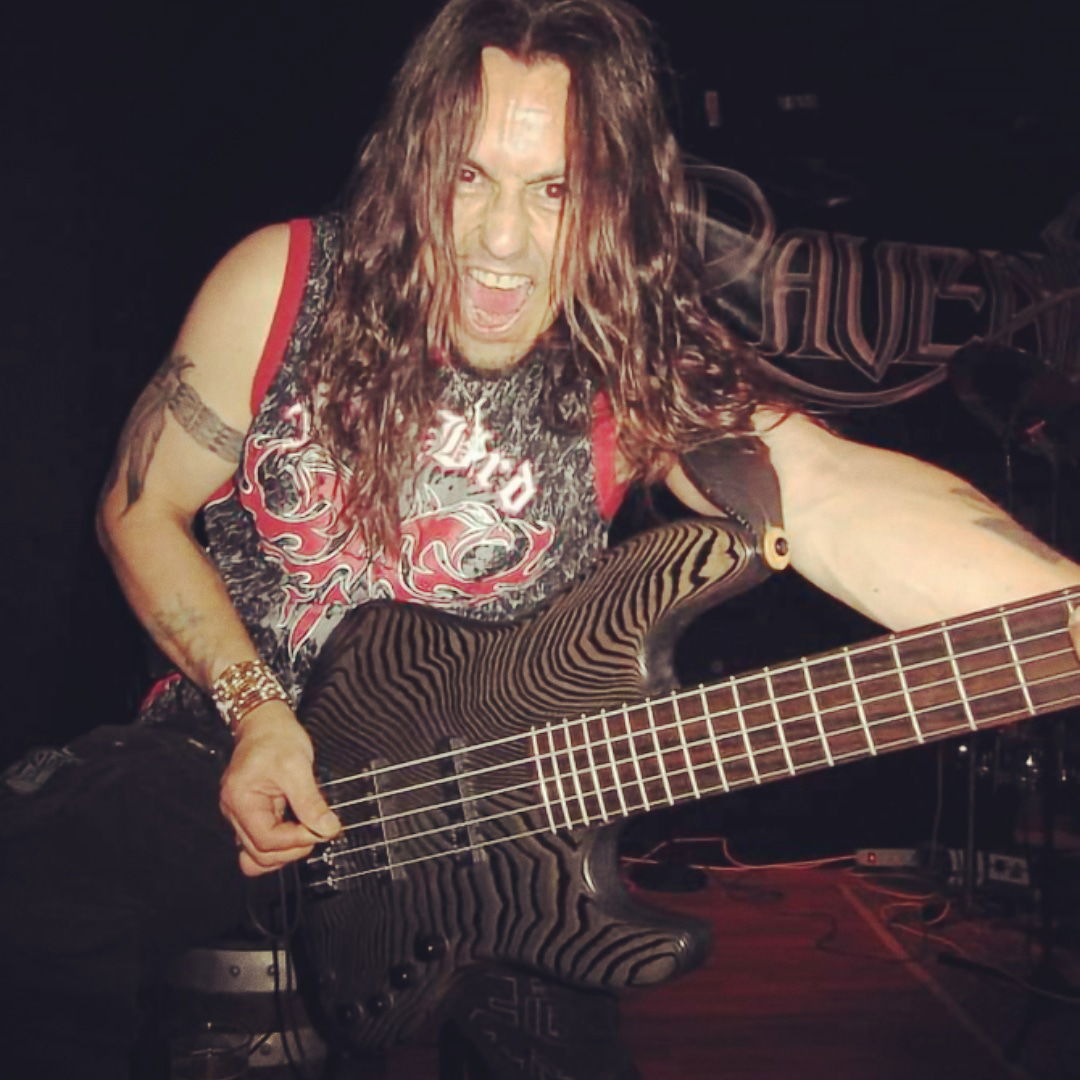 10. In the late 80s a Thrash Metal Band with the same name (PIRANHA) was active in Greece (actually, it is still active today). Do you know anything about the Hellenic Heavy Metal Scene?

J: Yes, I remember when we were playing in Osthessen there was people thinking that we were Piranha from Greece and talking in English to us.
It was funny to be honest. So that's why we know that they exist. Well I know bands like Rotting Christ, Suicidal Angels and of course Gus G :-)
Well to be honest, I do not know a lot of bands, but one thing that I know for sure is that Greece is one of the most "Heavy Metal Crazy" Countries!!
Let me mention "No Remorse Records", one of, if not my favorite Record label! What a dedication! Incredible! Dreaming of having their logo on a Piranha release one Day!
And of course It would be great if one day we could play in Hellas, e.g Up the Hammers Festival in Athens.
Besides of all the Music thing, I love Greek food! ;-) and let me send a big Hail to Lena, Eleni and Kostas (hope them to see this)! Miss you guys!

11. What are your Future plans?

J: Well there are actually future plans...as soon we all are enjoying our retirements, I mean then we will have plenty of free time, right?
We will be up to conquer the world and to finally realise our dreams of being Rock Stars! you know something like in "The Curious Case of Benjamin Button",just with the difference that we are not getting younger of course :-)
jokes aside...we really want to play some shows this year and 2020 ,and if possible focused more on across the Swiss borders.
We are ready and hungry to promote "First Kill"!
Besides of this, we are working on new Songs and if nothing goes wrong we there will be a release by the end of 2020, though no plans if it will be a Mini-Lp or a Full Length. It depends on how efficient our song writing approach will be :-)

12. Thank you very much for your time & Keep up the good work! The closure is yours.

J: Well I thank YOU very very much for your time and commitment, means quite a lot, in the name of Piranha we really appreciate it, and just keep on with your great work, it is important to have such dedicated people carrying out the message of Heavy Metal to the World!
And last but not least...hope to see you around one day!
Keep it Loud and Heavy!!
So watch out for Piranha and be careful while stepping into deep and muddy waters! :-)
By Steve the Filthy Dog.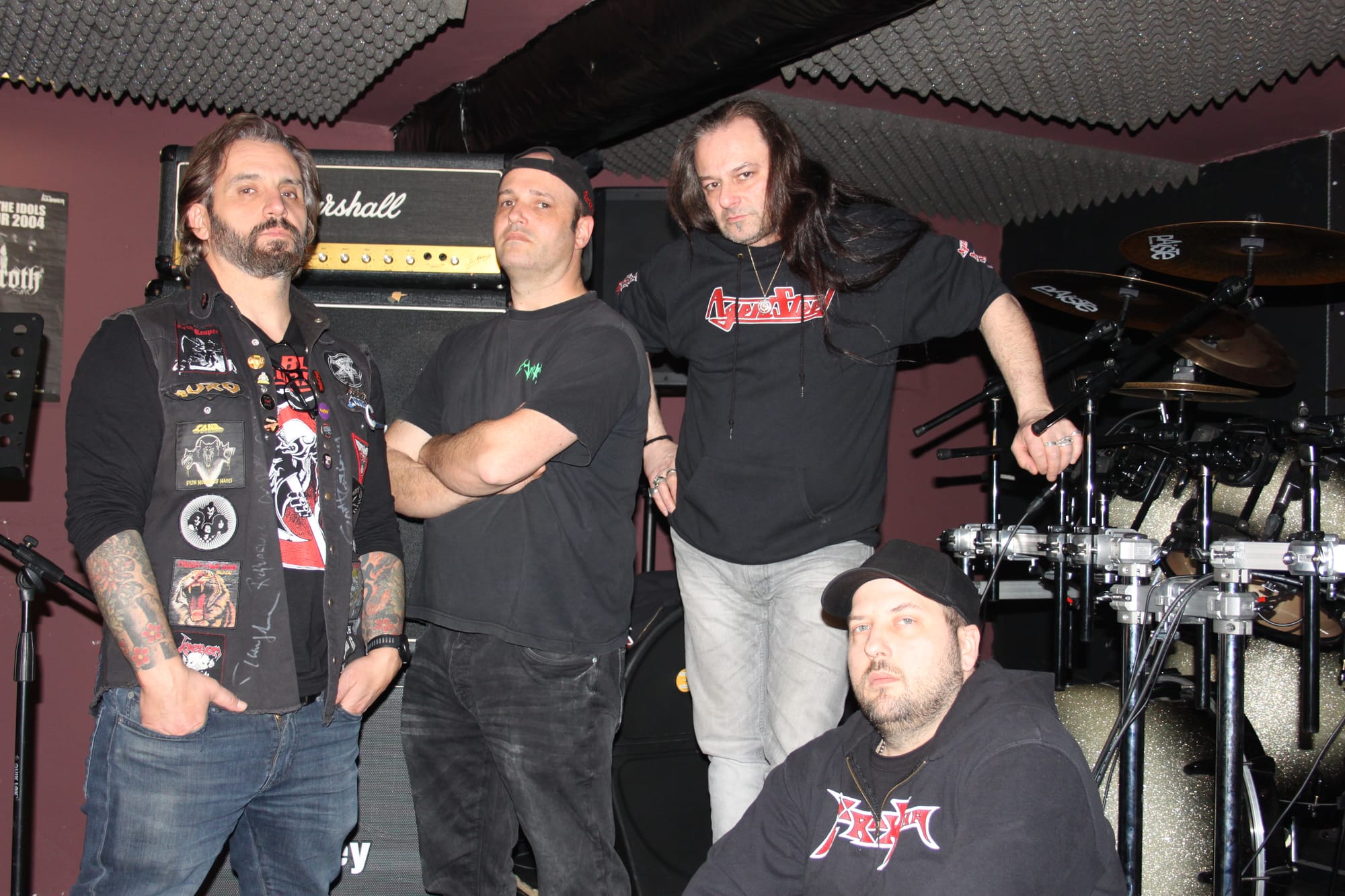 PIRANHA CONTACT:
https://www.facebook.com/piranhametalofficial