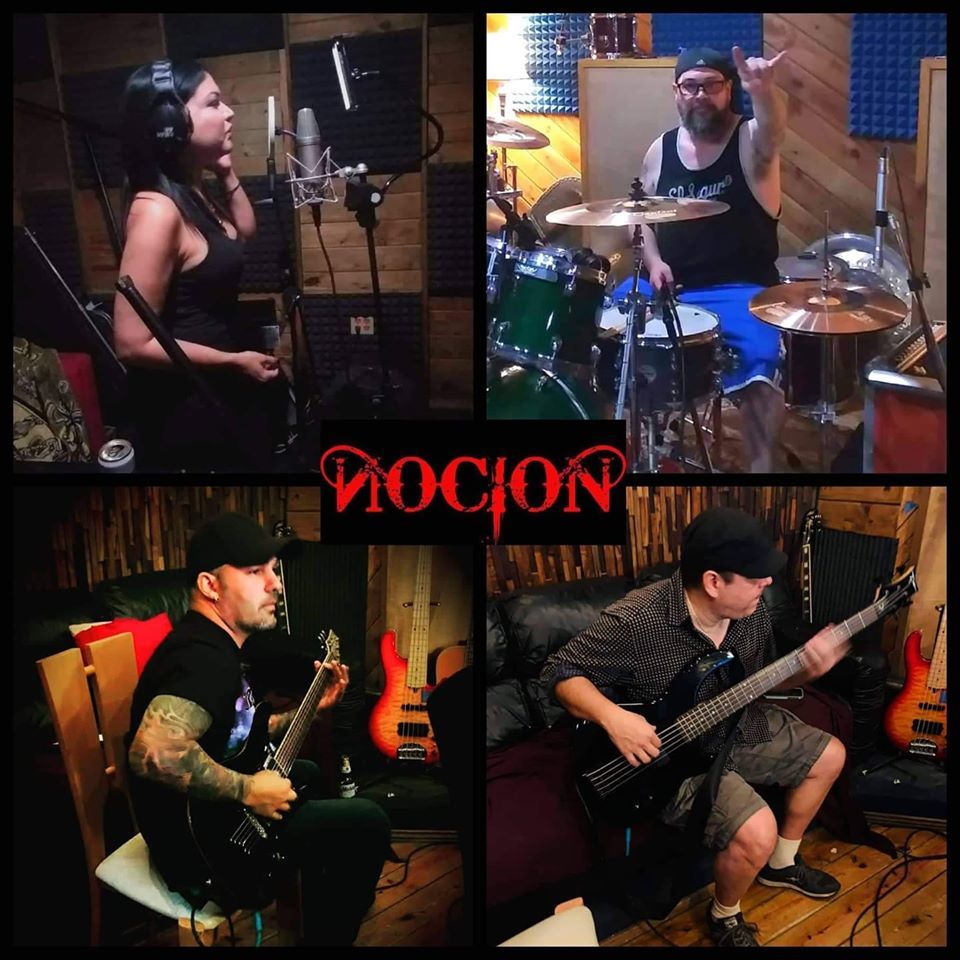 !!!HEAVY METAL FROM PUERTO RICO!!!
We had a conversation with NOCION. Enjoy!
Welcome to the FILTHY DOGS OF METAL Webzine.
1. Tell us a few things about NOCION (Members, Starting Year etc).
Nocion is based in San Juan, Puerto Rico. The band was formed in 2001, released "Existencia" in 2006 and "Into the Darkness" in 2017. Nocion's music is a blend of many different musical influences, these can be heard throughout their music.
Marilyn Jimenez - Vocals
Caesar Romero - Guitar
Dave Martinez - Bass
Reuben Ramos - Drums
2. In 2017 you released your last work ''Into the Darkness.'' Have you recorded anything new since then?
Yes, we have. We just recently finished recording our new album, which will be entitled "Beyond the Shadows." The artwork is done, we're just waiting for the full masterization to be done in order to send it into pressing. As soon as it is ready, it will be distributed through our record label Curtain Call Records and Sony/Orchard Distribution.
3. Label or DIY and why?
The album itself is all DIY, while our label is going to take care of distribution, marketing and publicity. In these days, basically all bands are DIY in some ways, with the exception of only a very chosen few.
4. Do you prefer Vinyl, Tape, CD or Digital Format and why is that?
As avid tape and vinyl collectors, we must admit those are our preferred formats, but financially speaking, it's almost impossible with the prices nowadays. As for distributing Nocion's music, we much prefer digital, although a lot of people contact us to order physical copies as well (CDs).
5. Your music style is Heavy Metal. Which are your main influences (Favourite Artists / Bands etc.)?
Oh wow, so many to name, but here a just a few: Warlock, In this Moment, Slayer, Sick of it All, The Ramones, D.R.I., Hallows Eve, Soulfly, Sepultura, Morbid Angel, Marduk, Bitch, Mighty Mighty Bosstones, Rancid, Satyricon, Led Zeppelin, Journey, Santana, The Doors, Iron Maiden, Metallica, Megadeth. The list goes on and on and on...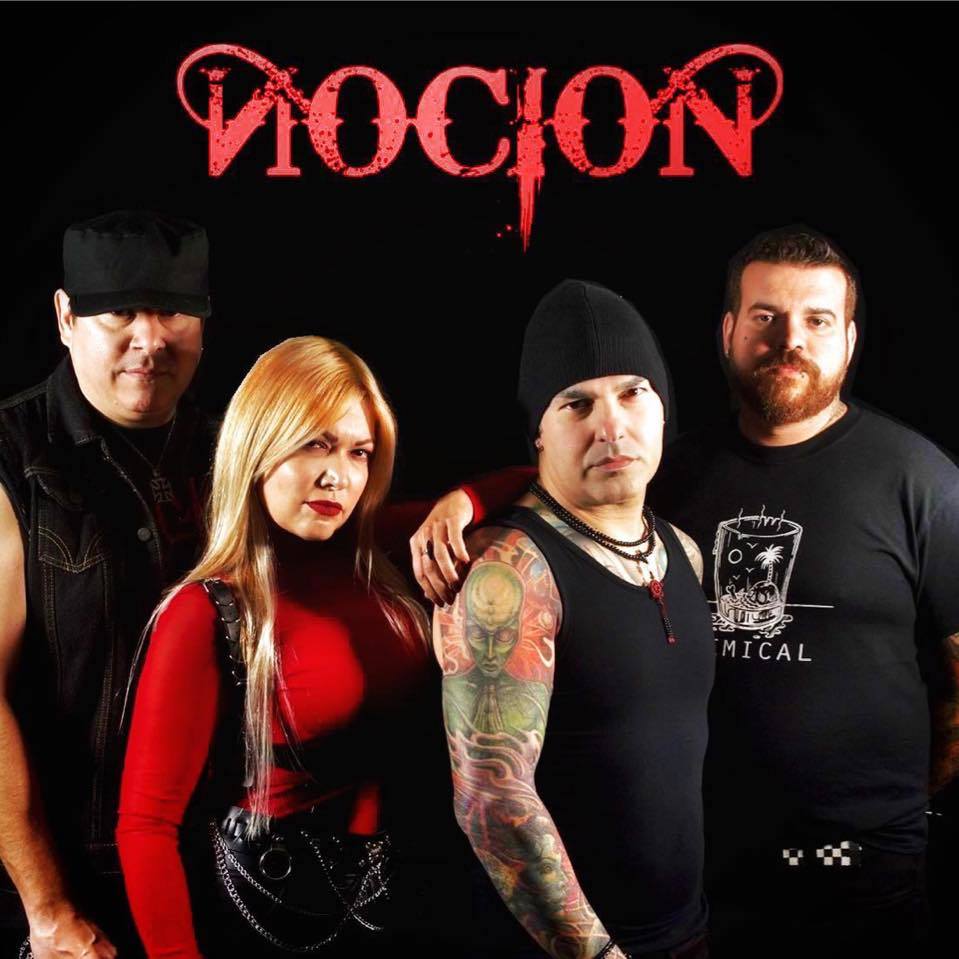 6. Which things, do you think, a band should sacrifice in order to succeed? Have you ever sacrificed anything in your life for a better future of your Band?
Time and money. If you and your teammates are not on that same mindset of taking chances and hits together, as well as sharing successes, then you are not playing in the right band (or viceversa). You have the wrong bandmates on your team. Being a team player is key! Some of us have missed work in order to play a show, donated to charities and played charity shows, invested in gear/merch/studio time, etc. There is so much to being in a band that happens behind closed doors that only those deeply involved within it know what's really going on and how it all works out. It's really hard to explain unless you're fully immersed in it.
7. Describe your ideal live show as a performance band. Have you already experienced that?
Yes, we have! We had the honor and opportunity to be invited to play at Rise of the Loser Festival in Indiana and Fearfest in West Virginia in August of last year. That was the first time we had gotten invited to play outside of our native Puerto Rico and the response from the crowd was incredible. Everyone liked us so much, we got invited to play again this year at the bigger Metal in the Mountains Festival, also in West Virginia (www.metalinthemountains.com)! In the meantime, we intend to do a few shows here and there leading up to that festival with Out of Darkness, a new band out of Florida featuring Brent Smedley of Iced Earth fame and former Death guitarrist Bobby Koelble on guitar. Pending this coronavinus issue getting resolved and when, we are truly looking forward to hitting the road together with those guys come May/June of this year and maybe shooting some hoops with them and other bands too!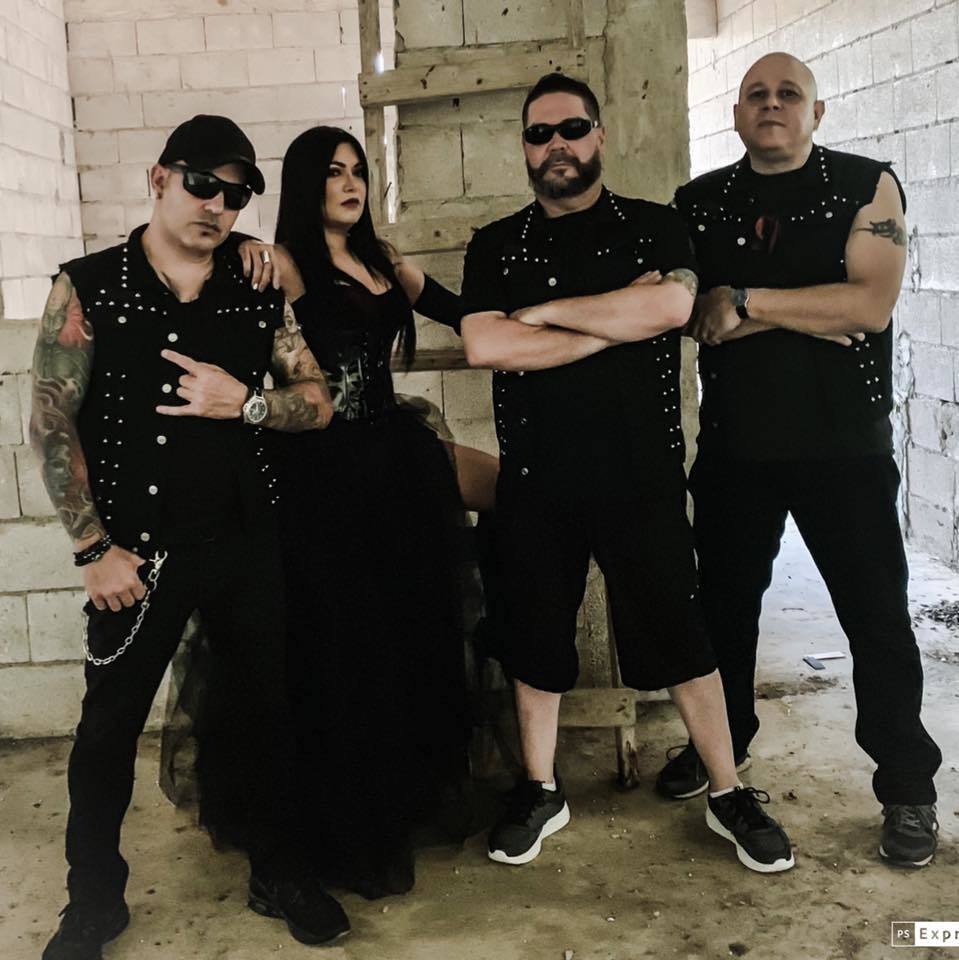 8. Which attributes, do you think, that a new Heavy Metal Band should have in order to gain identity and be unique?

Perseverence and hard work. Oh yes, and a good team around you, from family support, to your own bandmates and fans/friends.

9. Do you believe that Bandcamp and other Digital Platforms help the new Heavy Metal Bands? Which, do you think, is the ideal way for a Band to promote its work?

We truly think they do, since it makes new music so easily available to so many people in so few moments. It takes a lot of time and work (sending out e-mails, EPKs, videos, links, reviews, past interviews, etc.) to get your work heard, but if you persevere, you will be/get noticed. Bands, take heed!

10. Tell us a few things about the New Underground Metal Scene in Puerto Rico (Bands, Fanzines, Webzines, Metal Clubs etc.)

Actually the Metal scene in Puerto Rico has been around since the late 80's and has always managed to strive. Some of the bands in our scene are: Los Hijos de La Cana, Cannibal Massacre, Dantesco, Organic, Puya, Zafakon, Calamity, Matriarch, Fullminator, Marrano, Moths, Paricia's Patience, Out of Hand, Massive Destruktion, Kabal, Mindslayer, Metrika, Shotgun, Damaged, Noches de Baul, Vieja Estirpe, Deathless Necronemesis, Alas Negras, Sacrosent, Marcados por la Sangre, Left-Over, Omnifariam, Outbreak Hate, Irrational Thought, Bajo Presión, Ritual Kannabis, Blood Rapture, Avandra, Hell Gamblers, Por la Vena, Argyle, Infiniterium, Roadkill, Irkalia, Martyr's Tongue, La Obra de Marte, Emmanuelli, Nino Planeta, Zofoka, Another Fallen Soldier, La Falacia, Ritual Kannabis, Sin Remedio, Kjaebola, etc. Some of the local venues here in a Puerto Rico are La Respuesta, Handlebar, Club 77, Hacienda Isabelita, Tattoo Tavern, Bikers Rocking Place, Willie's Rock Bar, Hacienda W, La Tertulia, etc.

11. Do you know anything about the Hellenic Metal Scene?

Actually, yes, we do. We're really into Plague's new album "Portraits of Mind," the latest from Suicidal Angels and Warrior Path, as well as classic bands such as Rotting Christ and Septic Flesh.

12. What are your future plans?

Right now we're focused on releasing "Beyond the Shadows" and tour as much as we can for it, be it in North America, South America, Europe or Asia. We just want to travel and get our music to the masses as much as possible, you know, spread that musical love around!

13. Thank you very much for your time & Keep up the good work! The closure is yours.

Thanks Stavros and Filthy Dogs of Metal for the interview and hopefully you'll enjoy our EP. As for us, you can find us by visiting any of these links and keep it metal!
By Steve the Filthy Dog.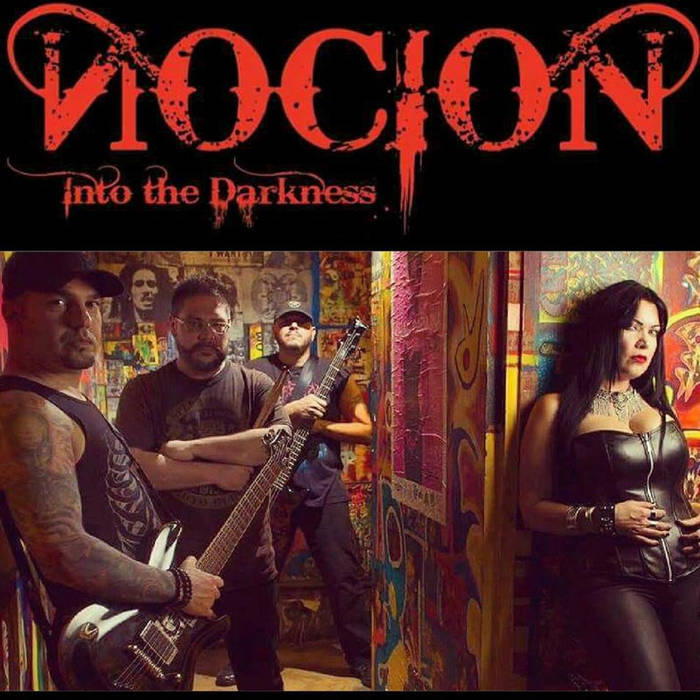 NOCION CONTACT:
www.curtaincallrecords.com/nocion
www.facebook.com/nocionocion
malevolencerecords.bandcamp.com/album/into-the-darkness
www.reverbnation.com/nocion8
www.instagram.com/_nocion_official