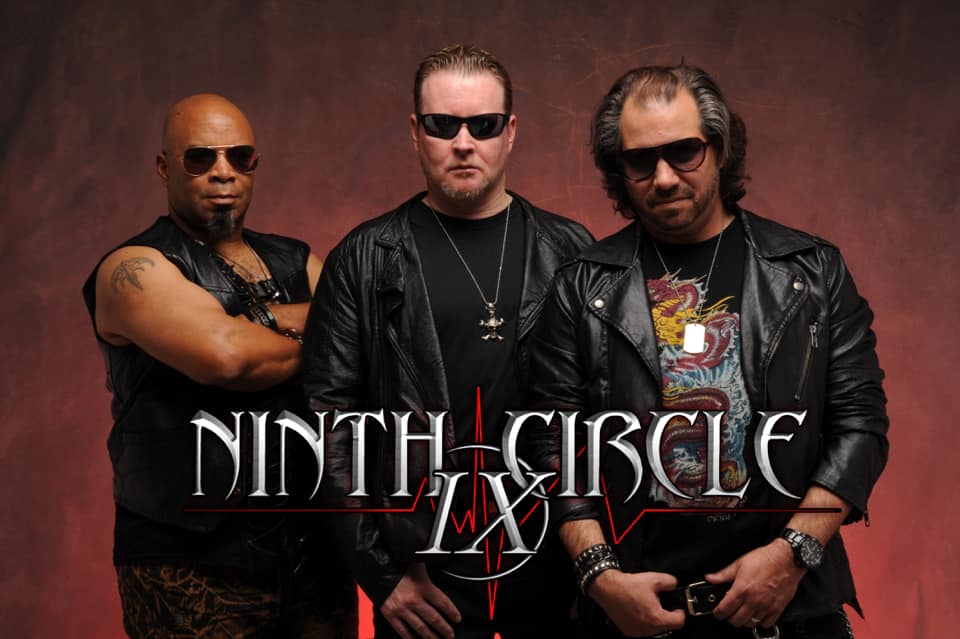 !!!US HEAVY/POWER METAL!!!
We had a conversation with NINTH CIRCLE.Enjoy!
Welcome to the FILTHY DOGS OF METAL Webzine.
1. Tell us a few things about NINTH CIRCLE (Members, Starting Year etc).
Frank: First of all, thanks to you, Filthy Dogs of Metal Webzine for having us today!As to how we started out, Dennis and I met in high school and quickly became friends when we learned we both loved heavy metal… especially Iron Maiden and Van Halen! We began playing music together around age 16 back in 1988 and never looked back from there.After graduating from high school, we started to take music more seriously while we were in college together and by 1996 we founded Ninth Circle. After going through a few line-up changes and Dennis finally ending up on vocals, we released our debut CD in 2000. Today, without any doubt, we have the best lineup we have ever had with Richie "Captain Black" on drums!
Richie: Yes, thank you very much! I started playing music at 7, learning bass and guitar under my brother's tutelage but always tapping on stuff like tables, couches, desks. I played in various bands from Jr. High on up. Enjoying Judas Priest, Queensryche, Rush and later Fates Warning- my stylings are a little more on the progressive end of things.
Dennis: I started playing acoustic guitar at 11. My father told me that if I stuck with it for at least a year, that he would buy me an electric guitar. I remember seeing the Kramer ad for Focus and Striker guitars in Circus magazine. That was the year of hashing it out on an acoustic. It just so happens that Glen La Ferman (our photographer now) is the same person that took the Kramer ad picture! Small world eh? 3 years after I received my first electric guitar I met Frank, and the rest is history.
2. You have recently released your album ''Echo Black''. What is the feedback from your audience as well as from the press?
Frank: Echo Black has been getting a lot of incredible attention around the world! We have been hearing this is our best collection of songs, the most diverse and memorable record! We have especially been getting a lot of great feedback with songs like Tokyo Nights, Echo Black and Shadow of Giants.Our wonderful fans absolutely love the record too! Everyday we hear from a fan somewhere in the world saying how much they love this record! That is a very gratifying feeling! We can't wait to get started on writing new stuff too, especially with Richie in the band now!
Richie adds: I love getting involved in the background of this machine!! It is very interesting to me the songs that people seem to like more than others. I like to think I have a good pulse on music and what people might like more than others. I love it when I'm wrong because it is always a learning experience.
3. Label or DIY and why?
Frank: Echo Black is our second release for the German record label, Pure Underground Records (Pure Steel Records). They have been very kind to us over the years.There are pluses and minuses with both. The first two records we released on our label. You have a lot of control, but your reach and exposure to new fans can be limited. With a label, especially Pure Underground Records, we still maintain a level of control and freedom which is part of having a strong relationship with the label, and they have a great network to reach more fans world-wide. In the end, as an artist, you have to decide what you want to control and what you are willing to sacrifice to obtain the level of success you want.
Richie adds: This is my first Label exposure so I'm just learning the ins and outs and soaking what information I can.
Dennis adds: So far so good. We've reached a great number of people via Pure Underground records so we aim to continue!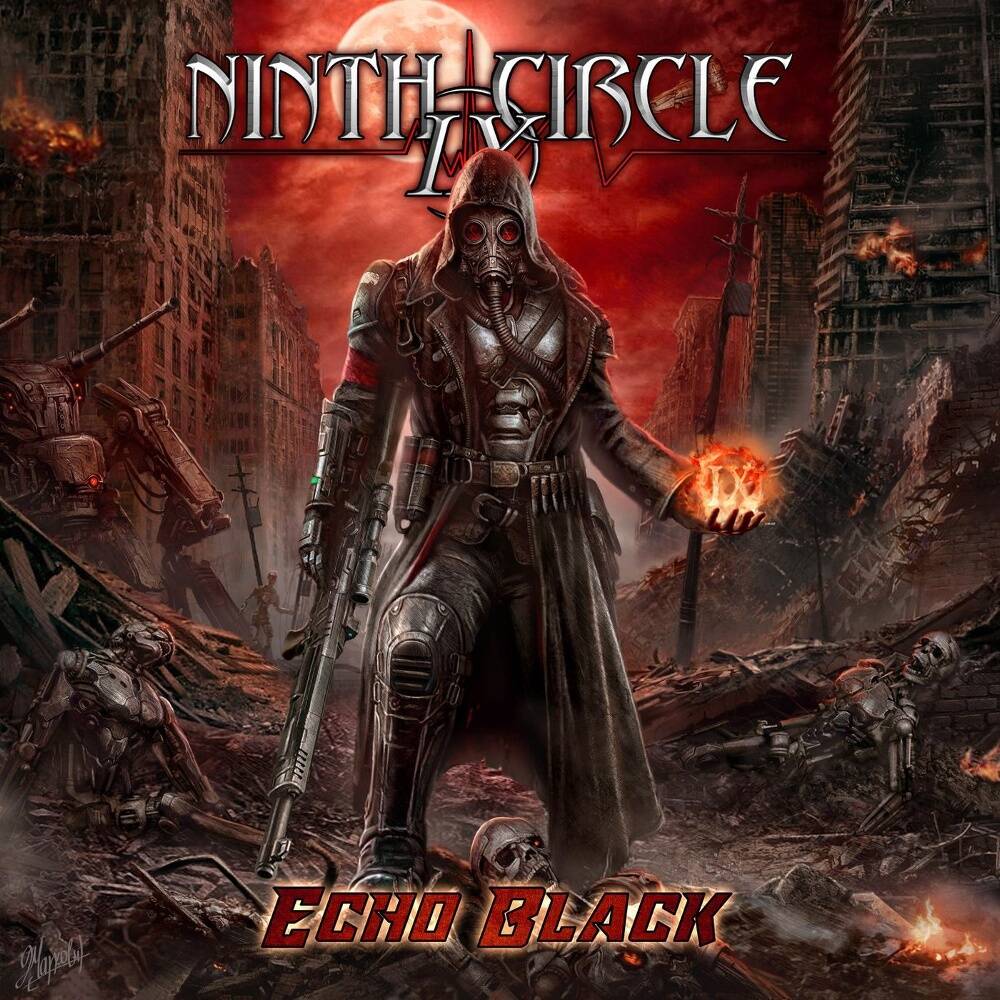 4. Do you prefer Vinyl, Tape, CD or Digital Format and why is that?
Frank: That's a great question, you know, I never owned a record player as a kid or adult. I always had cassette tapes and later CDs. Interestingly enough, I did own records. I bought as many Iron Maiden records as I could, especially the singles, to collect Derrick Riggs artwork, but I did not have a record player to listen to them. I had them all on cassette too!But as far as what I personally prefer, I like CDs. The artwork and printed lyrics were bigger than cassettes and the sound quality is a bit enhanced for my taste.
Richie: Growing up, there's something to be said for just putting on the vinyl album and reading the lyrics along with the song. These days I enjoy just listening to the songs digitally, mainly because I do not own record player anymore, nor a stereo for that matter. Ha ha ha! I still own a few CD's but that is not my main source.
5. Your music style is Heavy Metal. Which are your main influences (Favourite Artists / Bands etc.)
Frank: I would say early on the influences were bands like Iron Maiden, Megadeth, Yngwie, Van Halen, Scorpions, UFO, Riot and Thin Lizzy. Then later on Dennis turned me onto power metal bands like HammerFall and Stratovarius and I turned him onto Primal Fear which became more of an influence on the band.However as a songwriter, and someone who also works to produce our records, I use more eclectic bands such as, The Beach Boys, The Temptations, The Eagles and, believe it or not, Weird Al Yankovic in terms of how to structure backing vocals.
Richie: As I stated before, mostly Priest, Queensryche, Rush, Fates Warning. There's a sprinkling of Dokken, Def Leppard, Scorpions in there as well. When I taught myself drums, my main influence was (and still is) Neil Peart of Rush, after that it is Mark Zonder of Fates Warning. Both of them are so innovative of their approach to writing their drum parts. Love it!!
Dennis: Being that I got into Hard Rock in 1982 I gravitated towards the bands I was hearing on Southern California Hard Rock Radio; Van Halen and Scorpions were my "introduction" per se. By the time 1984 came around, I had "discovered" Ratt, Motley Crue, Quiet Riot, Dokken and you get the picture. Over the years, Metal with melody always pulled me in. By the time I heard Stratovarius and Hammerfall? I became a fan for life!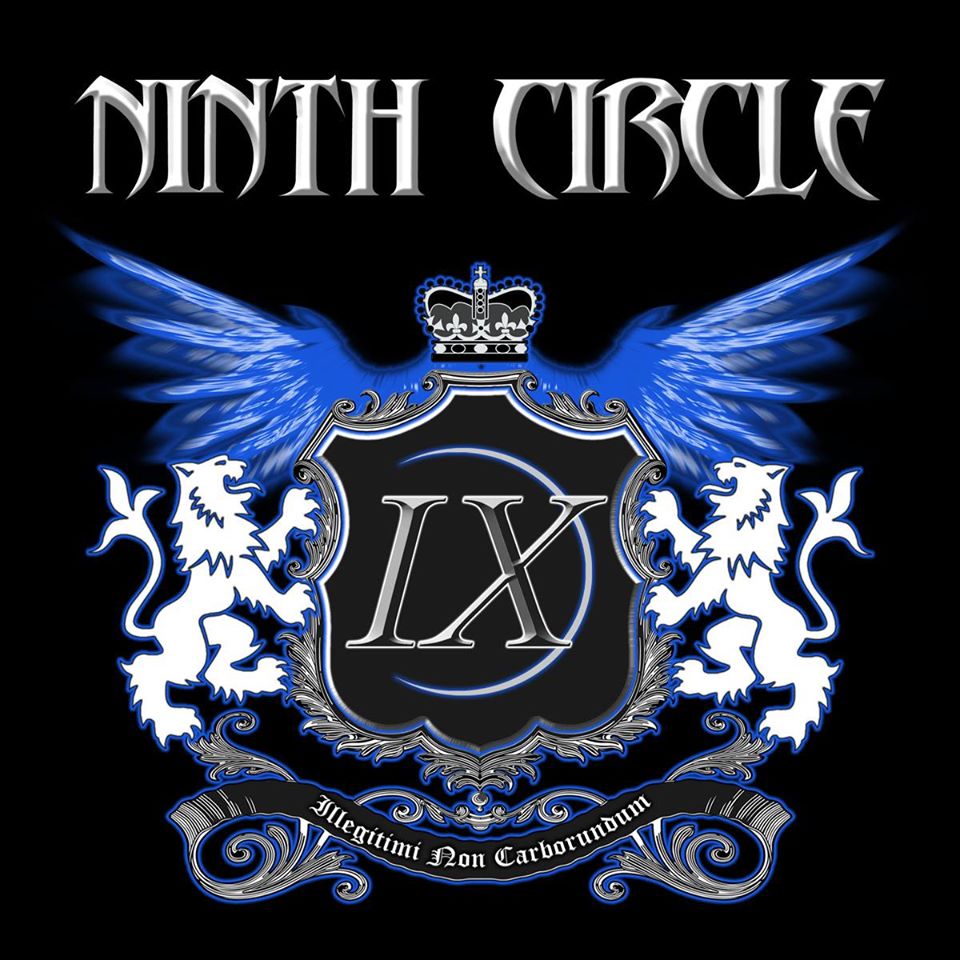 6. Which things, do you think, a Band should sacrifice in order to succeed? Have you ever sacrificed anything in your life for a better future of your Band?
Frank: Time and personal gratification. Those are two things that are sacrificed daily as a musician. Time is the first because you sacrifice a lot of your personal time that could be used by doing many other things such as, doing absolutely nothing, being with family and friends or partying, etc.When I first learned how to play my bass at age 15 I spent many Friday and Saturday nights in my room learning and getting better. I wanted to be as good as Dennis was at 15. Later on in your career, you spend a lot of time in rehearsal and recording studios. Both take up an extraordinary amount of time. Then there is playing live. It's all time consuming.Secondly is personal gratification; I define this as you have to delay the gratification you receive from your music. It is not instantaneous or immediate. To write a song takes time, to perfect the song with the band in the rehearsal studio takes time, then to record and ultimately release it on record takes a very long time. For example, Echo Black is the culmination of three years of hard work just for fans to have new Ninth Circle in their hands.
And, in the end… it is all completely worth it! It is worth it because you feel a sense of accomplishment, especially when you make your fans happy. That is best feeling in rock n roll!As far as personally sacrificing something for a better future of the band, when my two boys were born, five years apart, the band had shows while my wife was in the hospital. The day after our first son was born, we were headlining so I left the hospital, played the show and went back to the hospital. With my second son, we were playing with Y&T. He had just been born, I left the hospital, played the show and was right back at the hospital. Our two boys have grown up around heavy metal music and are real fans!
7. Describe your ideal live show as a performance Band. Have you already experienced that?
Frank: The ideal show is one where the setlist really clicks and it takes the audience on a rollercoaster of a ride. The band is totally in sync and the audience really pushes you to give more than you got on stage. And yes! We have experienced more than a couple of times. You really walk away from the show like that exhausted and elated. It is a really great feeling!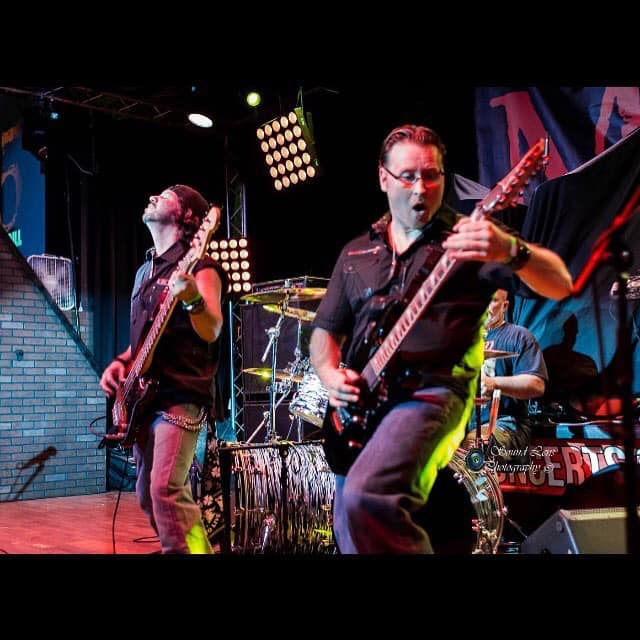 8. Which attributes, do you think, that a new Heavy Metal Band should have in order to gain identity and be unique?
Frank: A new heavy metal band should be hungry. Ready to give it all for the music. No compromises! The band should look how the music sounds, not like some guy who is living in his parent's house or dresses on stage like he just got off work. Most importantly, the band needs to find its own identity and not lean too much on its influences, but find their own voice musically. As for being unique, a band has to have something interesting to say lyrically and musically. There are thousands of bands out there, especially in LA, you have to find your own voice and niche and stand out from the rest!
9. Do you believe that Bandcamp and other Digital Platforms help the new Metal Bands? Which, do you think, is the ideal way for a Band to promote its work?
Frank: I do believe digital platforms can help gain exposure. The digital world is very crowded, so standing out is tough. The best way for a band to promote is to get out play live as much as it can and everywhere it can.
Richie adds: For sure! Bandcamp can really help guide and open up doors not previously available or known to artists. It is really nice to have those tools available.
Dennis adds: Yes, anything that can get a band's music out there is a plus! As Frank noted, it get's a bit crowded so ultimately you need to be providing a good product with good promotion.
10. Tell us a few things about the New Underground Metal Scene in Los Angeles, California USA (Bands, Fanzines, Webzines, Metal Clubs etc.)
Frank: It is very interesting now out here in LA. When we started out in the clubs it was the mid to late 90's. Grunge was everywhere and we were a pure heavy metal band. People in the crowd looked at us like we were dinosaurs playing metal… and we were in early 20's! But we kept playing and playing everywhere we could.Along the way we made many friends with other bands here in LA. Back twenty years ago it was very competitive and lots of negative vibes between the bands. The bands now are like a big family now. The guys all know and like each other. Even the band wives have become friends since most work the merch booths.Additionally, there is a very strong resurgence with metal in LA, and is very underground, and that's cool! Lots kids come to our shows seeing us for the very first time telling us we sound like Maiden or Priest. Some say we kind of sound like Riot or even HammerFall sometimes. It is very cool to have these kids come to our shows and get into the whole metal scene!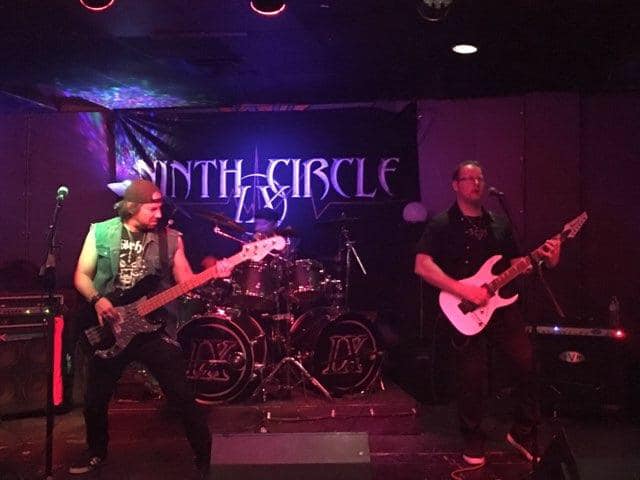 11. Do you know anything about the Hellenic Metal Scene?
Frank: Unfortunately, I do not. But now that you have open my eyes to the Hellenic Metal Scene, I am going to research more about it. I love learning about other metal scenes around the world and potentially meeting new fans and bands!Hopefully one day we will come to Greece and play the Up The Hammers Metal Fest!
12. What are your future plans?
Frank: Future plans? Man, given the Covid-19 virus is affecting everything worldwide, it is impossible to say we will be hitting the road soon. It is very disappointing to have a new record out right now without being able to hit the road and bring it to life in front of an audience.I am in constant writing mode, so with no shows in the immediate future there may be a possibility in writing new songs. But we would really like to go out play first and foremost.
Richie: I imagine it is best to look at getting more music out, especially at this time. You just don't know when you'll get the opportunity to play live right now so why not keep the writing wheels greased and moving!
Dennis: This Covid-19 thing hopefully has been a learning experience for many. For me, it has really been a reminder of how fun it is to create and play music! I am a fan as much as anyone else and the opportunity to continue to record and perform is gift!

13. Thank you very much for your time & Keep up the good work! The closure is yours.
Frank: Thank you so much for having us today! As a band, especially being out here in Los Angeles, it is always a treat to get to speak to audiences from all over the world! Thank you very much Filthy Dogs of Metal Webzine for giving us this chance to speak with your audience… cheers!
Richie: Thank you very much. We look forward to getting back out there and getting new music out to everyone!
Dennis: Thank you! We hope your audience enjoys "Echo Black" and cheers to you for keeping the scene alive!
By Steve the Filthy Dog.
NINTH CIRCLE CONTACT:
https://www.facebook.com/NinthCircleBand
https://www.instagram.com/ninth_circle_official_/
https://www.reverbnation.com/ninthcircleworld
https://twitter.com/ninth_circle