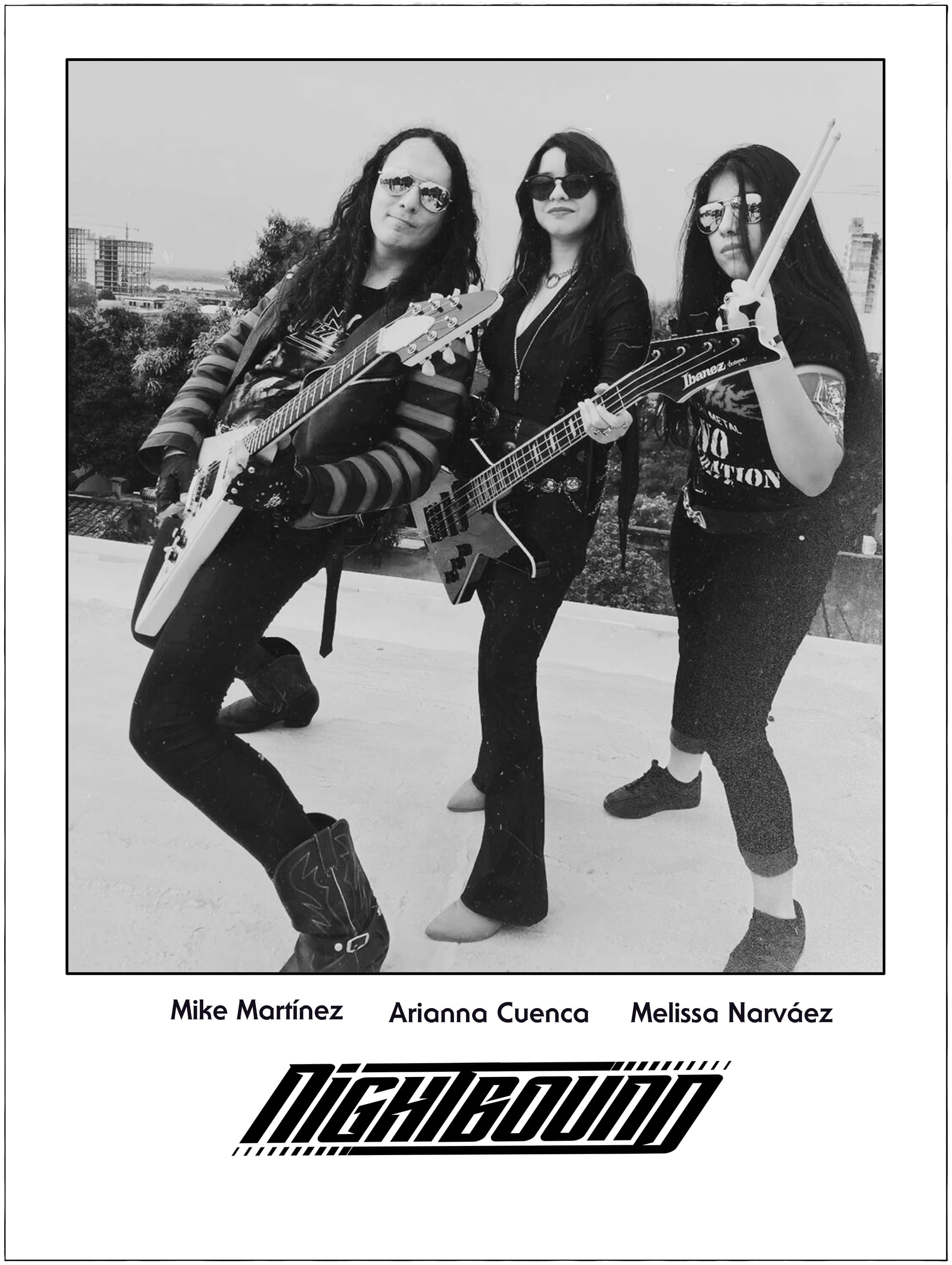 !!!HEAVY METAL FROM PARAGUAY!!!
We had a conversation with NIGHTBOUND.Enjoy!
Welcome to the FILTHY DOGS OF METAL Webzine.
1. Tell us a few things about NIGHTBOUND (Members, Starting Year etc).
Hello Stavros and all headbangers!
NIGHTBOUND started in February of 2018, in Asunciσn, Paraguay. Consisting of Arianna Cuenca on vocals, Mike Martinez on guitars, Katz Leiv on bass and Miky Doldan on drums. Our mission was to play Heavy Metal inspired by the great bands of the past, with a big emphasis on the SONGS, the style of the band can be described as powerful, melodic and with great hooks with the voice of Arianna and the energy of the instrumental being the stand out elements of the band, creating a mix of heavy riffs with melodic vocals. In April of 2018 we entered the studios "Las Palmeras" for their first recording, 3 songs that they made available through the platform YouTube as "lyric videos".These videos were uploaded on July of 2018 with great response from the public locally and internationally, very soon they received the offer from Analog Overdose Records from Ecuador and Kulto de Medianoche from USA to release the songs on an official tape.The "Nightbound" tape was released on November of 2018, before that we started playing many shows gaining a very solid local following.In January of 2019 we received the offer from Awakening Records from China to release an EP in CD format, also in the same month we were joined by newdrummer Melissa Narvaez with whom we continued to play more shows.The "Nightbound" EP was officially released on June 14th of 2019 with a free show in Asunciσn, since then the EP is being received with very positive reviews from Metal sites around the world; this show was also the last with original bassist Katz Leiv. We choose to continue as a Power Trio, with Arianna assuming bass duties (since she is already an accomplished guitar player.
Currently we are recording our first full lenght album.
Current line up:
Arianna Cuenca: Bass and vocals
Melissa Narvαez: Drums
Mike Martinez: Guitars
2. In 2019 you have released your EP ''Nightbound''. What was the feedback from your audience as well as from the press?
The feedback to the EP was truly great, from the press all over as well from the audience.We got very positive reviews both on printed magazines and online sites.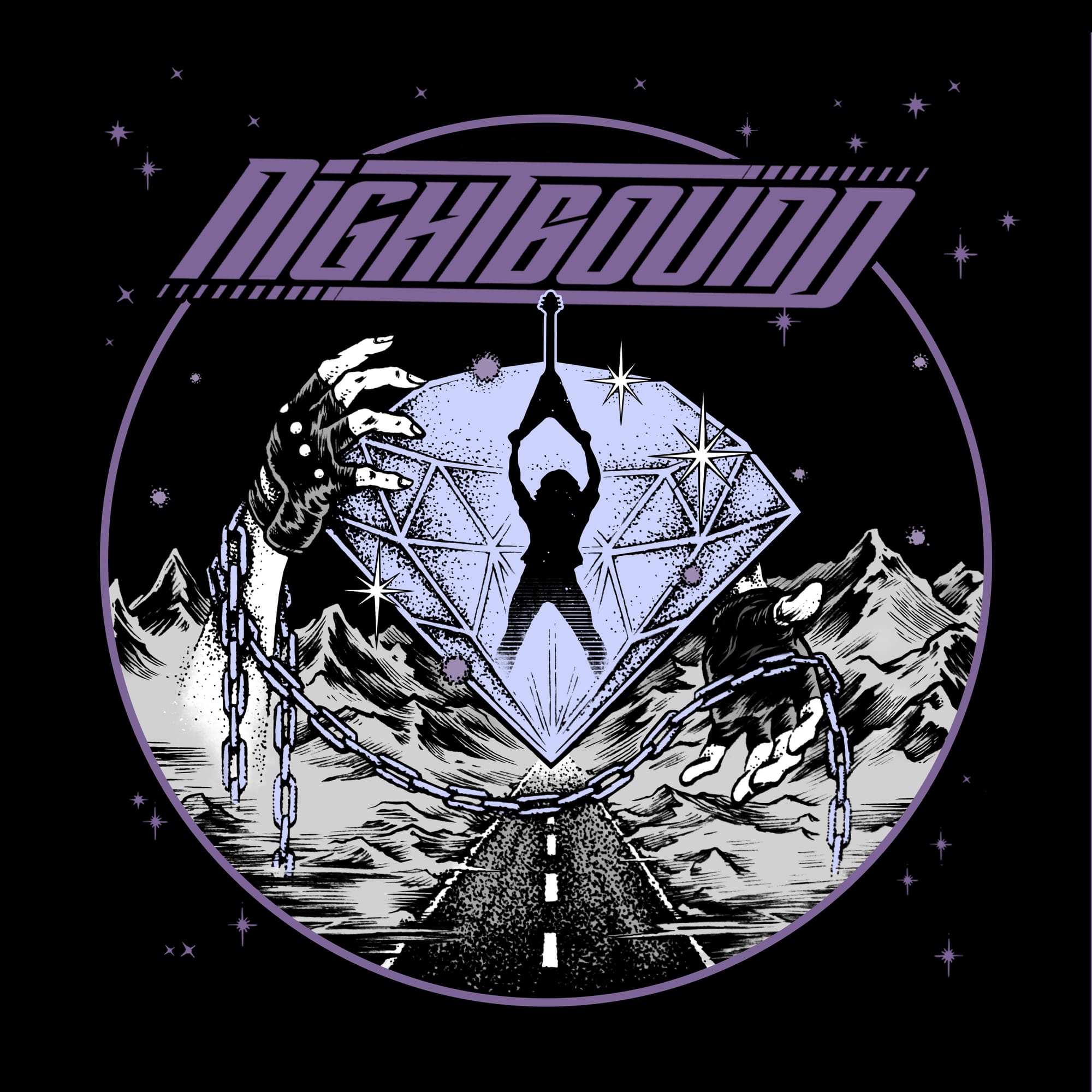 3. How did your cooperation with Awakening Records occur? What do you prefer, Label or DIY and why?
They got in touch with us soon after the Tape was released. They offered to release the EP and right away a very solid cooperation with the band and label started. They have a vision almost identical as ours, where the music is not only a product for sale, it is an entity that has a message, has integrity, an unique aesthetic and artistic voice.When you work with a label, there are many things that you have to DO IT YOURSELF anyway, they just can't cover everything for you, so both are of the same importance. To get the initial attention we worked totally DIY, now we are very happy with Awakening Records, cause they understand us and they are doing an excellent job at promoting the EP and the band.
4. Do you prefer Vinyl, Tape, CD or Digital Format and why is that?
Our favorite will always be vinyl but tape and CD are awesome too. The digital format helps getting across the music to new audience. Why vinyl? It still is the most magical invention. A shining black, spinning piece of vinyl, from it emmanates the most warm, real and mesmerizing sounds.
5. Your music style is Heavy Metal. Which are your main influences (Favourite Artists / Bands etc.)
Nightbound: Yes we play Heavy Metal with a lot of Hard Rock from the 70s and 80s. You can call it Heavy Rock too
Our main inspirations are Thin Lizzy, Saxon, Judas Priest, Black Sabbath, UFO, Whitesnake, Rainbow, Deep Purple, Motorhead, Nazareth Scorpions, Riot, Iron Maiden, Def Leppard, Baron Rojo, Diamond Head, Y&T, Krokus, Marseille, MSG, Black Star Riders, Grand Slam. Our heroes are...
Arianna: Glenn Hughes, David Byron, David Coverdale, Sean Harris, Ronnie James Dio, Biff Byford, Phil Lynott, Johanna Sadonis, Pat Benatar and many, many more.
Melissa: Lars Ulrich, John Bonham, Ian Paice, Neil Peart, Philthy "Animal" Taylor.
Mike: Michael Schenker, Gary Moore, Tony Iommi, Scott Gorham, Mark Reale, Rory Gallagher, Akira Takasaki, "Fast" Eddie Clarke, Gary Holt, Denis D'Amour, Dan Mongrain.
6. Which things, do you think, a Band should sacrifice in order to succeed? Have you ever sacrificed anything in your life for a better future of your Band?
Well, there are many things you can sacrifice, but in the end we think the most important thing is to be focused.We all have sacrificed things in the past and probably will do it again, like end relationships, quit jobs etc. But nothing is more important than truly focus on your goals and focus on writing great songs of course.
7. Describe your ideal live show as a performance Band. Have you already experienced that?
Yes we have experienced that! It was the first time we played as a power trio on the biggest metal festival here called "Asuncion Mosh" on August of 2019. We were confident, we sounded tight, deep inside we were kinda nervous but we still kicked ass!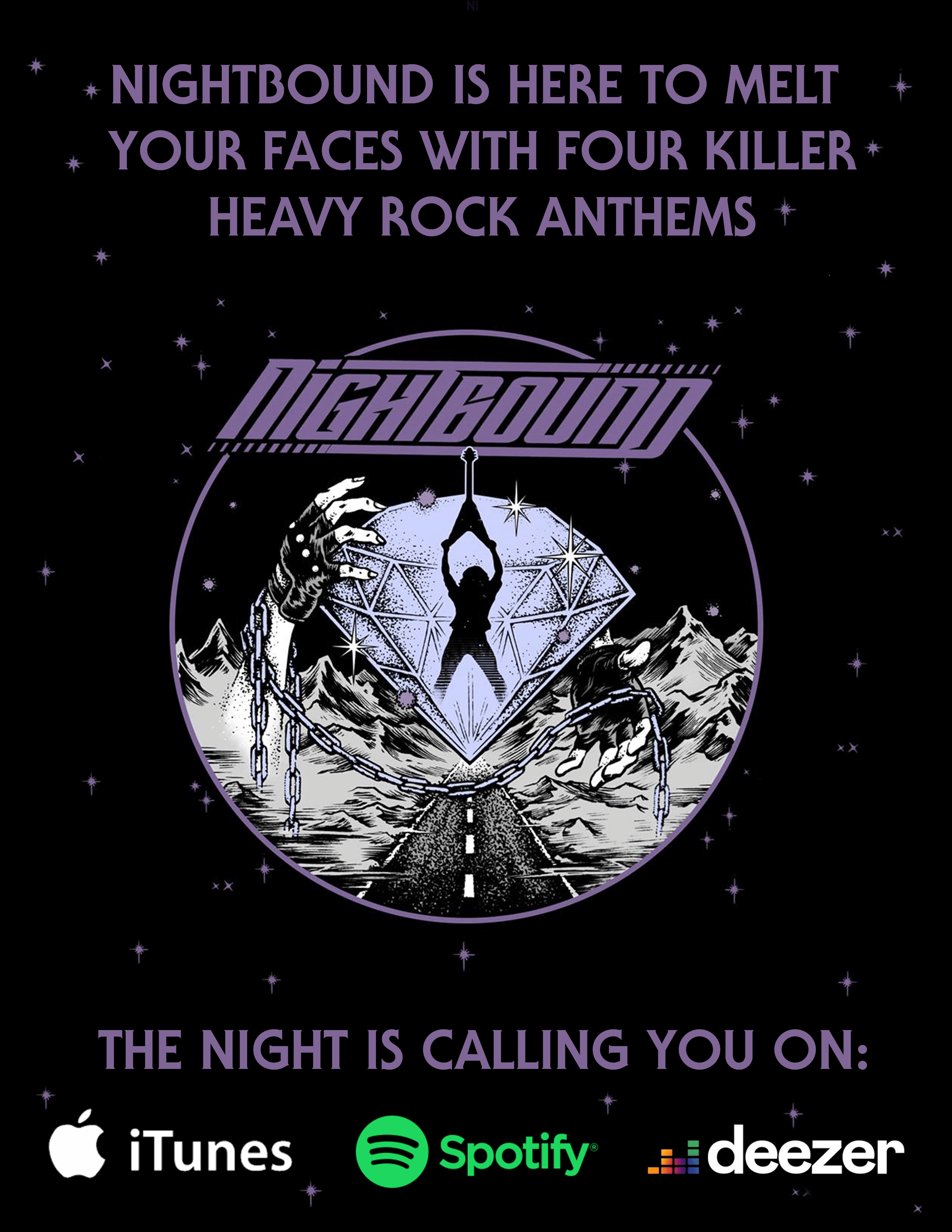 8. Which attributes, do you think, that a new Heavy Metal Band should have in order to gain identity and be unique?
Great songs!. Music is the most important thing, so we believe all the bands have to work harder writing good stuff and say what really comes from their hearts, search what really moves you and what inspires you to pick up a guitar and create. Don't follow the latest trend, dare to bring variety in your music, as all the great bands from the past had. Avoid the triggered drums, you'll be ok!
9. Do you believe that Bandcamp and other Digital Platforms help the new Metal Bands? Which, do you think, is the ideal way for a Band to promote its work?
Yes indeed, those are good vehicles for new bands such as ours to promote our work along with the physical stuff. We just started using Spotify and Deezer and so on, and they seem to work just fine for the moment.
10. Tell us a few things about the New Underground Metal Scene in Paraguay (Bands, Fanzines, Webzines, Metal Clubs etc.)
It all started back in 1983 with pioneering bands RAWHIDE, NASH and METAL URBANO. There are great Metal bands in all genres from the more traditional Heavy Metal like KHYRON, SACRO and VINYL to then more extreme like SLOW AGONY, PATRIARCA and CORROSION.The most important club is "Absolute Rock" where most of the local shows in Asunciσn take place, last year ROTTING CHRIST played there!We have lots of Zines, but most find it difficult to have continuity, the one with more issues I think was Ayvu Tenonde printed Zine.
11. Do you know anything about the Hellenic Metal Scene?
Yes! We know there the headbangers are very, very passionte about Metal. SACRAL RAGE is awesome, CRUCIFIER are kick ass, bands from the past as SPITFIRE and FLAMES too!
12. What are your future plans?
Right now we are recording our first full length album. The drums are completed, we will start on the bass and guitars sometime in the next few weeks.We premiere our first official videoclip a few weeks ago, you can go and watched on Youtube. It's from the song "Time Is On Your Side" After that all that we have left is to go out, play and kick ass live as much as we can, as soon as we can!
13. Thank you very much for your time & Keep up the good work! The closure is yours.
Thank you very much Stavros and Filthy Dogs Of Metal zine for the interest in our band. We just wanna say to all Heavy Rockers: Keep the faith in Heavy Metal, we need you now more than ever to take over the ruins of this world, rise above the wreckage and rule the night. Don't trust the goverments, fuck politicians and don't fear the reaper!!! THE NIGHT IS CALLING!
By Steve the Filthy Dog.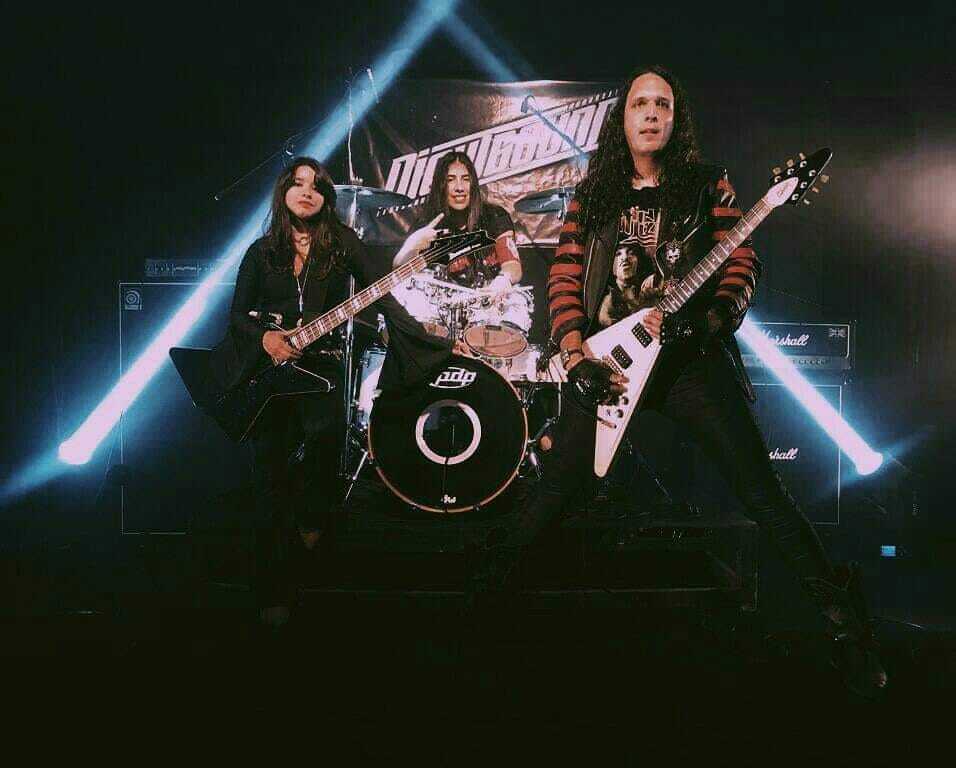 NIGHTBOUND CONTACT:
https://www.facebook.com/NightboundOfficial/
https://www.instagram.com/nightbound_heavy/