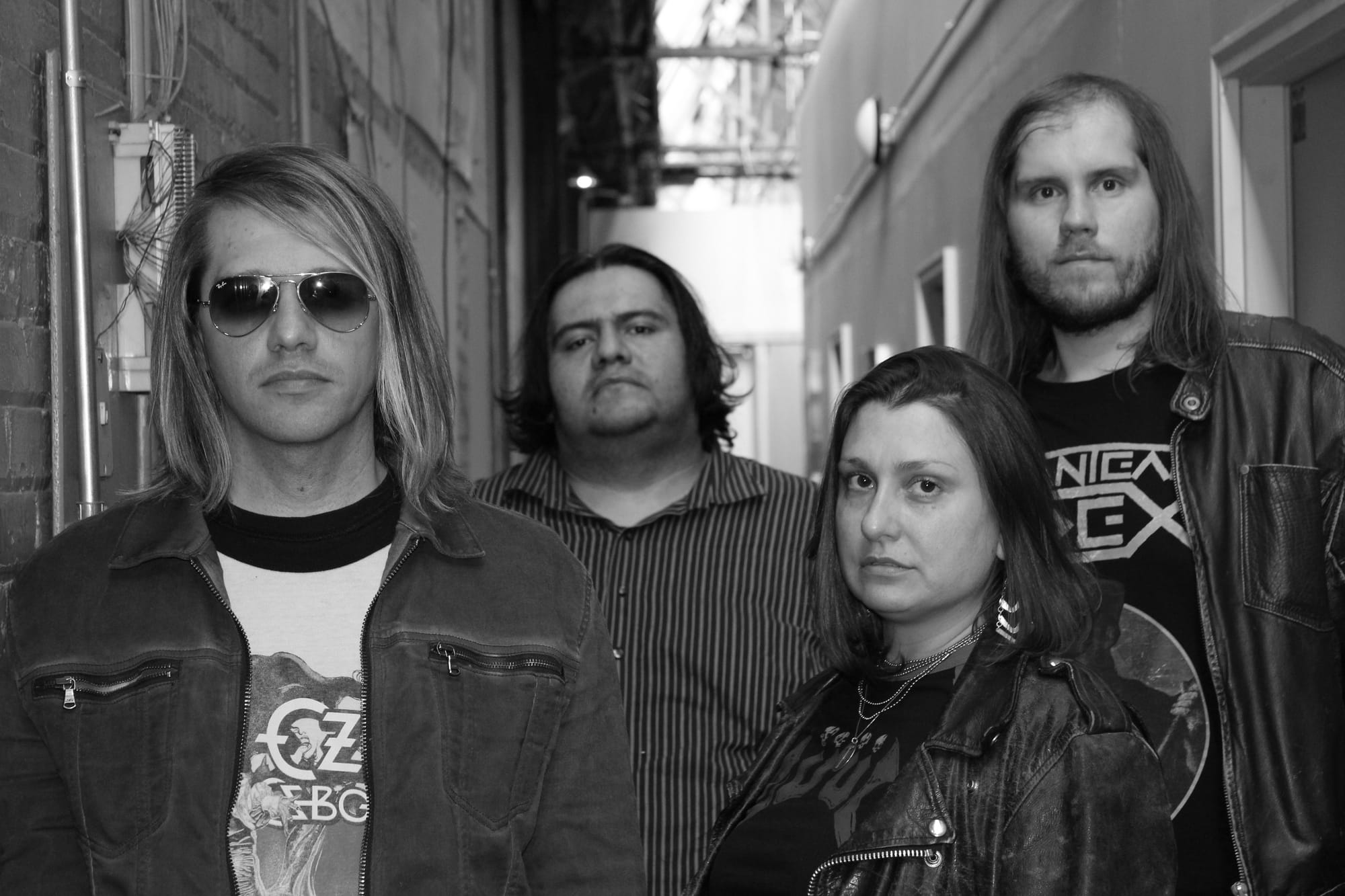 !!!US METAL!!!
We had a conversation with Rusty Glockle (Drums). Enjoy!
WELCOME TO THE FILTHY DOGS OF METAL WEBZINE.

1. Tell us few things about MIDNIGHT DICE (Members, Starting Year etc) & what happened with SATAN'S HALLOW.

Midnight Dice is formed by Mandy, Steve, Jose, and me (Rusty). We all played together previously in Satan's Hallow.
When the founding member, guitarist, and songwriter for Satan's Hallow (Von Jugel) moved away, he did not want the band to continue after the album release and Keep It True performance in April 2017.
It was hard to say goodbye, but we understood it made sense to close that chapter and start a band of our own.
We all jammed for about one year before any solid song ideas took form for Midnight Dice in the middle of 2018 with our first live show that November.
The first Satan's Hallow show was played early in 2015 under the moniker of Midnight Dice. We used a fake name, because we wanted only to live test our songs.
The name Midnight Dice was my idea, so it made sense to me, to use it for this new band as a nod to our previous band.

2. You have recently released your New Tape MIDNIGHT DICE. What is the Feedback from your audience as well as from the Press?

As far as I've seen, it has been very positive so far. I was interested to see how people liked it, because the Satan's Hallow record was so loved by a lot of people.
It seems people are enjoying Midnight Dice, as well! This makes us proud, because we did not write for Satan's Hallow (with the exception of Mandy who contributed some of the lyrics).

3. Who is the main writer of your songs & what are your lyrics about?

The main writers for music are Steve and I. We both bring our own separate song ideas and typically we spend several sessions hammering out the arrangements before we bring in Mandy and Jose to fill in vocals and bass.
For lyrics, it is mostly Mandy, but also I have contributed. For example, the song "Roll On" I had almost all lyrics and melodies written by the time I brought the song to the band.
That song is about saying goodbye. Mandy wrote all the lyrics and melodies for Skyrider. I think she would say that song is about conquering your demons and rising above them!
We want to write songs and lyrics that have meaning to us and that will hopefully tell you a little bit our life, our city, and our home.

4. Do you believe that Bandcamp and other Digital Platforms help the new Heavy Metal Bands? Which, do you think, is the ideal way for a Band to promote its work?

I like the Bandcamp platform and I think it has been well accepted into heavy metal. It makes it easy for fans to discover new bands everyday.
That also makes it hard for a band to stand out. Honestly, I think the best way for a band to promote their work is to not rush or force it. Focus on writing. If the music is good, people will take notice, and it will catch fire.
I guess another way to say it is to try to focus on creating the music/art as much as possible, and promotion and marketing as little as possible...let the music do most of the talking!

5. Which are your main influences (Favourite Artists / Bands etc.)

We are all super into Iron Maiden, Judas Priest, Scorpions, and Rush, of course. I'm super into early Helloween, Gamma Ray, and Black Sabbath.
Steve would probably add Mercyful Fate, Dokken, and Dio as far as what influences the music writing in Midnight Dice.
Outside of that, I think we all have a wide variety of music that we enjoy from The Kinks, Rory Gallagher, Robin Trower, The Hellacopters, Joni Mitchell, Bruce Springsteen, and my main man, Billy Joel.

6. Why did you choose to cover the song of SWEET - ''Set Me Free''? Of course, it is a powerful song (especially in the 70s) and lot of bands had also covered it. Do you have any new material?

We really like the song and felt we could do it justice. We wanted to try to stay closer to the Sweet version of the song, which is a very heavy sound for 1976.
We have about 5 new songs completed and several more in process. We will release a split 7" with fellow Chicago rockers HITTER that will include a brand new track.
After that, we are focusing on recording an album or EP.

7. Do you prefer Vinyl, Tape, CD or Digital Format and why is that?

I support any physical format. I might be fighting progress in this high tech world, but I do not like only digital. If I really love a band and their music, I NEED a physical format...sometimes I buy all the formats available!
However, I understand the appeal of digital, and I want people to listen however they choose and in whatever way works best for them.

8. How many copies of your Demo Tape were pressed? In this Summer your Demo Tape will be also released on 7'' single by the German Heavy Metal Label ''UNDERGROUND POWER RECORDS'', actually the same Label that released SATAN'S HALLOW LP.
It seems that you were satisfied with that label, right? How many copies will be pressed?

For the demo tape, 200 copies were released by my label, Hoove Child Records. Those are all sold out now. Our friend in Chile who runs Xalpen Records just released a 100 copy re-pressing with alternate artwork and those are also almost sold out!
Underground Power Records in Germany is pressing 500 copies to vinyl and we expect those to be ready soon in October.
We worked with this label for Satan's Hallow and my previous band, Moros Nyx. I love working with Helle and Christiane at Underground Power because they take good care of us and it is 100% about the love of music for them.
We had the pleasure to meet them in person at Keep It True, and this was very clear to us, that we wanted to continue to work with Underground Power.

9. Do you see any differences between US Metal Market & EU Metal Market (Labels, Bands, Fans etc)? Which you prefer most?

It seems the EU labels are releasing most of the underground metal music now, even of the USA bands. It seem likes there is a big concentration of metal fans in Europe, as there are so many amazing festivals!
Certainly much less than in the USA. I think there are a lot of metal fans in the USA, but maybe we are too spread out.
Touring seems to be more viable in Europe as I see many bands do tours in Europe but not in the USA. I am not sure if this is true, but it is what I see.

10. How was your experience to KEEP IT TRUE Festival when you played as SATAN'S HALLOW? Do you have any other plans for live shows in Europe?

I think I speak for us all, when I say it was a mind-blowing and amazing experience to play Keep It True. We just released our album digitally 1 month earlier and already people were singing along while we played.
We had a huge response for our signing session that had to be extended and it was hard to walk around the festival without people stopping us. It made us really feel like rock stars haha! It felt like it was not real. It certainly made us want to come back.
We are booked to play the Hell Over Hammaburg festival in March 2020, so we will back soon!

11. Which attributes, do you think, that a new Heavy Metal Band should have in order to gain identity and be unique?

Like I mentioned earlier, I think it comes down to focusing on the songwriting and not rushing that part of the band. With heavy metal, it is hard to do anything new because it almost has all been done.
There are not really many new boundaries or fusions to create. I think songcraft is the key.
Writing memorable songs that sound inspired by our favorite bands, instead of copies. I want to write songs that people will continue to listen to for years and years to come.

12. That's all Folks. Thank you very much for your time & Keep up the good work. The ending is yours...

Cheers. Thank you to Filthy Dogs for interest in Midnight Dice and thank you to our fans all over the world. We love you all!
By Steve the Filthy Dog.
MIDNIGHT DICE CONTACT:
https://www.facebook.com/midnightdicerollon/