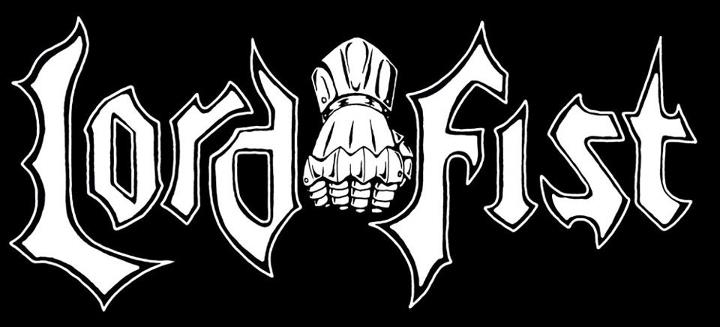 !!!HEAVY METAL FROM FINLAND!!
We had a conversation with Perttu (Guitars/Vocals).Enjoy!
Welcome to the FILTHY DOGS OF METAL Webzine.
Tell us a few things about LORD FIST (Members, Starting Year etc).
Our band plays uplifting and sometimes epic heavy metal. We are from Finland and started to play together 2011 in Mikkeli, our hometown in eastern Finland. We were in our first rehearsals jamming together and then the band formed. Line up was the same as it is nowadays. Pekka Lampinen on bass, Eetu Orbinski on drums (they are cousins btw), Niko Kolehmainen on quitar and me on vocals and quitar. We first ended up with a song that was more thrash metal, it was called "Crypt of the Bats". But then by just jamming intuitive riffs we got this song that is also on our "Spark For The Night" demo. It was "Chains Of Steel". We got this feeling that it was very much an eye opening experience to play that sort of a strong riff and the thing that we had, started to live it´s on life. Soon we had songs and lyrics for the demo and our first gig in a local bar. I drew a poster for that gig and we called to this place if it was possible for us to come and play a gig and so that was it. The band was formed and the riff-magick boiling in our veins, the songs and ideas started to grow towards what today is Lord Fist. We didn´t have much expectations or at least we didn´t talk about them. But here we are and the band is still together today.
You have recently released your album ''Wilderness of Hearts''. What is the Feedback from your audience as well as from the Press?
The feedback from people in the internet has been good and I feel now that there are fans that really waited for the album. Personally I´ve lived through these songs for many years for lyrics and riffs so of course it feels amazing when you realize someone enjoying what you´ve done. Feedback from the press and critics writing album reviews have been mostly good. But it is funny how different opinions and viewpoints some people have. I don't know, maybe this album gets someone to love it totally and that is the most important thing. Not everyone needs to get every idea you are writing. But I don't know, there has just been something really positive feelings about this album. I could compare it to when you´ve ended your working day, packed your backpack and "snap": you leave the front door and know you are going to spend the next days with your good friends, doing what you love.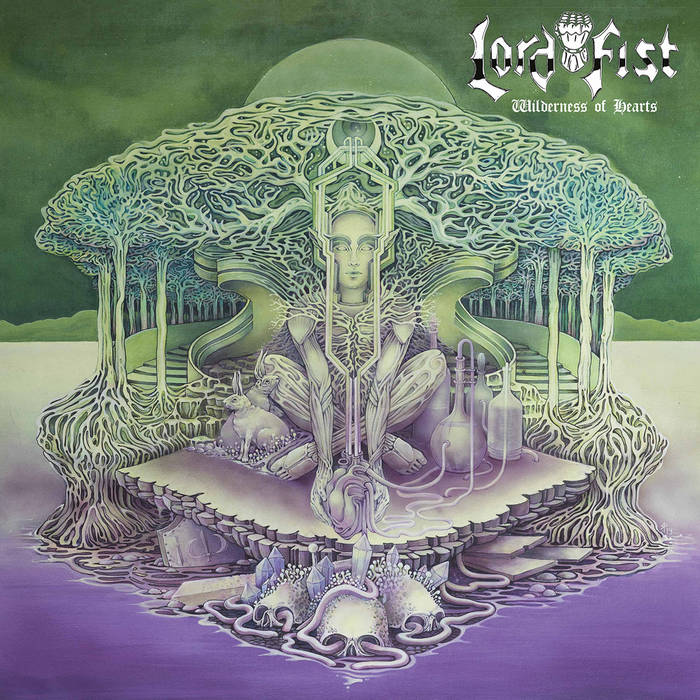 Label or DIY and why?
Our first CD-r demo "pressing" was very much DIY and after that we got in contact with Jussi Lehtisalo from the cult band Circle. He released our Mini-LP: "Wordless Wisdom Of Lord Fist" through his label Ektro records. Also our first full-length "Green Eyleen" was released via Ektro. We weren't sure first how we would be releasing this second full-length but High Roller seemed like a good option so we contacted them and things started rolling quite fast. I think in this music we are making it is nice that the music you make finds it´s listeners the best way. So, I think it would have been possible to do everything by ourselves but through a label specialized in heavy metal it is more effective to get the promotion you need.
Do you prefer Vinyl, Tape, CD or Digital Format and why is that?
I think vinyl has its own atmosphere and so it is with other formats. It feels very much natural to release heavy metal on a tape and it is also easy and fun to spread it with your friends, on gigs and so on. Vinyl feels like a classic and somehow very powerful format so it is a natural choice for us as well. And CDs sell also, have mine in the listening as well. Every format has its own purpose.
Your music style is Heavy Metal. Which are your main influences (Favourite Artists / Bands etc.)
If you´d ask from our drummer Eetu for his favourite band, I think it would be Burzum. Niko´s favourite band is Megadeth I think. When it comes to Niko´s guitar playing, also Swedish death metal has had it´s strong influence. Pekka´s balls are hailing the attitudes coming from ARCHGOAT and TURBONEGRO and he is a true son and a very solid player. The first years when the band formed we used to hang out at Eetu´s and Pekka´s place. During those long nights we listened Cloven Hoof, Manilla Road, Jaguar, Diamond Head etc. Also death metal like Dismember or Grave! First bands I liked were Iron Maiden, Bathory and Black Sabbath, also some art rock stuff. I think Quorthon is very powerful being. Outside of metal I feel Kate Bush and Björk have strong auras to move things in today's culture. This Canadian popper GRIMES is also very weird… My friend Pekko was worried about me mentioning this person, haha (he is a blacksmith btw ;)). I don't know in some point it was quite mysterious which music was the type of that we all agreed to be good and in the point of our existential values. It is a bit different today. 10 years ago you could still pop in a record shop or on a market CD-sale box and scroll it through buying something you weren't even sure about what style it was. I remember when like 14 years ago I turned backwards in an escalator just because the voice in my head told me that one records was meaningful.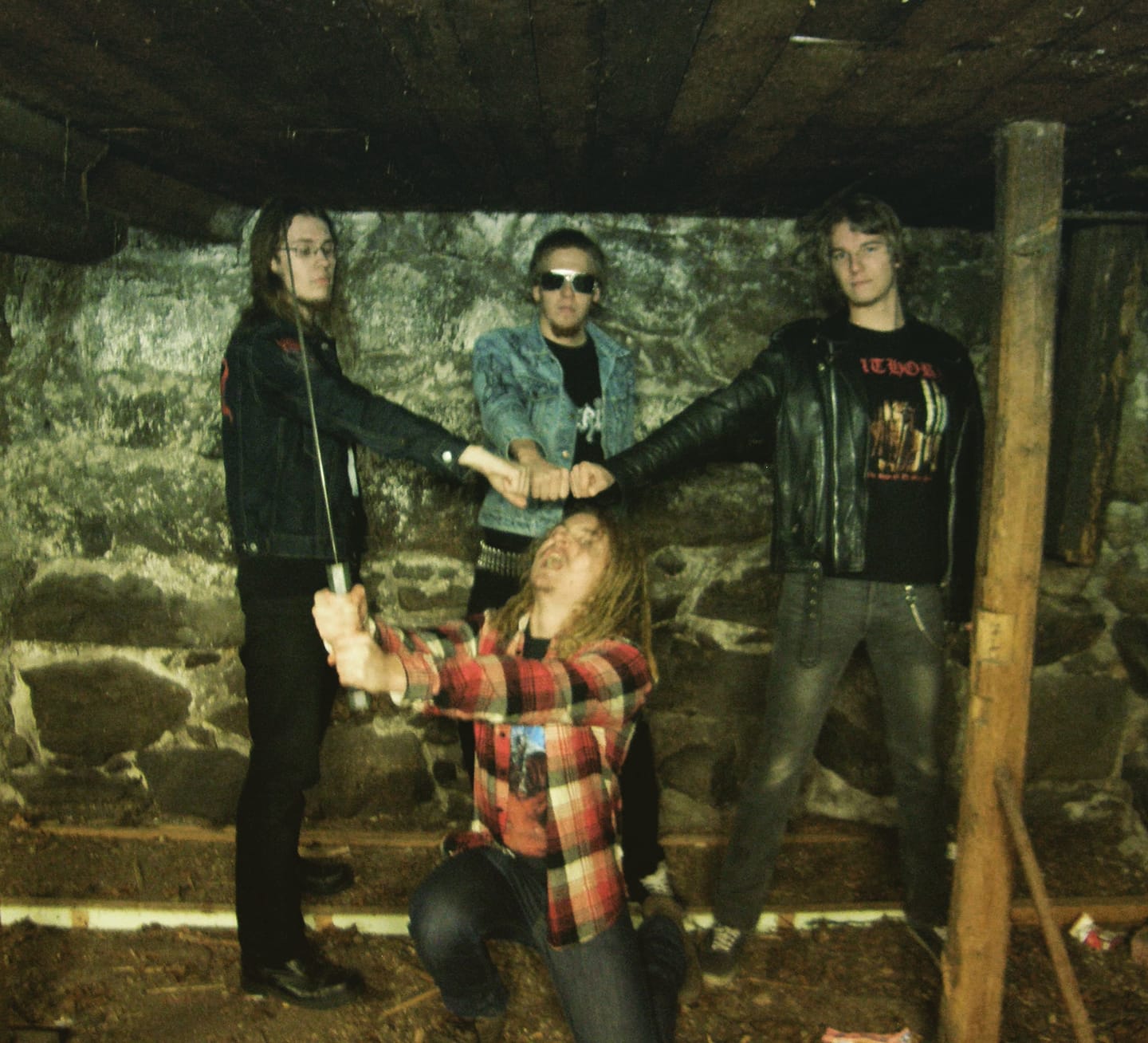 Which things, do you think, a Band should sacrifice in order to succeed? Have you ever sacrificed anything in your life for a better future of your Band?
When you have a strong feeling that what you want do is music then those choices come on your way and sometimes it is easier and sometimes more difficult. But it is a good thing if you are happy by sacrificing those things on your way because you get more and more in the path of doing what you want to do. I think this band has been in our minds so much that I´ve personally dove into somewhat deep realm where the songs are created. So sometimes It feels a bit worrying risking your life for doing art and not just getting house, kids, wife etc. as soon as possible. But If you can't give anything you get nothing back. Writing songs was my hobby before Lord Fist and still is in many forms. You do what you can. I think we´ve all given the very big part of our lives for our musical passion4s. Playing, listening, writing material, travelling to play shows… It is part of our life. Human beings are in the crossroads of these surroundings and those intentions in ourselves. Finding a compass, or a key locked inside yourself is like finding a warrior child in your heart that still lives in the wilderness of the spiritual and loving realm where things are worth fighting. Taking a step into this Wilderness Of Hearts was a big theme on this album.
Describe your ideal live show as a performance Band. Have you already experienced that?
For me there has been a few gigs which were top five experiences. Small club gigs are intense and I think there has been strong magic delivered. In festivals it is more chaotic… Big stage and your pedals in a plastic bag somewhere, and you realize being dehydrated and also a bit too drunk. Haha. That is the worst case scenario. The ideal live show for us is that when you are playing, you understand you are in the song very deeply with your whole existence and you just look at the audience and they are also "in the songs"… There is just energy so powerful and also happiness beyond description. And also when tempos and things are variating in a good, even a chaotic way. That the whole situation is just blasting!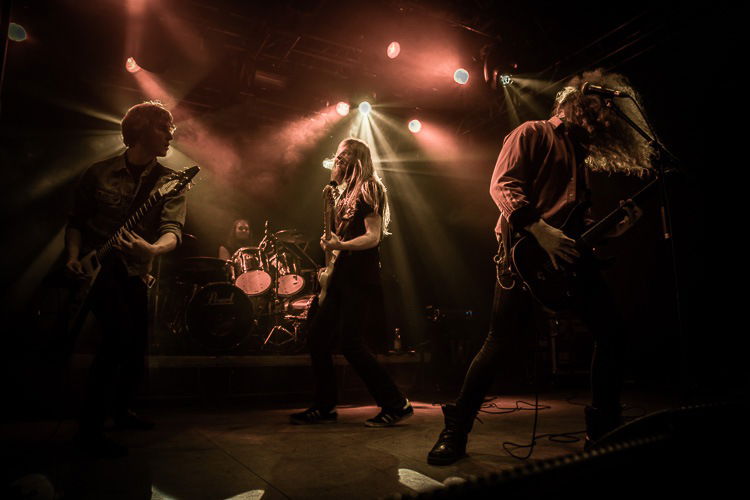 Which attributes, do you think, that a new Heavy Metal Band should have in order to gain identity and be unique?
It depends so much of the individuals they really are. Hmm, this is difficult one to answer. Maybe just by writing material they strongly feel about and also finding the key elements and themes for songs. I think there has to be quite many things nowadays that need to be in order but the most important thing is the music itself. It must have something to offer for other people as well. Also the artwork, lyrics and the whole feeling has to give something to a listener.
Do you believe that Bandcamp and other Digital Platforms help the new Heavy Metal Bands? Which, do you think, is the ideal way for a Band to promote its work?
Of course, they help. But I think first it is good to have a physical demo which you can sell on gigs hand to hand. Cd-r and tape are good solutions. My personal opinion is that if I get a tape or a DIY-style demo in my hands, it is more fun to listen to than a big money release with good sounds but boring music. It is fun and lovable to hear someone's own stuff and thoughts, not a polished product that is "pro" and too perfect. The feeling speaks for itself. Promoting your material and releasing it only through Bandcamp might work for someone.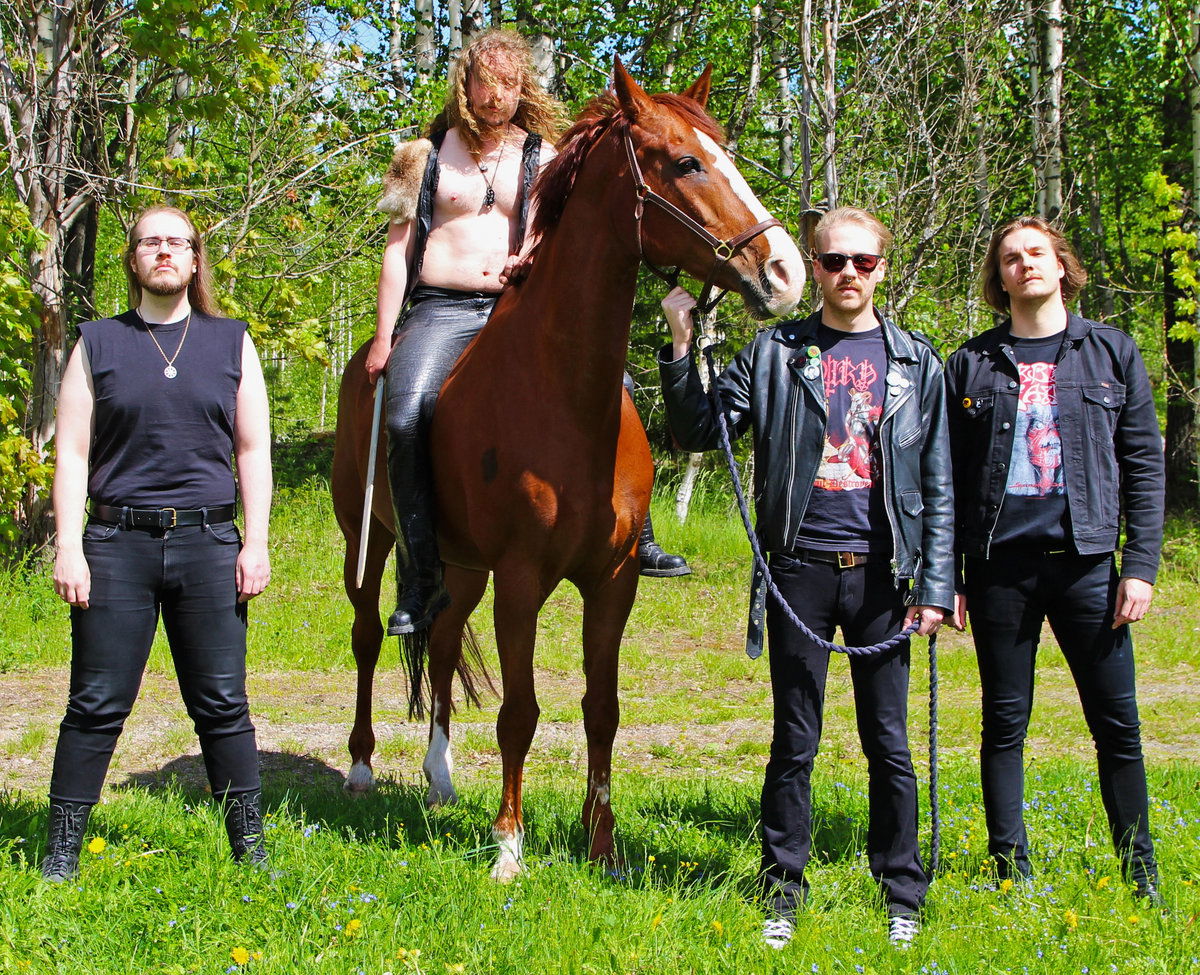 Tell us a few things about the New Underground Metal Scene in Finland (Bands, Fanzines, Webzines, Metal Clubs etc.)
There are very good bands like Legionnaire, Iron Griffin and Mausoleum Gate. Also Chalice, Loanshark and Thundersson etc. doing their powerful own stuff. There were good metal clubs in Tampere and Helsinki and there still is but this virus thing is of course cancelling shows. Let´s see what future brings. Bands are challenging each other to do their own thing and I think it is very good. Metal keeps battling it´s underground fight.
Do you know anything about the Hellenic Metal Scene?
There are very good black metal and heavy metal and people are very passionate about metal. We had a gig in Athens 2015 and there was a great atmosphere though we played quite early and I had one redbull and some painkillers and during the gig felt my hands were playing on their own and I couldn't tell anymore is it me or someone else singing. Also someone came and said that "yeah it was a good gig but there was this you know like a extreme metal feeling". We were like: "Okay, interesting." But yeah, everyone seems to enjoy rock n' roll there a LOT. It is different comparing to our home country where people are bit more silent in their own way.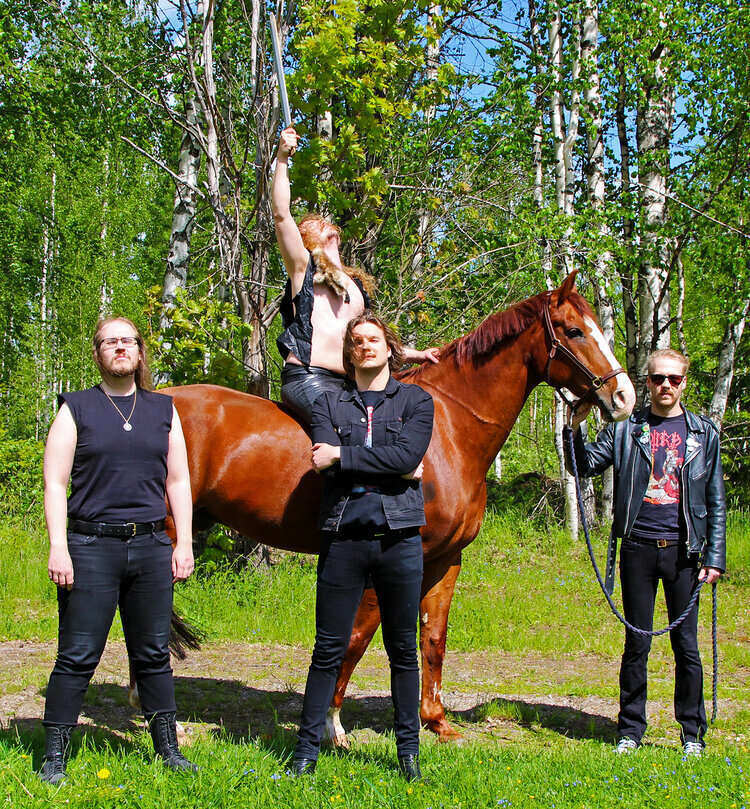 What are your future plans?
To do music of our own passion and visions and release some new material. We already have almost all songs for the third full-length so things are in a quite good shape.
Thank you very much for your time & Keep up the good work! The closure is yours.
Keep up the spirit and stay healthy. Hope we see on our future shows somewhere and can share the metal metal magick madness !!!
By Steve the Filthy Dog.
LORD FIST CONTACT:
https://lordfist.bandcamp.com/
https://www.facebook.com/lordfistlegions
https://www.instagram.com/lordfistlegions/