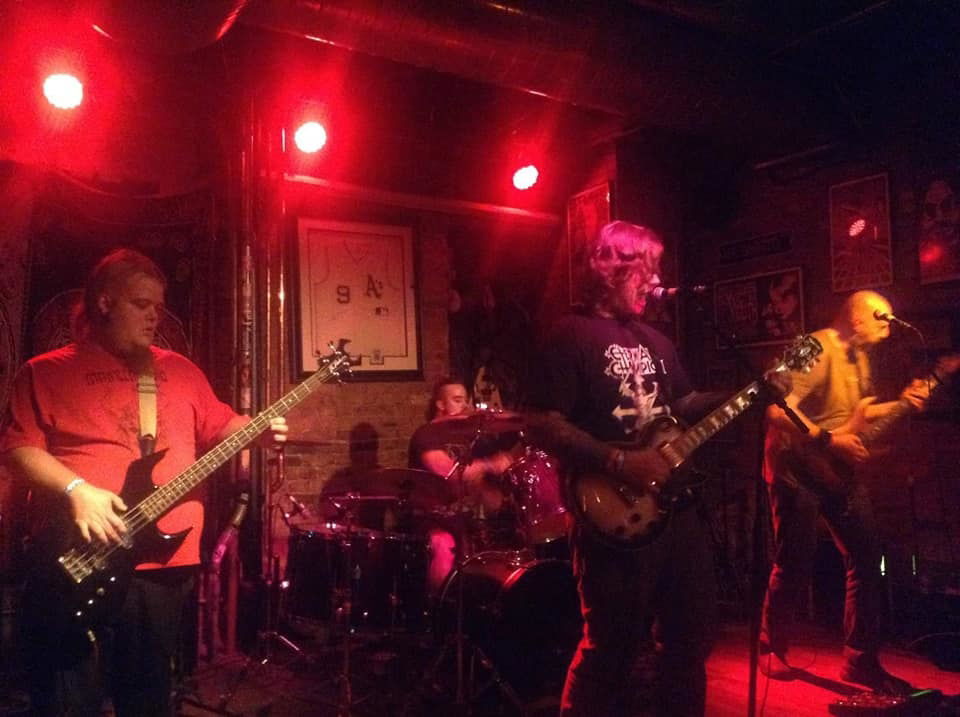 !!!US TRUE METAL!!!
We had a conversation with Samuel Schaefer. Enjoy!
Welcome to the FILTHY DOGS OF METAL Webzine.
1. Tell us a few things about KNIGHTS OF THE FORGE (Members, Starting Year etc).
Knights of the Forge was formed in 2013 by myself and our bassist Paul Hissam as a fun project to kind of keep us connected as friends.We basically grew up together and our adult lives had sort of caused us to grow apart.
We had been in a bunch of bands before this, but this was the first project that wasn't really attempting to be a part of any of the local metal scenes found in this area.We just wanted to make music that reflected our tastes and interests.
Line up:
Samuel Schaefer - Guitar/Vocals

Paul Hissam - Bass

Paul Mallory - Lead guitar

Shawn Shelton - Drums
2. Your last work was the demo ''Promo 2-13-2014''. Have you prepared anything new since then?
We have been hard at work on a full length for quite sometime. Sadly, we have been forced to restart the entire process a number of times due quality concerns, so its been a bit frustrating.Thankfully, we are blessed to have found a production home with a fellow from Atlanta by the name of Alex Parra, and up until this nasty plague business, things have been moving smoothly, and the tracks are sounding great. As soon as all of the travel bans are lifted we will resume work on our full length album tentatively titled "The Crystal Tower"
3. Label or DIY and why?
For a band trying to gain creditability definitely a known label. DiY is great if you already have a large following, but if you are an unknown you can benefit alot from have that sort of seal of quality from a business that isn't just going to release random shit music,so people see that and are more likely to give your album a listen if it's branded by a label they trust. We are currently planning to release our album on No Remorse Records.
4. Do you prefer Vinyl, Tape, CD or Digital Format and why is that?
For me personally digital is preferred simply because I have 5 little goblins that destroy everything they can get their hands on.I also collect cassettes because both of my vehicles only have cassette players and I enjoy them aesthetically, but the bulk of my purchases are digital.Pretty much everyone else in the band is big on Vinyl and have huge impressive collections that I make me jealous.
5. Your music style is Heavy Metal. Which are your main influences (Favourite Artists / Bands etc.)
Early Iced Earth was probably the most influential heavy metal band to us as kids, but we are also big fans of Manowar, Manilla Road, Judas Priest and Running Wild to name just a few bands that you can clearly hear in our music.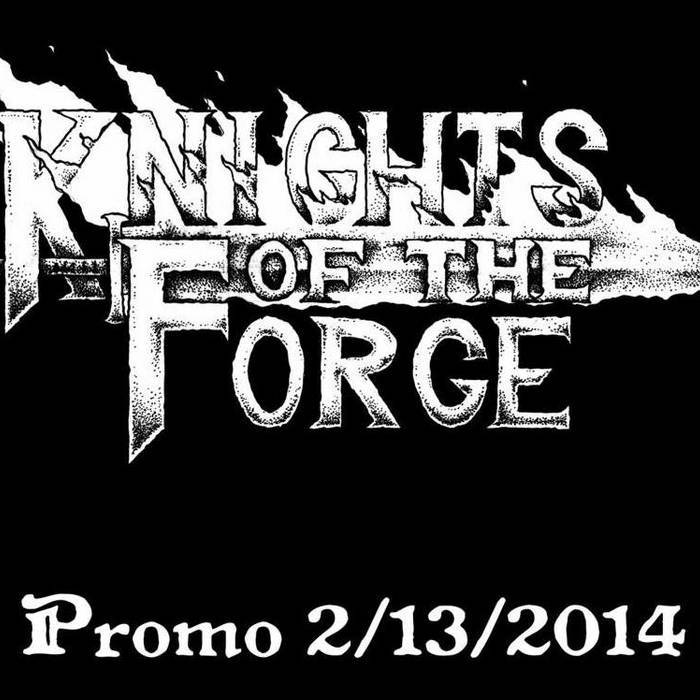 6. Which things, do you think, a Band should sacrifice in order to succeed? Have you ever sacrificed anything in your life for a better future of your Band?
The big sacrifice is time and money really. Touring and recording isn't cheap at all, we are lucky if we make enough money to break even.Sacrificing time with my family to play festivals and shows in other states can be a burden at times. It's definitely a labour of love, and any time we travel to play a show, it is purely for the love of waving the banner of metal high and proud!
7. Describe your ideal live show as a performance Band. Have you already experienced that?
We were very honoured to play Legions of Metal last year in Chicago with Cirith Ungol, Liege Lord, Eternal Champion and so many other amazing bands.It was an amazing experience that I don't think will ever be emulated again unless we end up playing any of the European festivals.As far as shows in the US, it doesn't get any better than that for a traditional heavy metal band like us.
8. Which attributes, do you think, that a new Heavy Metal Band should have in order to gain identity and be unique?
Pick a genre you love, write lyrics that you are passionate about, and do it better than anyone else.There is no need to reinvent the wheel musically in order to get noticed. The devil is in the details when if comes to standing out.Passion and soul shine through the sea of average bands that are just trying to ride the wave of a certain style of music. Don't let other people convince you that mediocrity is cool.There is a lot of that shit in underground music in general and I absolutely hate it
9. Do you believe that Bandcamp and other Digital Platforms help the new Heavy Metal Bands? Which, do you think, is the ideal way for a Band to promote its work?
Bandcamp is a great way to find new bands that you would otherwise have no access to, for better or worse, the internet in general is by far the best way to promote yourself nationally and internationally.
10. Tell us a few things about the New Underground Heavy Metal Scene in Hurt, Virginia USA (Bands, Fanzines, Webzines, Metal Clubs etc.)
Bahahah! We are the true metal scene in this area. Its probably why no one has heard of us until recently.
Even places like Richmond and tidewater are mostly Punk and Death metal related, there is very little interest in our style until you get towards D.C. where we simply arent part of the culture club there.Some really great traditional bands up that way though. October31 and Twisted Tower Dire being the most notable that I am aware of.
11. Do you know anything about the Hellenic Metal Scene?
Honestly I am not as well versed in that topic as I probably should be. But I can say that I have great respect for Greek metal fans that have easily been our most vocal supporters since the beginning. Clearly you guys have excellent taste!
12. What are your future plans?
FINISH THE ALBUM! that is our one and only goal right now. We would love to tour Europe one day if the demand is there, but for now all of our resources are focused on getting this beast done and ready for your earholes.
13. Thank you very much for your time & Keep up the good work! The closure is yours.
Thank you so much for having us. Hail Greece! Hail True Metal!
By Steve the Filthy Dog.
(Many thanks to Nikos Kesidis for recommending me this band.)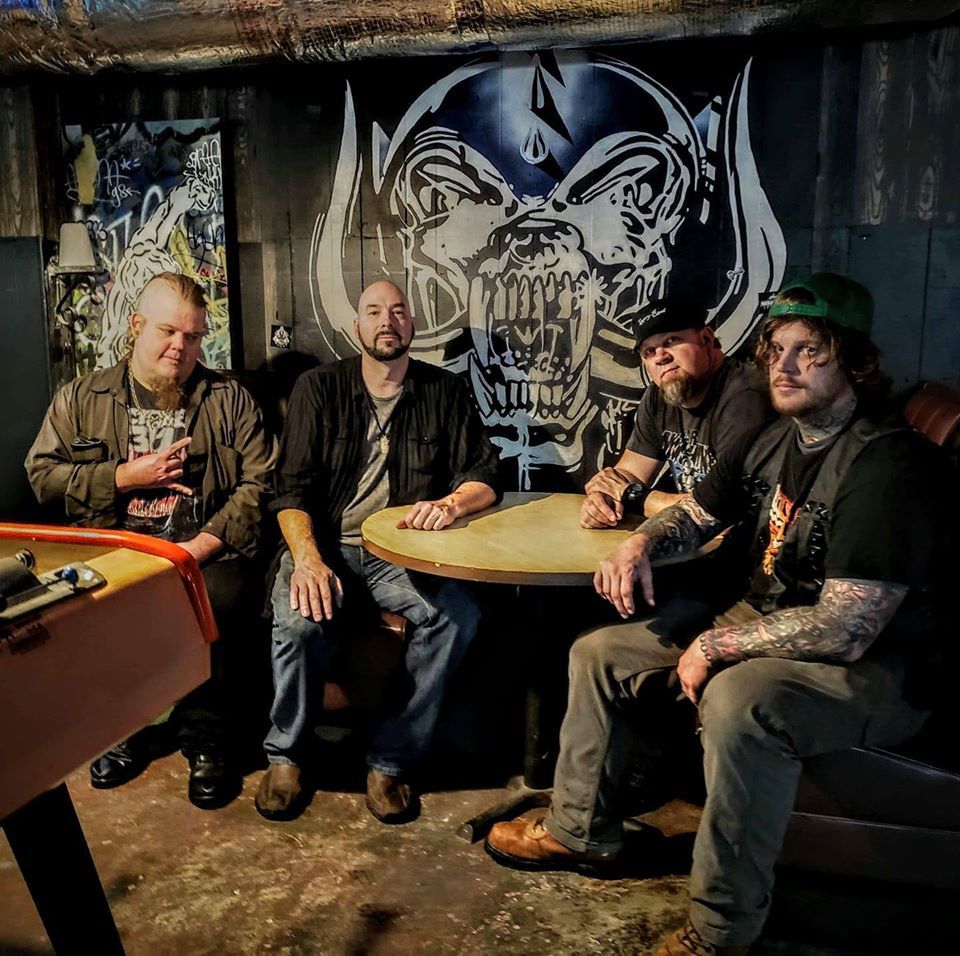 KNIGHTS OF THE FORGE CONTACT:
https://knightsoftheforge.bandcamp.com/releases