We had a conversation with Anthony Micale (Vocals, Bass). Enjoy!
Welcome to the FILTHY DOGS OF METAL Webzine.

1. Tell us a few things about KNIGHTMARE (Members, Starting Year etc).

Knightmare started a little more than 10 years ago in a dark basement in North Carolina by a few teenagers who so loved and worshipped heavy metal, they wanted to start their own journey.
Jared, Reid and myself (Anthony) got our first instruments when we were about 12 years old. It all began with just a serious passion, half decent riffs, love, and admiration for the music that made us feel something different.
Something magic and real. Many years, 4 self released albums, and a few drummers later, here we are! I will take a moment to fill you in on our Spinal Tap-esque drummer saga. Justin Travis was our original and founding drummer, on first album "Damned and Forsaken.
Our second drummer, who is featured on the "Wolves of Retribution" album is super rocker Peter Lemieux, formerly of Widow, Walpyrgus, and currently of Blade Killer out of Los Angeles. Spencer Hughes, our longest tenured drummer was on "Walk Through the Fire" and "Space Nights".
Spencer decided to step away after a fantastic run of about 4 years due to personal reasons and differences in lifestyles and long term.
Our new guy is an amazing and truly gifted musician, Chris Hathcock, who happens to be the guitar player and lead vocalist of progressive metal band,
The Reticent. We are ready as ever to continue this wild ride that began in a basement and led us to where we are today, a storage space on the outskirts of downtown.

2. You have recently released your new album ''Space Nights''. What is the Feedback from your audience as well as from the Press?

We released ''Space Nights'' digitally on October 4th via our very good friend Rafchild Records.
So far it's been pretty awesome, tediously watching bandcamp to see how the reception has been. Raphael and Agnieszka put together a pretty cool lyric video on YouTube of the title track, I'm hoping to see some rockers singing along when the time comes!
At this point we are shooting for a physical release by mid November. From that point we will be able to distribute them even further on CD, vinyl, and other digital media sources.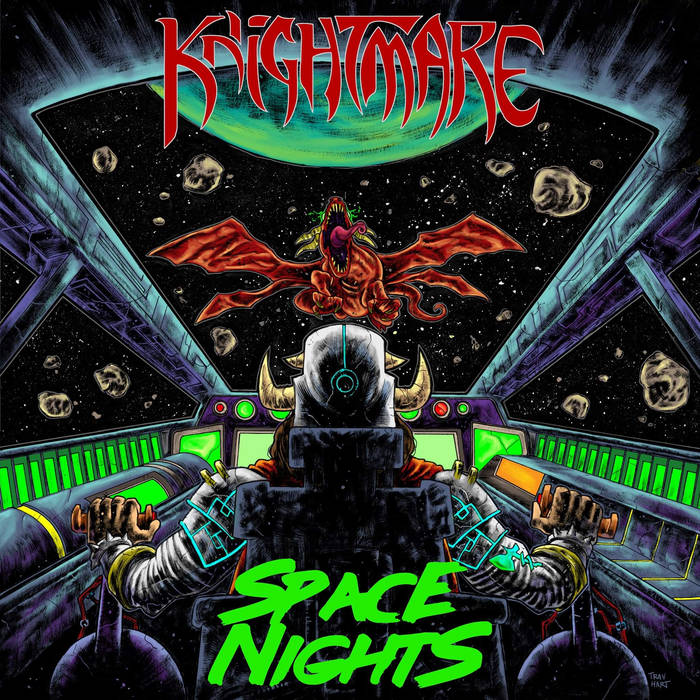 3. Label or DIY and why?

All four of our albums have been DIY. Space Nights is the first album that we've used any outside help at all. Rafchild Records will be doing all the pressing and distribution in Europe for Space Nights, with possible re-releases for any of our previous albums.
The first two, "Damned and Forsaken" and "Wolves of Retribution" were recorded at separate studios with different producers.
When we did "Walk Through the Fire" with Ian Millard at Dogwood Studios in Wilmington NC, we had a serious connection that was conducive to creating what we had envisioned.
We returned to Ian and Dogwood Studios for "Space Nights", and I feel like we made great strides toward what we wanted for the songs.
We can't wait to return to Ian and our space on the swamp for album a. five.

4. Do you prefer Vinyl, Tape, CD or Digital Format and why is that?

In my perfect world, everyone would still be spinning vinyls in their mom and dad's basements on some first edition KISS or Iron Maiden, but the world is always changing.
I think digital media is great, though nothing ever sounds as good as a record player. But it is 2019, and I love that we are able to carry around thousands of songs in our pockets.
I love that millions of people have access to just about any music at the touch of their finger.

5. Your music style is Heavy Power Metal. Which are your main influences (Favourite Artists / Bands etc.)

Iron Maiden. Judas Priest. Black Sabbath. KISS. Dio. Thin Lizzy. Edguy. Rush. Led Zeppelin.
The usuals haha. Basically everything we grew up on. The boys and I have slightly different favorites, but these are the ones we all agree on.
I like to tell people we are like a classic heavy metal with a groovy 70s twist. When we write something new, we just let the song write itself.
We don't push to make it sound like one thing or another.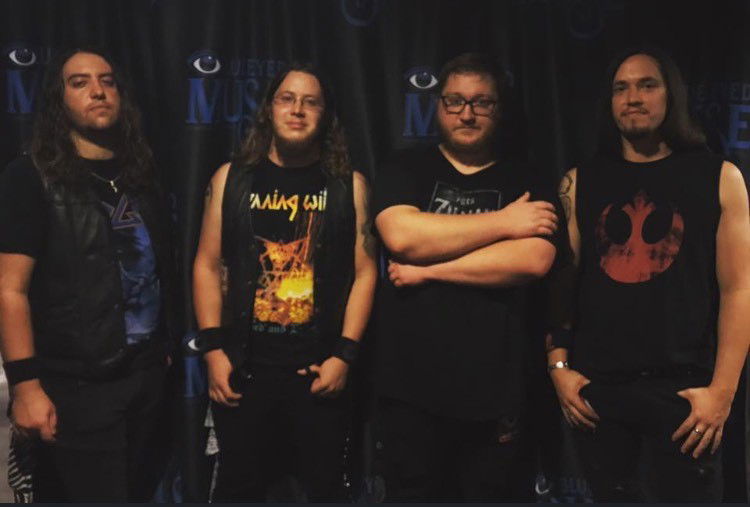 6. Which things, do you think, a Band should sacrifice in order to succeed?
Have you ever sacrificed anything in your life for a better future of your Band?

Time and money. People seem to think that being in a successful band means you have some super otherworldly talent or gift. I would say that 90% of us really just practiced our asses off and showed up to practice every week.
I could have spent my time and money in pursuit of a "real" career or a "higher education" , but I am more than happy and fulfilled with the path I chose. If what you are doing truly makes you happy and fulfilled, then it's never a sacrifice.
I am happy with my 9-5, and rocking the other hours of the day.

7. Describe your ideal live show as a performance Band. Have you already experienced that?

I feel that any live gig is a reward in itself. I remember when I was young I saw Rush in an interview saying something about how "it doesn't matter if you are playing in front of 3 people in some shitty basement bar or 30,000 in a stadium,
your passion and performance should be the same".
I hold to that still. Our music is our art. And if one single person feels the heart in the music, that is as good as 30,000 to me.
With that being said, a good sound guy is worth all the money you could ever make. I've performed at big festivals and I've rocked a rainy Tuesday at some dive bar somewhere,
and as long as one living thing feels it and digs it, my work is done.
A few free drinks for my time doesn't hurt either.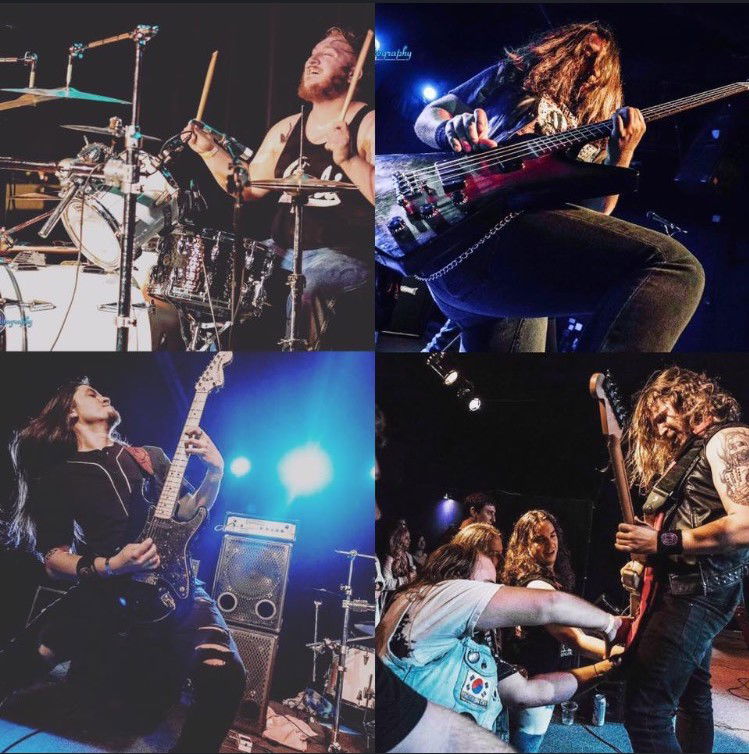 8. Which attributes, do you think, that a new Heavy Metal Band should have in order to gain identity and be unique?

I think humility and being humble is as important as any skill or ability. Be early for a gig. Show up to practice. Be happy to be there. Don't be pretentious. Love your band mates, they are your brothers and
sisters, they are your family. Be cool, kind and warm to the other bands you are playing with at a gig or in your town.
They could become your best friends. Talk to people.
Don't be afraid. Be original. Break the mold. We are all out here working and chasing the dream. Work hard. Have fun. Believe. Rock out for the people, and rock out for yourself.
I've always believed that if you act from your heart everything will work out well. Don't be greedy or hasty, follow your heart. Magic is real, believe in it.
Dio said it, not me.

9. Do you believe that Bandcamp and other Digital Platforms help the new Heavy Metal Bands? Which, do you think, is the ideal way for a Band to promote its work?

If I had it my way, or in my perfect world, we could go out and hang flyers on every light post in town and hundreds of denim and leather clad faithful would be lined up at the
venue before the doors opened. But times change, and these new avenues of the digital world are great.
The world is at your fingertips. In hindsight I wish we could have been better with social media and promotion and presence.
Bandcamp is a fantastic platform for digital distribution. To be able to listen to something before you purchase it is amazing, no buyers remorse.
We've done well with bandcamp and will undoubtedly continue using it.
But as I said before, for me, nothing beats a good vinyl on a dirty old record player.

10. Tell us a few things about the New Underground Metal Scene in Raleigh, North Carolina USA (Bands, Fanzines, Webzines, Metal Clubs etc.)

The scene here in Raleigh and in greater NC is amazing. The bands that call NC home are elite to me. We've got so many fantastic bands here. I'll go out on a limb and say for all of us, to ourselves, we aren't underground.
As far as I'm concerned, this is my mainstream. Widow, Twisted Tower Dire, Children of the Reptile (my absolute favorites), MegaColossus, Mortal Man, Lightning Born, Cerebus.
So many more in and around NC.
We've got several great clubs in Raleigh and in our state, you could make a week long tour just here.
From Asheville, eastbound and down to Wilmington, my favorite bands in the world are here in my state.

11. Do you know anything about the Hellenic Metal Scene?

Boy do I. Long story here.
I played Keep It True in 2016 with my guitar player and best mate Reid Rogers' other band, Cerebus. During our first time in Europe, we found our way to Marburg, with our now partner Raphael Paebst of Rafchild Records.
He was putting on a show featuring Rapture from Athens, Greece and Stälker from New Zealand. I was so happy to be in Marburg that night!
I was lucky enough to meet Apostolos Papadimitriou, lead singer and guitarist of Rapture. We had a fantastic night of heavy fuckin' metal, German beers and doner kebab.
Two years later while on a fairly extensive European tour with my other band Mega Colossus earlier this year, I was lucky enough to find myself on a few gigs with Apostolos' other band, another fantastic heavy Greek band, Saboter.
After a gig or two in Belgium and Germany, we parted ways for 3 days until we met again at the Up the Hammers pre-party in mighty Athens herself.
Apostolos and Saboter played just before us at the pre-party for the legendary festival.
The atmosphere and fans were incredible, unlike anything we'd ever experienced. The passion of the fans and festival goers was absolutely contagious, and I will chase the high of that festival for years to come.
He regailed me with tales of splendor, of fantastic gigs and fanatic Greek fans, fighting the power, as if it were some Ancient Greek epic.
The Greek metal scene to me represents freedom and standing up to evil would be assailants and opponents of the what we love and worship, in this case, it's rock n roll.
As is Greek tradition I suppose! I absolutely cannot wait to find myself on the streets of the ancient city of Athens, with my brother in search of rock n roll and some of the best food and hospitality I've ever had.

12. What are your future plans?

To continue the quest for fire. To be able to keep writing and performing music that we love with my brothers.
To be able to take our company across the sea to the undying lands. To continue to strive for excellence in our craft.
Keep putting out new music and hopefully return the favor that rock n roll has granted us. For even just one more person to reach out to us and tell us how what we do inspires them.
The glamour, the fortune,the fame. Well, maybe not so much the fortune and fame, but the glamour is just fine with me.

13. Thank you very much for your time & Keep up the good work! The closure is yours.

Thank you for the opportunity to speak with you on matters most important to me and my boys.
Can't wait to see what lies ahead!
With all luck and favor, see you soon!
By Steve the Filthy Dog.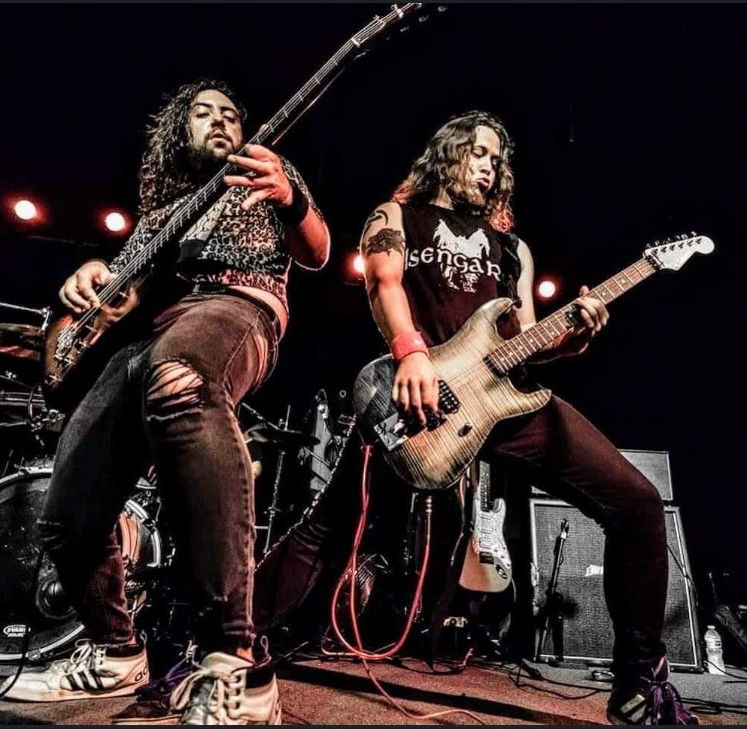 KNIGHTMARE CONTACT:
https://www.facebook.com/KnightmareBand/
https://knightmarenc.bandcamp.com/