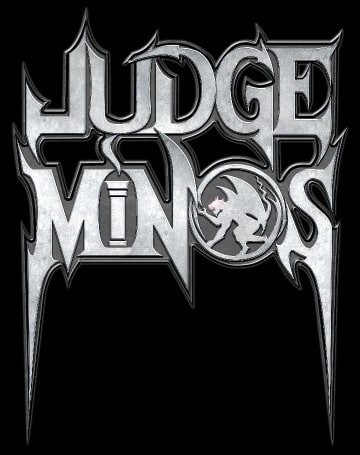 !!!HEAVY METAL FROM SWITZERLAND!!!
We had a conversation with Dominic (Guitar). Enjoy!
Welcome to the FILTHY DOGS OF METAL Webzine.
Tell us a few things about JUDGE MINOS (Members, Starting Year etc).
Hello, Dominic here from Judge Minos!
Our band is the following:
Golden Eagle - Vocals
Jerry Jay - Drums
Don Diego - Guitar
Joe Ming - Bass
Dominic Blum - Guitar
The band was forged by Golden Eagle and Dominic Blum (Gomorra, Ex-Comaniac) in 2017, we wanted to compose and play songs with all our favourite elements of the metal genres! To complete the lineup, we searched for the rest of the musicians and in April 2018 Jerry Jay (Ex-Lifeless Illusion, Ex-Escape to Orion) joined us on drums, and in october of 2018 to be joined by his former bandmate Don Diego (Ex-Escape to Orion) on guitars. While searching for a good bass player, we composed a lot of songs. Our first show was in 2019, with a temporary Bass player Nico Ardueser (Atlas & Axis, Pater Iltis, Ex-Gomorra). We started to record our debut CD "The Keeper Of Imbalance" in summer 2019, and Joe Ming would play live Bass for some shows. He joined officially in 2020 and since then the lineup is complete!
You have recently released your EP ''The Keeper of Imbalance''. What is the Feedback from your audience as well as from the Press?
We've been overwhelmed by the positive feedback to our CD! There are a lot of people that love our music from the first note and the press is to this date really happy with our CD!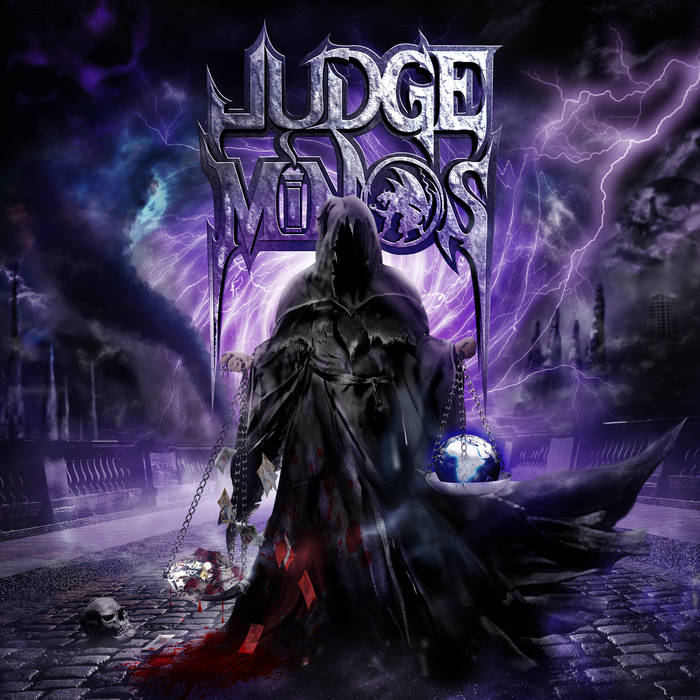 Label or DIY and why?
We are currently DIY, but we want a good label partner in the future!
Do you prefer Vinyl, Tape, CD or Digital Format and why is that?
As a band, we want to release all of the above - in time! And as metal fans, we love CDs and Vinyl most, because it just belongs to the whole piece of art. Streaming is OK, because we live in a digital world, but if you want the real deal you go for the physical media.
Your music style is Heavy Metal. Which are your main influences (Favourite Artists / Bands etc.)
Our main influences are NWOBHM, thrash metal and of course death metal! Within the band we love a lot of bands and artists, actually too many to mention! And a fun fact: One of our band members does not like Iron Maiden, hahaha! ;-)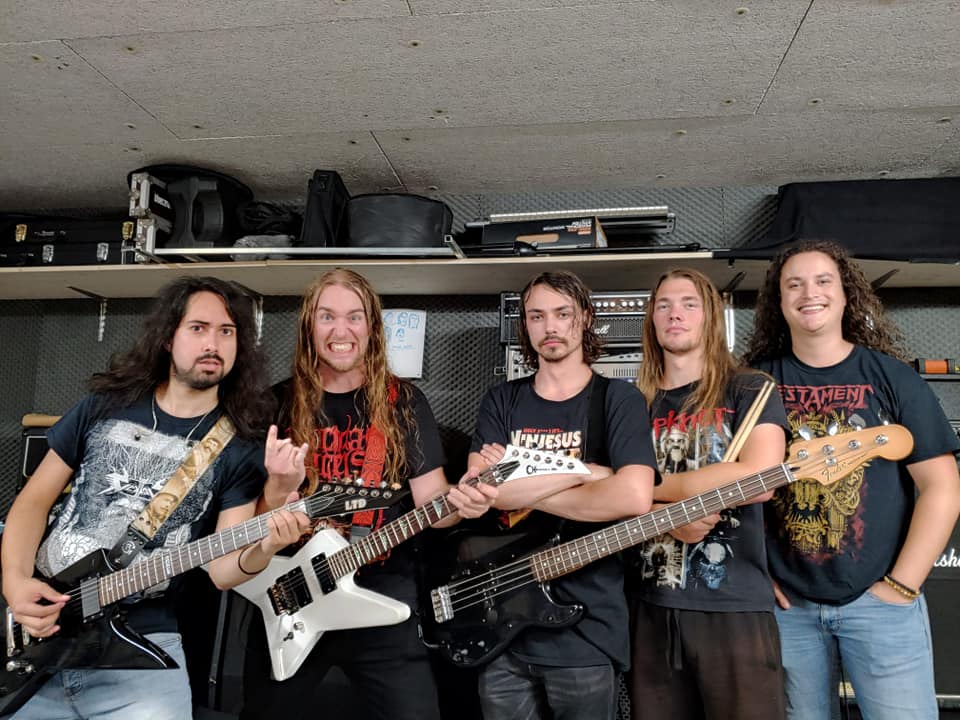 Which things, do you think, a Band should sacrifice in order to succeed?
Have you ever sacrificed anything in your life for a better future of your Band?
Musicians will sacrifice a lot of money for gear and a lot of time for practice/rehearsal. If you want to nail your gig, you will probably spend a lot of time learning your shit. If you play in a technical prog metal band, you will probably not have a lot of friends outside of your band, so there is definitely a sacrifice. In Judge Minos, we've actually sacrificed a lot of time for rehearsal! We've just got a better feeling on stage when we know our shit ;-)

Describe your ideal live show as a performance Band. Have you already experienced that?
I think it's the one gig, where everything works flawless and the fans are happy! We've not experienced a lot of shows, since 2020 was a fucked up year!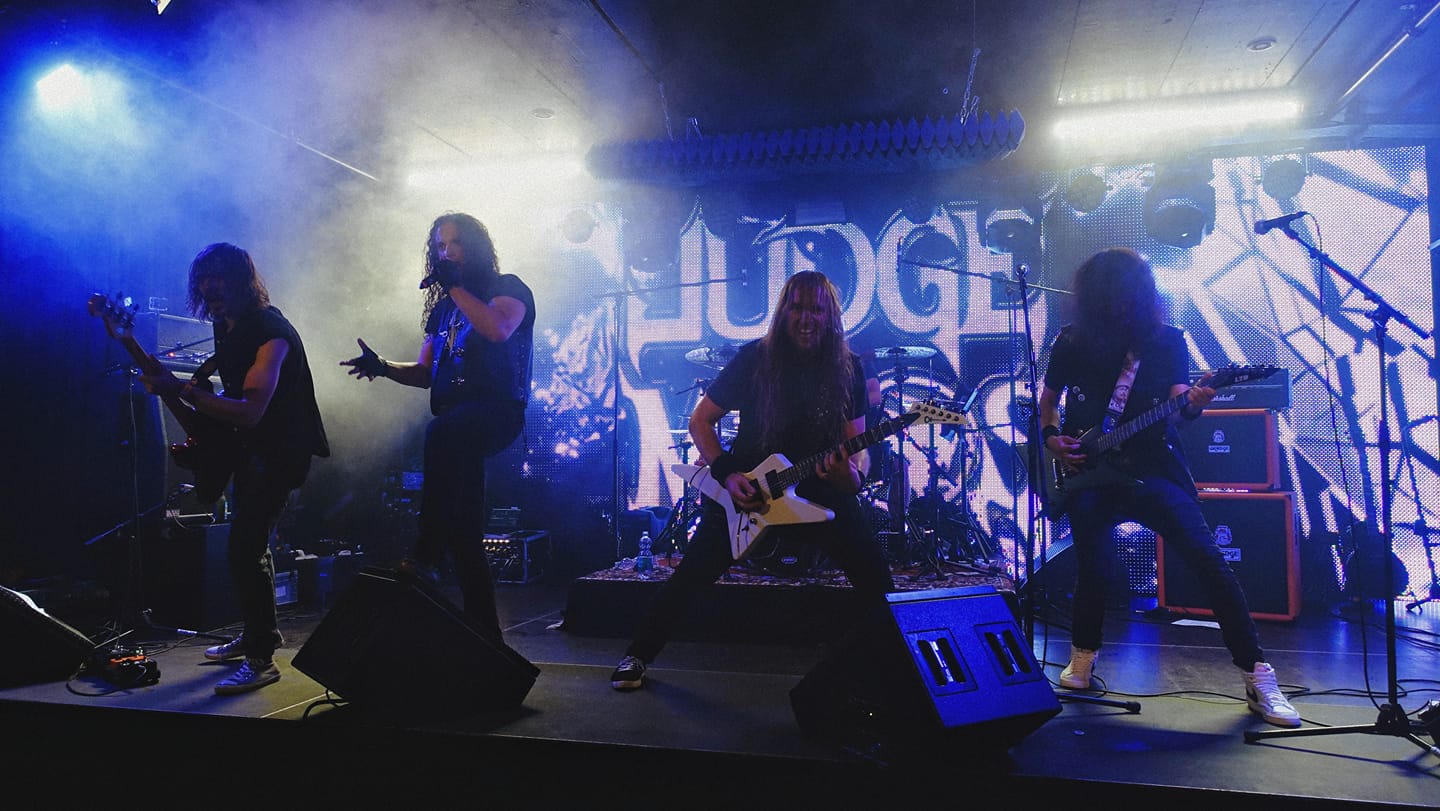 Which attributes, do you think, that a new Heavy Metal Band should have in order to gain identity and be unique?
If you want to be unique, start something "outside of the box". If you want to have identity, maybe go for the stereotypes and play them well! If you want both, then combine it and work your ass off to get it working!
Do you believe that Bandcamp and other Digital Platforms help the new Heavy Metal Bands? Which, do you think, is the ideal way for a Band to promote its work?
For us, the digital platforms are very important! It doesn't matter where people discover your music, it matters that they discover your music! There probably is no ideal way. If people like what they hear, they will tell others about it, and in time you'll get your audience. If you have a lot of money, you can also boost promotion via online mags and ads, but you should be able to back it up with new music!
Tell us a few things about the New Underground Metal Scene in Switzerland (Bands, Fanzines, Webzines, Metal Clubs etc.)
We've got a cool underground scene here, and if you go to a lot of shows you get to know each other (as bands and fans). Sometimes we're a bit scared of new things, but that's okay.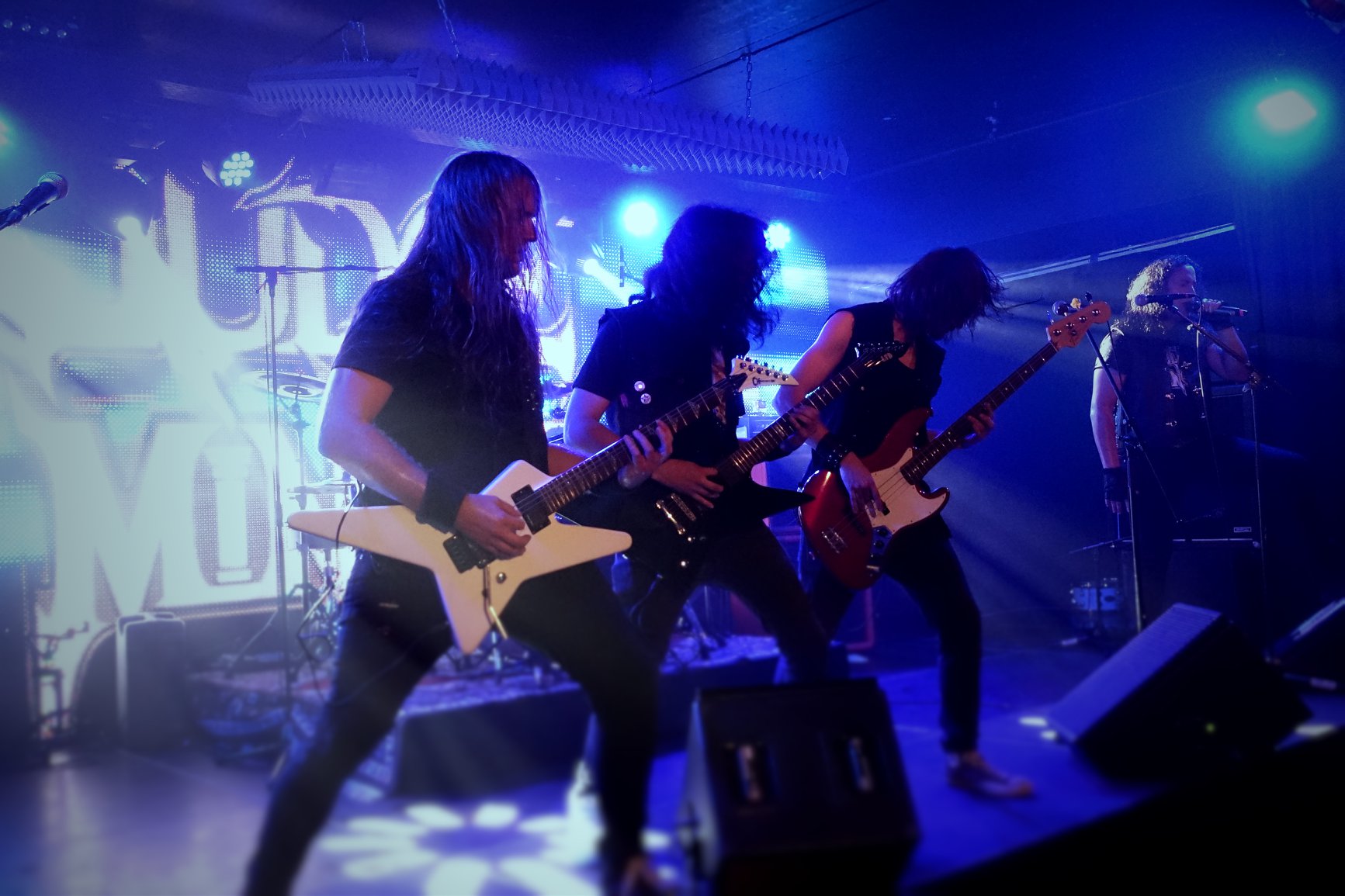 Do you know anything about the Hellenic Metal Scene?
I know some of the bands that were on tour through Europe (like Rotting Christ, Suicidal Angels and of course Firewind), but I don't know any clubs or bars where I should go when I'm in Athens or Thessaloniki. I will check the comments of this interview for suggestions of bands and places and I will check them out!!!
What are your future plans?
Full Length CD and live shows!
Thank you very much for your time & Keep up the good work! The closure is yours.
Hello Metalheads of Greece, if you like our music spread the word! If you want us to play in your city, tell your local club about us!!! Thank you very much for your support and let the metal flow!
By Steve the Filthy Dog.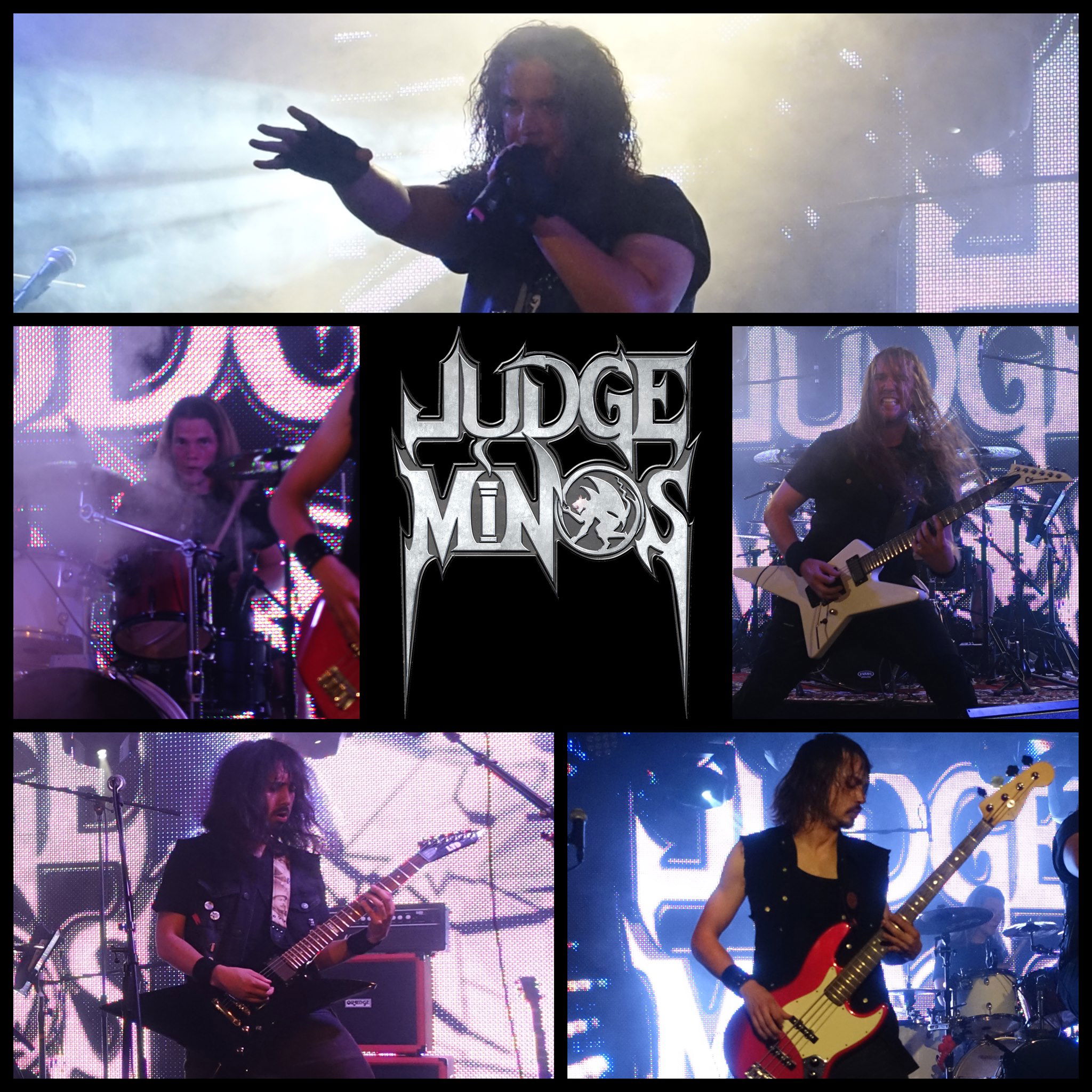 JUDGE MINOS CONTACT:
https://judgeminos.bandcamp.com/
https://www.facebook.com/JudgeMinosMetal
https://www.deezer.com/en/artist/103182102?autoplay=true
https://www.instagram.com/judgeminos/
https://open.spotify.com/artist/6XAw4mnrKehUQBE7YDJfhy