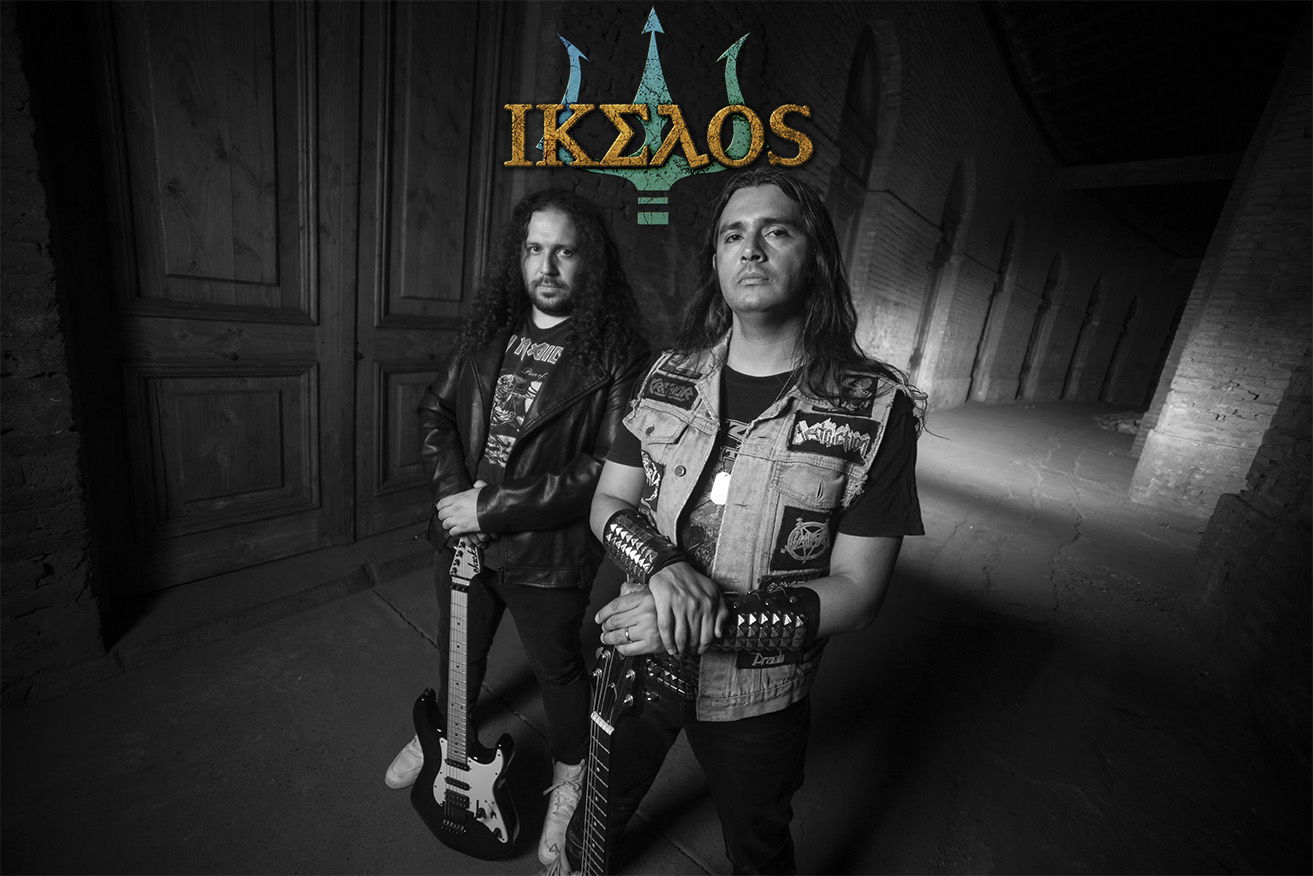 !!!CHILEAN HEAVY METAL!!!
We had a conversation with Diego & Javier.Enjoy!
Welcome to the FILTHY DOGS OF METAL Webzine.
1. Tell us a few things about IKELOS (Members, Starting Year etc).
Javier: Well, the band started before I entered, in early 2012, when Diego and César formed the band alongside a drummer whose name I don't really remember (he left before I arrived) and the singer Jaime González. Diego and I were college friends since, like 2005, and he called me and told me that he was hesitant about this heavy metal band he has formed and I told him that I wanted to join, I was recently kicked out of a hard rock band and I wanted to play Heavy Metal, so the drummer left and Jaime called his best friend Manuel, who is a fantastic drummer, and Diego called me and the band was born.
2. Your last work was the demo ''Something Is Waking Up...''. Have you prepared anything new since then?
Diego: Well, "Something is waking Up" was something we did because i went to Europe and we thought "since i'm going, i should some bring some of the new material to promote personally the band with local metalheads overthere". So, we recorded those two new songs (which we re-recorded in our upcoming LP) and made a demo. It was meant to be only promotional, but after i returned to Chile people started to ask about it and how to buy it ( i didn't bring back not a single copy), that's when we decided to make more copies.Right now we are recording our LP, but since this COVID19 shit started,the studio is closed till further notice just when we only needed to record the vocals of three more songs. We will be releasing a new song soon, maybe even before this interview is released haha.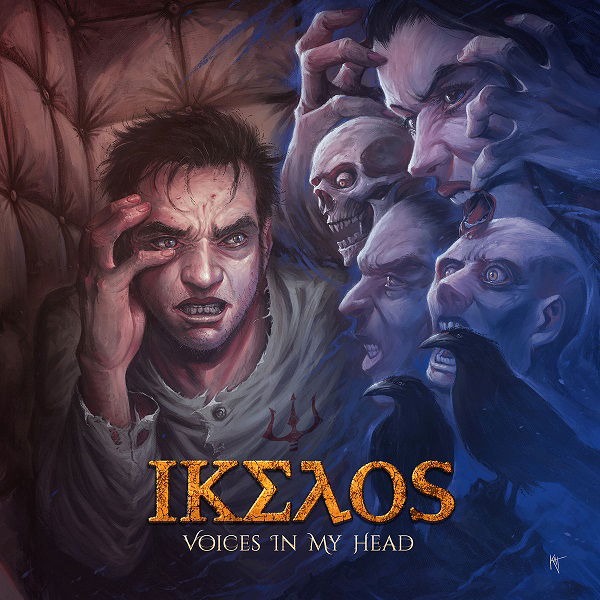 3. Label or DIY and why?
Diego: I will always prefer to work with a label. That way we can focus mostly in creating music. We've done DIY before, nothing bad about it, but personally, i rather work with a label.
Javier: Yeah, I agree with Diego. I also think for us is better to work with a label, but we have worked both ways, because for labels is hard to sell new band's demos or singles, so in that way, we do DIY.
4. Do you prefer Vinyl, Tape, CD or Digital Format and why is that?
Diego: Vinyl is the best!. For me, every vinyl i have is a treasure. As it is bigger, you can appreciate the artwork much better and of course, the sound quality most of the time is superior. For me, whenever i play a vinyl is a ceremony. I take a beer (or more than one), sit on the couch and listen completely the album. I like 7" too, but the part is like: "press play, sit down, turn the vinyl, press play" you spend more time on your feet that listening to it haha.
Javier: I own every format haha. As an old school dude, I love Vinyl, for me is the superior way to listen to music, but I also own CDs and tapes.Streaming services has become more practical for doing shores and driving haha, but when i sit and listen to music, yeah, Vinyl is better.
5. Your music style is Heavy Metal. Which are your main influences (Favourite Artists / Bands etc.)
Diego: We all love IRON MAIDEN, but personally my influences changes within time and emotional state. What i mean is there are some bands i love, but they are not necessarily an influence.If i have to say right now which are my current influences i'd say: King Diamond, Running Wild, Iron Maiden., Visigoth.
Javier: As Diego said, we just LOVE Iron Maiden, but my influences are more towards the Hard Rock: Led Zeppelin, Deep Purple, King Crimson, Jimi Hendrix, Van Halen, etc.
6. Which things, do you think, a Band should sacrifice in order to succeed? Have you ever sacrificed anything in your life for a better future of your Band?
Diego: First than all, time. You must sacrifice a lot of time in order to improve as a band. Practice a lot, the more the better. There is no magic trick or easy way to achieve your goals (actually, it is with everything in life), you must put effort and work hard. Forget about "I'm too tired to go to band practice". In Ikelos, being tired is never an excuse. We bust our asses for the band, cause we care about it.
Javier: Yeah, is a lot of hard work and a lot of practice. Also you must invest money to make it work, we have a team of people: producer, engineer, stage manager… and also invest on your instruments, make your gear better and props to make your live show more engaging to the public.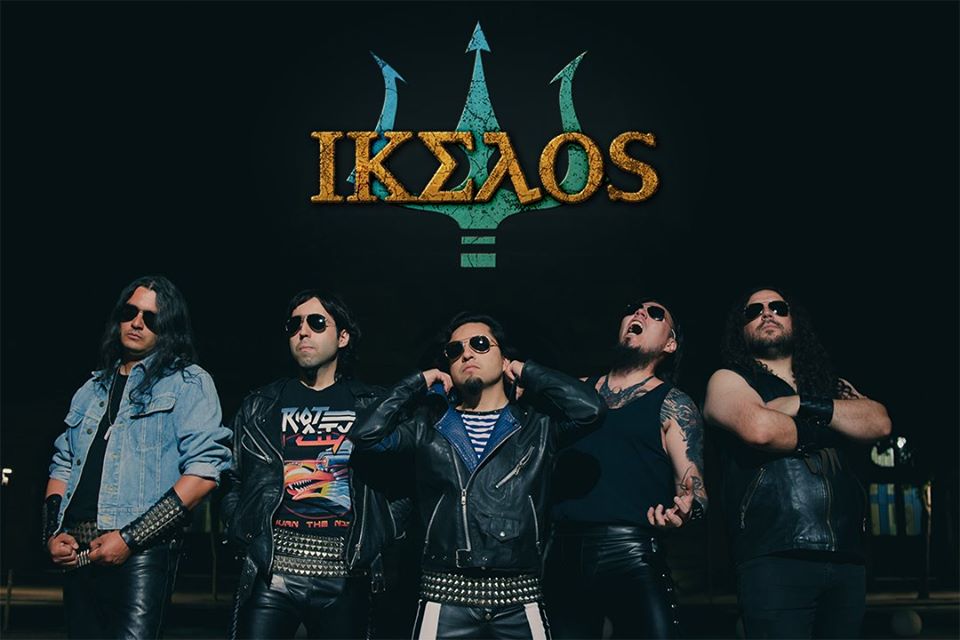 7. Describe your ideal live show as a performance Band. Have you already experienced that?
Diego: My ideal show... a place big enough so we can use our flamethrowers safely haha. Full of people having a good time and praising for metal with their fist high in one hand a beer in the other hand.
Javier: Depends haha. As a performer, I like to have a big stage to move and have a good time, where we can fire our flamethrowers haha. And as public, love to see awesome bands with my best friends and some beer.
8. Which attributes, do you think, that a new Heavy Metal Band should have in order to gain identity and be unique?
Diego: There are basically two things. Keep and open mind and the ambition to be known as yourself and not as the "new Iron Maiden": It is a long process of learning developing your own style. I think we've achieved some sort of "own sound" by keeping an open mind, mixing our personal tastes wich are very different, but most important do not play with your brain, do not play with your fingers, do not play with your heart. Play with your fucking guts!. If you writte a riff that can feel in your guts, then you are going on the right track.
9. Do you believe that Bandcamp and other Digital Platforms help the new Metal Bands? Which, do you think, is the ideal way for a Band to promote its work?
Diego: We are in the XXI century, wether we like it or not. I think digital platforms are a good say to show your work before someone can get interested in your band and might want to buy or album, or attend a show.In my case, i use a lot Spotify, when i go for a run or drive my car (that way i take better care of my albums leaving them at home).
Javier: Well, I believe this a great time to be a musician, good instruments are cheaper, you don't have to throw away a fortune to have a good home studio and the streaming services has helped more underground musicians to get some recognition. Now we can listen to bands that, a decade ago, wouldn't be possible thanks to this. And even modern musicians can make a living out of YouTube and Spotify and such. From that point of view, this services made a difference in how we understand the music business. But, has some downsides too, but that is topic for another conversation.
10. Tell us a few things about the New Underground Metal Scene in Chile (Bands, Fanzines, Webzines, Metal Clubs etc.)
Javier: Chile has a big underground scene, there are some great webzines, like powermetal.cl, irock.cl, elcuarteldelmetal.com, cult to Steel (sorry, can't recall more name now), etc; fanzines like , bands like Excomunión, Mutación, Rugido, Ripper, Dictator, Massive Power, Condenados, etc; pubs and festivals, like Evil Confrontation Festival. Is a really big scene and is growing even more!
11. Do you know anything about the Hellenic Metal Scene?
Diego: Well, personally i haven't been able to listen as much as i'd like to, i can think of Rotting Christ, Flames right now. Great and badass band!. Recommend me some bands!
12. What are your future plans?
Diego: Our future plans are to finally release our upcoming album. We'd like to plan a tour, and get shows abroad. We don't want to stay home, damn it. Even playing in Greece, why not!, That'd be great!
Javier: Yeah, so far, as COVID is still around, we want to release our album. We are planning a European tour and a Chilean tour as well, but, still on hold due to the world's situation.
13. Thank you very much for your time & Keep up the good work! The closure is yours.
Diego: Thank YOU very much for the interest on Ikelós. And thanks everyone there for taking the time of reading this interview. Stay tuned for our album and have sweet nightmares!
Javier: Big thanks to you for the interview!!! and thanks to everyone for supporting our band and Heavy Metal around the world. Keep metal alive, stay heavy and we'll see you on your worst nightmares!
By Steve the Filthy Dog.
IKELOS CONTACT:
https://www.facebook.com/Ikelosband?fref=ts
https://www.instagram.com/ikelosband/