!!!FRENCH EPIC HEAVY METAL!!!
We had a conversation with Kevin (Guitar).Enjoy!
Welcome to the FILTHY DOGS OF METAL Webzine.
1. Tell us a few things about HERZEL (Members, Starting Year etc).
Hi, Kevin here, first of all, thanks for your interest ! Herzel has a pretty classic line-up for heavy metal; twin guitars (Gurvan and I) , Bass (Mordiern), Drums (Ion), Vocals (Thomas). We started playing around 2013, Ion and I where rehearsing together for some time, our project was called Peryton. Thomas showed up to one of the rehearsals to introduce some riffs and ideas he had. Soon after that we were doing rehearsals which consisted of half-time playing Peyton, half playing Herzel. The more serious Herzel was getting the more time we spent composing for the band, and eventually Gurvan and Mordiern joined the band, both adding their touch to the music.
2. Your last work was your demo tape ''Unis Dans La Gloire''. Have you prepared anything new since then?
Absolutely, the demo has just been re-released through a co-production between Messe Noire and Impious Desecration Records (links available via our Facebook). We've also started a collaboration with Cruz Del Sur music in order to release a new album that is fully composed. The recording has started but due to Covid19 we'll have to postpone the release since we cannot go further in the recording process.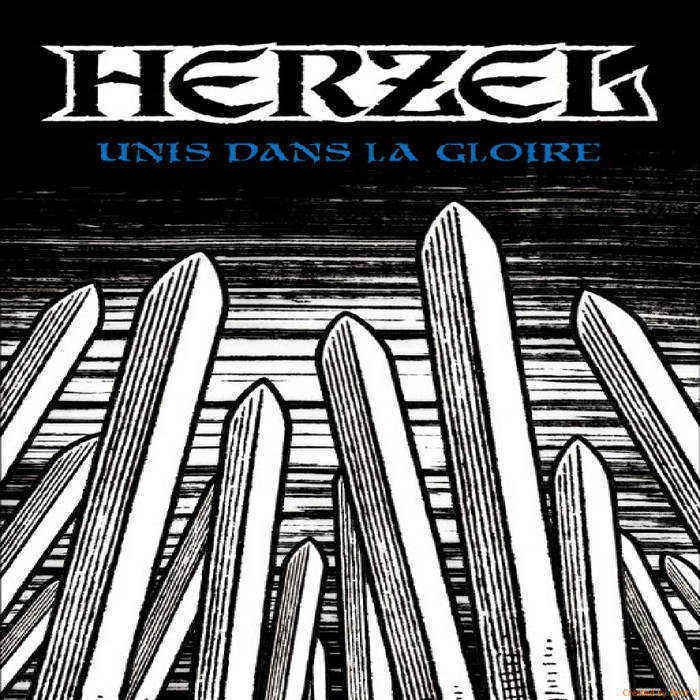 3. Label or DIY and why?
We never had to produce the demo ourselves, because we got the chance to be contacted very early in 2014 by Impious Desecration Records. At this time we were even not thinking about recording a demo ! Nowadays we work with Cruz Del Sur for our first album. The contact with Cruz was done a the Keep It True Festival in Germany, thanks to our friend Luis Ruivo. We are very happy to work with them and to discover the improvements that a professional label could add to our music.
4. Do you prefer Vinyl, Tape, CD or Digital Format and why is that?
I'll give my personal opinion and I think the boys will share it; the vinyl is a great format, for audio quality and for the exposure it gives to the artistry behind album covers and layout, which is a very important part of what people project onto music, tapes are great for certain styles, I personally enjoy listening to anything black or death in that format due to the specific sound of magnetic band (makes it more "raw" in a way. The CDs are a great for practicality even if they don't last as long as a vinyl or a tape (time-wise not play-wise, magnetic tape is eternal if you store it correctly and don't play it for example, which is not the case of a CD). Digital formats are just a bonus, great for promoting your music in the cheapest way possible and to make it accessible, and what more could a modern band ask for? Even though it doesn't replace physical releases at all. Far from it.
5. Your music style is Heavy Metal. Which are your main influences (Favourite Artists / Bands etc.)
I'd say that we are influenced by the bands and artists we grew up with and listen to nowadays. Within Heavy Metal, bands like Warlord, Manilla Road, Cirith Ungol, Judas Priest, Queensryche are the ones I can think at the top of my head for main influences. But we listen to progressive bands a lot, such as: Yes, Marillion, Pink Floyd as well as traditional or non-traditional breton music, which is Celtic music from our region. Artists like; Are Yaouank and Dan Ar Braz would be the main ones, there's obviously some more..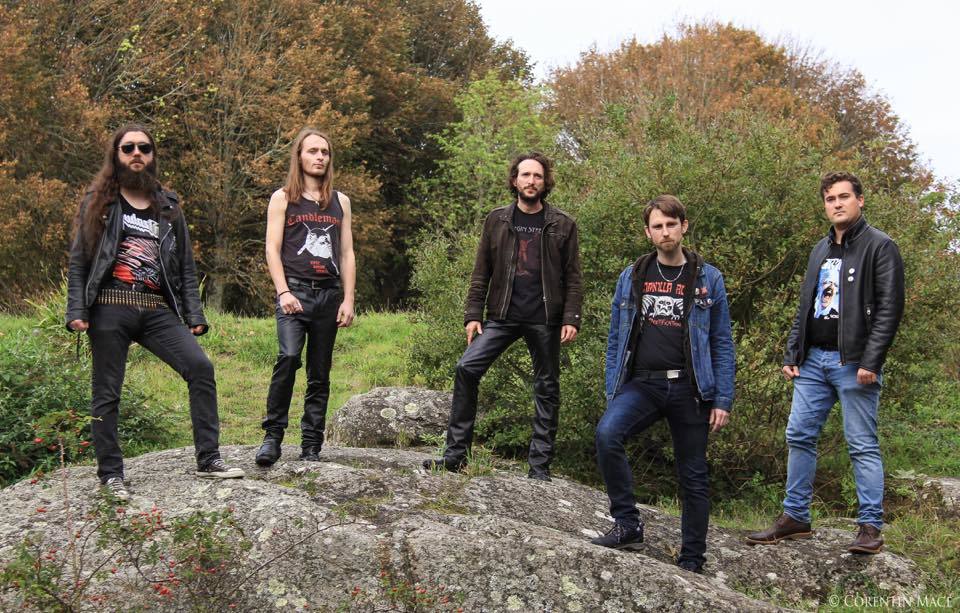 6. Which things, do you think, a Band should sacrifice in order to succeed?Have you ever sacrificed anything in your life for a better future of your Band?
That's a tough one. The ego would be a great one to sacrifice, too many great projects ended or stopped because of lazy band members that had no vision, no drive for anything except themselves and their ego. Stop talking , start working, as a great man once said. I cannot say that we succeeded completely in that way, but we do our best to put the music first, sometimes at the price of family time and stuff like this, which are not to be sacrificed ! The best thing to do is to play music, because you like music, and no other reasons than that !
7. Describe your ideal live show as a performance Band. Have you already experienced that?
I'd say we pretty much had a few "ideal live shows" ! At the top of my head, our concert in Nantes(FRA) was very unique in terms of ambiance, crowd, etc.. The first three rows were singing the lyrics (sometimes even of the song we did not release yet !), people were crazy supportive, it was just great to see so many people having an interest in our music, that was really heart-warming. As well, the fact that the organization is neat is pretty important for us. We value the work behind venues and festival/concert organizations, because we do it as well.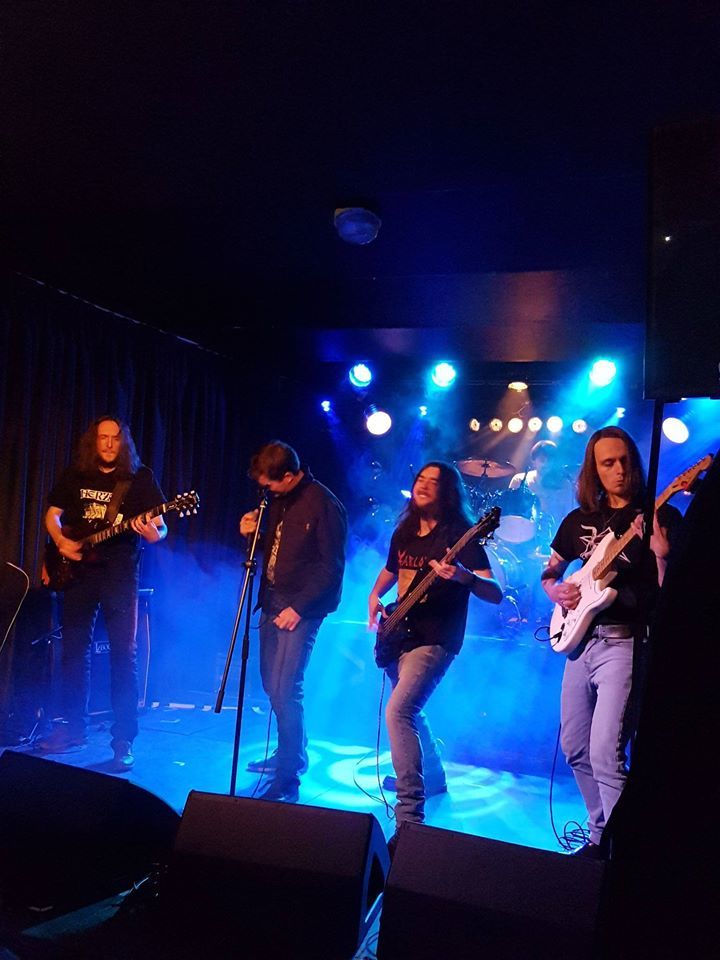 8. Which attributes, do you think, that a new Heavy Metal Band should have in order to gain identity and be unique?
Ideas ! Don't try to copy others, be true to yourself, ask yourself what you want, what you would like to hear, what represents you and your friends. And don't think about labels and sub-genres. That's for journalists.
9. Do you believe that Bandcamp and other Digital Platforms help the new Heavy Metal Bands? Which, do you think, is the ideal way for a Band to promote its work?
Not only Heavy Metal, music in general ! Think about what would have happened to heavy metal, worldwide, if the internet would have existed in the nowadays form, from the late 70's. That would be crazy ! So of course, we think the digital aspect is interesting/important. But it doesn't replace physical releases. There's nothing quite like having the record of your favorite band at home, I think anyone who really enjoys music feels for that. And yes of course it helps to promote your music, that goes without saying.
10. Tell us a few things about the New Underground Heavy Metal Scene in France (Bands, Fanzines, Webzines, Metal Clubs etc.)
Well there would be a lot to say; there are metal maniacs everywhere; Paris (of course), Brittany (where we are), Nancy, in the east, Montpellier, Perpignan,... Our friends in the "metal scene" are all over. We especially get on well with the Pyrenean Warriors from Toreilles, the maniacs of Roazhon Undeground from Rennes, the guys from Underground Propaganda in Lorraine (Cheers to Mr Monin), the gals and guys from Paris who organize concerts (Metal Invasion and Heavy Duty), I'm sure I'll forget some of them, but they are all in our hearts. We can say that actually the underground metal scene is growing in France, we discover new fanzines and new association every year ! And we also see some young bands having success out of our frontier, like Meurtrières in Heavy Metal or Skelethal going very strong in the Death Metal scene.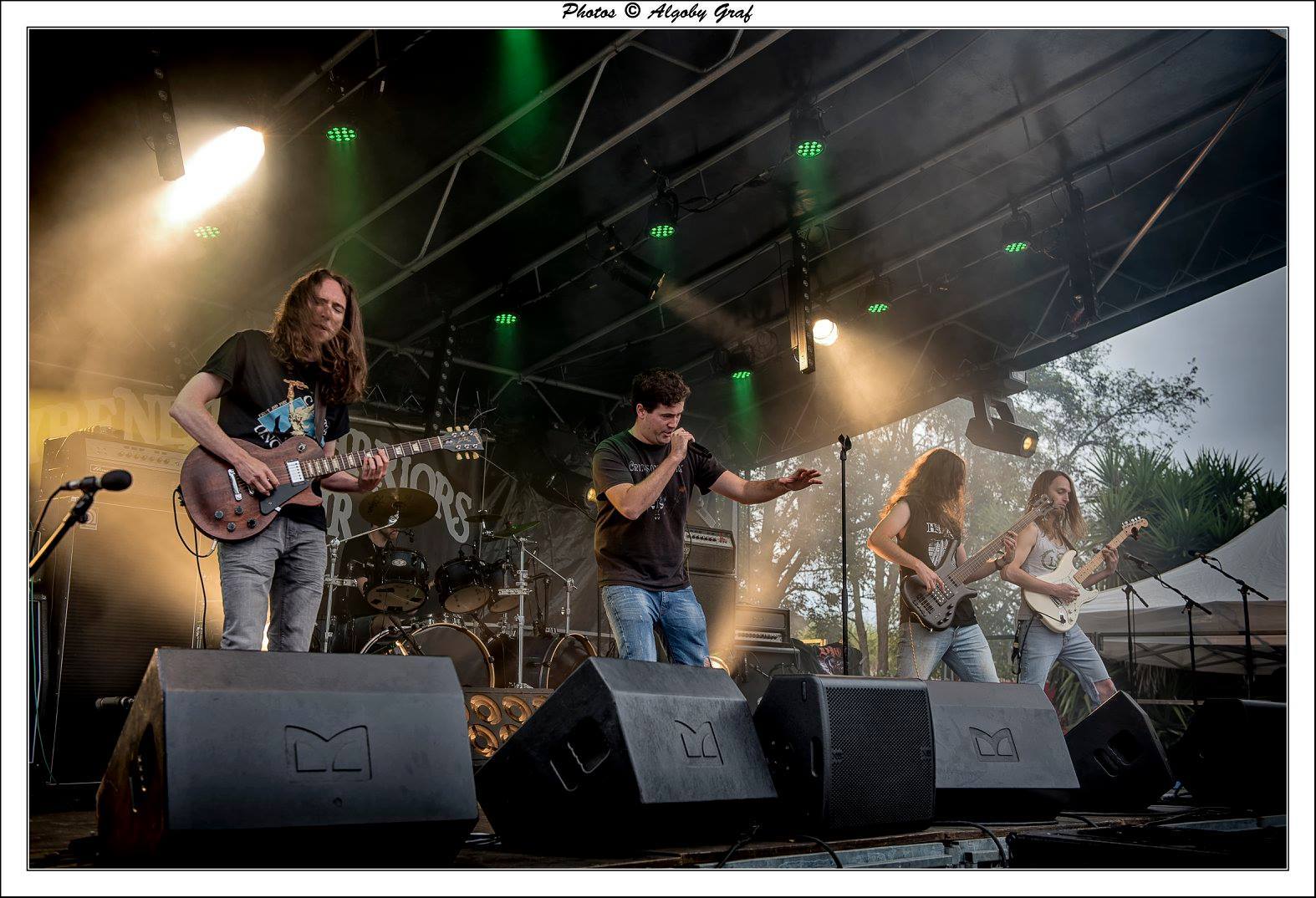 11. Do you know anything about the Hellenic Metal Scene?
We got the chance to play at the Into Battle Festival in December 2019. It was very great and we got a great support from the Greek maniacs, thanks a lot to Greg Varsamis. Our drummer had a go at the Up The Hammers Festival twice and told us that the crowd is always crazy, real fans of Epic Metal. We are close friends with Wrathblade, we shared the stage with them in Germany, at the Riddle of Steel Festival. But this country definitely have the culture of Heavy Metal and especially Epic Metal.
12. What are your future plans?
We plan on finishing the recording as soon as possible *chuckles* ! That's the main objective for now. I'd say we'll develop the rest (possible touring and what goes with it) after the release of the album. Regarding gigs, we'll give some updates as soon as possible as well !
13. Thank you very much for your time & Keep up the good work! The closure is yours.
Once again, thank you very much for your interest in our music ! Thanks to all our fans for the crazy support, and to all the passionate people who contacted us for gigs and interviews.I end this with some lyrics from the song Unis dans la gloire :
Je suis d'un pays où une magie opère
Pas un guerrier ne sera laissé à terre
Jamais l'épée ne me fera trembler
Jamais je ne serai découragé.
By Steve the Filthy Dog.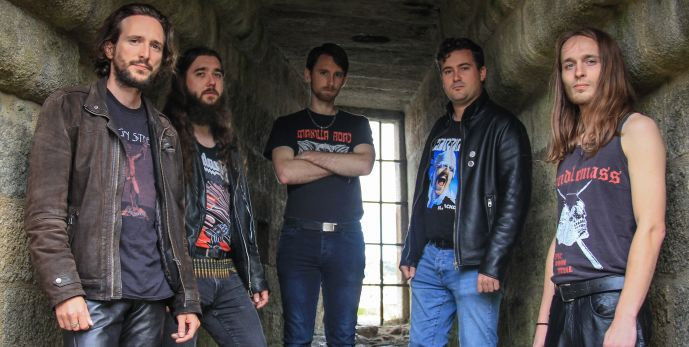 HERZEL CONTACT:
https://herzel-music.bandcamp.com/releases