Welcome to the FILTHY DOGS OF METAL Webzine.
Tell us a few things about FORSAKEN AGE (Members, Starting Year etc).
Forsaken Age was formed in 2010 when the members of the covers band Twisted Metal decided that we wanted to write our own material. Twisted Metal had played a variety of 80s metal covers and we wanted to keep the flame of traditional heavy metal burning. The original Forsaken Age line up was Lee Scarfe, Chrissy Misery Scarfe, Tam Cramer, Warren Davies and Denni Bryant.This lineup wrote and performed our original music for the first time at Winter Chaos Festival in 2011. Shortly after that Denni left the band and we carried on as a 4 piece for a couple of years. Through the years, various members have come and gone, and 1 album and an EP were released over this time. The new album has Lee, Chrissy, Tam, Billy Freeman and Aidan MacNaughton on it. Shortly after the recording Tam and Aidan left the band to focus on other things and Adam Freeman joined on drums. So now we are a 4 piece again and we are ready to forge ahead on our quest to keep heavy metal alive.
You have recently released your album ''Heavy Metal Nightmare''. What is the Feedback from your audience as well as from the Press?
The reviews for the album have been very positive. A lot of mention of the feeling of metal from the 80s so we are thrilled that our sound and writing is expressing the style of metal that we all love. Fans have been surprised at the change in our writing on this album, its heavier, the vocals are grittier and it has more attitude overall. We love the album, and love playing those songs, so its an added bonus that our fans are loving it too!
Label or DIY and why?

Our first album was completely DIY and our EP was recorded DIY, then distributed by the label "Metal Hell Records" - we knew from this that our music deserved better production and we worked with Dave Rhodes Productions who produced, recorded and mixed the album. His input
was invaluable, he got the best performance from each of us, and he understood the 80s sound we were looking for. We couldn't be happier with the production. We then approached labels and signed a worldwide distribution deal with Pure Steel Publishing. We want this album to
reach the ears of as many 80s metal maniacs as possible and that was why we teamed up with Pure Steel.

Do you prefer Vinyl, Tape, CD or Digital Format and why is that?

Definitely vinyl, it brings back memories of being a kid and getting a new record, sitting on the floor and listening to the needle drop on the vinyl for the first time, then reading the cover and lyrics from front to back. But each form of music has its use, and its definitely cool that we have
digital so we can have music no matter where we are. There is never a bad time for metal in your ears.

Your music style is Heavy Metal. Which are your main influences (Favourite Artists / Bands etc.)

We all have different influences but our common favorites would be Judas Priest, Iron Maiden, Saxon, Manowar, Venom (Inc), Dio, Diamond Head, Accept, Grave Digger, Stalker - there's far too many to name - then our individual influences range from 80s rock , atmospheric black metal, death metal to folk metal. We use all of our collective influences to contribute to ideas for our writing.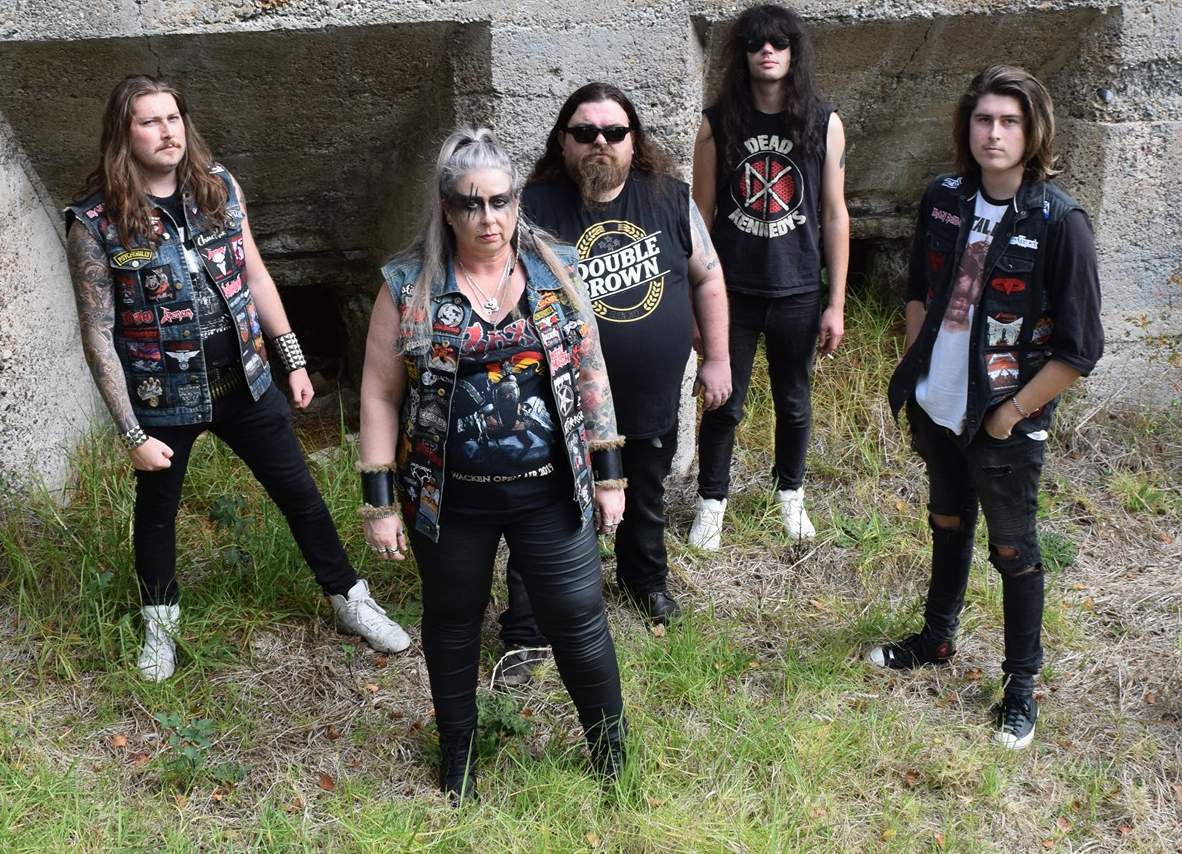 Which things, do you think, a Band should sacrifice in order to succeed? Have you ever sacrificed anything in your life for a better future of your Band?

To us making metal isn't a sacrifice, its a necessity, our lifestyle - it's what we do for fun. But in terms of what it takes for each of us to contribute to that - it takes a lot of time to manage things like social media and it takes a financial commitment to have the right gear and to maintain it as
well as recording costs and travel for out of town shows. We all have regular jobs that we have to juggle with the band commitments so sometimes you have to make sure you have your priorities in order to keep everything going. But because we love what we do - it doesn't feel like
a chore or a sacrifice, even if it might seem that way from an outside perspective. The reward is getting to share our metal with other metalheads.

Describe your ideal live show as a performance Band. Have you already experienced that?

Our ideal show would be to play one of the large festivals in Europe. That is the ultimate goal. But every show is important- whether we play to 5 people or 500 people or (dreaming big here) 50,000 people - we have a responsibility to make sure every single person who has paid to be
there has the best time possible and we always strive to give them the Forsaken Age experience they deserve.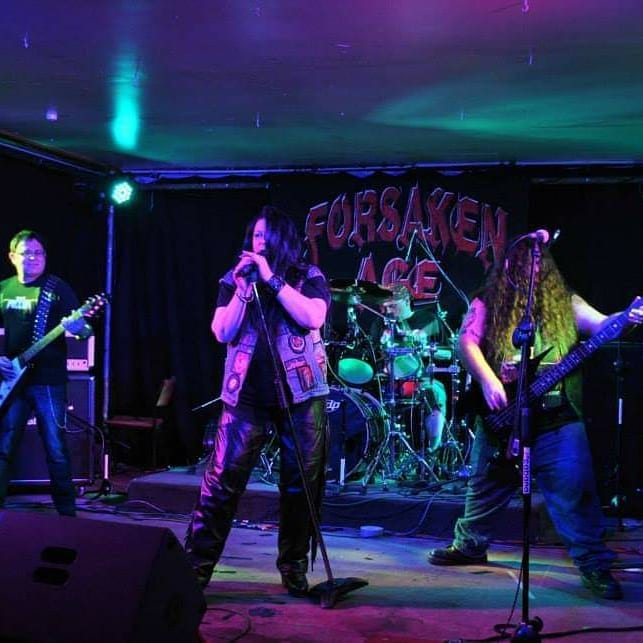 Which attributes, do you think, that a new Heavy Metal Band should have in order to gain identity and be unique?
It's hard to get your music heard in a world where instant entertainment is so abundant. There's a whole lot of bands all trying to get momentum with their music and you can easily get drowned out by all the noise. We don't have the all the answers but things that are part of our values as a band are to be true to the music that you love, write it because you love it, and as above, make every single show count. Be genuine in your music and your attitude. And work hard and always have fun creating. If you're not having fun, you're doing it wrong.
Do you believe that Bandcamp and other Digital Platforms help the new Heavy Metal Bands? Which, do you think, is the ideal way for a Band to promote its work?
Bandcamp is a good way to get material from bands directly, and gives you access to a lot more unique items than always going to the big merch distributors, it's a good way for bands to get paid for their stuff and offer their fans some cool merch items. Some digital platforms make it very difficult for bands to make money based on the number of plays they get but on the other hand can be a good way to get their music to a wider audience so its a double edge sword in that respect.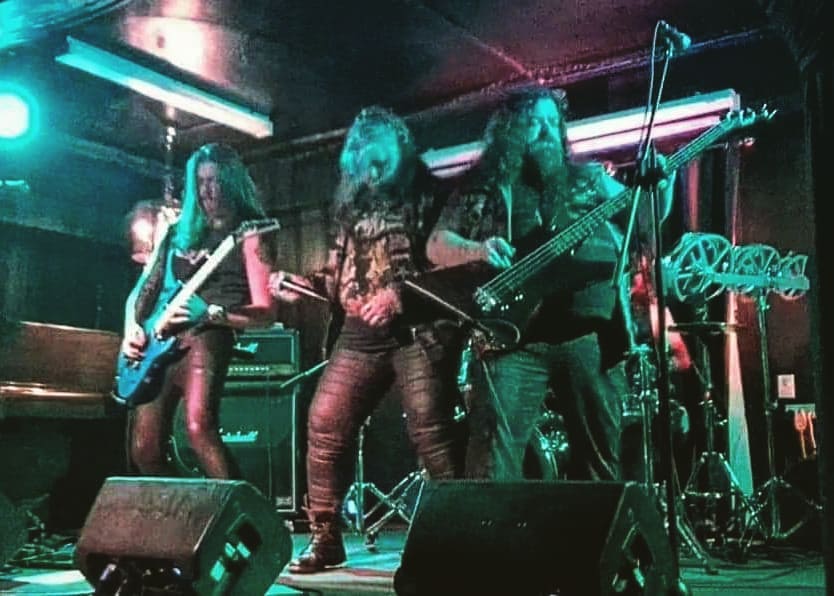 Tell us a few things about the New Underground Metal Scene in New Zealand (Bands, Fanzines, Webzines, Metal Clubs etc.)

The New Zealand metal scene has times where its very quiet and then times where you just can't keep up with attending all the shows. One of the big things that affected Auckland in particular was the closing of a long term favourite live music venue "The Kings Arms" - there is definitely a venue shortage in New Zealand and you often need to book shows months in advance to get a date. But also people need to get out and support the venues just as much as the bands, because they are both necessary for a thriving scene. Probably one of the best venues in New Zealand is Valhalla in Wellington- its small but mighty. And Ben who runs it is also responsible for bringing many international metal bands to our shores which gives local bands an opportunity to get in front of a bigger audience playing support spots. Also there's a great festival "Smashfest Open Air" that is on the East coast of the north island and its close to the beach, has camping and heaps of metal related things happening throughout the weekend and killer lineups. We've been lucky enough to play there 3 times and it's always an awesome time!
Do you know anything about the Hellenic Metal Scene?

We don't know a lot about the scene but do enjoy some metal bands such as Battleroar, Rotting Christ, Necromantia, Firewind, and a few others. And Up the Hammers Festival which is on our list of festivals to attend (maybe even play! ) We would love to be able to play there one day so if any promoters or festival organizers are reading this - please book us! We will come!

What are your future plans?

To tour as much as we can to promote the album and keep writing for future releases. We have been bitten by the writing bug again and have some badass songs coming together. As soon as we are able to travel outside New Zealand we will be heading firstly to Australia as we were
supposed to be playing our album release at the Sydney festival Steel Assassins this week. Unfortunately covid has halted the travel so we will do some New Zealand shows in the meantime. Then we would love to head to Europe, and other regions as opportunities arise.
Thank you very much for your time & Keep up the good work! The closure is yours.

Thanks for the interview- we always love talking about all things metal. Our new album Heavy Metal Nightmare is released 6th November 2020 via Pure Steel Publishing and is available on Vinyl, CD and digitally. Also if you want patches or shirts, please check out our Bandcamp!"We are Forsaken Age and we are Heavy fucking Metal"

By Steve the Filthy Dog.
FORSAKEN AGE CONTACT:
https://forsakenage.bandcamp.com/
https://www.facebook.com/ForsakenAgeNZ/
https://www.reverbnation.com/forsakenage