We had a a conversation with Kieron (Bass & growled vocals) .Enjoy!
Welcome to the FILTHY DOGS OF METAL Webzine.
Tell us a few things about FORGED IN BLACK (Members, Starting Year etc).
Andy (lead guitar) and I (Kieron, bass & growled vocals) started the band with friends at school in 2009 and Kev (drums) joined soon after. Back then, we went by the name, Merciless Fail. After a line-up change in 2011, Stoz (lead vocals) joined and we were ready to storm the metal world. Chris Bone (guitar & growls) joined us in 2016 and we have been a strong unit ever since. Over the last decade we have released two full length albums and three EPs. We've played Hammerfest alongside Sepultura and Bloodstock with the Scorpions. We've played shows alongside the likes of Demon, Diemonds, Praying Mantis and The Three Tremors and worked with two of the best producers in the business; the much missed Chris Tsangarides (Judas Priest, Gary Moore, Thin Lizzy etc) and Romesh Dodangoda (Motörhead, Bring Me The Horizon, Bullet For My Valentine etc). These first ten years have been one hell of a ride!
In 2019 you have released your album ''Descent of the Serpent''. What was the feedback from your audience as well as from the press?
'Descent of the Serpent' has undeniably been our greatest achievement as a band. Press and fan feedback has been overwhelmingly positive, having had some great reviews from established publications such as Zero Tolerance, Powerplay magazine and Metal Hammer as well as receiving some great comments from fans at shows. We've also been included in many Best of 2019 round ups which has also been pretty cool. Make sure to check the record out by going to www.forgedinblack.com and seeing all the ways you can get your hands on the album.
Label or DIY and why?
In March 2019, we secured our first label deal with Fighter Records. Fighter champion the traditional heavy metal sound with added contemporary elements. They champion our brand of metal, so aligning with them was a no brainer. They have been instrumental in helping us get our music to a wider audience.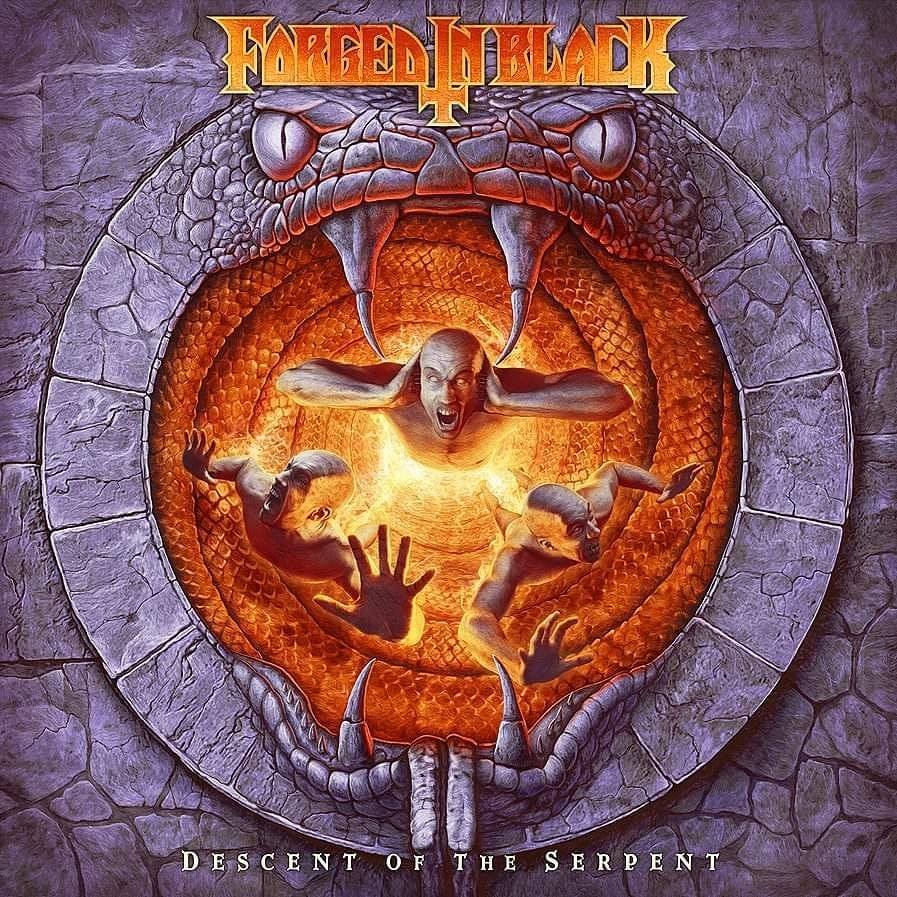 Do you prefer Vinyl, Tape, CD or Digital Format and why is that?
Each format has different strengths – for example, I really like the extended artwork found on vinyl sleeves but overalls CDs are the format for me. I like the way that you still get a good view of the artwork whilst being able to experience the great sound quality. Personally, I believe it combines all the aspects you need when experiencing a band's output.
Which are your main influences (Favourite Artists / Bands etc.)
Well, we have individual influences, so it's hard to pin it down. We are always throwing ideas out there into the melting pot. I believe we are all strongly influenced by the British styles: Sabbath, Maiden, Priest, Purple etc. We all like classic rock, thrash, prog and of course loads of different metal sub genres but we don't ever sit there trying to rewrite any of the greats. We just write what we believe is best for our song at the time.
Which things, do you think, a Band should sacrifice in order to succeed? Have you ever sacrificed anything in your life for a better future of your Band?
In our eyes, the biggest sacrifices/investments bands have to make are time and money. Countless hours on the road, the rehearsal room, the writing studio, the recording studio – the list goes on. You then have to invest in necessities like your equipment, a well-produced record, PR - again the list can be endless. We've all made these sacrifices for Forged In Black and will continue to do so for the music.
Describe your ideal live show as a performance Band. Have you already experienced that?
Our ideal live show is one where you are playing alongside other like-minded acts; performing in front of an enthusiastic crowd and working with a great stage crew. On top of this, we also like to have a good deal of space so that we can fully display all the imagery involved in our live show. Performing at Bloodstock and Camden, Underworld were both close to our ideal.
Which attributes, do you think, that a new Heavy Metal Band should have in order to gain identity and be unique?
A new band should concentrate on having a great set of songs and a defined aesthetic. With a clear sound and a solid image, bands have what they need to take that next step, promoting their product. It's crucial to be proud of your sound and image before you put yourself out there for the critics.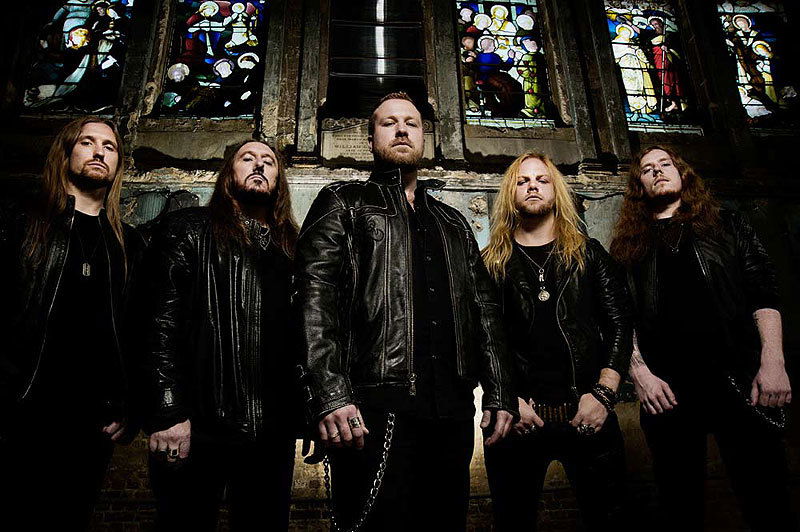 Do you believe that Bandcamp and other Digital Platforms help the new Metal Bands? Which, do you think, is the ideal way for a Band to promote its work?
Those platforms are essential nowadays. Whilst physical media is still a favourite of many, the majority of your audience want the ease of being able to download and stream your music. I think bands need to be available on as many platforms as possible. Everyone has a preference and you don't want to limit yourself by not having your music readily available.
Tell us a few things about the New Underground Metal Scene in the UK (Bands, Fanzines, Webzines, Metal Clubs etc.)
The underground metal scene is alive and well in the UK and perhaps our greatest vehicle for underground music is Bloodstock's Metal to the Masses initiative. This initiative allows bands from various areas of the UK to perform and compete for a slot at Bloodstock festival. These shows across the UK have exposed so many people to new acts. It's where we got our start and winning the competition in 2012 will always be a great achievements of ours.
Do you know anything about the Hellenic Metal Scene?
Not a great deal. The Greek audience has always embraced us and so we're aware that you guys love your traditional metal. I'm pretty sure you've got a thriving black metal scene over there too. We're going to have to do some more research!
What are your future plans?
We've put our minds to a new record which we are scheduled to record in the summer of 2021. We are once again working with Romesh Dodangoda and have already written a good number of songs.
Thank you very much for your time & Keep up the good work! The closure is yours.
Thanks for the interview. It's been great discussing all things metal with you. Check out the release of our compilation EP, 10 Years at the Forge here: https://forgedinblack.bandcamp.com/ and make sure you check out www.forgedinblack.com for all your discography and merchandise needs.
By Steve the Filthy Dog.