!!!CHILEAN HEAVY METAL!!!
We had a conversation with EXCOMUNION.Enjoy!
Welcome to the FILTHY DOGS OF METAL Webzine.
1. Tell us a few things about EXCOMUNION (Members, Starting Year etc).
José Tomás:First of All, thank you very much for this interview. A big hug to every Metalhead in Greece.The band itself started in December, 2014, and I'm the only member from that original line-up.Today, our current line-up is: Camilo Espinoza as lead singer, Johan Gonzalez and Milo Díaz on guitars, Erick Rojas on drumes, and myself, José Tomas Montecinos, on bass and backing vocals.
2. You have recenlty released your new demo ''La Rebelión Inicia''. What is the feedback from your audience as well as from the press?
JT: Until this moment, the reception by the fans has been very positive, and made us realize that our Heavy Metal proposal sounds very fresh, and the general feedback from specialized press and local webzines has been very positive too. IOur work has been shared quite a lot, in social media, and also in "NWOTHM Full Albums" Youtube channel.
Johan: The little time I have been a member of Excomunión, i have seen from an inside point of view, how the general audience have a very positive and supportive feedback. This, of course, give us the strength to keep composing Heavy Metal the way we like: Powerful and classic. People liked our EP a lot.
Milo: I've been on the band for a little time. Less than a year, to be honest. I'm very surprised with the feedback from family, friends, and Metalhead around the world, in that magical placed called "The Internet", where people from anywhere can give us their opinion. I'm very grateful knowing this, and knowing that we are reaching lands so far from ours.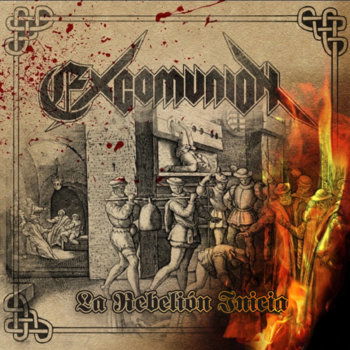 3. Label or DIY and why?
JT: So far we have released our EP only in digital format, so everything was done in an independent way. We are planning to release our EP in physical format in limited copies. To get there we have been in conversations with some underground labels and distros to see if they are interested in our material. To tell you the truth (at least in my opinion) it is not difficult for me to work in either way.
4. Do you prefer Vinyl, Tape, CD or Digital Format and why is that?
JT: We are already in 21st century, and in my opinion, digital format is massive, portable and instantaneous. Is here to stay. I'm 38 years old, and I collected cassette tapes and CDs (i did not collect vinyls) it was nice to see the faces of your music idols, to learn things like years of publishing, members' names, and flipping out with the front and back cover art. But the new generations in general are more into collecting MP3 files or follow they idols in streaming platforms, objectively.
Milo: I've always been fascinated with old-school formats, such as cassettes tapes or vinyls, but i also know that it is not the most accessible format when you want to publicize your music. However, Compact Disc is still refusing to die in our community. Like I said before, digital format allow us to reach the whole world, and... isn't that what we all artists are looking for?
5. Your music style is Heavy Metal. Which are your main influences (Favourite Artists / Bands etc.)
JT: As a band, influences are very diverse, and that is what makes our Heavy Metal that we cultivate sounds fresh. To mention bands, i would say that Iron Maiden and Judas Priest are main influences, from the British brench, and Motorhead (just like everyone else). Also, Spanish metal bands are a very strong influence, such as Saratoga, Barón Rojo, and Ángeles Del Infierno. Lastly, bands from Argentina, such as V8, Hermética and Rata Blanca. Those last bands are influences in a musical and lyrical way.
Johan: I'm a very big fan of Neoclassical Heavy Metal, and Power Prog Metal. That makes me believe that i have great infuences to compose music that is in the same level that the current EP is. My inspiration comes from bands such as Symphony X, Myrath, Nevermore, and Nocturnal Rites, to mention a few.
Milo: I started playing Thrash Metal, such as Megadeth, Dark Angel, Exodus and Annihilator, but at the same time, i tried to emulate a more classic sound, like Iron Maiden, Dio, Grim Reaper, Helloween and Running Wild. I always hope to contribute to my compositions a little of everything I learned along the way. With a little bit of Yngwie Malmsteen, too. Ha ha. (Laughs)
Camilo: If I have to refer to my influences in singing, I'd say that in my list, the first name is Ian Gillan. I couldn't tell you when was the first time that i listened to Deep Purple because my parents got me into their music. So, Gillan's voice is one that I've admired since i was a little kid, and in my adolescence, a desire to learn to sing came up. Wee, if you sing Heavy Metal, it is imposible not to have Halford in an altar; Also I've been influenced by Tony Moore, from the band Riot. Also, Todd La Torre. Haha, so many singers... (laughs).
6. Which things, do you think, a Band should sacrifice in order to succeed? Have you ever sacrificed anything in your life for a better future of your Band?
Milo: There are musician that can do their art and make a living out of it, and no one said that life would be fair. In Chile, and in many other countries, you must sacrifice important time between your Daily Job, family time, etc. To get to do what we love with passion, even when most of the times you don't get a monetary compensation. I think that only will make the moment of success much more sweet, when it comes.
JT: It always implies some kind of sacrifice when you try to reach your goals. In my case, it results in less time with my wife and family. However, she likes this type of music and shows her unconditional support. In fact, she's the person in charge of the business part of the band
Johan: Every goal that has been achieved or not, will bring sacrifices. If it is for a good reason, is completely worth it.
Camilo: I would change the term "sacrifice" to "invest" in your question, because is more of an investment than a sacrifice, where, if you put effort and patience, you can see the results in the future. Either with time, money, sound equipment , etc. But above all, to succeed, you must persevere and do things with all your heart. And well, also having musical compositions that can blow your mind.
7. Describe your ideal live show as a performance Band. Have you already experienced that?
JT: My ideal live show is one that, wherever we are, the crowd is having the same level of enjoyment as we are having on stage. In my personal experience, with Excomunión and another bands that I've been in.
Johan: The logical thing is to see the crowd enjoying our songs, and, as a guitar player, that people get to sing our guitar harmonies between Milo and I.
Milo: An ideal show is, and will be, a display of technique, musicianship, partnership and charisma. If we are on stage, we will be displaying all of those great things, despite having 10, 100, or 1000 people in the crowd. All in favor to give the best show possible.
Camilo: Any stage where you cant make the connection of the band's soul with the crowd is in fact, the ideal show, and it always will be that way. But also an ideal stage is, to an emergent band, across the frontiers, and share the stage with bands from other countries.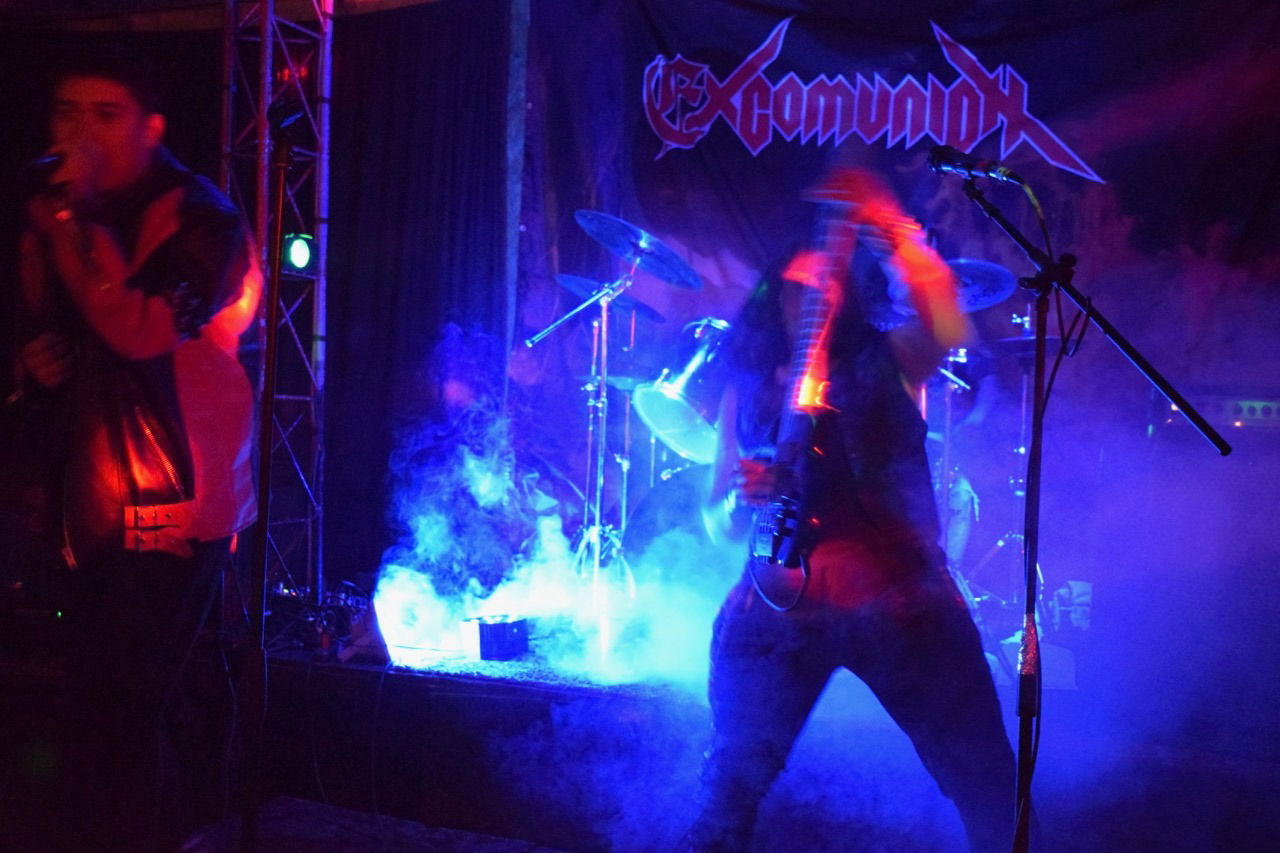 8. Which attributes, do you think, that a new Heavy Metal Band should have in order to gain identity and be unique?
JT: Mainly to have a great sound. The 80s are long dead, and yes, it was a fantastic time in terms of musical level (not only in Metal music. Other genres too). But we are in the 2000s, and technology have evolved, which can make your music sound in unimaginable ways. We must take advantage of this.
Johan: As JT said, Metal and music in general has evolved. Today there are many tools to do whatever you want with your songs, as long as they have their own distinctive seal.
Milo: While our sound is Heavy Metal, we don't have to sound just like the bands that everybody knows. No one is willing to listen to "the copy" of a well-known band. Years of musical evolution have shown us that you can do better. The most important thing is try to leave a mark that symbolize the effort and the years of hard work, and also, our love for Metal music.
Camilo: It almost looks like it's hard to stand out in a time where everything was already done but there are always a way do it, either with a great performance where you can connect with your audience, or with a melody that can be converted in an hymn. A hymn that you can remember.
9. Do you believe that Bandcamp and other Digital Platforms help the new Heavy Metal Bands? Which, do you think, is the ideal way for a Band to promote its work?
JT: Digital platforms can help you a lot, but like everything on this life, it requires a lot of work. Platforms like Spotify, Youtube, Bandcamp, etc. Won't work if you don't give it enough time to promote your music material and invest in that.
Johan: Unlike the 80s, current technology helps quite a lot to spread your music, and, as said by JT, obviously you have to invest to get a greater diffusion.
Milo: Of course. I'm hoping that Youtube's algorithm will favor us this time (laughs).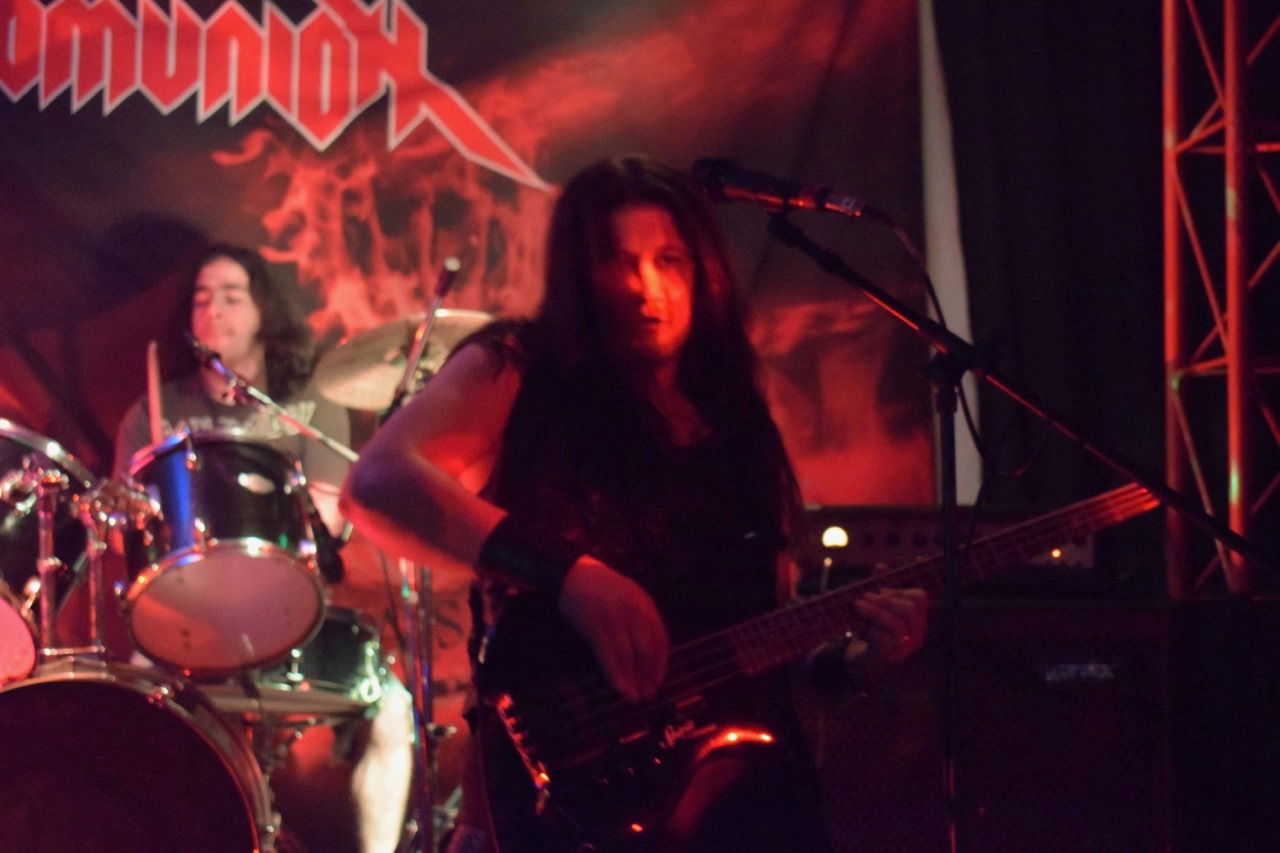 10. Tell us a few things about the New Underground Metal Scene in Chile (Bands, Fanzines, Webzines, Metal Clubs etc.)
JT: Underground scene in Chile has quite a lot of great bands, from every metal subgenre imaginable. Heavy Metal bands like Inquisición, Iron Spell, Ikelós, Eternal Thirst, Apolium and Heiligen, to mention a few. In Thrash Metal, some of my favorites are Evil Madness, Akramen, Mayhemic and Pentagram (Chile). Lastly, there is extreme metal, and I strongly recommend bands such as Inanna, Visceral Devotion, Ciénaga de Tolueno, Endless Sedition and Godagainst.Lately, while some clubs and places have closed its doors, others have gave priceless space. Faq Record, Hangar Subterraneo and Club CAMCE, to mention a few, are excelent places with great sound. There only a few fanzines now, and webzines have increased. The most dedicated ones are Raymanrock, Rock Legacy, Rock y Metal de Chile, EMERGE and Rockerio.cl.
Camilo: There is a lot of material in Chile. Many great bands like Panzer, Inquisición, Pentagram and Undercroft, and a lot of bands from this generation with great level, that has surprised many people. That, on a personal note, motivates me to compose music, and to be a surprise, too.
11. Do you know anything about the Hellenic Metal Scene?
JT: To be honest, I've listened very little Greek metal. Personally, I've listened to bands like Firewind, that I found amazing in technique and sound. Bent By Sorrow and Fallen Arise are also great bands, despite being more modern, since they have a melodic element that I'm very attracted to.
Milo: What I've seen the most are just concerts that world class bands give in the lands of Greece. You can see all of that energy in the crowd, and that, of course, that is immediately given to the band playing on stage, in an infinite loop of positivity.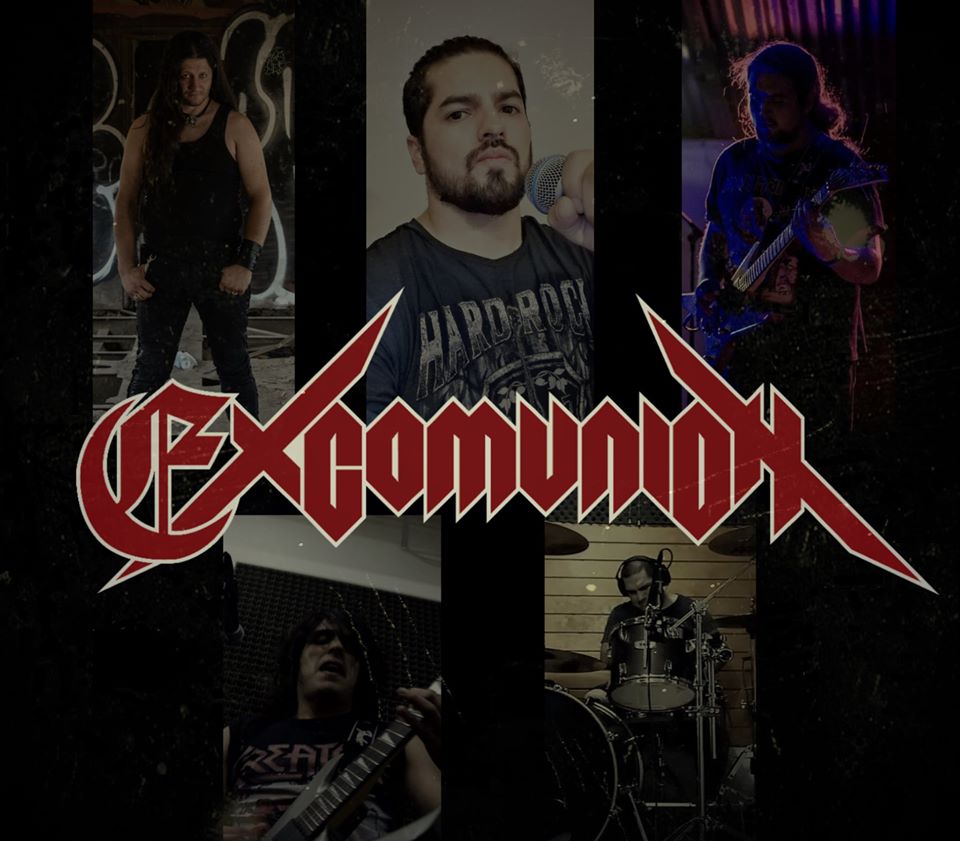 12. What are your future plans?
JT: In short time, have enough material for a future Full Length album. Also, play as many gigs as possible, once the pandemic situation is over. We would like to play all over Chile or outside the country.
Johan: Play live gigs and compose music until our hair falls off.
Milo: We are preparing new compositions for a Full Length album in some time. Once it's done, and once the pandemic situation is over, we will promote it, which of course, will include many live gigs and concerts.
13. Thank you very much for your time & Keep up the good work! The closure is yours.
JT: Thanks you very much, Stavros. To you, and to Filthy Dogs, for giving us this space, and again, a big hug from Chile to every Metalhead in Greece. Please enjoy our debut EP, and our future material.
By Steve the Filthy Dog.
EXCOMUNION CONTACT:
https://excomunion.bandcamp.com/