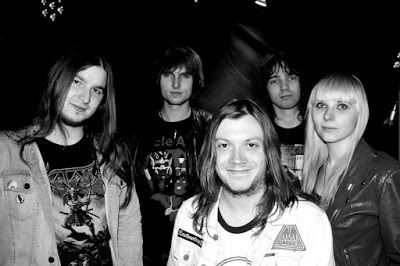 !!!BELGIAN HEAVY METAL!!!
We had a conversation with ENCHANTRESS. Enjoy!
Welcome to the FILTHY DOGS OF METAL Webzine.
1. Tell us a few things about ENCHANTRESS (Members, Starting Year etc).
We started in 2011 and we released our first music, a self-titled demo, in 2015. Our second work, an EP called POWER was released this year. Currently we're already focusing on new material! Untill now, there were 2 line-up changes. The current members are Jochen Mouton (Vocals), Vincent Audoore (guitar), Tim Naessens (guitar), Maarten Vandenberghe (bass) and Elizabeth Gjurova (drums).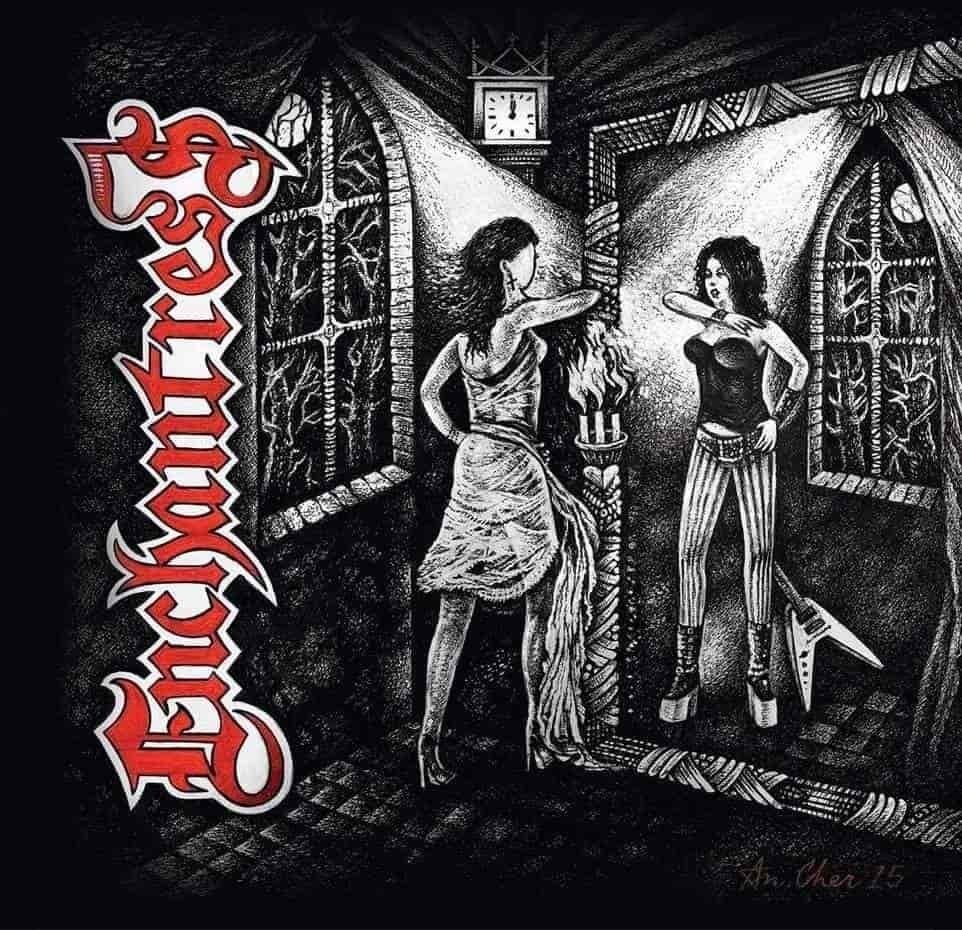 2. You have recently released your new album ''Power''. What is the Feedback from your audience as well as from the Press?
Our audience likes it and we're really happy for that! We've worked really hard for this EP so it's always nice to hear that people like it. The reviews in the press and on metal archives are also fine apart from a couple of remarks on the production. We were very surprised that a well known traditional heavy metal Youtube channel, NWOTHM Full Albums, asked us to put our EP on the channel. On which we of course said immediately "YES!". Further comments on Youtube are great as well! So we're on the right track I guess. Some asked us if we're active on Spotify or other media services. We're not yet active on those services, but we will be soon.During holidays in Japan we've put our EP on the speakers in a local pub. There we've met a jazz musician. He listened carefully to our EP and said: "The music is hard, but it's played from the heart". So it's time to pack our gear and move to Japan I guess ;) ;).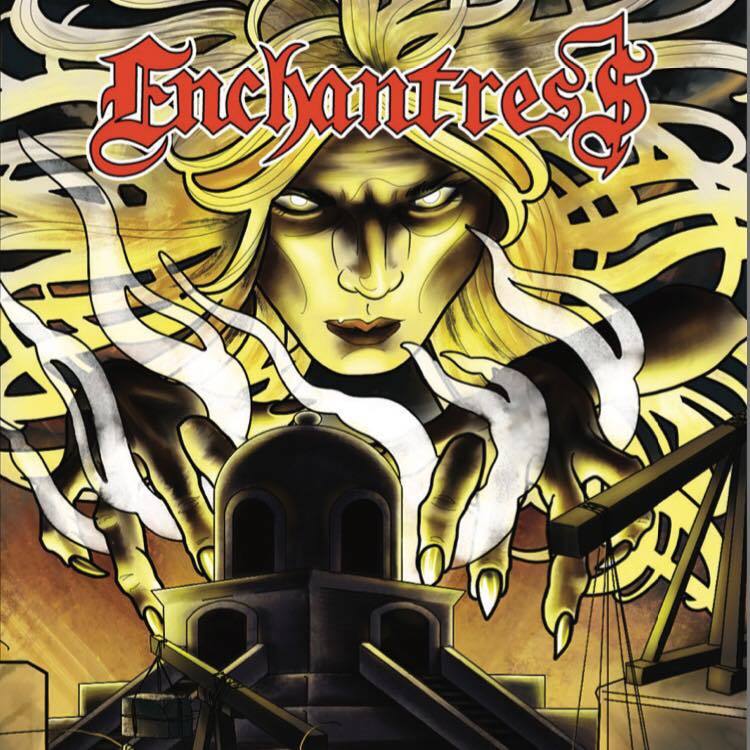 3. Label or DIY and why?
Maarten: Labels, I think, are not what they used to be. With that I mean there are many other ways to record, press, release and promote your album. The digital ages we live in allow us or anyone for that matter to get their music out there. A label, nowadays, doesn't get much involved with the recording process.
Vincent: It depends on what you want as a band. As long as it is for fun and you don't want to make a living out of your music I can't really see why you would join a label. As Elizabeth said you can easily promote your music online yourself nowadays. There will always be venues that search for bands to play at events. The bigger your ambitions are, the greater the need will come to join a label. Although it is possible on your own, organizing a south American tour for instance isn't that easy...
4. Do you prefer Vinyl, Tape, CD or Digital Format and why is that?
I (Elizabeth) personally prefer CD, because that's the most common product, and it's easy to play in your car. Vinyl and tape are old school and cool, but the CD is more practical and more accessible. Not everyone has a Vinyl-player or tape player. Vincent also likes the CD more, cause he also listens to them in his car. He says that music on the radio is truly horrible nowadays in Belgium. But having LP's are great as well. Nothing better than putting up a vinyl loud in the house, listening to the crackling sounds and watching the covers. I'm surely going to decorate my house with vinyl.
Maarten: I'm fan of vinyl, because it's just cool to hold an actual album cover. Some people claim that the sound of a vinyl is better than a cd but to me it sounds the same. It's just cool.
5. Your music style is Heavy Metal. Which are your main influences (Favourite Artists / Bands etc.)
We have a huge range of influences going from classics to lesser known bands. When we were younger we listened to the same things especially NWOBHM. But now that we're a bit older we all have our own influences going from classic rock to stoner rock to heavy metal. But the classics stay, such as Iron Maiden, Judas Priest, Scorpions, Led Zeppelin etc. Power was inspired by traditional heavy metal music.
6. Which things, do you think, a Band should sacrifice in order to succeed?
Elizabeth: I think the most important thing is time. You will have to sacrifice to practice at home, to write and rewrite things, coming together for rehearsal, make a lot of time when there are recordings and make time to do shows. When everyone is too busy for all these things, a band cannot function I think.
Vincent: The second thing will be money I guess because one guitar and amp or a basic drum kit don't fill the need of a musician. You always want more and not always because you need it as a musician but just because you are a little child that wants a new toy. But that being said an investment in music equipment is always worth it.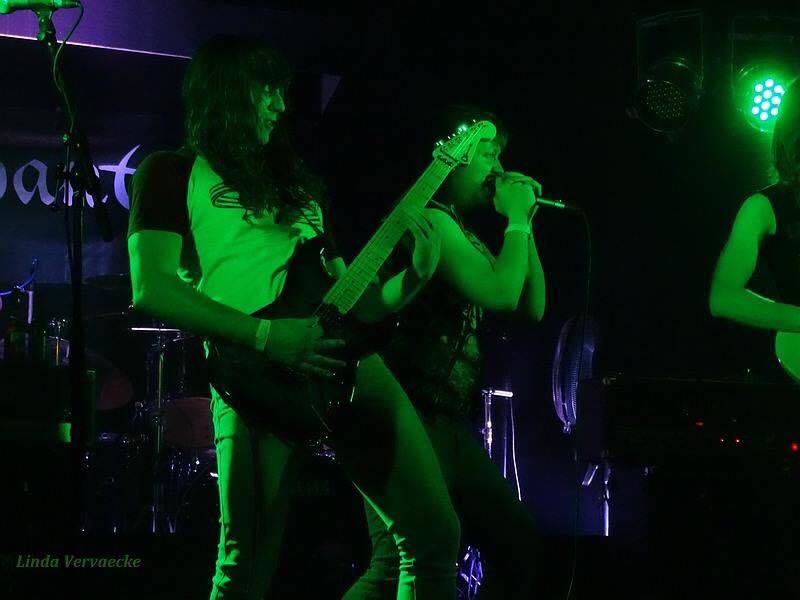 Have you ever sacrificed anything in your life for a better future of your Band?
Elizabeth: I had to stop playing percussion in GUHO (Ghents Univerity Harmonic Orchestra) meanwhile I really liked it and learned a lot from it musically. Also I've met fun people there. My studies, playing in 2 bands and playing in GUHO were hard to combine so I've had to make a choice...
Vincent: Can't say I really have. As we are still a local band that just released one EP it is not that we have so much shows or obligations we have to attend. The way I see it for the time being it is more a hobby. It's nice to have a variety in life. So rehearsing or practicing at home makes sure I have an excuse not to go to a bar every night.
7. Describe your ideal live show as a performance Band. Have you already experienced that?
We've played a couple of times at Rock Kappaert (Zwevegem) and we loved to play there. Last time there were lots of fans, the stage was huge and the sound on the stage was perfect. That's how we like our shows! More ideal is that you can grab a beer with the people that liked your performance afterwards.
8. Which attributes, do you think, that a new Heavy Metal Band should have in order to gain identity and be unique?
I think you must be a mastermind nowadays to come up with something new and refreshing and have a really unique identity. There are just too many bands that already tried so much from pyrotechnics to eating bats and wearing tight spandex pants. Vincent: I guess I'll just stick with my denim and leather for the moment being and play some music.
Elizabeth: I think, that attributes aren't necessary to be unique. The energy on the stage is more important.
9. Do you believe that Bandcamp and other Digital Platforms help the new Heavy Metal Bands? Which, do you think, is the ideal way for a Band to promote its work?
I think it works. We receive every now and then orders from the USA and different Europe countries through Bandcamp. I can't imagine how we should get those orders without a medium like that. It's also very easy to use!
10. Tell us a few things about the New Underground Metal Scene in Belgium (Bands, Fanzines, Webzines, Metal Clubs etc.)
Vincent: There are a couple of venues in Belgium where you mostly will find the same people every time headbanging and drinking beers like De Verlichte Geest, Biebob, De Kreun etc. In our hometown there is a metal bar called Den Deugniet were we hang out. There used to be a very nice, small and underground festival called Ages Of Metal where you could see bands like Manilla Road, Tygers Of Pan Tang, Attacker, etc. with lots of beer. Unfortunately this festival isn't around anymore. Every year in December there is this festival called Blast From The Past with this year highlights Prayin Mantis and Trance. There are small venues scattered around in Belgium that host really good bands! For example: High Spirits played a couple of years ago in a small pub, called Den Elpee (Deinze). In other words: we can't complain about underground events in Belgium. It's just a matter of keeping your eyes and ears open and you will find every month some good shows.
For bands in Belgium you have the old classics that have reunited like Ostrogoth, Acid, Scavenger, etc. which is great for our metal scene! In addition there are also new bands like Evil Invaders, Eternal Breath, Speed Queen, Decades Of Metal etc. So yeah there's something going on in Belgium and hopefully this will help us in spreading our music.
11. Do you know anything about the Hellenic Metal Scene?
Nothing yet, tell us more please!!
Vincent: I'm afraid I don't know anything about the Hellenic metal scene. I only know the Up the Hammers Festival which has good bands every year. But I've never been there so far. Maybe it's time to make a trip to this festival and learn some Greek metal bands on the way.
12. What are your future plans?
We don't have a five year plan or something like that to make a business with our music. We just love to play together, whether if it is on stage or just the weekly practicing. We take our time to write new material so when we will have some money to spare we can make a full length. I guess this will be the next "big" thing for Enchantress and in the mean time we want to play some shows in 2020 in our home country Belgium or the neighbouring countries.
13. Thank you very much for your time & Keep up the good work! The closure is yours.
Thank you for your questions!!
Don't forget to like our Facebookpage: https://www.facebook.com/enchantressmetalband/.
We kindly invite everyone to check our full EP on the legendary Youtube channel NWOTHM Full Albums: https://www.youtube.com/watch?v=ZIeq2r4gPl8&t=37s
and order merch at Bandcamp: https://enchantress2.bandcamp.com/releases.
Thanks for the support and stay metal!!!
By Steve the Filthy Dog.