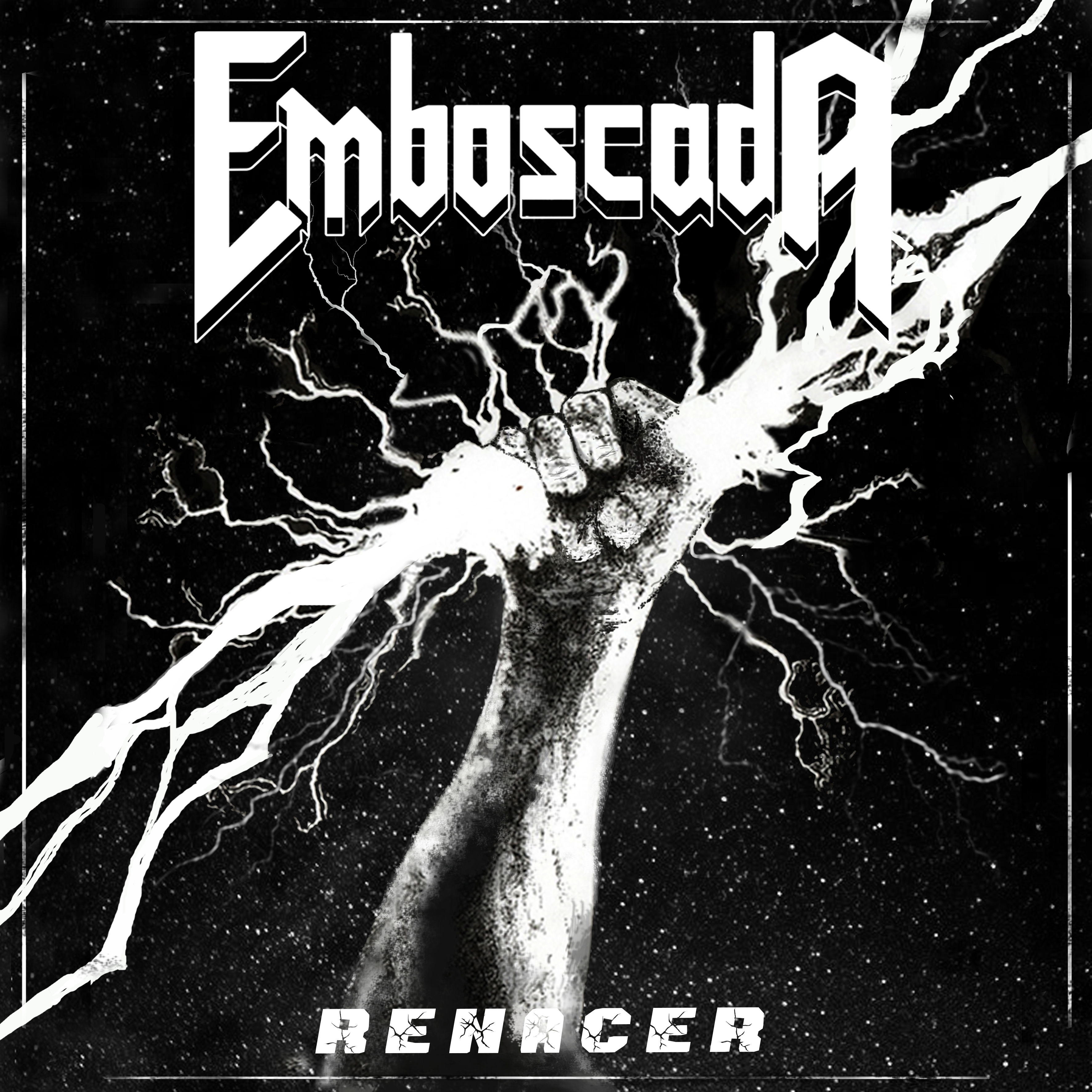 !!!HEAVY METAL FROM CHILE!!!
We had a conversation with EMBOSCADA. Enjoy!
Welcome to the FILTHY DOGS OF METAL Webzine.
Tell us a few things about EMBOSCADA (Members, Starting Year etc).
EMBOSCADA was born as the union of five wills to create a heavy metal band in Arica, a small city located in northern Chile. Arica always had a strong presence of extreme metal, hardcore punk and Grindcore scenes. There have been no Heavy Metal bands in the city in about 20 years. However, like every city in the world, there has always been a circle of heavy metal maniacs with so much to say and express about this sound. Under this context, Gonzalo and Roberto set out to fulfill this dream several years ago. They had a lot of ideas in their minds, but they were not able to bring this to reality due to the lack of musicians, especially singers and drummers. This is the reason why the project was on hold, so both Gonzalo and Roberto dedicated themselves to their side bands for several years. The band was kept as a promise until 2018, when Roberto was contacted by the drummer Richard Jaramillo, who, by a quirk of fate, came from Puerto Montt, a city from the south of the country. Richard had already been searching and recruiting members for a few months, so that's where our singer, John Rojas, came across. He was the singer of a legendary progressive rock band of the city and many cover bands, singing songs by Iron Maiden, Rush, Helloween, Judas Priest and other classic rock bands. So, after being lost for a while from the local stages, he confirms his return along with EMBOSCADA. Soon after, Gonzalo asks I.O., a talented bass player and staunch banger, if he wanted to be part of this pact and start a heavy metal band in Spanish in order to honor the old Latin American icons and reflect our reality. So, in early 2019, EMBOSCADA was formed and they started to write their own songs, some of them included in their demo "Renacer" that was recently released. Soon after, they finally sealed their pact as a band in their very first live performance on August 31, 2019, at a gig called Hard Attack, along with other awesome bands from Chile like Axe Battler, and also their Peruvian friends, Thunderstrike, who played in Chile for the very first time.
You have recently released your demo ''Renacer''. What is the feedback from your audience as well as from the press?
John: So far, the demo has been well received by the audience. We have received good reviews and appreciation. We are very happy with that, and also gives us the motivation to keep on working hard. Thanks so much to all those who have reached out to us and have shown their support by commenting, sharing and purchasing our demo.
Label or DIY and why?
John: Independent for now since we are a band that is just starting out. However, we have counted on the friendship and support of the Peruvian label Black Legion Records since we started out. They released our demo Renacer in a professional tape format. Also, we were featured on the 5-way split called Raped by Chains along with other Southamerican bands like Filosa, Raptore, Bestia, and Firasah from Malaysia. Also, the Chilean labels Savage Records and Alcoholic Mosh have released some awesome versions of Renacer in CD-R format (slip case and jewel case), which we are very proud of. The support of the labels has been important for the distribution and production of the material in distant places. Chile is a very long country and shipping costs are very high, especially during the pandemic, so their support is essential for us in order to distribute our demo to all the bangers across the country.
Do you prefer Vinyl, Tape, CD or Digital Format and why is that?
All formats are fine for us, each format has its value, beauty and functionality, but it also depends on the banger's preferences. Our dream is to release this demo in vinyl format! It is worth mentioning that, since we set out to make a demo, we planned to release it in tape format, in fact the artwork was originally drawn in that format. Why? It simply reminds us of our youthful days, which is kind of nostalgic. We finally made it and we really hope to have them in our hands soon.
Your music style is Heavy Metal. Which are your main influences (Favourite Artists / Bands etc.)
I.O.: As musicians, we all have very dissimilar musical tastes, going from Hard Rock to classical music. However, as for EMBOSCADA, there is a clear influence from the classic NWOBHM and also influences from the old school South American bands. We believe that it is always good to take the nuances from the old school and show our respect to the old-fashioned heavy metal from the past.
Roberto: As I.O. said, the musical tastes of every band member are very diverse. We're obsessed with heavy metal and its history. It's really fascinating to see how this genre took off around the world through the decades, often in very special ways. That's why, when we write a song, we try to make it flow naturally, as open as possible, and let our tastes flow through the riffs. Personally, I can point out some bands that left a mark in me leaving their influences run through my blood. From the traditional NWOBHM, we have some roaring influences from Tank, Diamond Head, Satan, Tokyo Blade, Demon, Wolf, among others; also from Japanese heavy metal bands, like Anthem, Loudness, RUG and Blaze; from Sweden, Dizziness, Europe, YJM Rising Force and Gotham City; Oz, from Finland; and from the USA, the great Riot, Ozzy's Ultimate Sin album and US power metal bands like Fifth Angel. It is important for us to take the nuances from the South American school, finding influences from Kraken, Inquisición, Ekkos, Panchorrata, Armamento Pesado, Trueno Azul, León Heráldico, Panzer, Turbo, Obus, Logos, Retrosatan, El Reloj, V8 and Resistencia. In general, open riffs with no excessive gain, guitar harmonies, low use of palm mute, crossed riffs and the first touches of speed metal that were born in many parts of the world with their own identity.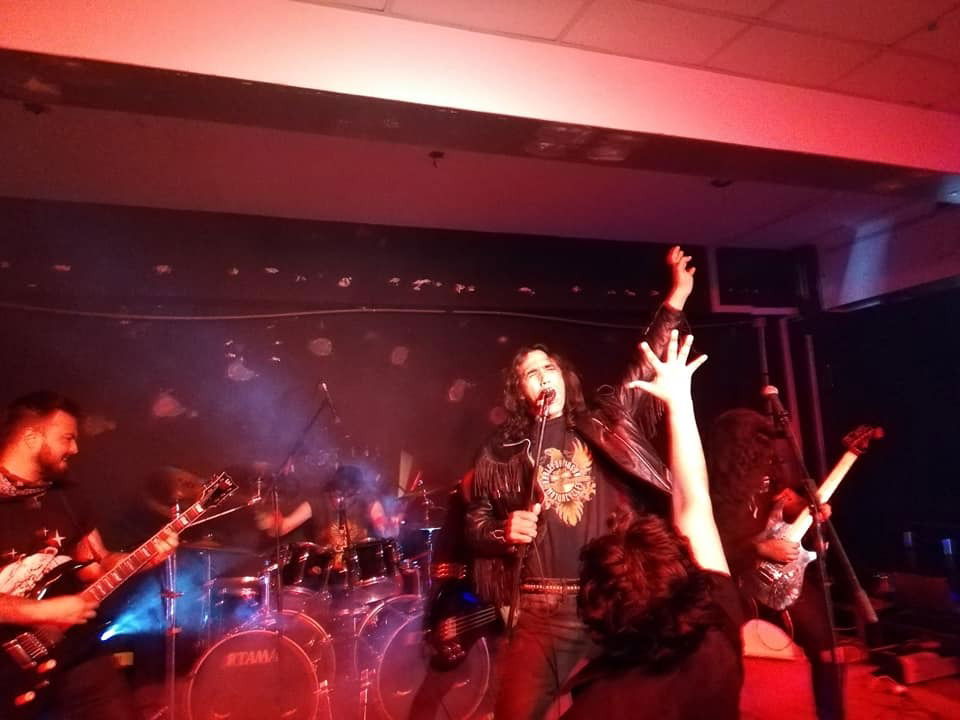 Which things, do you think, a Band should sacrifice in order to succeed? Have you ever sacrificed anything in your life for a better future of your Band?
I.O: Clearly, some of us need to put aside many things for the band: family, personal hobbies, ideas, etc. Maybe these efforts are not made to achieve success, in EMBOSCADA we do not seek that kind of "success". We believe that the most important thing for us, as a band, is purely the music, just that. The rest will only be decided by the people who listen to our music. Perhaps, due to the short period that we've been active, we have not seen the need to make "huge" sacrifices; however, in the case we need to make sacrifices in the future, we will obviously do whatever it takes for EMBOSCADA.
Gonzalo: Given the natural context of living in Southamerica, sometimes we need to make sacrifices (i.e. spend less time with our families/friends). We also need to make money in order to produce new material like records, merch and other stuff. Investment sometimes involves sacrifices, especially in the country we live in.
Describe your ideal live show as a performance Band. Have you already experienced that?
John: The ideal show? Listening to the audience singing our songs out loud! And hear how they sing along with you. That would be great! For now, we've had only a few live shows, but we really appreciate the audience from our neighboring city, Tacna, Peru. That was really awesome for us.
Roberto: For me, every show and stage where people appreciate us is the ideal one. Giving it all in that show and enjoy just playing fucking heavy metal.
Gonzalo: The pandemic has stopped live shows for a while. We only performed live about 3 or 4 times, but the most remarkable show I remember was in Perú along with Blizzard Hunter. That's the best live show we've ever had so far. It was an awesome night of HEAVY METAL. I believe that a live show with tons of heavy metal bands is our kind of ideal show. We really hope to have more shows like that one in the future.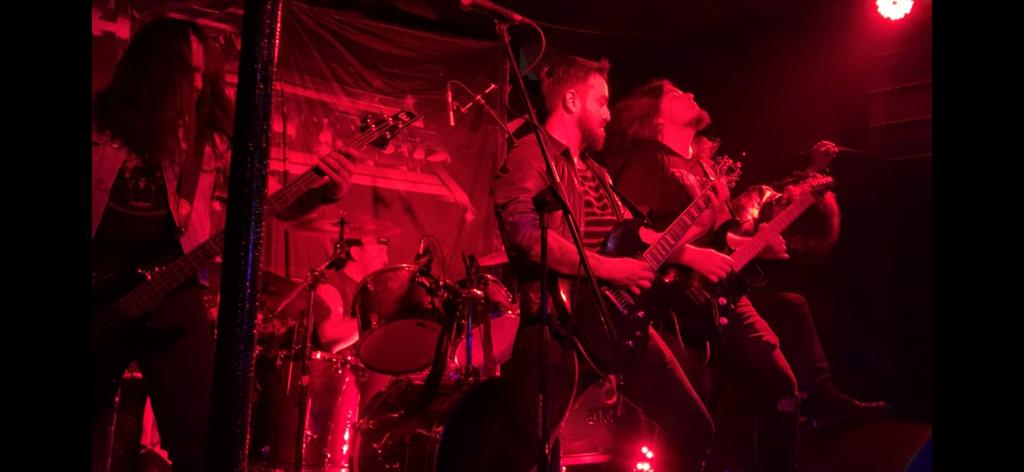 Which attributes, do you think, that a new Metal Band should have in order to gain identity and be unique?
John: A band must have clear and solid ideas in terms of songwriting and creation. We try to be faithful to a specific style. Although, nowadays it is very difficult to achieve an own and unique identity. But if we work in a professional manner, we can achieve something similar to that "self-identity". Every genre is already established and defined from long ago. Although it is said that everything is already created, we try to contribute with something new while maintaining a classic style and take the nuances from that pure sound that was a bit lost, at least in the environment we live in.
Gonzalo: I personally believe that the more music genres you listen to, the more you end up sounding like yourself. If you listen to different music genres other than metal, you become musically richer. I believe that's one of the keys to gaining an own identity as a band.
Do you believe that Bandcamp and other Digital Platforms help the new Heavy Metal Bands? Which, do you think, is the ideal way for a Band to promote its work?
Roberto: Absolutely! Digital platforms on the internet leave no gaps! People from other continents can listen to our music wherever they are. We are a band that is just starting out, we do not have experience in merchandising and that stuff, but we are learning how to do it. I believe that the best way to show our work is by making music with passion and love. Also working and focusing on getting better, being consistent, and believing in ourselves, in spite of the obstacles that may appear along the way.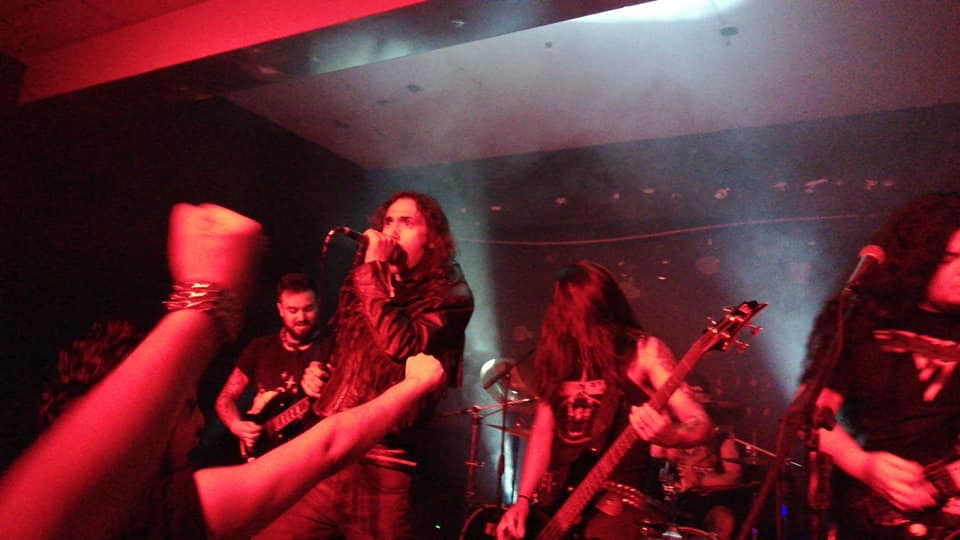 Tell us a few things about the New Underground Metal Scene in Chile (Bands, Fanzines, Webzines, Metal Clubs etc.)
Roberto: The Chilean metal scene is amazing! It's enormous and very diverse. People really dig into the diverse varieties of metal. It's amazing to see how many good bands we have in this country. There are very talented people making metal of the highest level. There are lots of labels, zines and webzines, some bigger and some smaller, all of them work just for the passion they feel for this genre and also in order to support the bands by releasing high quality material. Some bangers are really cool, it's very surprising when they show you their music/zine collection! It's very difficult to name them all right now, but the heavy metal scene is strong here. From the most recent bands or bands that have recently released new material, I love Poder Mortal. Their lyrics and choruses are excellent! Dominio has a very traditional approach and riffs that will make you tremble; Stronger has a unique sound; Sentinels and Inheritance have an incredible speed and power; Blazon and Insight have tremendous riffs; Racer Steel are killing it everywhere! great vocals too! Lord Bardiche is a road roller! Steel Back, Despertar, Adoration; Asedio and the list goes on and on. There are some other great bands with a remarkable importance as Acero Letal, Lucifer's Hammer, Hemisferio, Iron Spell, Perseguidor, Aberración, Eternal Thirst, Hëiligen, Ikelos, Raijin, Axe Battler, Lunacy, Witches Sabbath, Motosierra, Tormento and many more! I could take too long to name them all, the thing is that the scene in Chile rules!
Do you know anything about the Hellenic Metal Scene?
Roberto: It is undoubtedly a great scene with many years of experience! There are tremendous bands such as Kawir. We have a lot of respect for the music they make. We really hope to get there someday and share the stage with some of the bands from there!
What are your future plans?
John: At this moment, considering the pandemic in Chile, most of our plans are delayed or had to be cancelled. At least for this year 2021, live shows are still a long way off. We made a big effort to release our demo at the end of 2020 and we are still working with a lot of ideas for a future EP. We hope to reach the ears of more fans of this genre, so why not play live when we finally get the chance to do so?
Thank you very much for your time & Keep up the good work! The closure is yours.
Many thanks to you, perro lujurioso! Cheers, guys! Thanks for all the support! We really hope to see you soon in the streets or at some gigs and share this music that we all love so much! May the roar of thunder be with you!
By Steve the Filthy Dog.
EMBOSCADA CONTACT:
https://www.facebook.com/Emboscada-Heavy-Metal-100137991800979/