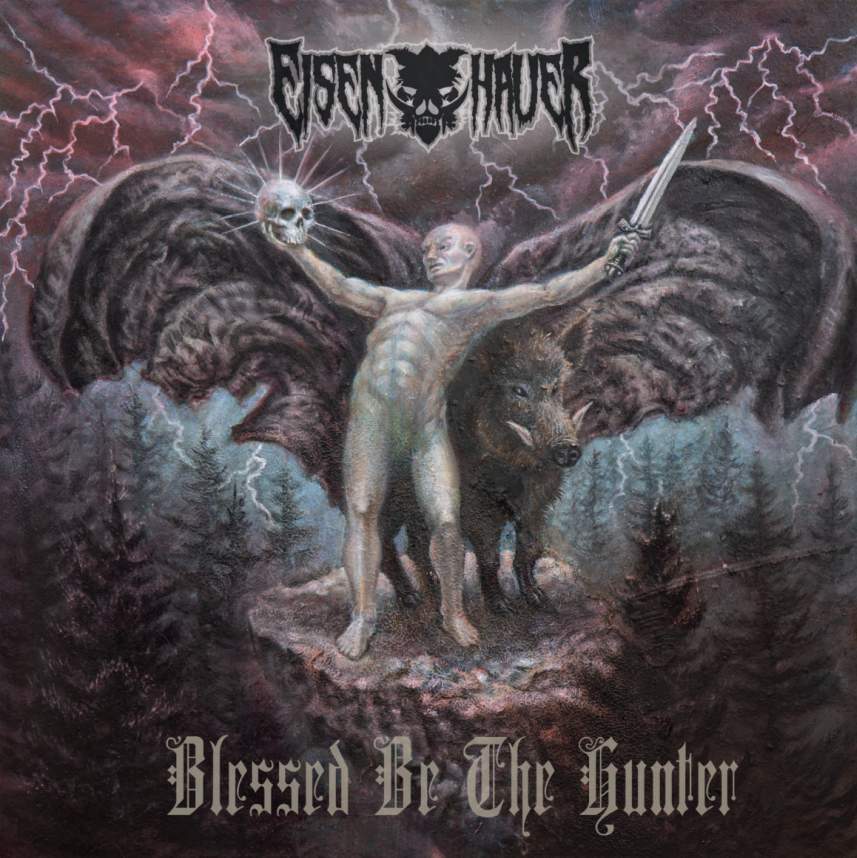 !!!TEUTONIC HEAVY METAL!!!
Welcome to the FILTHY DOGS OF METAL Webzine.
Hi my name is Christian "Waxe" Wagner from the Band Eisenhauer. I am the singer and I play guitar.
Tell us a few things about EISENHAUER (Members, Starting Year etc).
Eisenhauer has been around since 2007. Our line-up has consisted of Christian 'Waxe' Wagner (vocals, guitar), Simon Bihlmayer (guitar), Thomas 'Ase' Aschermann (bass) and Johann Bechteler (drums) for 13 years. Four friends who met at the beginning to play songs by Iron Maiden, Metallica, Slayer and Pantera and drink beer. Over time, we have worked more and more on our own songs and developed our own style. In 2012 we released our first self-produced album "Never Surrender". With the help of friends we released the EP "Horse Of Hell" in 2015 and now our newest album "Blessed Be The Hunter" will be released on June 6th 2020.
You are going to release your new album ''Blessed Be the Hunter''. Tell us a few things about this project.
The recordings for "Blessed Be The Hunter" took place in several sessions from March to December 2019 at the Groteque Studios from Sebastian Moser. We played completely as a band live in the studio to record the drums. Then we recorded the guitars and vocals on these tracks. Sebastian recorded, mixed and mastered the record and delivered a terrific result.We are also very lucky to have the great painter, graphic artist and photographer Gabriel Turner Byrne (www.gabrieltbyrne.com) as a friend. We were in constant contact with him from the first idea and sketch to the finished oil painting and the complete booklet. The cover of "Blessed Be The Hunter"shows exactly the first verse from the song "Ghost Warrior". In which our hero comes back from the realm of the dead to take revenge. He implemented our ideas perfectly and gave the album more than worthy cover artwork. The topic "Never Surrender" is still a recurrent theme in all of our lyrics. Believe in what you do and do it with your heart. Germanic-Nordic mythology, a close relationship with nature and our ancestral world also play a major role for me. I like to bring new stories and topics in an old guise. "Blessed Be The Hunter" - blessed be love, life, passion and death. Let the steel sing!
Label or DIY and why?
It's very good for us to have a label because it just has a much wider reach and more contacts than we as a band. Raphael from Rafchild Records is our direct contact and partner. All decisions are made together. We are not exactly the generation of young musicians who market themselves entirely online. Our problem is that we prefer to play music than to sit in front of a computer. Hahaha. Working with a label doesn't mean that you have nothing more to do. We launched the complete recording, the artwork and part of the promotion ourselves.So, both together.
Do you prefer Vinyl, Tape, CD or Digital Format and why is that?
Vinyl survives everything and I prefer the black gold. I think online download is a form that many prefer because of its practicality. For me, however, that's nothing. I myself occasionally use streaming services to discover new and old things. But if I like something, I also buy it on vinyl or CD.
Your music style is Heavy/Thrash Metal. Which are your main influences (Favourite Artists / Bands etc.)
All the music I listen to for decades influenced me. We are children of the '80s and are mostly on the NWOBHM, early Heavy Metal, Thrashmetal and Hardcore. Some of my all-time favorites are Black Sabbath, Dio, Mercyful Fate, Trouble, Manilla Road, Cro-Mags, Danzig and Slayer. I also like big, dark voices like Jim Morrison and Johnny Cash. But my strongest inspiration is this feeling of Heavy Metal that I have, not to give up, keep fighting, to believe in yourself and your music and to pursue your goal. Through the music I try to handle my demons and keep the flame burning.
Which things, do you think, a Band should sacrifice in order to succeed?
Everyone needs to know that for themselves. I wouldn't necessarily call it a sacrifice. If you are still young and free, you can quit your main job to focus on the music. It looks different with family.We definitely put a lot of energy, time and passion into our music. But we would never change our music for success and sell our souls.
Have you ever sacrificed anything in your life for a better future of your Band?
A lot of energy, time, passion and lifeblood! Ha ha ha.
Describe your ideal live show as a performance Band. Have you already experienced that?
Big shows with pyrotechnics and gigantic light shows are definitely great. What fascinates me much more, however, is when the spark jumps in a 300-man club, the audience goes crazy and the whole shed explodes. It must smell of sweat and the air must crackle. And yes, we have already seen this.
Which attributes, do you think, that a new Metal Band should have in order to gain identity and be unique?
Inspiration is important, but you should try, not to be too much influenced by the outside. A lot of great songs have been written. From there it seems impossible not to have the feeling that you have heard certain notes and words somewhere. I think it depends on the overall picture. You should master your craft. But more importantly! The audience must feel that you believe in yourself and your music. That what you do is important to you and comes from the stomach and the heart.
Do you believe that Bandcamp and other Digital Platforms help the new Metal Bands? Which, do you think, is the ideal way for a Band to promote its work?
Bandcamp and Co. are definitely ideal for spreading music and setting up a small shop if you have no sales partners. Our label works that way. I cannot give absolute advice. Every band must know for themselves how much energy and time they can and will put into their own marketing. But with a decent DIY attitude, you can make it to the top today.For promotion we work hand in hand with Markus Eck from Metal Message - PR., who does an excellent job. We are announcing our live shows and news on Facebook and Instagram.
Tell us a few things about the New Underground Metal Scene in Germany (Bands, Fanzines, Webzines, Metal Clubs etc.)
The blog "Schwermetallisch" is really cool and Dennis is a really nice guy. The online music magazine "Reflections of Darkness" is pretty good. I can recommend the Heavy Metal Online Magazines Metaller.de and Powermetal.de.
I don't know if there is "the" new German metal scene. There are a lot of talented and good young bands out there. In our hometown Kaufbeuren there is a manageable but committed metal community and great bands like Running Death, Disgusting Perversion and Super Satan.For concerts we often go to the "Backstage" in Munich or the "Kaminwerk" in Memmingen.
Do you know anything about the Hellenic Metal Scene?
I know and like bands like Diviner, Reflection or Sorrow Path. Of course, I know No Remorse Records, Up The Hammers and the Over The Wall-Festival in Crete. And it is known that the Greek fans are very enthusiastic and fully committed.
What are your future plans?
We are currently promoting our new album "Blessed be the Hunter", which will be released on June 6, 2020 by the new German cult label Rafchild Records. Due to the corona crisis, it is difficult to plan live performances. So I have enough time to play guitar and write new songs.Our goal is to play our songs live in front of as many people as possible.
13. Thank you very much for your time & Keep up the good work! The closure is yours.
If you're a fan of true and doomed Teutonic-Heavy Metal, check out our new Album "Blessed Be The Hunter"! Keep your iron head up and stay healthy! Heavy Salutations to all Eisenheads – EISENHEADS UNITED!
By Steve the Filthy Dog.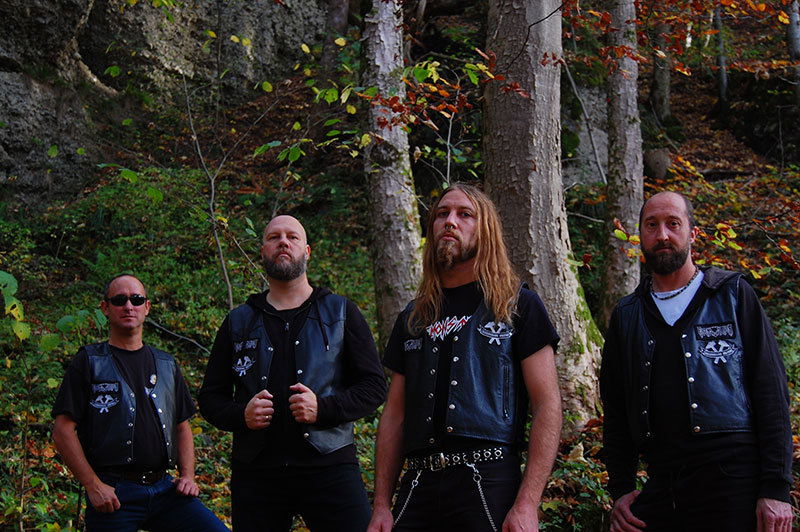 EISENHAUER CONTACT:
https://eisenhauermetal.bandcamp.com/
https://www.facebook.com/Eisenhauermetal