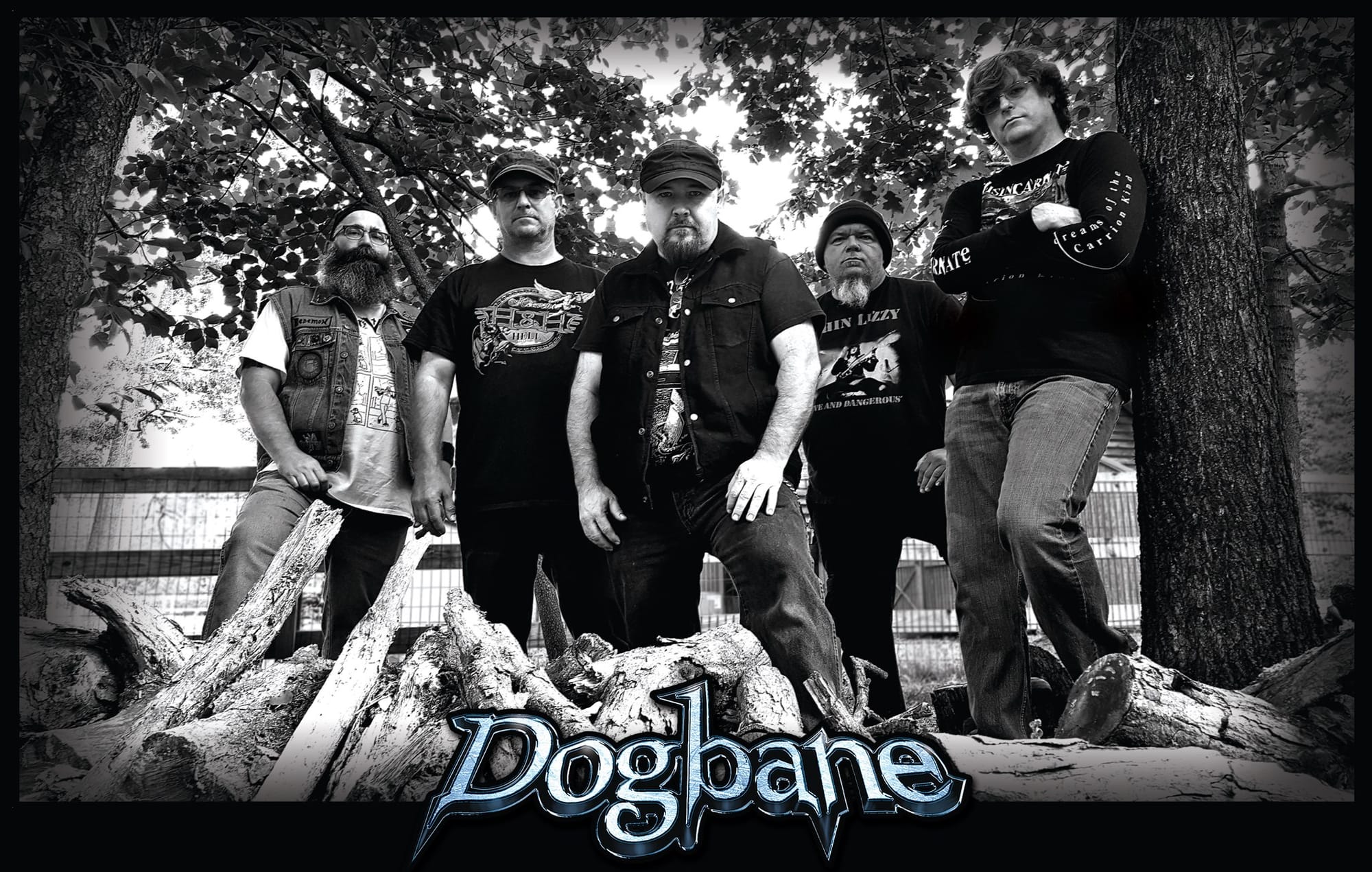 !!!US METAL!!!
We had a conversation with Jeff Rinehart (Guitar). Enjoy!
Welcome to the FILTHY DOGS OF METAL Webzine.
1. Tell us a few things about DOGBANE (Members, Starting Year etc).
Hey, thanks for the opportunity to speak with you. Dogbane started in 2010 with Jerry Cloer (drummer) and David Ellenberg (guitarist), both formerly of Rictus Grin, reaching out to Kevin Davis (bass player), who had previously recorded them in the past, about putting together a new band. They knew they wanted to have a two guitar lineup, and within a short amount of time, contacted Mitch Allred for the second guitarist position. Then they contacted Jeff Neal for the vocalist spot, as they definitely wanted to write music with a powerful melodic vocal style along with traditional heavy metal delivery. They immediately set out to write and record their first album, Residual Alcatraz, even before they started playing shows, and it was released in December 2011. They began playing the (North Carolina) NC club circuit from the start of January 2012 until around July 2012. Unfortunately, at that time, David Ellenberg suffered from a massive stroke, and died shortly after, in August 2012. After some time of mourning their loss, and soul searching, they proceeded to audition for another guitarist. They contacted me to set up a time to audition in March 2013, and I joined the band officially in April 2013. We released Dogbane's second album When Karma Comes Calling in April 2015.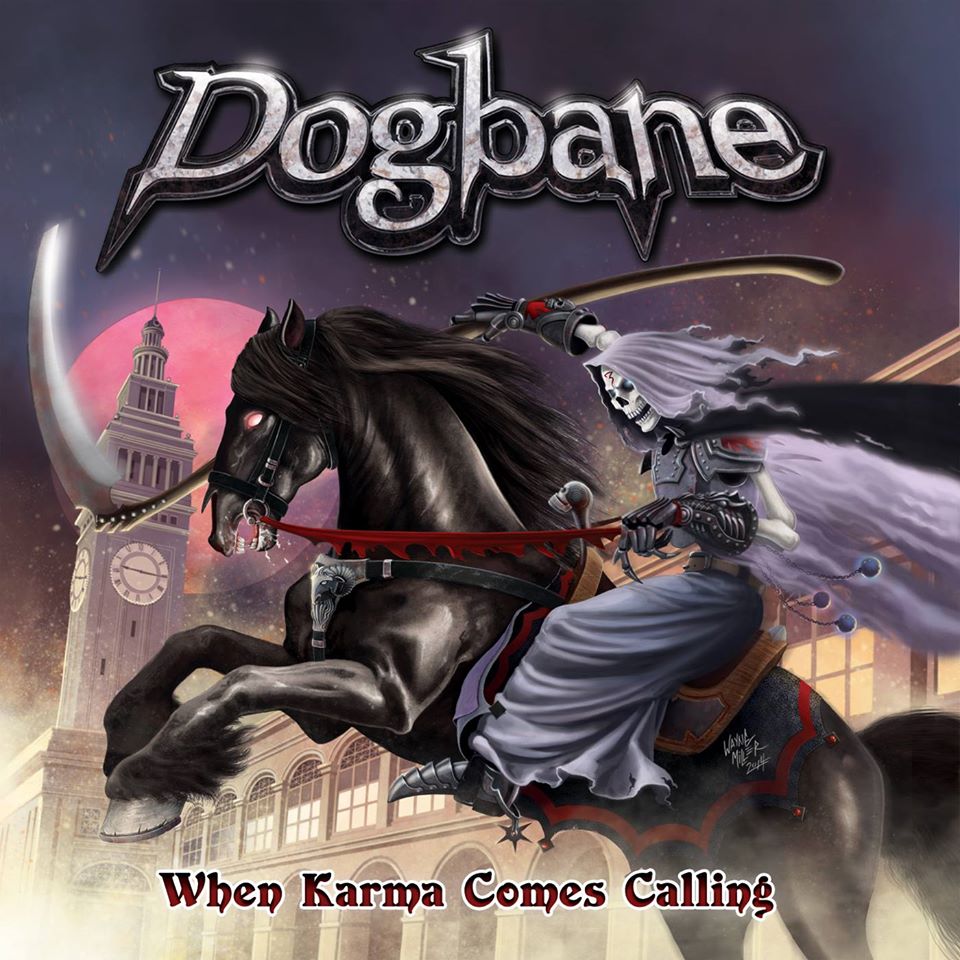 2. You have recently released your new album ''Idylls Of Woe''. What is the Feedback from your audience as well as from the Press?
Overall, the feedback has been good, as to date, the production in this recording session is the strongest we have done so far. The songs are versatile in style, with a lot of doom-oriented, classic European rock influences, and traditional heavy metal vibes with catchy riffs, and vocal melodies. There is enough variety in it to catch many people's interest regardless of what their leanings are stylistically.
3. Label or DIY and why?
This is our third album so far with Heaven and Hell Records. We have a good arrangement with them, which benefits both sides.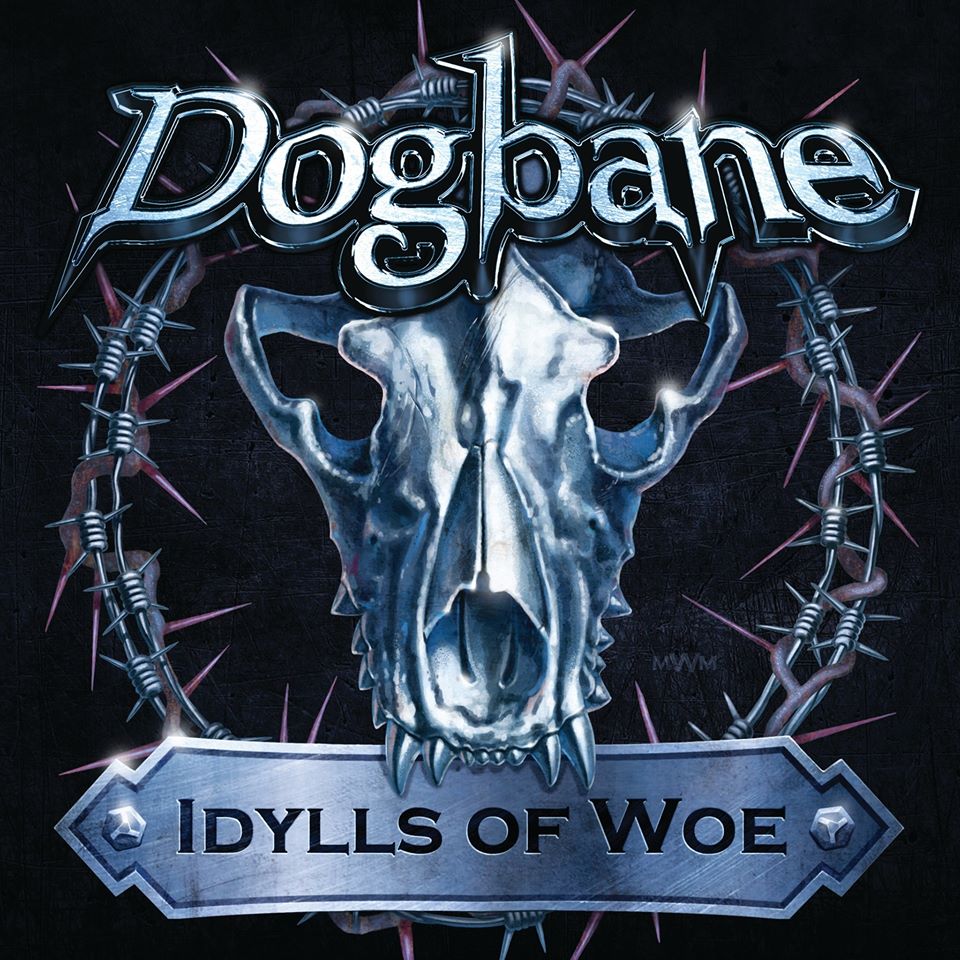 4. Do you prefer Vinyl, Tape, CD or Digital Format and why is that?
That is a complicated question, very likely to raise different combinations of answers from each band member. Suffice it to say, we agreed enough in that we wanted to put this album out in digital format and CD, as we had our previous releases. But we also had talked about wanting to release an album on vinyl the last time (During the pressing of 2nd album), but became more seriously focused on doing exactly that for Idylls of Woe, which was our first vinyl release. We were very pleasantly surprised with how it turned out, with a very warm analog sound, but with very clear definition and low end. We even thought that it edged out over the CD sonically in our ears. If I didn't already reveal too many of our preferences, all but one our members collects vinyl, and that's just because he doesn't own a record player, haha. I personally prefer CD over vinyl (except for specific collectibles), and definitely over digital format. There's just something about having that physical copy in your hand with the CD insert (lyrics, liner notes, pictures, etc.) to look at, and of course get autographed, haha.
5. Your music style is Heavy Doom Metal. Which are your main influences (Favourite Artists / Bands etc.)
We have many common-ground influences; but, each member tends to bring specific influences from those, which run the gambit of Traditional Heavy Metal, Doom and NWOBHM and more 80's and occasionally 90's style of metal (Death, thrash speed), (Iron Maiden, Saxon, Judas Priest, Black Sabbath, Thin Lizzy, Mercyful Fate, Trouble, Candlemass, Saint Vitus, King Diamond, and My Dying Bride). The interesting thing for this album was that we kind of dug deeper into our more subtle influences and brought new things out into the songs, especially in our arrangements and leads, influenced by and reminiscent of such things as UFO-Michael Schenker, Metal Church, Vicious Rumors, and Anathema, in addition to the ones named above. I'm sure if you listened repeatedly to something, you'd hear passing references to things outside of heavy metal, with more pop, country, rock, alternative source inflections. The cool thing is they were blended in such a way to kind of be their own thing, while paying tribute to all the influences in an organic heavy metal way.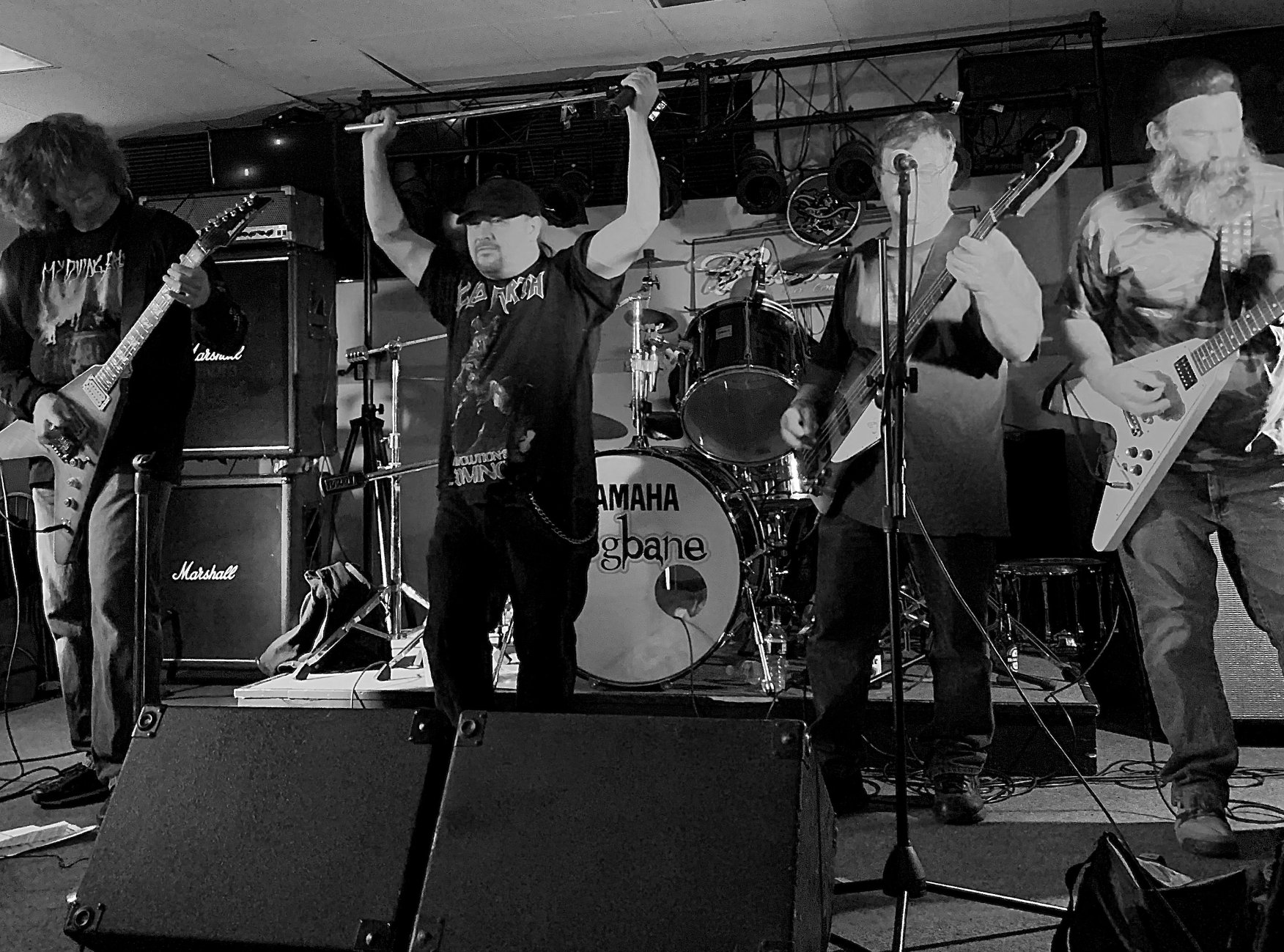 6. Which things, do you think, a Band should sacrifice in order to succeed?
Have you ever sacrificed anything in your life for a better future of your Band?
Any time you commit to a band, there is a sacrifice of time away from our families. That can be the biggest challenge, especially during the recording process. But so as not to mislead you, by comparison to other bands, we don't consider ourselves full-time musicians with an intention on making a living primarily playing music. We all have careers and full time jobs. In spite of that, we try to commit to rehearsing once a week, to stay sharp on live sets, as well as to work up new material. We could always be better and do more, and have been known occasionally to practice on our own outside of rehearsal, when the inspiration or motivation strikes us, haha. We certainly would not be a good example to follow for any formula for success on "making it big", in the music profession, because we certainly aren't under any grandiose delusions of "making it big" or being successful, as far as turning a profit or having a huge following. We are definitely happy with what we've been able to accomplish so far, and definitely are trying to focus more intently on maximizing our live gigs and networking this year. That is vitally important if you want to reach a larger audience and get your music out there. The other thing you need to be prepared to sacrifice is your own money, because it is an expensive endeavor to market your music and merchandise.
7. Describe your ideal live show as a performance Band. Have you already experienced that?
Well, I guess "ideal live show" could be considered on several levels. We have been fortunate to play as supporting act for several memorable shows, including RagnarokkR Festival in 2014, which featured Riot V, The Skull, Picture, and Grim Reaper, and had many other strong established, and up and coming acts from all over the country involved both nights. We have also gotten to play with some key bands who had major underground credibility from the 80's and 90's and are now experiencing a resurgence since they have become active again, like NC's own False Prophet, and Confessor, as well as Cerebus. We also had the opportunity to play as support for King's X and Tracii Guns, respectively when they played in Greensboro. But, I think on a more basic level, an ideal show can be simply defined as when we have played before a new audience, or an audience comprised largely of our musician peers, and we are bringing an energy through our performance that comes across in a way that gets their attention and they enjoy it.
8. Which attributes, do you think, that a new Heavy Metal Band should have in order to gain identity and be unique?
In many ways, this has got to be the toughest question. I think part of it has to do with showmanship, marketing yourself, and networking. But, I would also like to think that blending authenticity and passion, and a certain degree of original spin in your music in such a way of making the music connect to your audience is important. Personally I think we try to approach it from the standpoint of writing and playing the music that we would like to hear ourselves as fans of metal, to where there's something about it that keeps you wanting to go back and listen to it again.
9. Do you believe that Bandcamp and other Digital Platforms help the new Heavy Metal Bands? Which, do you think, is the ideal way for a Band to promote its work?
I think in this day and age, taking advantage of as many options to make your music accessible to people as possible is the way to go. I think anyone who is a purist in limiting themselves to only one or two formats is hurting themselves in the end. We try to have digital presence through social media in order to promote shows, and network with venues, promoters, fans, and other bands. We also utilize Bandcamp and other digital media sources to promote and sell our music, so that it reaches a wider audience than we could ever reach personally or with physical copies alone. Who knows if we will ever make it overseas to play any festivals (hopefully one day). In the meantime, our music is in South America, Europe, Asia, Africa, as a result of instant accessibility of digital media, which transcends physical borders, customs, or language barriers.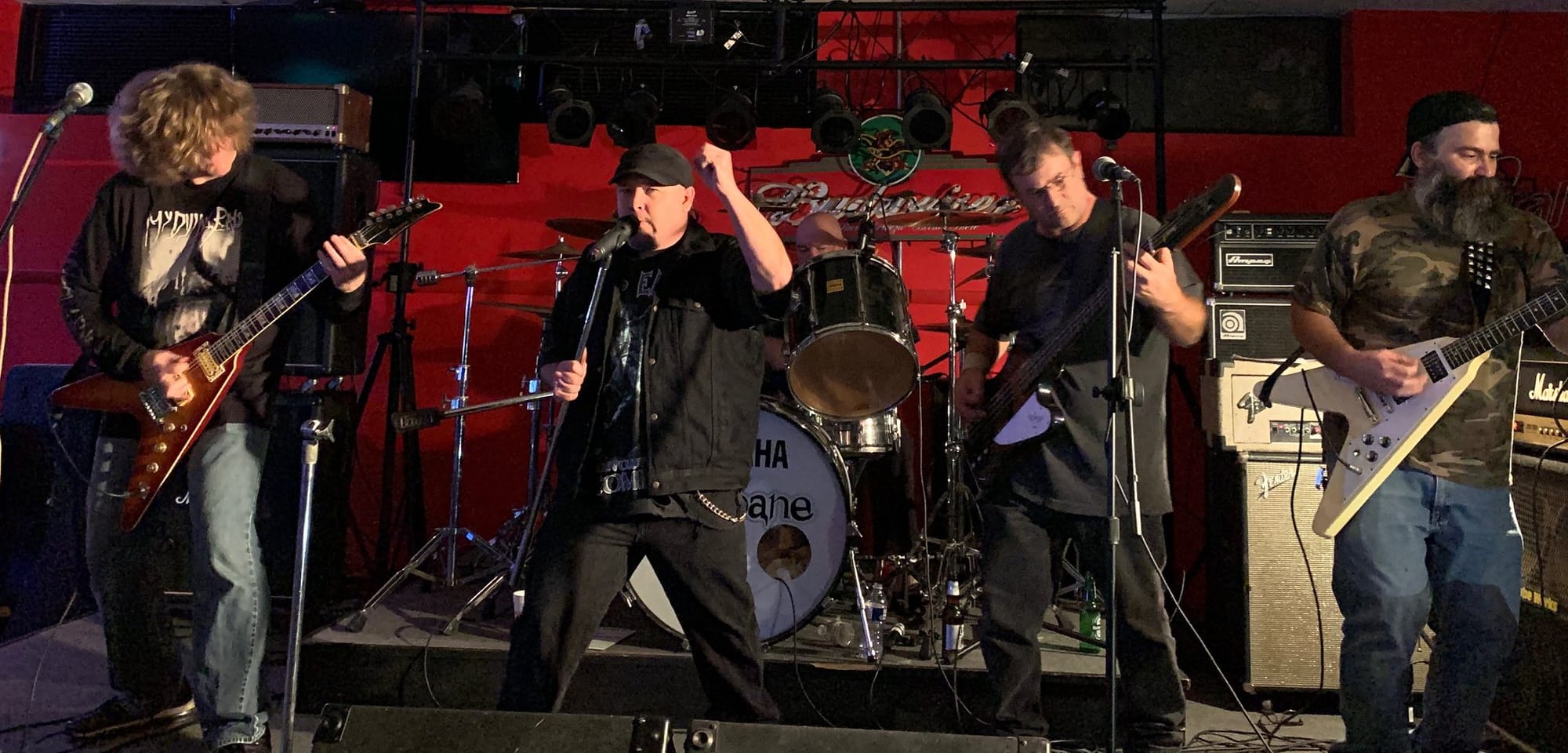 10. Tell us a few things about the New Underground Metal Scene in Greensboro, North Carolina USA (Bands, Fanzines, Webzines, Metal Clubs etc.)
Well, as mentioned previously, False Prophet and Cerebus hail from the Greensboro area. But, there are many bands in the area that have a large local and underground following. I think statewide, North Carolina has a very vibrant metal scene with many great bands from the Charlotte, Raleigh, Wilmington, Asheville areas, and all points in between. There are some mainstay venues in each of those areas that have had longstanding positive connections with local scene music. There are a few venues who draw national underground acts in Raleigh, Charlotte, and occasionally Greensboro. Unfortunately in the past few years, many venues have either shut down, changed ownership, or been repurposed toward a narrower market, which has limited some of the venue options where bands can perform original heavy metal. These places are businesses first, and have had to adapt to tougher, leaner times, as far as competing for more selective audiences, and thus have often had to go with sure bets like cover bands or big name acts in order to draw regular consistent crowds to keep their doors open. In one sense, that means we have to be prepared to travel more across the state and even in neighboring states to avoid oversaturating the few venues available to us within close proximity. That's not necessarily a bad thing, but just a logistical challenge we have to be prepared to meet.
11. Do you know anything about the Hellenic Metal Scene?
Well, all credit goes to my bandmates, Jerry and Kevin, who are far more diverse in their breadth of extreme metal and black metal listening than I am. They recently turned me onto Rotting Christ by recommending Triarchy of the Lost Lovers due to knowing my love for Death/Doom stylings of metal, being a huge My Dying Bride fan. I have to say that I really dig that album, and now am going to have to check out more of their catalog. I also am aware of Septic Flesh but really didn't listen to them until recently, but really have gotten into their first three albums which have more of the goth and death/doom vibe. I know of Firewind with Gus G, after he briefly played with Ozzy.
12. What are your future plans?
Future plans include trying to re-establish a strong presence across the state, playing more frequent shows and getting into some venues we haven't played before, including playing out of state in SC, GA, VA and maybe TN, as well as try to get into some metal festivals. We also recorded enough songs during the "Idylls of Woe" sessions to have extra songs to put toward an EP for later release. So this is the advance unofficial notice teaser to keep an eye out for that release sometime in 2020. The specifics will have to be held until the time of the official press release. But, don't be surprised if we start working on new album material to release in a few years from now.
13. Thank you very much for your time & Keep up the good work! The closure is yours.
It was my pleasure to speak with you. Thanks for keeping metal alive and including us in your readership! Happy holidays! We are looking forward to a great new year of playing shows and getting our music out there!
By Steve the Filthy Dog.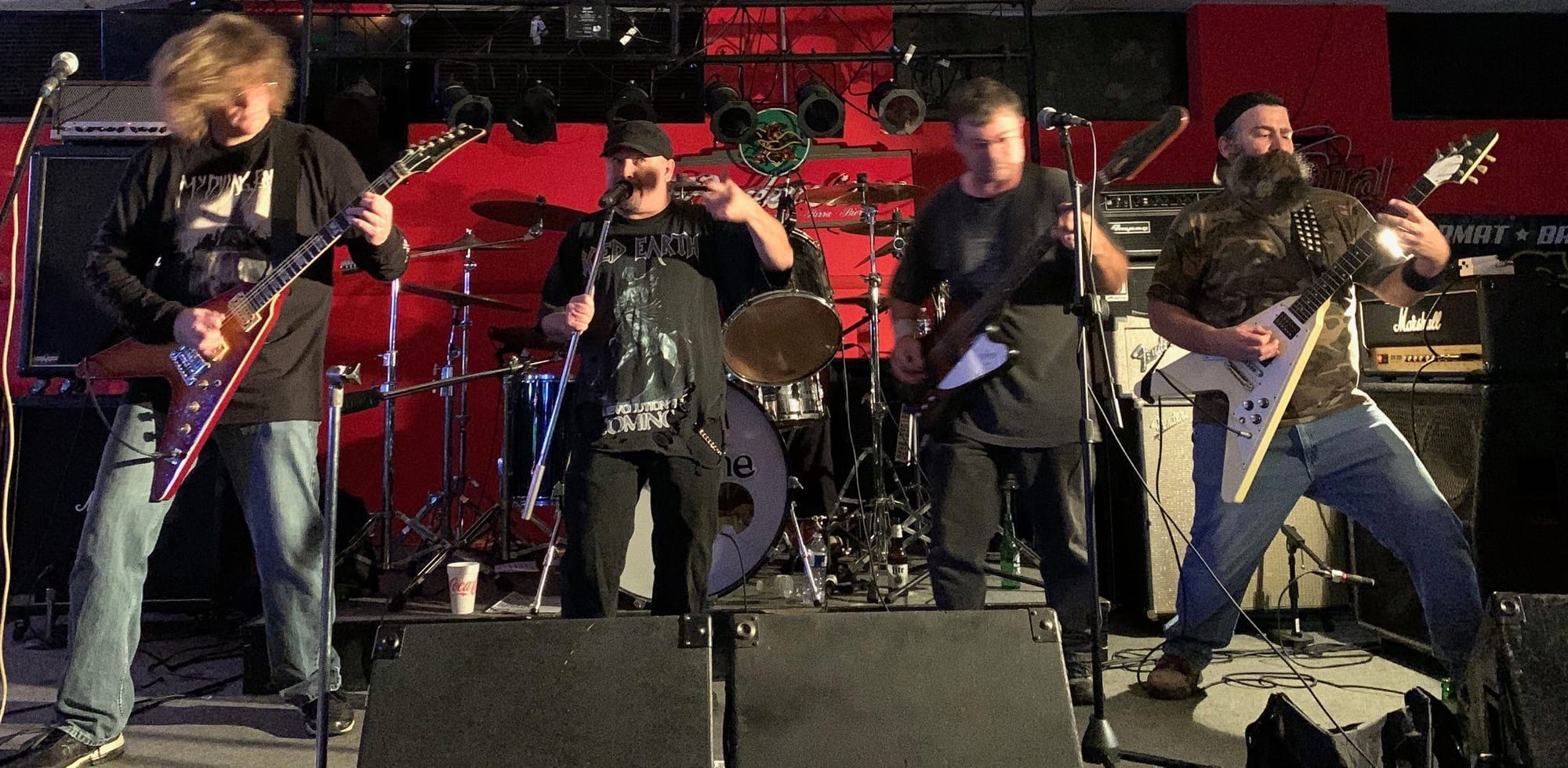 DOGBANE CONTACT:
https://www.facebook.com/Dogbane