!!!US HEAVY METAL MANIACS!!!

We had a conversation with Dylan Kulpa (Guitars/Vocals).Enjoy!
Welcome to the FILTHY DOGS OF METAL Webzine.
1. Tell us a few things about DEMON CHROME (Members, Starting Year etc).
Demon Chrome are heavy metal maniacs from Providence RI, the band started in January 2018, the day after Nick and I's old band Demolition Boys folded. The name came from misheard Judas Priest lyrics, (got gleamin/Demon chrome, reflect and feel!) Currently the band is David Booth and myself, Nick has stepped aside to focus on his tattoo profession and while Marc is our designated drummer for the studio, he's got serious touring duties with the Providence band Daughters as well as his own projects. As of late our live drummer has been our sound engineer Greg Paquin.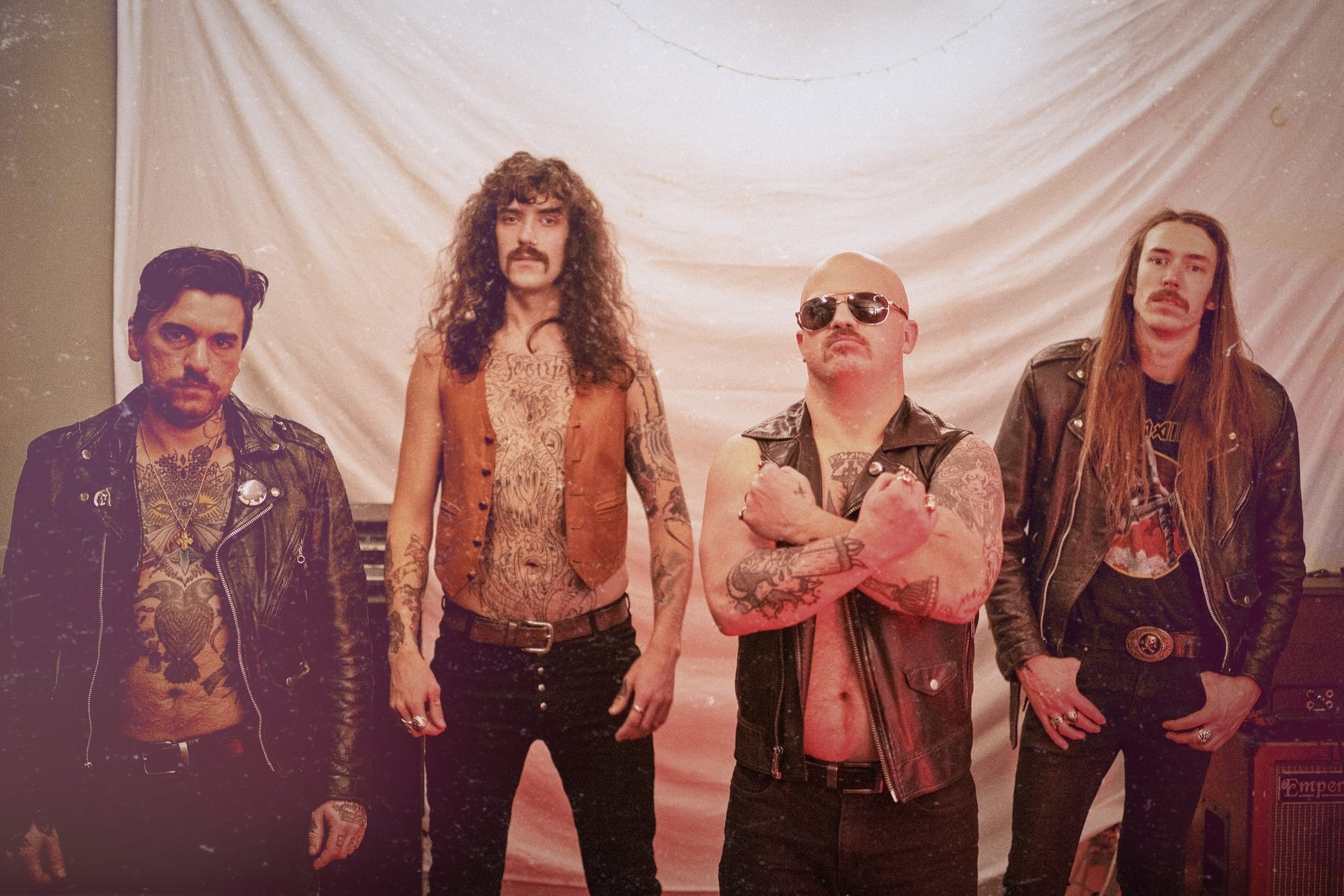 2. In 2019 you have released your demo ''Burned By Love''. What was the feedback from your audience as well as from the press?
Feedback was a little slow for starters, we did a CD release show in January and that got some local attention, a few reviews on local sites. But we really didn't catch people's eye until Anderson (NWOTHM) put up the EP on his Youtube page, for which we are grateful!Before recording ''Burned By Love'' we got permission from Carl Canedy, who penned it, to include it on the EP. We sent him the finished product and he dug it, so that was a huge compliment, being a big The Rods fan myself.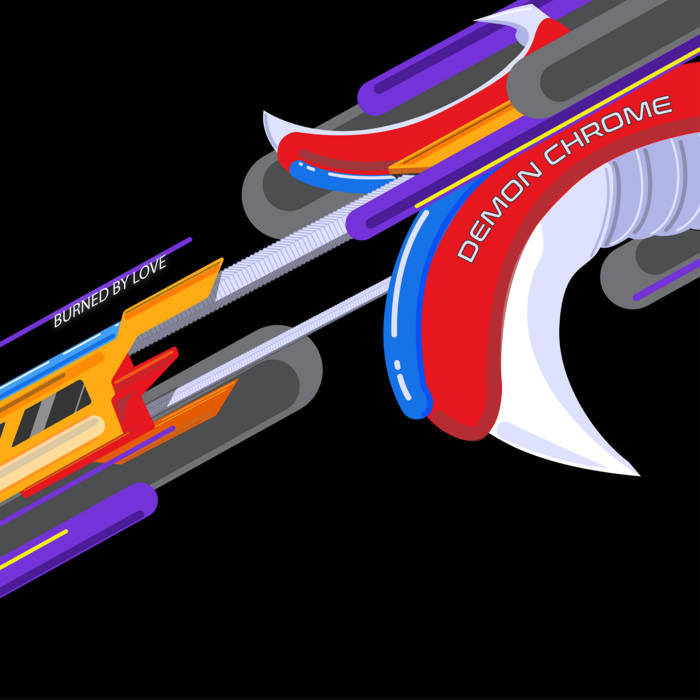 3. Label or DIY and why?
I would eventually like to be on a label, but it's difficult for me to force people into listening to our music and ask 'You wanna spend your money to put it out?'. I'd rather them find it on their own and go 'hold on what's this?'. A lot of our DIY attitude has come from the necessity to keep moving forward. For our first demo we were supposed to record with a good friend of ours, our drummer at the time got food poisoning the days we had scheduled to go in and we couldn't find a great time to reschedule. So with garage band and 2 microphones we figured it out ourselves and released the Chrome Demo(n)months later. The Burned By Love EP was done ourselves as well, at Skyrider Studios, Dave took a deep dive into understanding mastering, which he now excels at and offers his expertise to those interested. I myself spent two weeks watching youtube videos on illustrator walkthroughs so I could get the artwork done. We've outsourced for artwork as well but I hate being the guy breathing down an artists neck for a finished product. Perhaps we could use a PR person though, haven't quite figured that out ourselves haha!
4. Do you prefer Vinyl, Tape, CD or Digital Format and why is that?
I'm all over the place, I mostly stream music on my walk to work and while I'm at work, which is ironic I guess being that it's a record store (Armageddon Shop). But honestly we're so busy during the day there's never time to be spinning records, it's not the 80s anymore, sitting behind the desk stoned and judging people's musical taste doesn't pay the rent. There's real grueling work to be done in those shops now. At home it varies, I like loading up the CD changer when I'm working on art or something non music related where I don't want to keep getting up to flip a record, but there really is nothing like listening to vinyl with headphones on. I remember the first time listening to Sabbath's Snowblind and the very faint 'cocaine' voice on the record scared the shit out of me, I thought it was a ghost in my room. Before that I had never really noticed that the voice was there and now I love finding shit like that, almost buried in records. Tapes I don't do too much however Midas from Detroit MI has been getting a lot of rounds on my tape deck.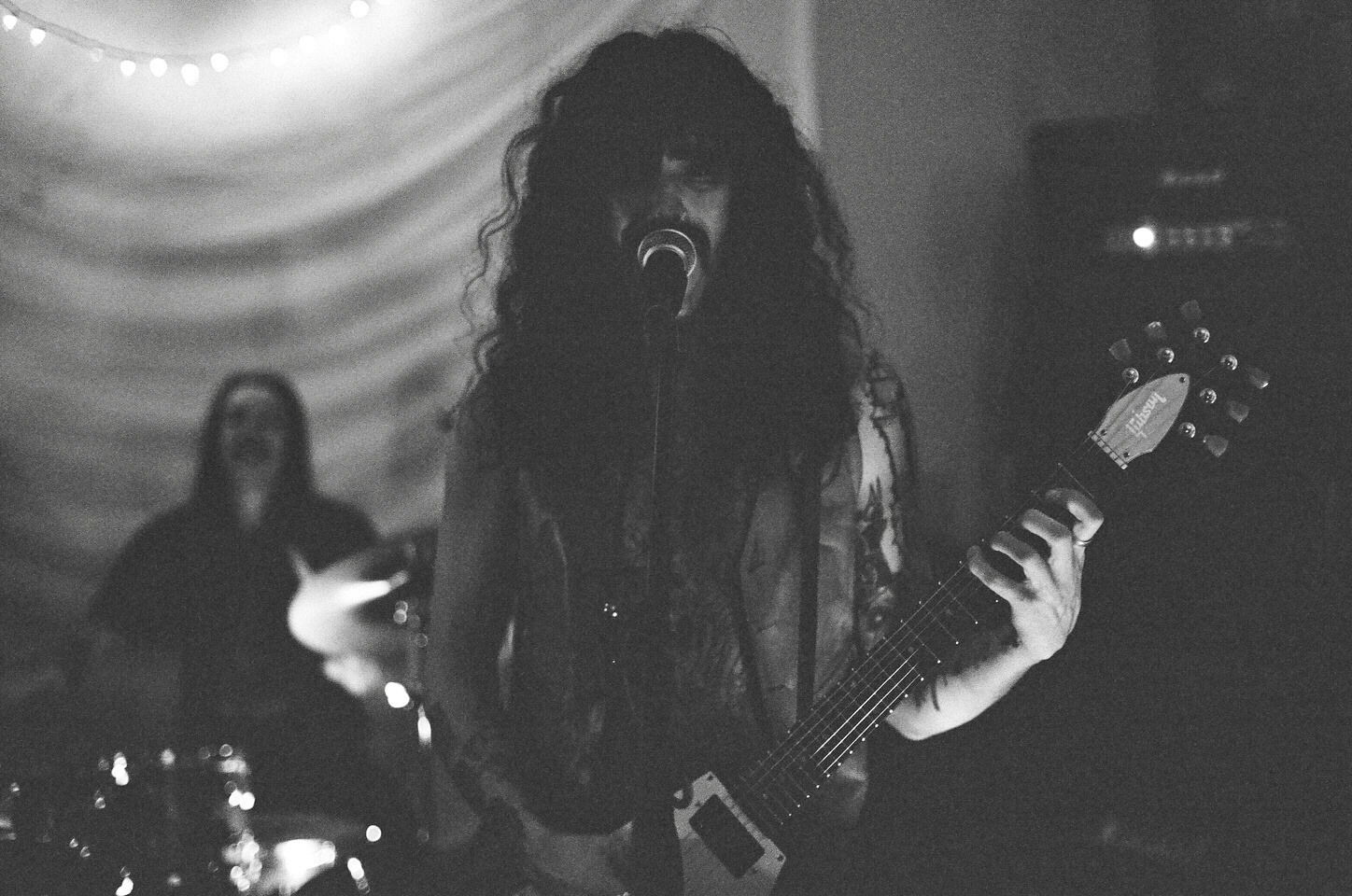 5. Your music style is Heavy Metal. Which are your main influences (Favourite Artists / Bands etc.)
I feel like we wear our main influences on our sleeve (hopefully not to a fault) so I won't bore you with info you already know, rather I'll give two quotes that have always stuck with me:
'People want to see a show, so give them one' - Dio
'No one wants to see the boy next door on stage, they want to see an alien from another planet' - Lemmy
Lyrically I get a lot out of storytellers like Dio and Halford, or less obviously Rory Gallagher, Luke Kelly, Townes Van Zandt, ya know, the heartbreakers. If I can move someone with my lyrics like those folks move me, then I'm getting somewhere I want to be.
6. Which things, do you think, a Band should sacrifice in order to succeed? Have you ever sacrificed anything in your life for a better future of your Band?
It depends on how far you want to take your music, you get out what you put in. If you're the type of musician who doesn't like to practice outside of band rehearsals, that's fine, but it will show.We've sacrificed for sure, but I don't like to think of those instances as sacrifices. Rather I like to see it as a dedication; we've dedicated this time/energy/money to something we love, anything we've relinquished in the process could have been lost to something far less meaningless than the band so to me that's worth it. Those sacrifices I've personally made, be it monetary, time spent, or unfortunately in rare cases friendships, have only been out of love for what I'm doing.
7. Describe your ideal live show as a performance Band. Have you already experienced that?
Haven't had our ideal show yet, but we've had our share of nightmare shows haha! Our CD release Nick was super sick, he slept in his car until it was time for us to go on. We also opened up for High Spirits and Savage Master and the sound guy was so piss drunk (as I'm told) that during our sound check he couldn't stop our mics from feeding back for some reason, so he made us turn our amps down to an absurdly low level. I play out of an '88 Marshall plexi so the entire set I'm playing basically clean guitar and every time I go to sing the mic gives off this ear piercing feedback, by the time we get off the stage the sound guy comes up to me and goes 'you know what? I had a preamp boost on your mics the whole time! That's why they were feeding back!' At the time it was kinda hell to be on stage with a bunch of unimpressed faces glaring at us but looking back it's a laugh riot.My ideal show involves theatrics, we've got a song about an executioner and I intend to have an electric chair on stage and 'execute' someone, smoke machines, flashing lights etc. Like Dio said, people want to see a show, so give them one. That's my intention.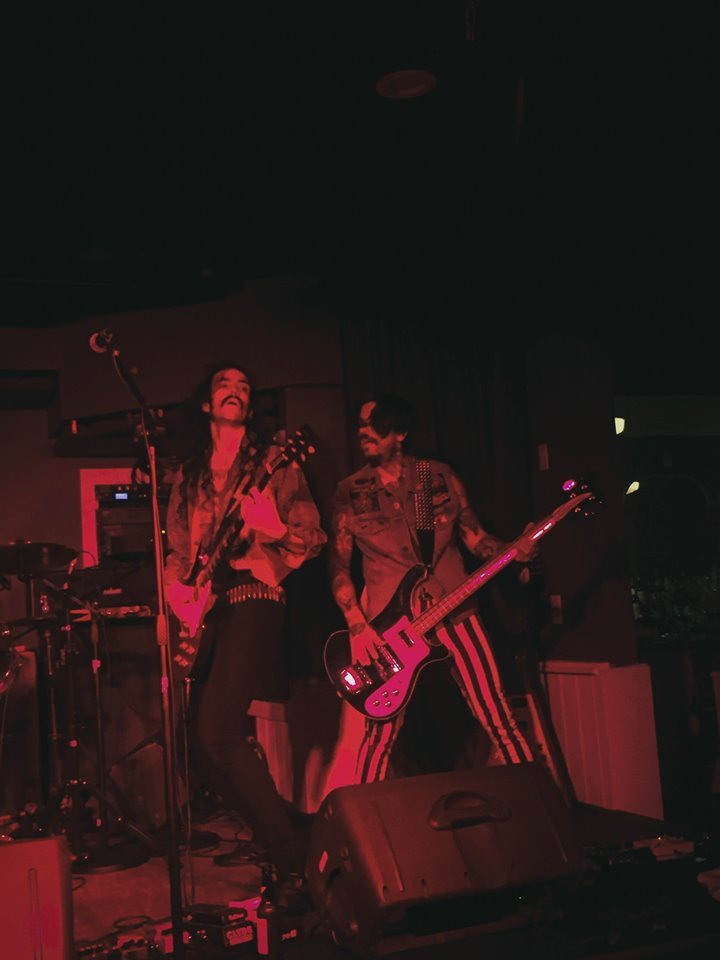 8. Which attributes, do you think, that a new Heavy Metal Band should have in order to gain identity and be unique?
It sounds corny but I think the best thing a band can do is genuinely be themselves. When you hear or see a band, you can almost always tell whether it's an act or passion. Personally I don't ever wanna hear another band copycat the 'Swedish Death Metal Sound' but if it's not presented as such and they just happen to have the thick guitar sound that was popularized by Sunlight Studios then I'm on board to check it out. I mean we aren't completely innocent of mimicry either, before this band I couldn't sing for shit. Starting off I picked up the 'Lemmy' way of singing cause I felt like it was something I could manage myself, even if it was cause I was smoking a pack of cigarettes a day. Since then I've found my own voice, at least I think so, or else I hope someone would've told me at this point.
9. Do you believe that Bandcamp and other Digital Platforms help the new Heavy Metal Bands? Which, do you think, is the ideal way for a Band to promote its work?
I think Bandcamp helps out in a way for sure, I'm a big Finnish music fan and Bandcamp has been a big gateway for me. I've just discovered Anvil Strykez on there which is the guy from Outlaw (Marauders!) and The Wandering Midget. Social media sites like instagram and youtube certainly help too. Though I believe it takes a more business oriented mind than mine to utilize those tools to their full potential. I still believe playing shows, posting PHYSICAL flyers around town (looking at you, Facebook show promoters!) putting stickers up anywhere and everywhere, giving out samples of songs (CDrs, QR code cards etc) is the most honest work you can put in. But if you've got the dough to shell out on social media platforms for advertisements I'm sure that helps too.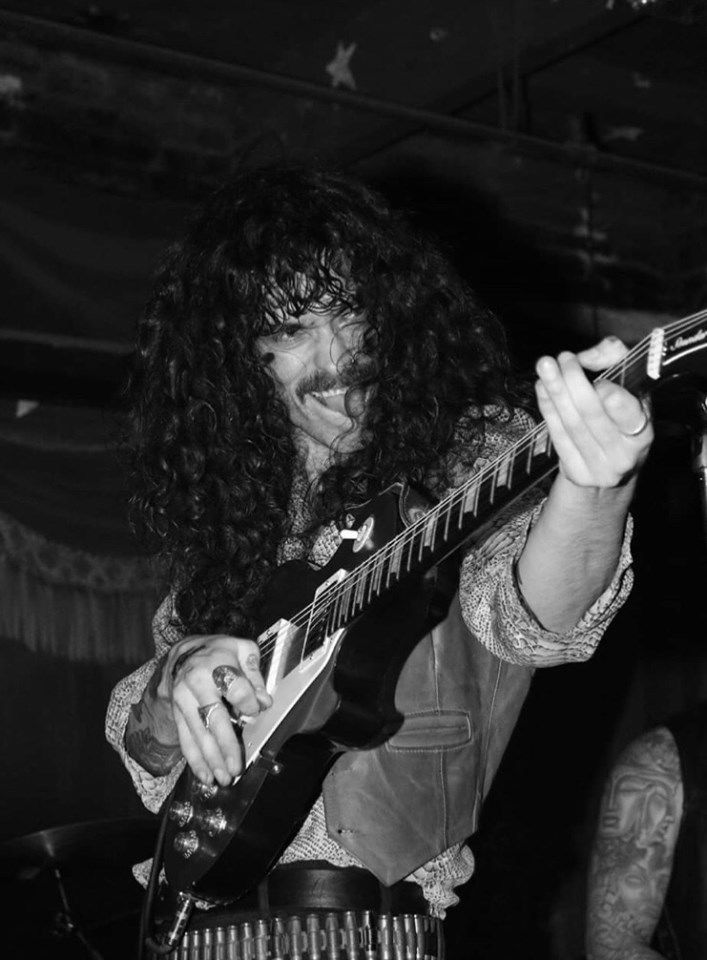 10. Tell us a few things about the New Underground Metal Scene in Providence, Rhode Island USA (Bands, Fanzines, Webzines, Metal Clubs etc.)
Providence, being a small city in the smallest state in the US, is a really close-knit metal community. The staple venue here being Dusk, Rick and Danielle bust their asses to bring some great shows through here. Occasionally the shop I work at will organize shows as well, usually at Dusk, AS220 or more recently the Columbus Theatre, which has been hosting Providence's NecronomiCON (HP Lovecraft Fest) music events for the past few years. Bands of mention here would be Churchburn, Witch King, Ancient Torment, Blessed Offal, Cyttorak and Way Out (not a metal band but certainly one worthy of your time).But being a small city, it seems only fair that I mention the New England metal community as a whole as we're all sort of intermingled and supportive of each other's efforts. In Worcester MA you have Ralph's Rock Diner which is one of my favorite venues period; Kevin and Josh both get great acts coming through there and I believe they're still both involved with Codex Obscurum fanzine. There are also some bigger venues such as Once Ballroom and the Sinclair, we unfortunately just lost Great Scott due to the Covid-19 pandemic. There's also Geno's Rock Club up in Portland ME.
Here's a list of bands by state that are certainly worth a spin:
MA- High Command, Crystal Dagger, Z28, Seax, Concilium
ME- Hessian, Imipolex, Apollyon, Lepra and Feral
NH- Reckless Force and Nightrider (pre-TV show band, old dudes that will still kick your ass!)
I also think a special shoutout to Carmine Blades of Seax and Matt Bower of Dead Rhetoric Magazine is deserved. Those two are probably the hardest working in the NE scene right now and I guarantee you'll see at least one or both of them at any given metal show around here.
11. Do you know anything about the Hellenic Metal Scene?
Besides Necromantia's Scarlet Evil Witching Black being a must in any self respecting metal heads rotation, and also being a big fan of early Rotting Christ and Varathron, I'm not super familiar. But I'm certainly open to suggestions!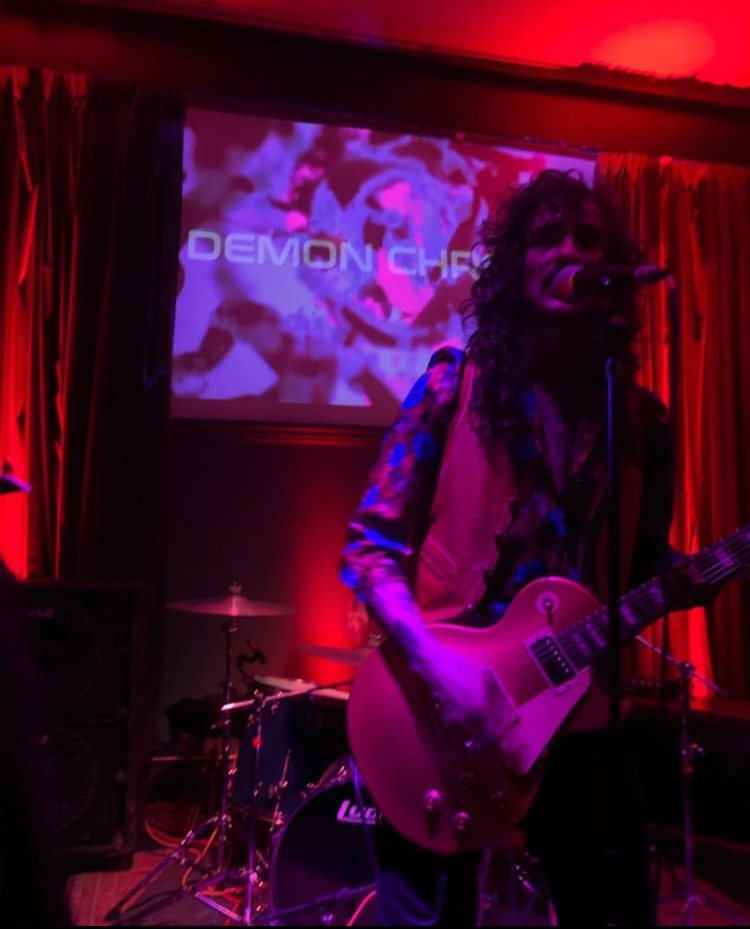 12. What are your future plans?
We're in the process of writing/recording our debut LP, like everyone else in the world Covid-19 has significantly altered our plans (we intended on releasing it this summer but at this rate I'll be happy with releasing it by the end of the year). After that, touring is the next goal, but we'll see when shows will start happening again. All the better to prepare a live 'show' for an unsuspecting audience.
13. Thank you very much for your time & Keep up the good work! The closure is yours.
Thanks to Stavros and Filthy Dogs of Metal for the interview! For those who want to keep up to date with us as to when the LP will be released or any related news you can follow us on instagram at demonchromepvd.For all those who oppose us, beware, for you'll never stop the Chrome Demon!
By Steve the Filthy Dog.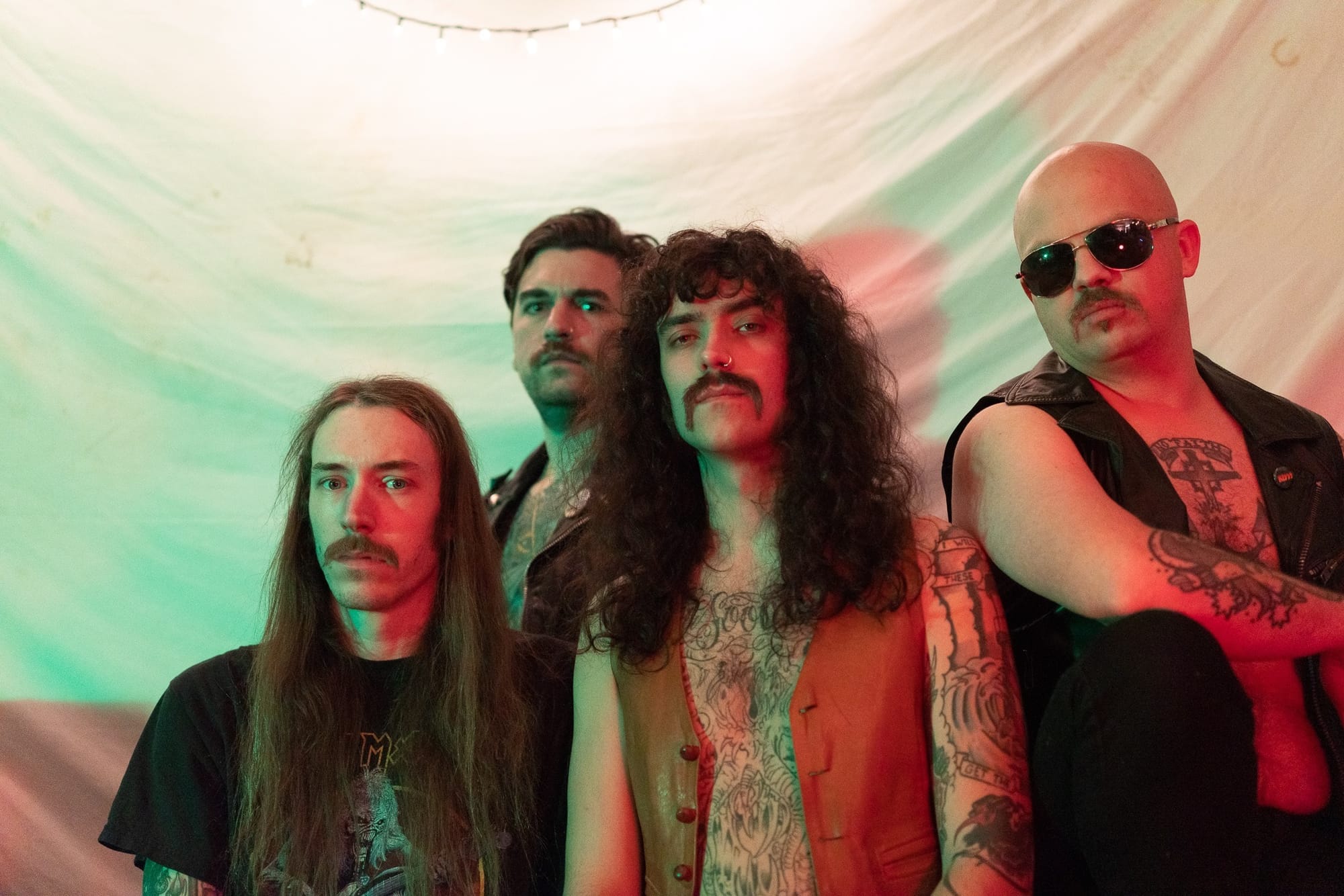 DEMON CHROME CONTACT:
https://demonchrome.bandcamp.com/
https://www.facebook.com/demonchromepvd/
https://www.instagram.com/demonchromepvd/
https://open.spotify.com/artist/6SvxazDv4svpTWAuNyY5Lf