!!!GERMAN HEAVY METAL!!!
Welcome to the FILTHY DOGS OF METAL Webzine.
Tell us a few things about DEJA VU (Members, Starting Year etc).
The origin of Deja Vu dates back to 1987 when Werner Kerscher and Timo Zach both saw the band Overkill on their very first European tour and the idea was born to form a heavy metal band. Back then, they only knew that a guitar had six strings and in an emergency, how to tune it. Werner recalls: "We didn't really care as long as it was loud and heavy". Next, they found capable bandmates with Stephan Moro on drums and Alfons Klostermaier on bass who were already dedicated and driven towards a life of metal. By early 1987, the band performed it's first gig at the Jugendzentrum in Bogen, Bavaria to a crowd of 150 frenetic, stage diving headbangers and it was the onset of a slightly thrashy approach to Deja Vu's early sound. Vocalist/Guitarist Werner Kerscher laid down his guitar to focus above all on his vocals as the band brought in the seminal Karl Heinz Semmelmann with his creative lead guitar technique that helped form the nucleus of Deja Vu's sound. In 1991 the band recorded the single "Sweet Cheat / Back to the City" which was limited to 500 copies and they wee swallowed up immediately. After countless gigs, the band began to lose it's perspective surrounded by an atmosphere declaring that metal was almost dead. Stephan Moro explains "there was mainly a lack of gigs" and the band members began sinking into their private trades to get by. In the winter of 2000, Werner, Timo and Stephan took of hold of their eternal metal flame and with an old friend of many years named Wolpo Wohlhaupter on bass, began their first reunion shows playing older material and it was received so well that the band decided in 2005 to return to the studio and write new material which resulted in the album "Bullets to Spare". Thanks to good reviews, this was followed up in 2008 with "Decibel Disease" and with each release the fanbase began to grow. The band's concert highlights include the 2007 Sword Brother Festival, 2009 Keep it True and Pounding Metal Festivals. The band continues to play various concerts including visits to Switzerland for such events as the Heavy X-mas and Rock im Zelt festivals which Stephan Moro organized. The absolute highlight of the band's touring history was without a doubt their 2010 appearance at the Basinfirefest in the Czech Republic where Deja Vu performing on the same bill which also include such influential metal giants as Testament, Venom and various others.
In 2017 you have released your album''Bullets Reloaded''. Have you prepared anything new since then?
Yes, of course. But this is top secret.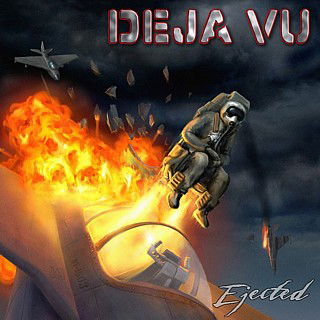 How did your cooperation with Inferno Records occur? What do you prefer, Label or DIY and why?
We prefer staying independent. So this represents the 80s spirit the best.
Do you prefer Vinyl, Tape, CD or Digital Format and why is that?
We prefer whatever serves the purpose. Vinyl is the old school format and will never disappear, but hands down digital formats are more practical to say the least.
Your music style is Heavy Metal. Which are your main influences (Favourite Artists / Bands etc.)
Hard to say. The usual suspects like Priest, Maiden, MSG etc.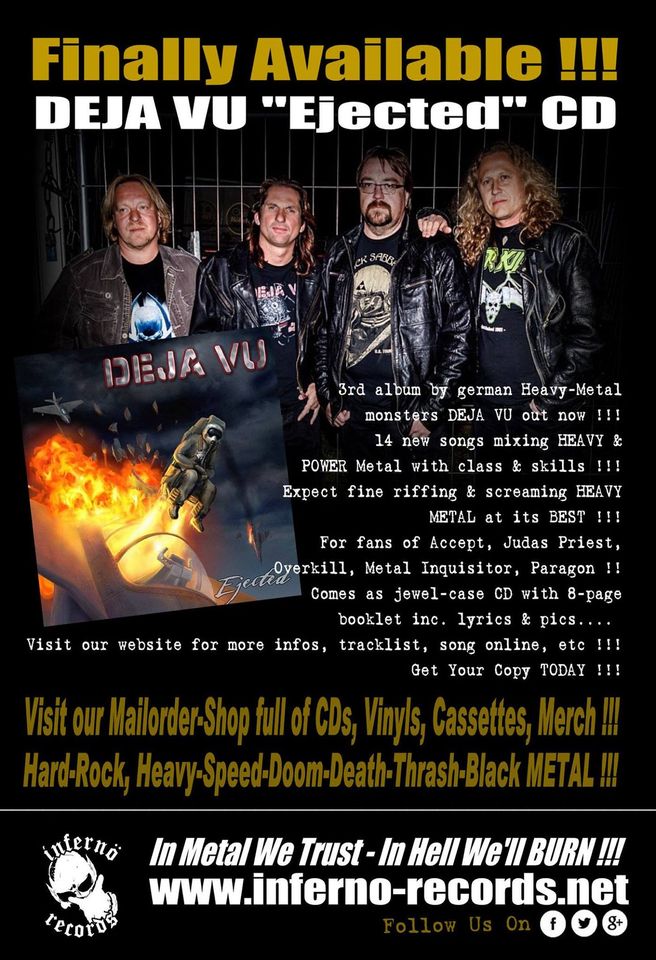 Which things, do you think, a Band should sacrifice in order to succeed? Have you ever sacrificed anything in your life for a better future of your Band?
If you think music can be nothing like a hobby, you are better off quitting.
Describe your ideal live show as a performance Band. Have you already experienced that?
The ideal show is when the front row is full of people and the beer is cooled.

Which attributes, do you think, that a new Heavy Metal Band should have in order to gain identity and be unique?
Don't care about what the people say or think. Do your thing and carpe diem!

Do you believe that Bandcamp and other Digital Platforms help the new Heavy Metal Bands? Which, do you think, is the ideal way for a Band to promote its work?
I don't know. I don't know any of the above mentioned platforms.
Tell us a few things about the New Underground Metal Scene in Germany (Bands, Fanzines, Webzines, Metal Clubs etc.)
Unfortunately I cannot tell you anything about it, since I am not interested in new bands and whatnot. I hardly listen to music myself except for some Van Halen recently. I am sure you know why?!

Do you know anything about the Hellenic Metal Scene?
Frankly spoken: No! But I'd like to!

What are your future plans?
This time around the most important thing is staying healthy. BTW you can't plan anything. These times are pretty uncertain.

Thank you very much for your time & Keep up the good work! The closure is yours.
We love you all!!!
By Steve the Filthy Dog.
DEJA VU CONTACT:
https://www.facebook.com/dejavumetal.de
https://soundcloud.com/deja-vu-official
https://www.inferno-records.net/
https://infernorecords.bandcamp.com/music