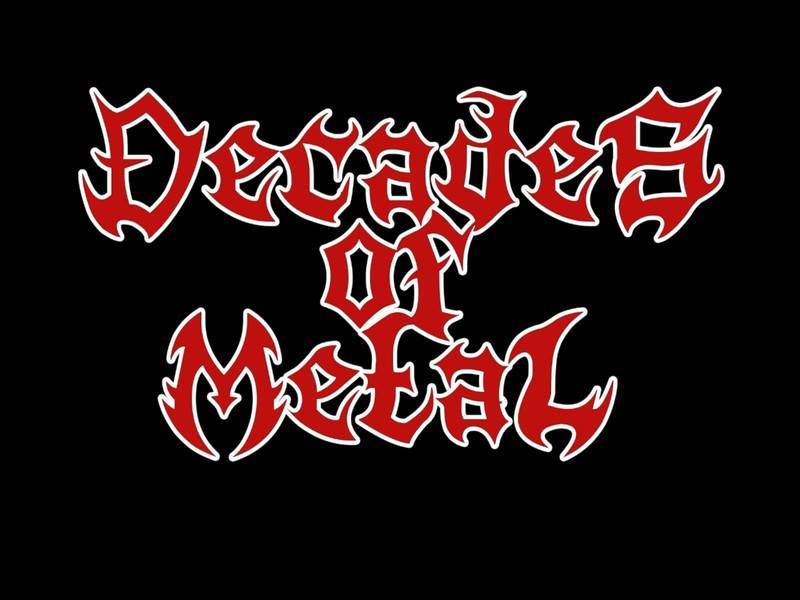 !!!BELGIAN HEAVY METAL!!!
We had a conversation with DECADES OF METAL. Enjoy!
Welcome to the FILTHY DOGS OF METAL Webzine.
1. Tell us a few things about DECADES OF METAL (Members, Starting Year etc).
We started somewhere in the year 2014-2015, when we had only 3 band members: (Bert) on vocals, (Miguel) on drums and (Kitte) on guitar. Then (after quite a long while of just jamming) a 2nd guitarist, Robin joined us and the bass player Sven some time later. Miguel had to leave us due to back problems and Sven left the band as well(because of having too little spare time due to weekend work and still playing bass with another band, called Enchantress). We took Chevy (as the youngest band member) under our wings :-) Patrick joined as the new bass wizard. Short after, we had to search a new rehearsal room because the house we could use for free was sold. As a result, we now rehearse on the attic of another band member. Robin (who also does the guitar (solo) work on the Midnight Sky album) also left us, because of similar reasons as Sven: too little spare time and other playing duties, at Eternal Breath. Jen joined us, and we were once again a complete band.
2. You have recently released your demo "Midnight Sky." What is the Feedback from your audience as well as from the Press?
The reactions we received about our demo were surprisingly good from both friends and strangers. We are very happy with the support we received.
3. Label or DIY and why?
As a starting band, we chose to release the album ourselves. That way we can go our own way and have less obligations. We can do exactly what we want to do, at our own pace.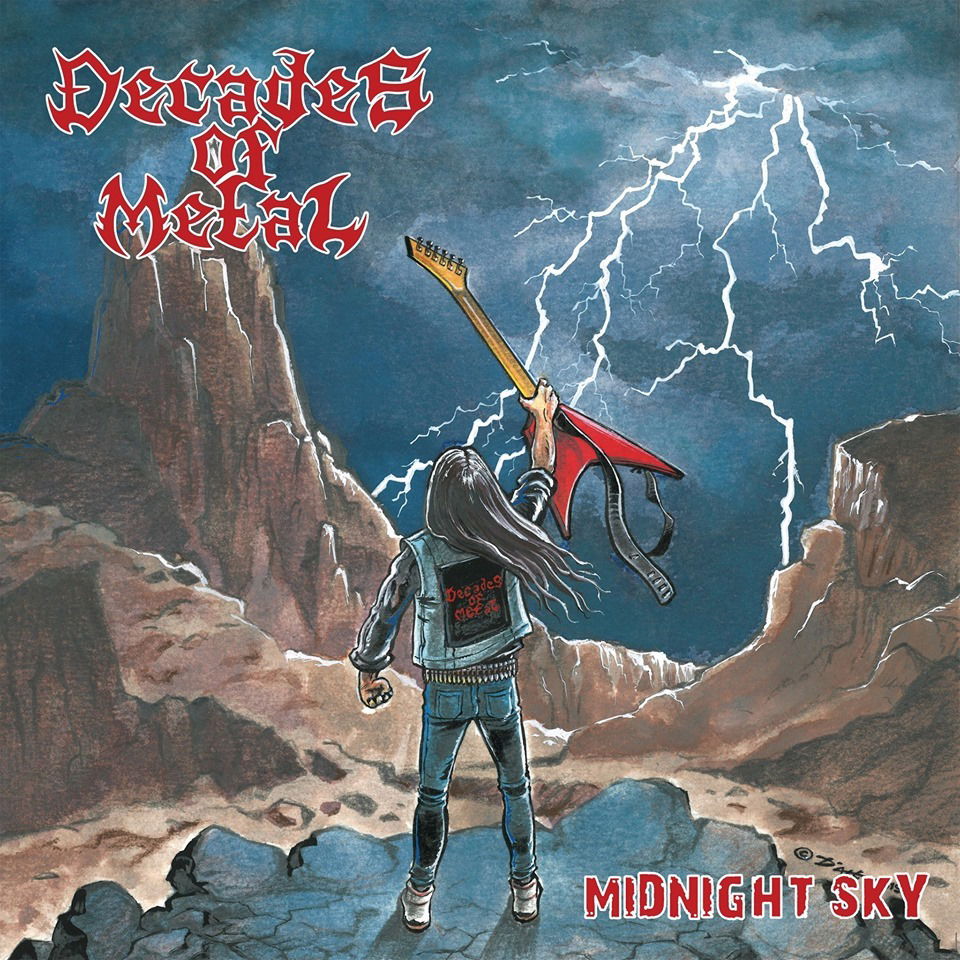 4. Do you prefer Vinyl, Tape, CD or Digital Format and why is that?
Kitte: I still prefer vinyl. I am a collector of Vinyl and grew up with it (Vinyl is here to stay and will never die :-)) I also still have cassettes (demos) from the 80s in my collection. And of course you have to keep up with the times and CDs are also included. But if a certain band, which I like, releases a CD and a vinyl, then I still prefer vinyl. And vinyl is on a comeback :-)
5. Your music style is Heavy Metal. Which are your main influences (Favorite Artists / Bands etc.)
Our influences are from the 80's period, Hard Rock/Heavy Metal/NWOBHM/Speed Metal etc. Picking a favourite is hard, as so many brilliant records were released in this period.
6. Which things, do you think, a Band should sacrifice in order to succeed?
Have you ever sacrificed anything in your life for a better future or your band?
Kitte: To be honest, I prefer to let everything go its own way. Because pushing your own band towards people usually gives the wrong effect. If people like your music, they will buy it. Obliging people to listen or buy your own CD will put people off. So giving up something to gain traction does not really make much sense at the moment. (We only have 1 demo at the moment). On the road to stardom, it makes sense to give up some things (due to performing abroad, spending more time on the road, more rehearsals, more and better songs, etc.). But that is a long way from here.
7. Describe your ideal live show as a performance Band. Have you already experienced that?
We have had the pleasure of supporting Manilla Road and Tytan (UK). And as 80's metal lovers that was/is of course a great honour. We also supported bands like Freak Kitchen (Swe), Martyr (NL) Killler (BE), Iron Mask (BE), Eternal Breath (BE), Deafcon (BE) and Enchantress (BE), to name a few.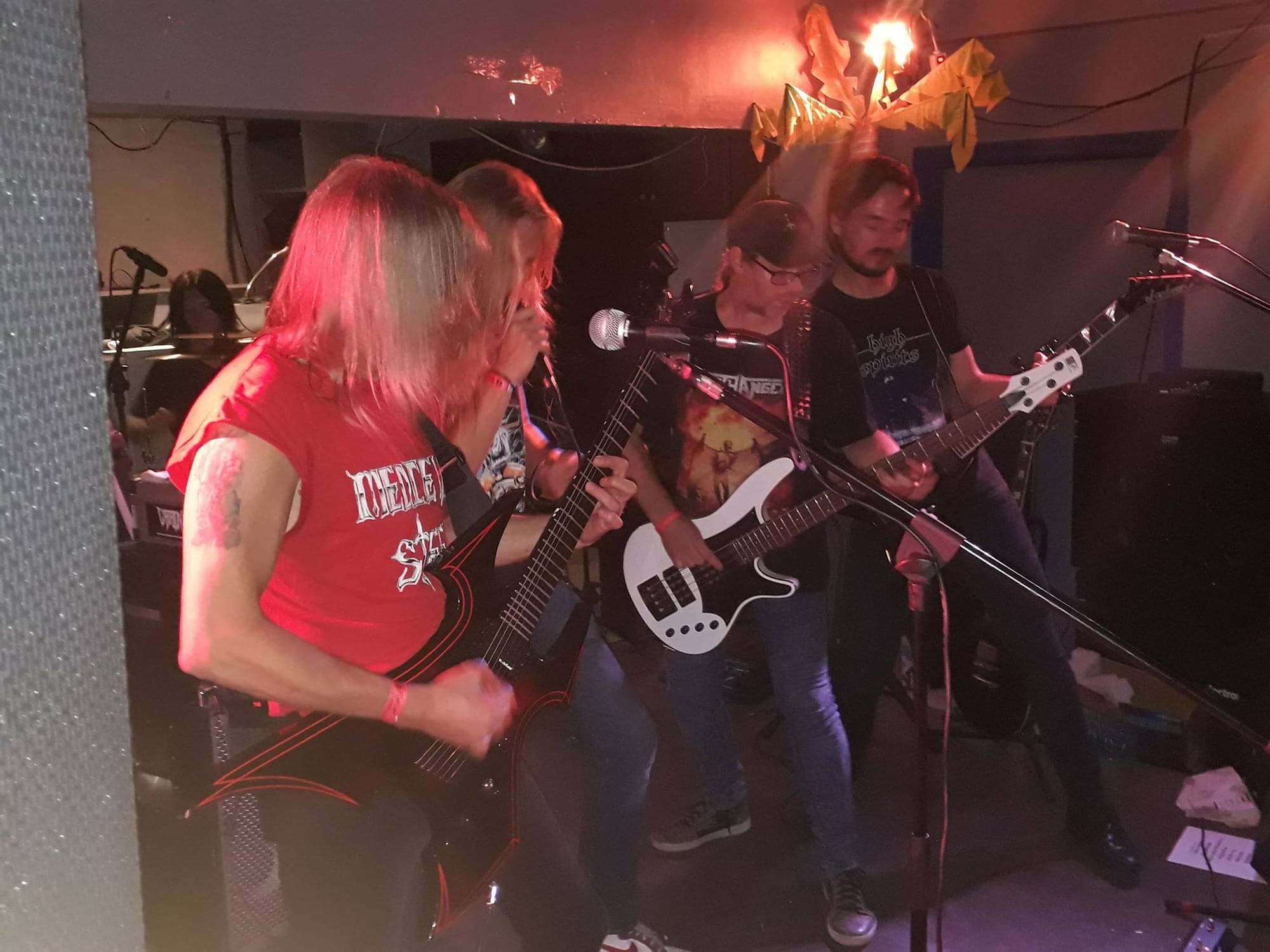 8. Which attributes, do you think, that a new Heavy Metal Band should be in order to gain identity and be unique?
To be unique and 'special', is certainly NOT our goal. Our aim is to revive the old school metal and to honour the founders of metal. That's in our opinion, where the best metal came from. There are enough subgenres, so that the 80's Heavy Metal is skewed by the "non-connoisseurs" (read NU-Metal etc ..) there are already too many subgenres and bands that want to release their own sound, style, etc. We feel like it is never ending, and in the end it does no longer reflect classic heavy metal, which we certainly should not neglect. We thank the younger generation that is brining back the New Wave of Traditional Metal.
9. Do you believe that Bandcamp and other Digital Platforms help the new Heavy Metal Bands? Which, do you think, is the ideal way for a Band to promote its work?
Promotion is always allowed and is certainly good. But as I said, pushing is never good. But Youtube, Bandcamp etc is always good to promote your band. The listener can therefore decide for himself if a purchase should be made.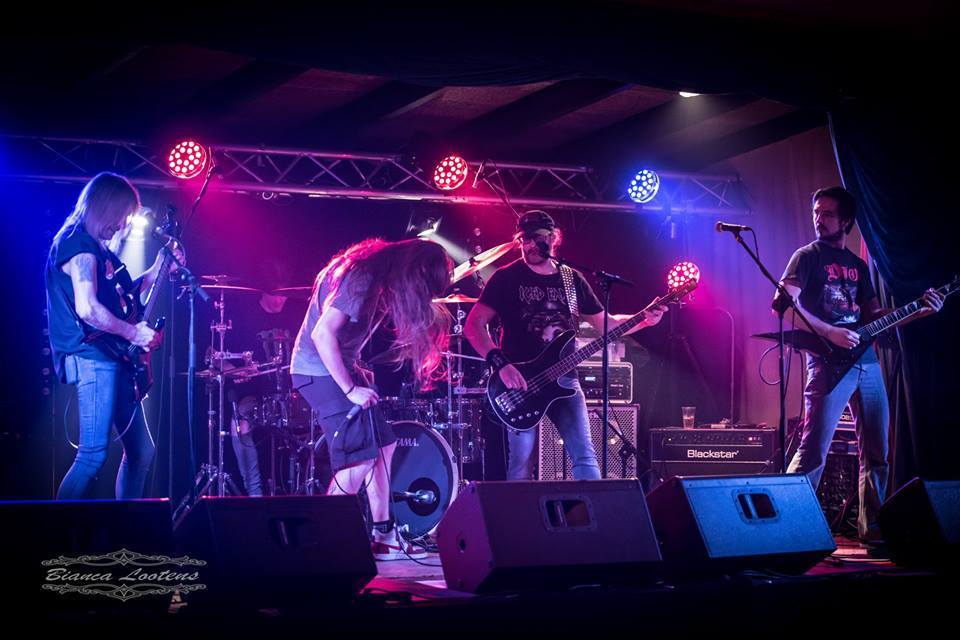 10. Tell us a few things about the underground Metal Scene in Belgium (Bands, Fanzines, Webzines, Metal Clubs etc.)
In the 80s there were (and some are still active) very good bands in Belgium such as Acid, Crossfire, Bad Lizzard, Buzzard, Cyclone, Evil Sinner, FN Guns, Killer, Scavenger, Trial, Ostrogoth, Steelover, Thunderfire, Warhead, etc. Actually too many to mention here. And luckily newer bands are joining the scene, such as Dyscordia, Ethernal Breath, Speed Queen, Enchantress, Violent Sin, Evil Invaders, Deafcon, WildHeart, Phoenix Rebellion, Severdhed, Shocker, Guilty As Charged, Ironborn, etc. There were also some Fanzines in Belgium (Metallian was one of the best in Belgium at the time), also Metallised, Metal warriors and Orkaan were also good. But a few others sometimes did not get any further than 5 editions. But the better work came from our northern neighbors: Aardschok rom the Netherlands. Our French neighbours had Enfer Magazine. As for Metal Clubs, unfortunately, there are less than before. But definitely worth mentioning are music cafes 'Den Elpee', 'Den Deugniet', 'Den Drummer', 'Asgaard', 'The Crossover', 'De kreun', and of course, the local 'Blast From the Past' festival!!!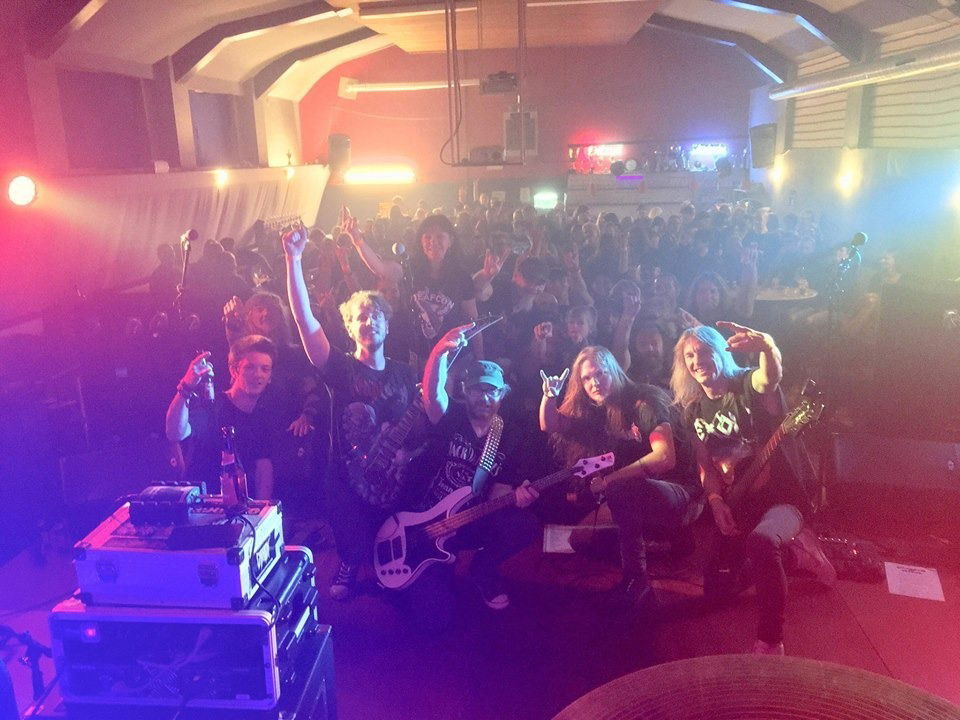 11. Do you know anything about the Hellenic Metal Scene?
80's bands like Vice Human, Crush (again active and by the way to be seen on keep it true fest. 2021) Spitfire, Nigel Foxxe's Inc., Vavel, Rust. Etc ... remain good LPs. And of course the contemporary bands like Emerald sun, Wardrum, Warrior Path, Sarissa, Wrathblade, Saboter, Achelous, Dexter Ward, Rotting Christ. Etc. .... We're glad there are so many good bands from Greece. And of course we cannot forget the Greek "No Remorse Records". Where we can still order our 80s and NWOTHM CDs / LPs. (Thanks No Remorse Records!)
12. What are your future plans?
We hope to release a full CD in the coming years and for more fame, perhaps do some touring outside of Belgium. Let's see what the future brings. As long as the metal lovers like our music we're happy.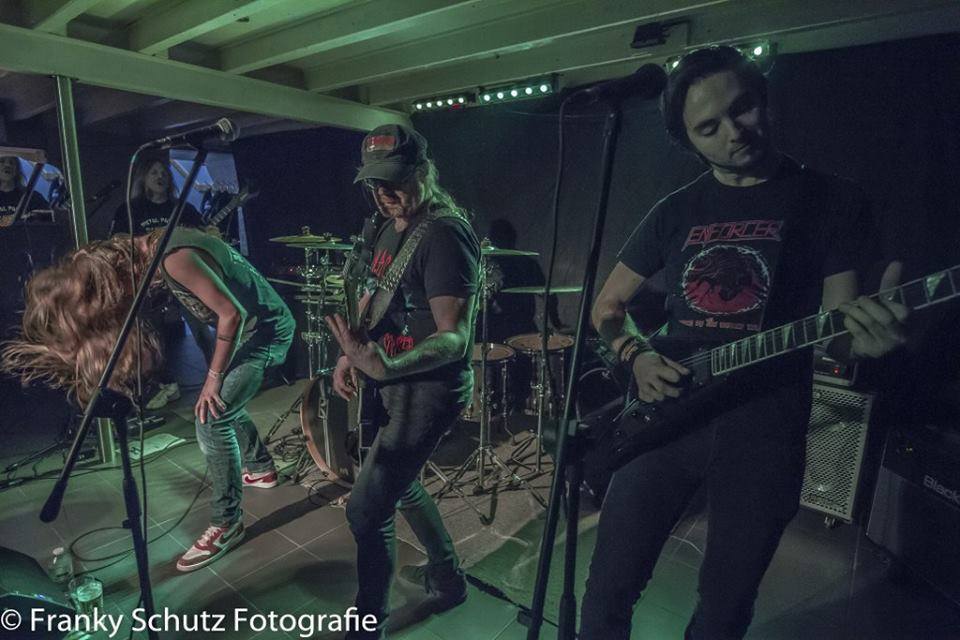 13. Thank you very much for your time & Keep up the good work! The closure is yours.
Thanks Filthy dogs of metal for this interview and all metalheads around the world to continue to believe in good music and everyone who believes in us, thank you very much for the support.
By Steve the Filthy Dog.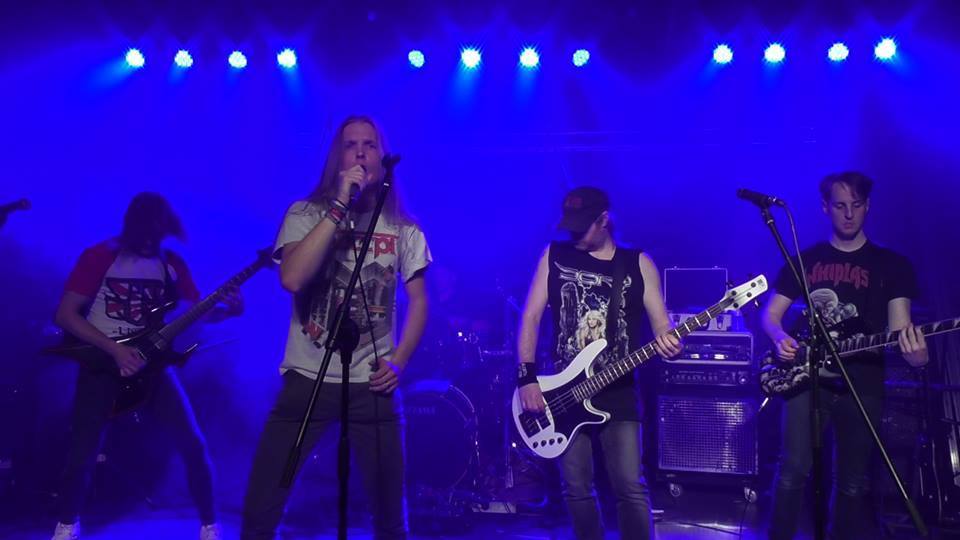 DECADES OF METAL CONTACT:
https://www.facebook.com/decadesofmetal/
https://store.cdbaby.com/cd/decadesofmetal