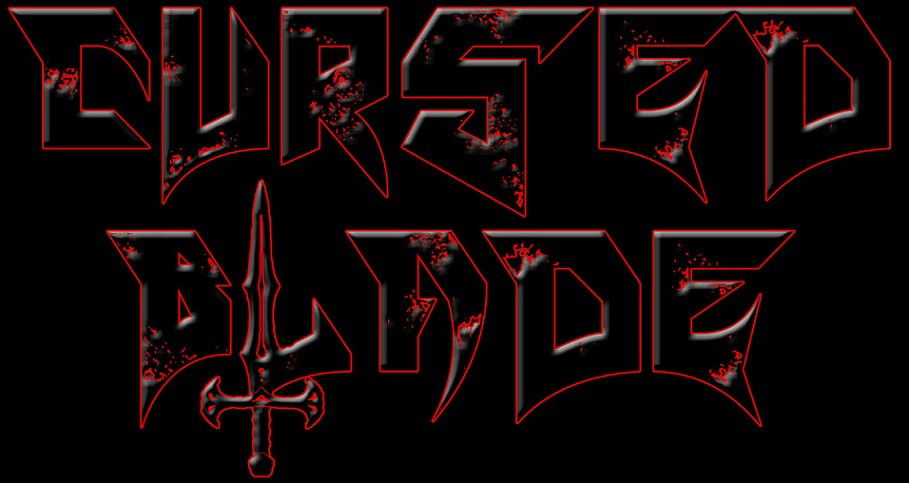 Welcome to the FILTHY DOGS OF METAL Webzine.
1. Tell us a few things about CURSED BLADE (Members, Starting Year etc).
Our members are Ty Winslow - vocals, Ricardo Hernandez - bass/vocals, Chris Owens - guitar/vocals, Andy Hassing - guitar/vocals, Sara Hassing - drums

We formed in the summer and fall of 2019. Ty wanted to start a Traditional Heavy Metal band. Sara and Andy showed interest, and they started jamming together and writing songs. After some weeks of searching for the right people to fill out the line-up, Ricardo agreed to join the band on bass, who also plays in Burning Giant with Sara and Andy. The band continued to work on material while searching for a second guitar player, and eventually Chris Owens showed his interest and he hit the ground running and picked up the band's songs quickly. The band came into 2020 with the goal of recording and releasing a demo and preparing enough material to start playing shows. Right now, our first show on the books is June 27, but we hope to possibly book something sooner.
2. You have recently released your demo ''Cursed Demo''. What is the Feedback from your audience as well as from the Press?
So far, the response has been great. The release of the demo is really the first time anyone has heard us, and we have yet to play a show.
3. Label or DIY and why?
Right now, we are DIY because we are really a brand new band. We're all quite experienced playing music, but none of us really have a resume with traditional metal.
4. Do you prefer Vinyl, Tape, CD or Digital Format and why is that?
We enjoy all formats. Every format has it's benefits and drawbacks, so we don't discriminate. We would love to be lucky enough to release a full length or EP on all of those formats in the future.
5. Your music style is Heavy Metal. Which are your main influences (Favourite Artists / Bands etc.)
We're all big fans of all kinds of metal and rock. Specifically for this band though: Judas Priest, Iron Maiden, Black Sabbath, Dio, Mercyful Fate/King Diamond, Accept, Scorpions, Manowar, Exciter, Megadeth, Metallica, Anthrax, Slayer, Metal Church, Sanctuary, 3 Inches of Blood, In Solitude, our friends Throne of Iron. I could definitely go on, but that seems like a solid list.
6. Which things, do you think, a Band should sacrifice in order to succeed?
Probably the biggest sacrifices are time and effort. You have to be willing to put in the work and make time to write, practice, rehearse, and deal with the business side of things.
Have you ever sacrificed anything in your life for a better future of your Band?
I think we've all sacrificed little things, like going to social gatherings, due to shows or rehearsals. Money too haha. Probably our careers outside of music too, because we need jobs that allow us to make music and play live.
7. Describe your ideal live show as a performance Band. Have you already experienced that?
We've yet to play a live show in this band, but we all have been playing in other bands for years. Ideally, the sound would be amazing both on stage and for the crowd. Playing a sold out room is always ideal too, haha, as well as the entire band playing and performing near perfect. Easy load in and load out, and maybe even a green room! Lots of merch sales, and just everyone having a great time.
8. Which attributes, do you think, that a new Heavy Metal Band should have in order to gain identity and be unique?
It's hard to say. Writing solid songs and embracing anything that makes your sound unique is a great foundation. Also have a visual look or style and energetic performance helps a lot too. Don't chase trends.
9. Do you believe that Bandcamp and other Digital Platforms help the new Heavy Metal Bands?
I do think they help. We put our demo on Bandcamp, and it kind of blew up. Then NWOTHM Full Albums put it on their YouTube page and got it into more ears. We really didn't expect to get that much attention so quickly.
Which, do you think, is the ideal way for a Band to promote its work?
None of us really have a background in marketing, so it's hard to say. Really anything that gets the most people to hear your music. A good social media presence helps a lot. People like to see and interact with bands. Having PR also makes a huge difference, but that costs money. Getting out and playing shows, attending shows, supporting fellow artists, and making connections with people really goes a long way too.
10. Tell us a few things about the New Underground Metal Scene in Indianapolis, Indiana USA (Bands, Fanzines, Webzines, Metal Clubs etc.)
Indy Metal Vault is our local webzine. I have some friends that contribute to it. It's a pretty small community, but there are a lot of bands (including some in smaller cities near Indianapolis). The Gates of Slumber, Apostle of Solitude, Devil to Pay, Sacred Leather, Throne of Iron, Burning Giant, G I LL, Lavaborne, Obscene, Shroud of Vulture, Summon the Destroyer, Demericous, Tusk, Charonyx, Mask of Sanity, Inferno Sunn, Void King, Hatesong, Lucifist, Truus and I'm very confident there are plenty I'm missing.The key venues are Black Circle Brewing Company, State Street Pub, Healer, and The Melody Inn. The audiences are usually fairly modest in size, but most people are easy going. Shows don't typically get too wild, but we have fun. I personally feel like we have a lot of good musicians and bands in our area, but Indianapolis isn't exactly a city that many people think of as a musical place, unfortunately. And it seems more and more difficult to get audiences to show up for local talent, unless you get a chance to open for a popular touring act.
11. Do you know anything about the Hellenic Metal Scene?
We don't know much. We're friends with Throne of Iron are on No Remorse Records and were set to play Up the Hammers Festival before that got cancelled due to Covid-19. It seems like the scene is energetic and strong, but we're not that familiar with it.
12. What are your future plans?
At this point, we just hope to be able to play some shows this year and maybe get some chances to play outside our hometown. We all enjoy playing live shows. Of course, we'd also like to record an album (or even a few) with professional production.
13. Thank you very much for your time & Keep up the good work! The closure is yours.
Thank you very much for being interested in interviewing us! As I write this, the Covid-19 situation is happening, so I wish everyone good health and hope Cursed Blade gets to bring you more heavy metal in the near future.
By Steve the Filthy Dog.
CURSED BLADE CONTACT:
https://cursedblade.bandcamp.com/releases
https://www.facebook.com/CursedBladeBand/