!!!US HEAVY METAL!!!
We had a conversation with Brian (Bass). Enjoy!
Welcome to the FILTHY DOGS OF METAL Webzine.
1. Tell us a few things about COFFIN HUNTERS (Members, Starting Year etc).
Hey, Coffin Hunters began in early 2016 when Sweden (guitar) and Jorge (drums) were jamming together. They were high school friends and looking to start a project together. I (Brian - Bass) was living with Sweden and followed shortly thereafter. We played instrumentally for a few months before asking our friend Sean to sing. With that lineup we went into the studio at Prairie Sun in Cotati and did our EP in 2018.
2. In 2019 you released your album ''The Fire Knight''. What was the feedback from your audience as well as from the press?
So far we have had some pretty positive feedback. The shows we have played always seem to get a good reaction. Most importantly there are a couple of like minded bands in the local area, and throughout California, that have given us opening spots on their bills and that is the best feedback we've gotten so far. It means a lot to know that other musicians have taken notice of what we are doing.
3. Label or DIY and why?
Right now we are DIY for a number of reasons. 1- It's easier to make decisions on what we want to do based on band members ideas and input and no one else's, 2- As far as distribution goes we are able to release our stuff on digital and streaming platforms with out label support, and finally because we haven't met the right label to help us distribute yet, so labels if you're reading this, hit us up!
4. Do you prefer Vinyl, Tape, CD or Digital Format and why is that?
As a collector of vinyl and CD's I prefer both of those formats. CD's are the easiest to get ahold of and to pass around, and vinyl is so fun to have and to hold and to connect with. But most of our distribution is though digital streaming and downloading, which makes it easy for people across the globe to access it.
5. Your music style is Heavy Metal. Which are your main influences (Favourite Artists / Bands etc.)
This is always a hard question to answer, and I can only speak for myself, but I would say the classics like Sabbath, Maiden, Priest, Dio, Rush, Thin Lizzy, Deep Purple, Metallica and so on. We love what our friends in Hell Fire and Haunt are doing too. And we have a love for other stuff too, at any given time someone is listening to classical stuff, or hair metal, or classic rock.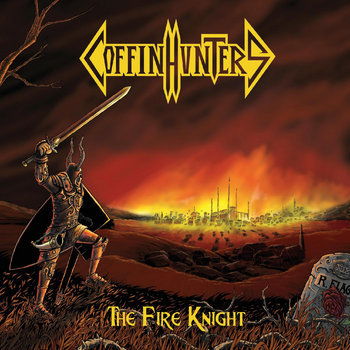 6. Which things, do you think, a Band should sacrifice in order to succeed? Have you ever sacrificed anything in your life for a better future of your Band?
If you really want a band to succeed I think it takes sacrificing a lot of time, effort, and the skin on your fingertips! To make it as a band today, especially unsigned, I think it takes so much passion and willingness to make sacrifices in service of the music, without expecting anything in return except what you've created. We all make sacrifices. All of us have day jobs (you have to in order to live in California), and we still show up to practice for hours a week. Its tough when people have jobs and families and lives outside of the band, but bare minimum I think it takes sacrificing time. Music is always fin, sometimes there's a part that's frustrating or something, and it takes sacrifice to put the time and effort in.
7. Describe your ideal live show as a performance Band. Have you already experienced that?
Ideal live show would mean there is a functioning PA with a sound dude doing separate monitor mixes for each band member, an energetic crowd, and some other awesome bands on the bill. After that, its all icing on the cake. We're not especially motivated by anything else. We wanna rock and we wanna hang out with rockers and play with other awesome bands. Having a good PA really makes a huge difference for us, and if we get drink tickets, or paid, after playing, then we are pretty happy.
Every performance we've played so far has been special in its own way, but I don't think we've played our ideal show just yet. Though we just played a pretty awesome gig in Fresno with Haunt and Fortress!
8. Which attributes, do you think, that a new Heavy Metal Band should have in order to gain identity and be unique?
I think it's all about the riffs. Everyone can wear the right t-shirt, have the fancy gear, or be provocative and extreme, but if the riffs aren't there, who cares? I think the music and lyrics should speak for itself, followed by performance and imagery. And not just musicianship, because there are certainly some amazing musicians out there, but we are really focused on a feel and an emotional connection to the riffs, rather than just playing fast or knowing cool tricks. Otherwise, there's not a lot of unique things about us, our logo and sound isn't that unique, but the riffs are!
9. Do you believe that Bandcamp and other Digital Platforms help the new Heavy Metal Bands? Which, do you think, is the ideal way for a Band to promote its work?
We haven't embraced BandCamp and all that as well as we probably should. It takes a lot more time and effort to manage those pages and keep up with communication and posts and shipping out merchandise than one might imagine. Overall I think those platforms are great though, they help us spread our music around without relying on labels. There's a great international's community of fans that we are able to connect with through social media and such that we wouldn't have if it weren't there. Honestly, the best way to promote your band is probably through playing live. That or you have to be a keyboard warrior sending e-mails and texts, and social media posts constantly. A balance between the 2 is likely the best promotional work one could do.
10. Tell us a few things about the New Underground Metal Scene in Sonoma County, California USA (Bands, Fanzines, Webzines, Metal Clubs etc.)
So there are some seriously awesome bands coming out of Sonoma. Some friends that have helped us out are Lord Mountain, Incredulous, Treccelence, Deer Lord, Mournful Cries, Scythe, and Space Vacation. Our new drummer played with URSA and Cormorant. There are some great punk bands too- M Section and Moon Sick.
We play where we can, but lately its been 3 Disciples in Santa Rosa, or the Arlene Francis Center. The Phoenix Theatre is the big local spot where touring bands come through, and its super DIY and a great part of the community.
11. Do you know anything about the Hellenic Metal Scene?

Hellenic, like Greek? Unfortunately I do not, but I wouldn't put it past some of the other band members. Together I think we could go toe to toe with just about anybody on heavy metal knowledge.
12. What are your future plans?
We are in the process of getting our new drummer up to snuff, and then its on to the studio. We may do another EP, maybe a split, or just go right into a new LP. As of now we have 4 tracks ready to go, so I think the next plan is to make new music, play some shows, and continue celebrating Heavy Metal in all of its glory!
13. Thank you very much for your time & Keep up the good work! The closure is yours.
Thanks so much for reaching out and for your time. Please find us on Facebook, Instagram, Bandcamp, and Spotify!! And of course, hail to the Coffin Lord!!!
By Steve the Filthy Dog.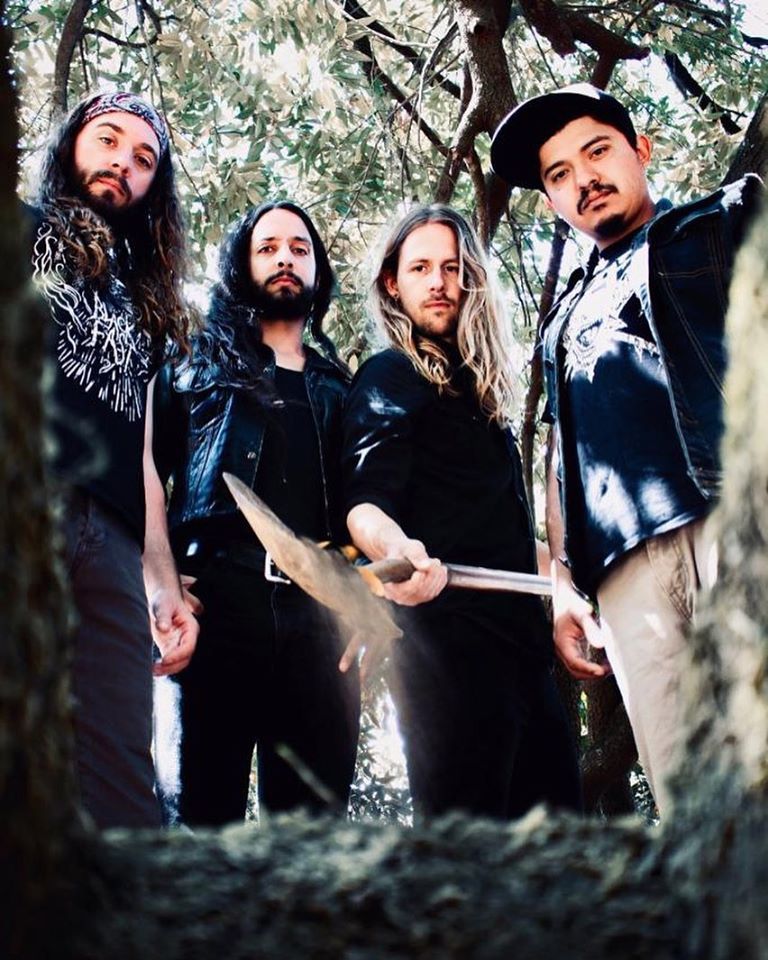 COFFIN HUNTERS CONTACT:
https://coffinhunters1.bandcamp.com/
https://www.facebook.com/coffinhunters/