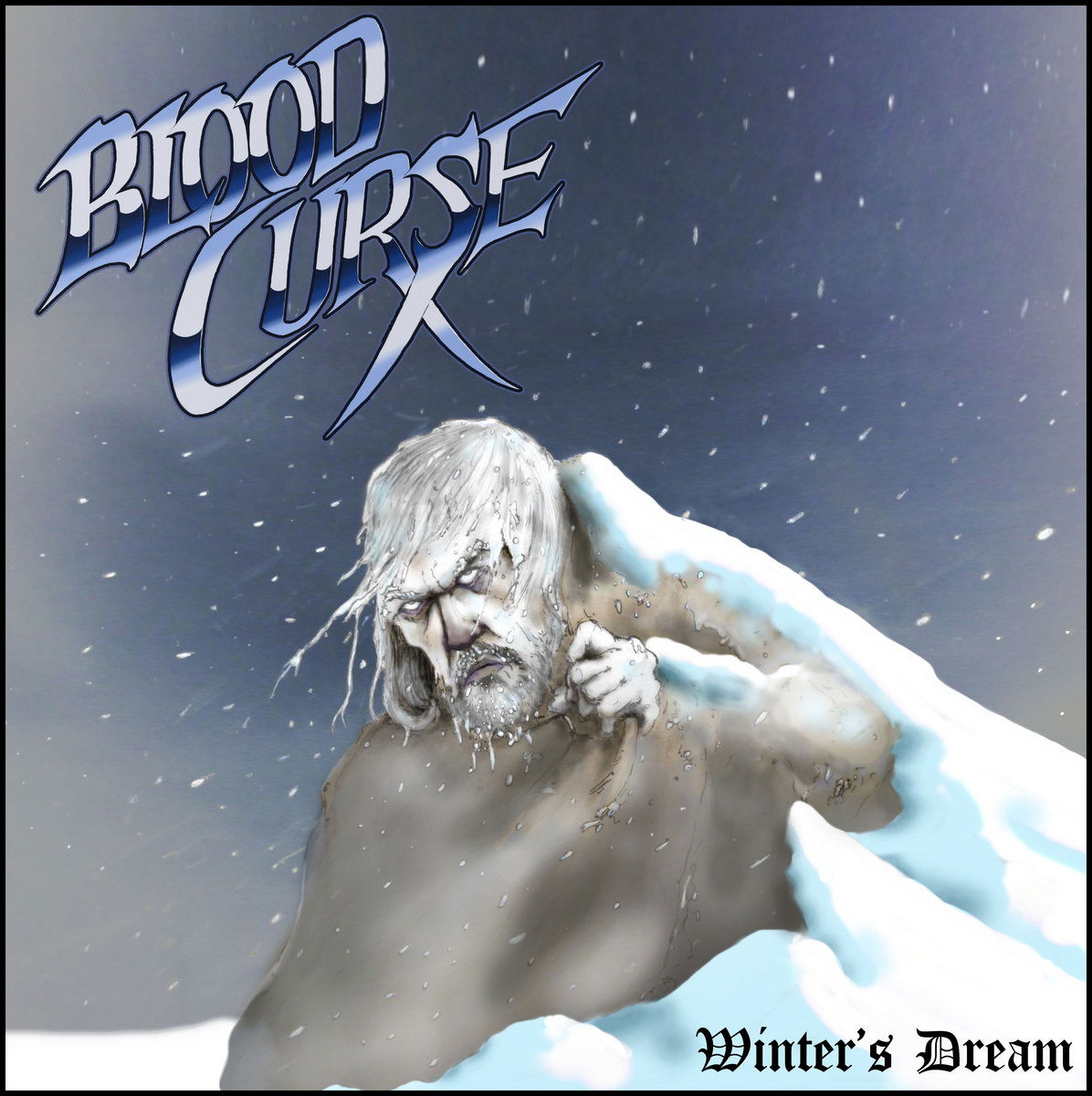 !!!HEAVY METAL FROM THE USA!!!
We had a conversation with Aaron Franks. Enjoy!
Welcome to the FILTHY DOGS OF METAL Webzine.
Hey, Thanks for having me!

Tell us a few things about BLOOD CURSE (Members, Starting Year etc).
Blood Curse started in 2016 with me on Vocals and Guitar, my wife Olivia Franks on Drums, and Micah Young on bass and backing vocals. We had a second guitarist, George Graas, for a little while, but we went separate ways due to clashing playing styles and egos. Micah quit the band a month before we recorded our debut album, "Sorceress," in 2018 and Scott Briggs, who produced our debut, joined the band in March of 2018 and it has been a really solid line up since then.

You have recently released your single ''Winter's Dream''. What is the feedback from your audience as well as from the press?
So far, the fan feedback has been great. Everyone seems to like new song and Witchfinder General cover and are hungry for the next album. As far as press feedback goes, we haven't received any yet. If there are any reviews, I haven't been made aware of them at the moment.
Label or DIY and why?
Both. We've worked with Stormspell Records and Witchcraft Records in the past and both experience were great. We would love to work with a bigger label for the next full length, but for this single we're just going DIY. We have our own cassette label called Witch Pyre Records that we re-released our debut on after the Witchcraft Records pressing sold out and we plan to do a small run of "Winter's Dream" tapes soon. We like the promotion a label gives, but having full creative control over a release is much better to me.
Do you prefer Vinyl, Tape, CD or Digital Format and why is that?
As far as listening I prefer Vinyl. We haven't been able to release anything on vinyl yet, unfortunately, but hope to get the next album on wax for everyone. Vinyl is a more hands on listening experience. You have to dedicate time to listen to an album on vinyl. You throw it on the turntable and sit and stare at the art or the lyrics and immerse yourself in the music.
Your music style is Heavy Metal. Which are your main influences (Favourite Artists / Bands etc.)
I love so many different bands. I've been a huge Metallica fan since birth. When I was a kid, I would listen to my parents cassettes and got hooked on 80's metal and 90's grunge at an early age. Then when the internet got bigger, I found the NWOBHM. Angel Witch and Witchfinder General are two of my favorite bands of all time. I even own a bass the Phil Cope from WFG used to use in a country band he was in before WFG. As a teen, I was super into Punk and Thrash and found bands like Kreator, Destruction, Charged G.B.H., Black Flag, Exodus, etc. I also love the American Power Metal bands of the 80's like Savatage, Vicious Rumors, and Fates Warning. I think with Blood Curse, we try to blend everything we love together. It just comes out sounding more like Traditional Heavy Metal than anything else.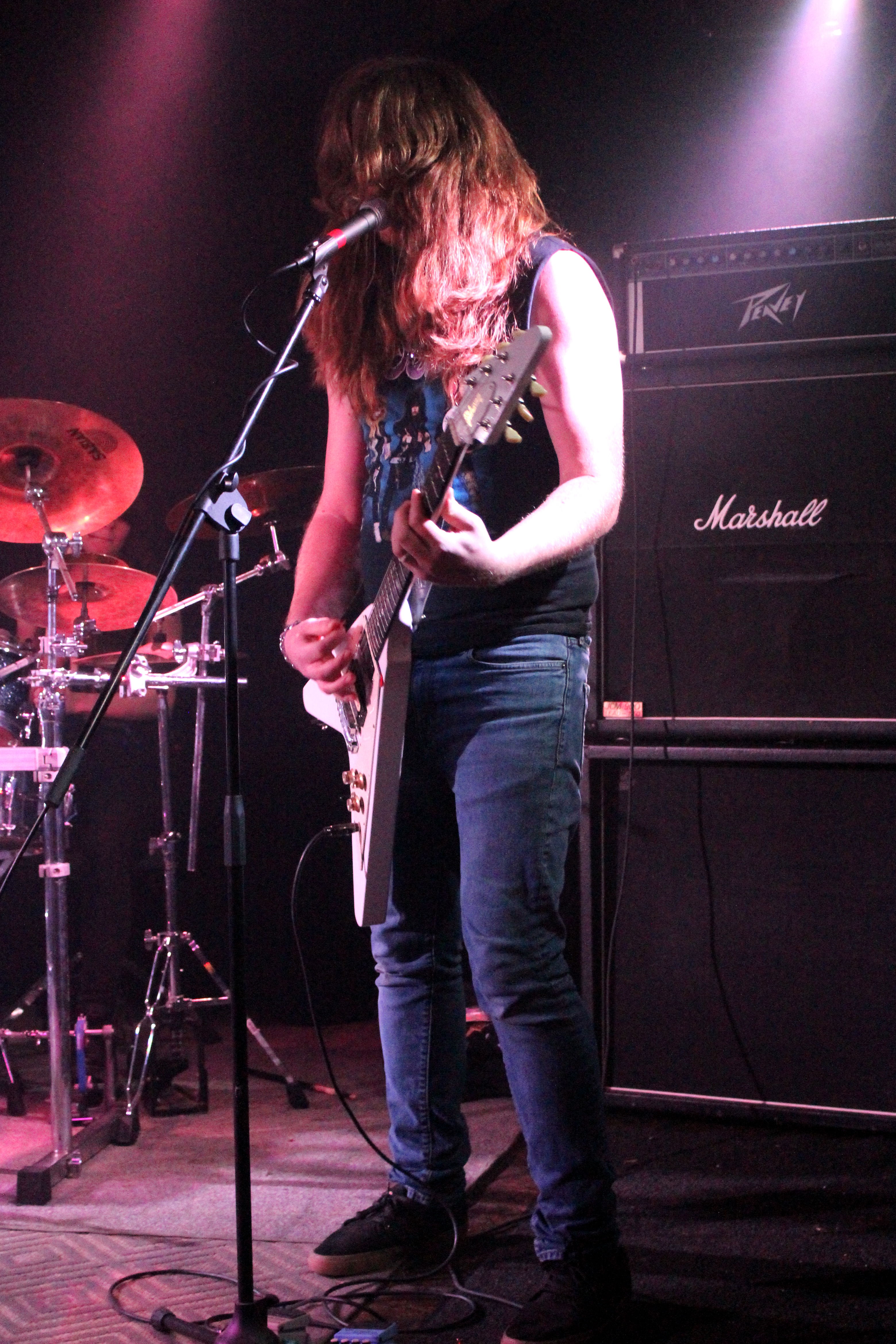 Which things, do you think, a Band should sacrifice in order to succeed?
Have you ever sacrificed anything in your life for a better future of your Band?
Maybe sacrifice your social life just enough to keep a good practice schedule going. You might be the coolest guy in the local bars and clubs, but if you cant play, you're not going to get anywhere. As far as my own sacrifices, I could've been a licensed electrician when I got out of High School, but I thought my crappy high school thrash band was gonna make it big so I didn't go through with it. Blood Curse is making up for that now, though. Being an electrician would have paid a lot better, but my love for Heavy Metal was stronger than my want for money. Haha.
Describe your ideal live show as a performance Band. Have you already experienced that?
We have played a lot of awesome shows, but I have always wanted to play some of the amazing European Metal festivals like Keep It True and Up The Hammers. I'd love to play a gig with Angel Witch or Cauldron.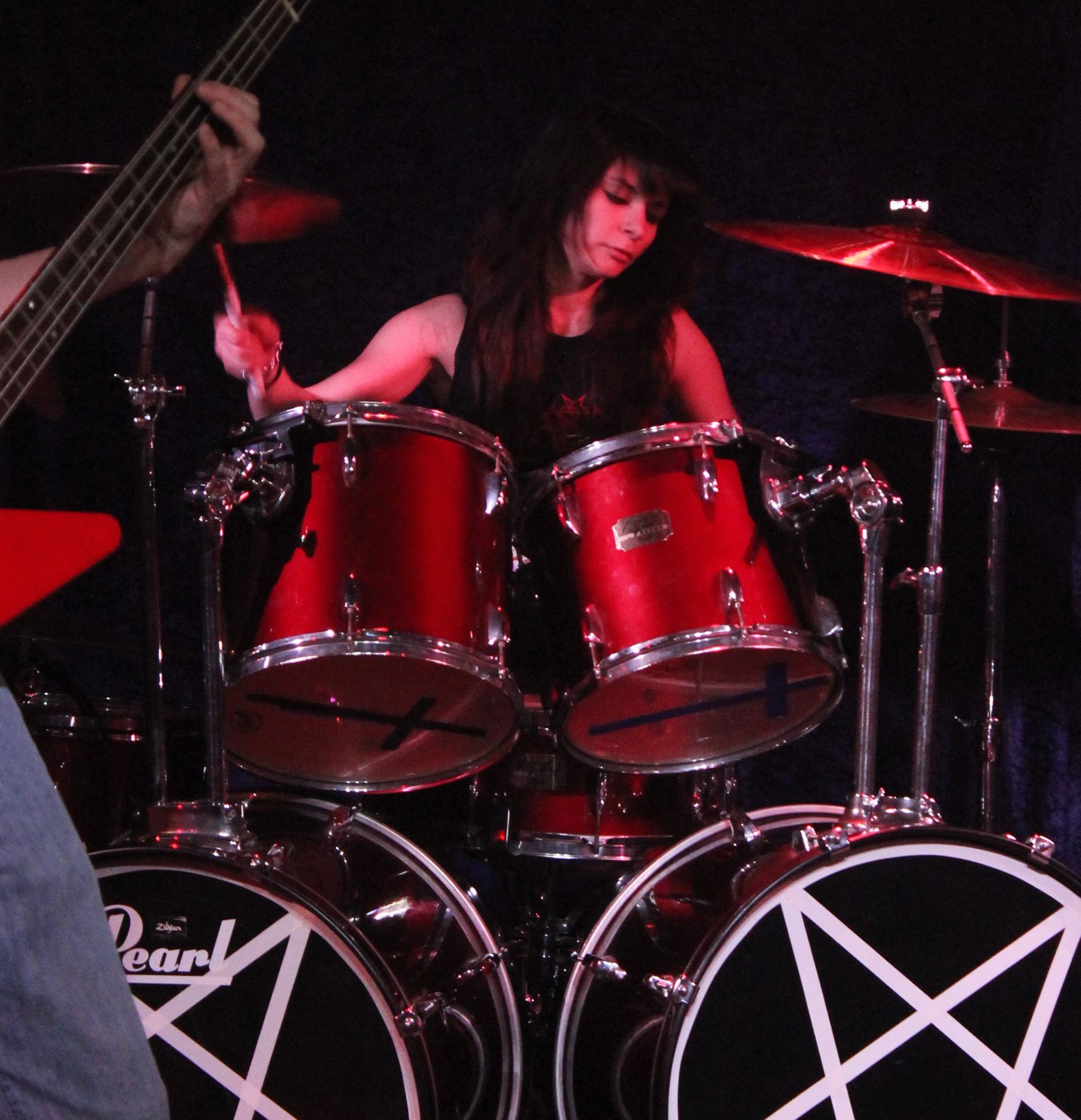 Which attributes, do you think, that a new Heavy Metal Band should have in order to gain identity and be unique?
Great songwriting! You can have the greatest sounding album, recorded at some big fancy studio, but if the songs are terrible... I would rather listen to a badly recorded song that was written well than a bad song recorded well. And don't try to force a sound to be like another band. Do your own thing and make your own sound.
Do you believe that Bandcamp and other Digital Platforms help the new Heavy Metal Bands? Which, do you think, is the ideal way for a Band to promote its work?
Yes, definitely. Bandcamp has been great and supportive of all small bands in all genres. Spotify, not so much. Being able to share your music and sell merch all in one place has been great for us and for many bands in our scene. I wish the big social media sites cared about bands as much as Bandcamp did. In order to promote yourself on social media, you have to post constantly and it seems they still try to keep your followers from seeing any of them unless you pay to promote it. But offline, just try to play out as much as possible and get the word of mouth going. I still think that is the strongest way to promote your band. Actually get people talking about you and spreading the word.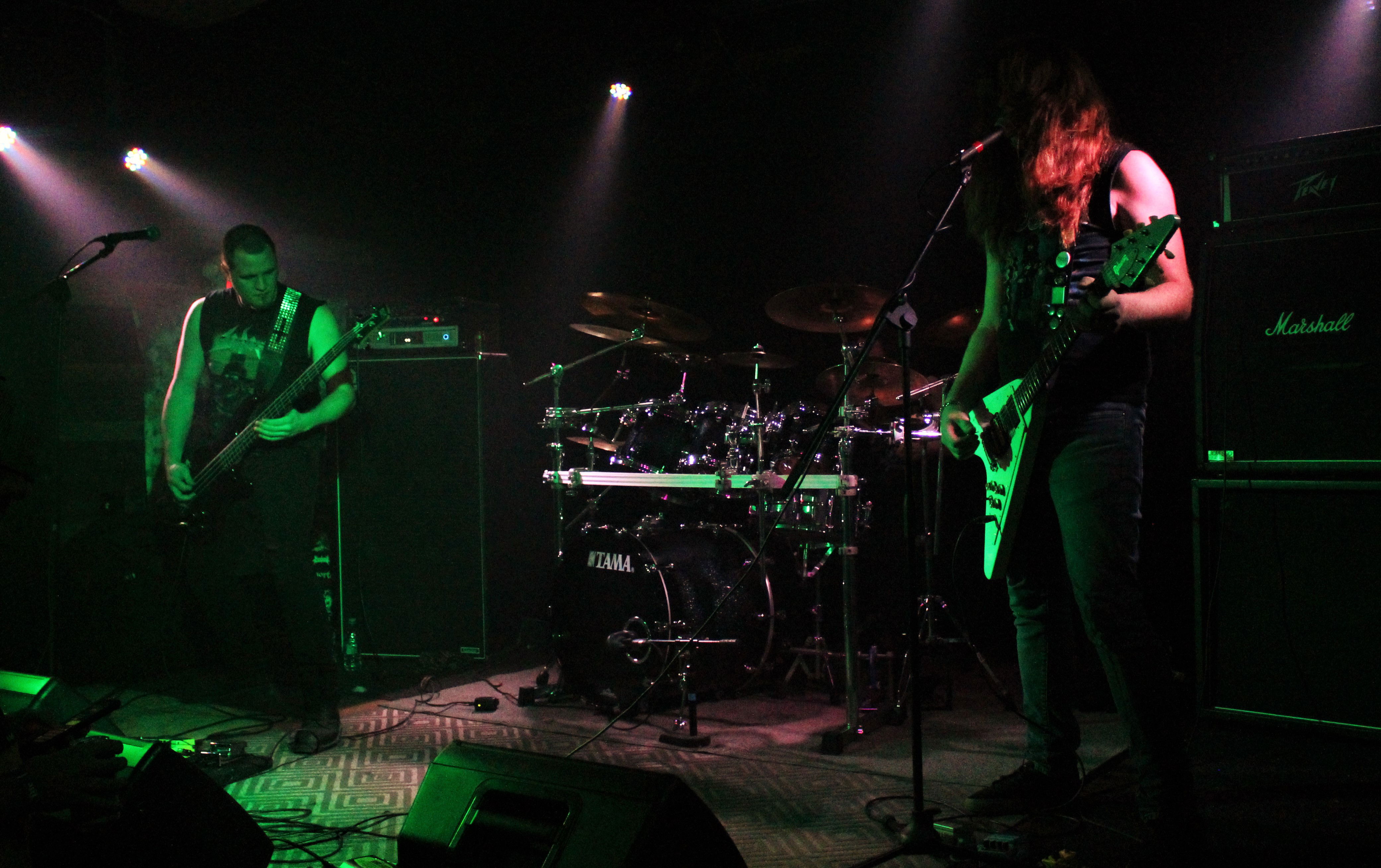 Tell us a few things about the New Underground Metal Scene in Caneyville, Kentucky, USA (Bands, Fanzines, Webzines, Metal Clubs etc.)
The Metal scene of Caneyville, KY, USA is Blood Curse. Haha. We live in a very small town of about 700 people. But we live between 3 major cities and not too far from Nashville, Tennessee. So we have to drive at least 30 miles to play a gig. As far and Metal Clubs go, they are non existent around here. Most venues are multi-genre or Country/Bluegrass based around here. We do play at a yearly house party our friend organizes in Caneyville and we have friends from all over the country come out and raise hell with us. Shout out the the Mississippi Crew! My wife Olivia, our drummer, used to do a fanzine called "Thrashdance," but hasn't done anything with that for a couple years now. She is working on a new one with the help of me and a few of our friends that should hopefully be out this summer called "Charnel House Zine."
Do you know anything about the Hellenic Metal Scene?
There are a lot of good bands out of Greece! I like a lot of the Death Metal bands like Nightfall and Horrified from the 90's, but it's been a while since I've really checked out any of the newer Greek bands.
What are your future plans?
We are finishing up our second full length album and are going to show it to a few labels to see if they want to help us release it, if not we will do it ourselves on Witch Pyre Records and try to have it out this Summer or early Autumn. We have a few shows in the works and are hoping they don't get cancelled, but we are starting to get back to normality here in the States, so I think we will get to play again soon!
Thank you very much for your time & Keep up the good work! The closure is yours.
Thank you for the support and for the interview! It's always fun to talk about Metal! If anyone hasn't heard us yet, go listen to "Winter's Dream" and "Sorceress," and let us know what you think!
Photo Credit: "The Great Metal Debate"
By Steve the Filthy Dog.
BLOOD CURSE CONTACT:
https://www.facebook.com/youvebeencursed/
https://bloodcurse.bandcamp.com/
https://www.instagram.com/bloodcurseofficial/