!!!HEAVY METAL FROM POLAND!!!
Welcome to the FILTHY DOGS OF METAL webzine.
Jarek: Hello! I'm glad you invited us, we'll be able to complain a bit :-)
Bartek: Hail!
Piotr: Hi, thank you for inviting us.
Tell us a few things about BLADESTORM (Members, Starting Year etc).
Jarek: Before BLADESTORM was created, we played Heavy Metal covers for a long time, just for our own pleasure. We had rehearsals regularly, every week, sometimes with a lot of alcohol haha :-) After a few years we wanted to play some concerts ... and so in the spring of 2019 BLADESTORM was created: Bartek vocal, Jarek guitar, Kacper bass and Robert on drums. We started making our own compositions. Unfortunately, in 2020, Robert (RIP) had to leave the team because of health issues. In his place, behind the drums, sat Piotrek – an old friend of mine. We all have a musical background and experiences from other bands. In this line-up, in the spring of 2021 we recorded the EP "Storm Of Blades". We play regular rehearsals and concerts. This is a good squad :-) It's OK!
You have recently released your EP ''Storm of Blades''. What is the feedback from your audience as well as from the press?
Piotr: We had three songs ready and then we came up with the idea to release an EP, we added one more cover of "Judas Priest". The material was recorded in the spring of 2021. In the fall of 2021, it was released and the promotion began.
Jarek: The publisher of "Storm Of Blades" is Thrashing Madness. The album was released on October 31, 2021. We recorded the material for the album in the Soundscope Recording Studio. The album contains three of our tracks and one cover of Judas Priest's "Jawbreaker" - this is the sentiment for playing covers :-) It is kept in the atmosphere of Speed Metal and, as the listeners say, in an old school style. In the box, apart from the CD, there is also a booklet with photos and other content. A review was recently published in one of the Fanzines with a final grade of 7/10. It's probably not bad :-)? This is best seen at concerts where people enjoy our music. We are very pleased with both the album and the audience's feedback.
Bartek: Very positive so far. Not Elvis level of enthusiasm but still good.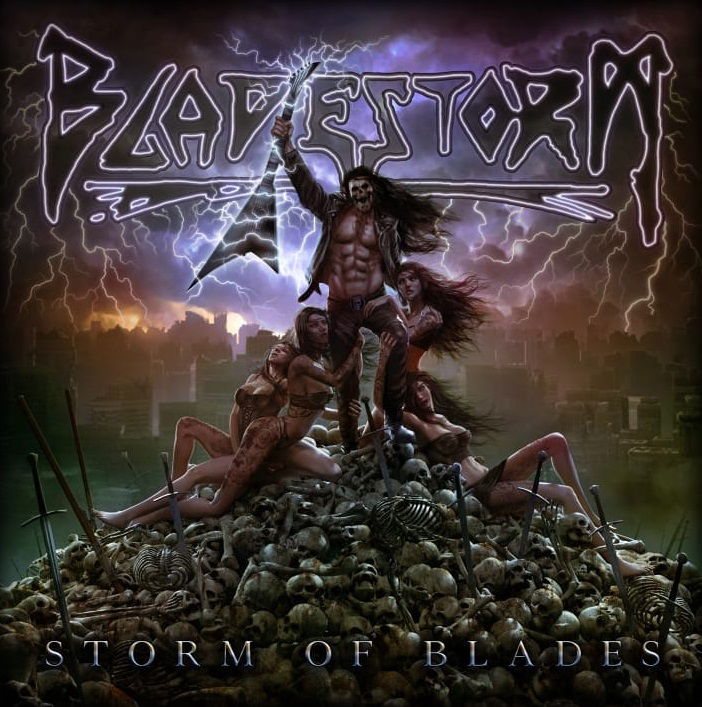 Label or DIY and why?
Jarek: Definitely we go with the Label. Especially that our publisher share the passion for Heavy Metal. We can honestly recommend Trashing Madness to any Heavy metal band!
Do you prefer Vinyl, Tape, CD or Digital Format and why is that?
Jarek: Hmm, I never collected vinyls, my parents used to have vinyls, that's how my adventure with music began. I am from the generation that grew up on music from cassette tapes, later CDs came out. I like to have a CD in my hands, while listening to music, I see the cover, photos, a booklet, and read what is contained in it. In addition to music, it is a good form of conveying what the band wants to share with us. In today's Internet age, however, it is impossible to function without this form of communication. There is so much of everything on the web that it is very difficult to stand out. Certainly, the great advantage of the Internet is the possibility to present yourself to the whole world. However, I am a supporter of CDs: player + good speakers. I would also be very happy if BLADESTORM album was ever released on vinyl or cassette tape!
Bartek: I prefer CD's … because of its quality … I don't have any sentiment of old 😊
Piotr: Any form of release is good. It depends on recipient, some prefer vinyl, others CD or digital. I rather prefer CDs, but I would also like to release vinyl's because its renaissance.
Your music style is Heavy Metal. Which are your main influences (Favourite Artists / Bands etc.)
Jarek: I grew up on Heavy Metal and Punk Rock. My favorite bands are today's cult bands such as Iron Maiden, Judas Priest, Saxon, Over Kill, Destruction, Exploited, GBH and Discharge. These are the musical vibes I have in my blood. I listened to it then, I listen to it now and I will listen to it in the future. You probably hear it somewhere in our work, it cannot be avoided. Fortunately, everyone at BLADESTORM has similar tastes.
Bartek: Metal classics: Iron Maiden, Judas Priest, Manowar… few polish bands like Turbo, TSA or Kat. Nothing special, I guess.
Piotr: EP Bladestorm is typical Heavy Metal, my musical inspirations are very diverse. Starting from traditional Metal, through Black Metal, Speed Metal, Punk. I can find something for myself in every genre, I'm not limited to just one kind of music.
Which things, do you think, a Band should sacrifice in order to succeed? Have you ever sacrificed anything in your life for a better future of your Band?
Jarek: Success ?! OK, what do you call success? A great scene? Concerts at stadiums? Recognition? Money? Sure I'd like to play concerts on the big stage, but few are lucky enough to get it. I am happy with what I have. I have friends with whom I have a good time, we have fun playing music. When the audience is enjoying our concert, I am happy. This is my success.
Bartek: You need to sell your soul to rock'n'roll :D … by the way … never do that … liver has its limits.
Piotr: Do you have to sacrifice something to be successful? I think that if we are to be successful, we can achieve it without much sacrifice. In a way, we've already achieved success because we recorded and released an EP. We continue to work for the next successes, have fun with music and compose further material for the LP. If we record the full material and release it, we will also achieve success. Each achievement of the goal can be considered a success.
Describe your ideal live show as a performance Band. Have you already experienced that?
Jarek: A perfect live performance? For me, the perfect concert is one with a full hall of people enjoying our music. If the audience perceives your work and shows it with positive emotions, this is the perfect concert. If you can hear the crowd singing alongside you in front of the stage, this is the perfect concert! This is what we want to experience!
Bartek: Perfect gig? Not yet … I'm a very nagging asshole … there is never enough for me 😊
Piotr: You never know when the perfect show is because the next one might be better. Only in retrospect can it be judged which was the best. I don't think there has ever been such a thing so far. The best one is yet to come ha, ha, ha.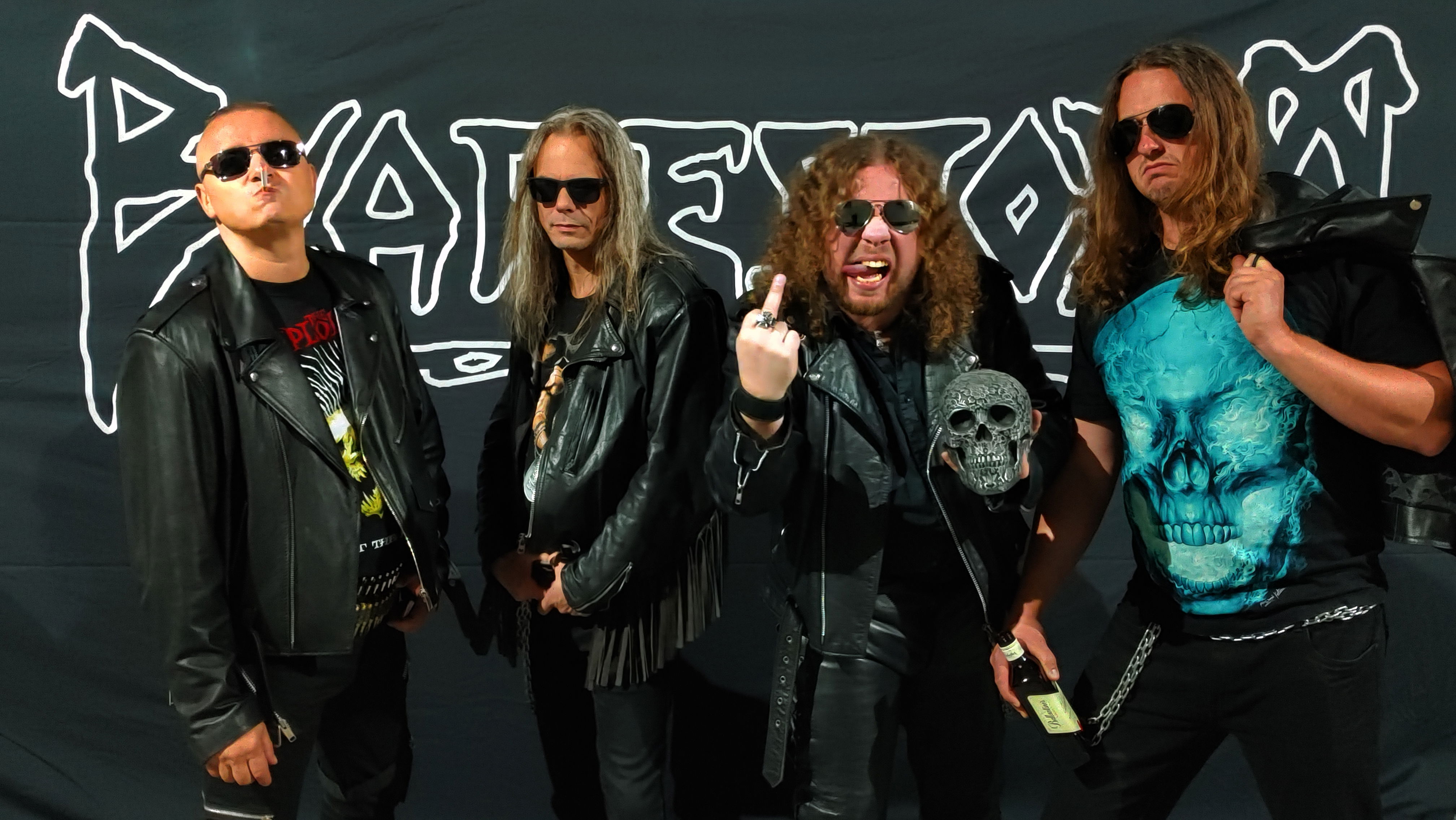 Which attributes, do you think, that a new Heavy Metal Band should have in order to gain identity and be unique?
Jarek: It is difficult to be special these days. Exceptional bands were founded a lot of years ago and continue to play today. With all due respect, I don't know if any of today's new bands will survive for several decades, all the time playing actively on stage. These are unique bands regardless of the genre of music they create.
Bartek: Short hair, white clothes and sandals would be pretty unique but I don't think it is that important … I think, what this is all about, is to kick ass as hard as you can and have them come back for more.
Piotr: Hard to say. The band must have this "something".
Do you believe that Digital Platforms help the new Heavy Metal Bands? Which, do you think, is the ideal way for a Band to promote its work?
Jarek: To some extent I think they do. However, I think that the best promotion for the band is good concerts and good manager. Without it, we can only click on the computer and enjoy plays and likes.
Bartek: I believe they do. You can be heard by people all around the world. Nothing to complain.
Piotr: As mentioned before, any kind of release is good. When it comes to digital platforms, this is a good way to share your work. Mostly young people visit it and listen randomly, if they like a song, there is a fair good chance that they will listen to the whole thing.
Tell us a few things about the New Underground Metal Scene in Poland (Bands, Fanzines, Webzines, Metal Clubs etc.)
Jarek: There are many bands on the Polish Heavy Metal scene and in the underground, lots! They play a whole range of Heavy Metal varieties and are at a very high level! We have nothing to be ashamed of on the international arena :-) There are many thematic Zines and in every big Polish city, and probably in most small towns, there are also clubs where you can organize a concert.
Bartek: A lot of good bands, a lot of nice places to play … army of metalheads ready to get crazy to the sound of metal. If you are looking for some good bands from Poland (not mainstream) just check out Roadhog or Axe Crazy … they kick ass on apocalyptic level.
Piotr: The Metal Stage in Poland is doing very well, the new and the old. It is worse with the promotion of these bands, especially abroad.
Do you know anything about the Hellenic metal scene?
Jarek: Well … fuck, I don't know anything :-) but I'd like to meet you! We would be happy to come and play a few gigs, stay up all night and have fun!
Bartek: Sacral Rage comes to my mind … nice band.
Piotr: If the Greek Zorba is Heavy Metal, I know ha, ha, ha, unfortunately I haven't heard the rest. But I'd like to meet you.
What are your future plans?
Jarek: Concerts, concerts, concerts and fun until the morning :-) Contact with the audience always gives the most emotions! Well, maybe I'll buy a guitar :-)
Bartek: LP and gigs (the bigger the better)
Piotr: Record an LP and go on tour promoting the material. And this will be another success that we will achieve, which I mentioned earlier.
Thank you very much for your time & Keep up the good work! The closure is yours.
Jarek: The pleasure is mine! Thank you for inviting us, I'm glad we could talk. I hope to see you at the concerts soon! Take care and see you! 666
Piotr: Thank you for inviting us. I hope we will gain few fans in Greece after this interview.
Bartek: Thanks a lot. See you in hell!
By Steve the Filthy Dog.
BLADESTORM CONTACT:
https://www.facebook.com/bladestormband/
https://www.youtube.com/channel/UCY2yZbRjV0x7JDLuQRNAhsg