!!!US HARD N' HEAVY!!!
We had a conversation with Max (Vocals). Enjoy!
Welcome to the FILTHY DOGS OF METAL Webzine.

1. Tell us a few things about BERETTA (Members, Starting Year etc).

Beretta is an amalgamation of several Northwest American bands - current and former members of Slutvomit, Blood of Kings, Substratum, Sword of Judgment, Fever.
I was invited into the fold in 2018 on vocals but Myles, Chad, and Rick Jelsing had been working on this material for some time. They asked me to give it a shot
since I had all the same influences in mind -late 70s, early 80s style rock n roll with bits of NWOBHM; the result is a very metallic record but one that never strays
far from the loose and sleazy, high-gain rock of those eras.

2. You have recently released your demo cassette ''Beretta''. How many copies were pressed? & what is the Feedback from your audience as well as from the Press?

Reviews are just starting to roll in but the couple I've seen are positive. We pressed 100 copies on cassette since the format is experiencing a renaissance of sorts.
Tapes allow a band to hand people a cool, DIY style product at shows at very low costs to the band. Up until recently the lead times for cassettes were almost non-existent.
They've only recently begun to take 1-2 months. Compare that with the painful vinyl pressing leadtimes (Substratum's 10" vinyl split with Skelator took over a year) and it's no contest.

The tapes are available on bandcamp or at shows. We've recently sent some to Caligari Records distro. We're working on a euro distro, since our US postal rates are so outrageous.
This hasn't stopped people from ordering in Europe, mind you, for which we are very thankful and flattered.

3. Label or DIY and why?

We did it ourselves through Cryptic Carousel, who are tremendous to work with if you're an independent artist of any genre. Thanks to Corey at CC for his help and constant communication.
Couldn't recommend them enough for artists who are stateside or in the Canada.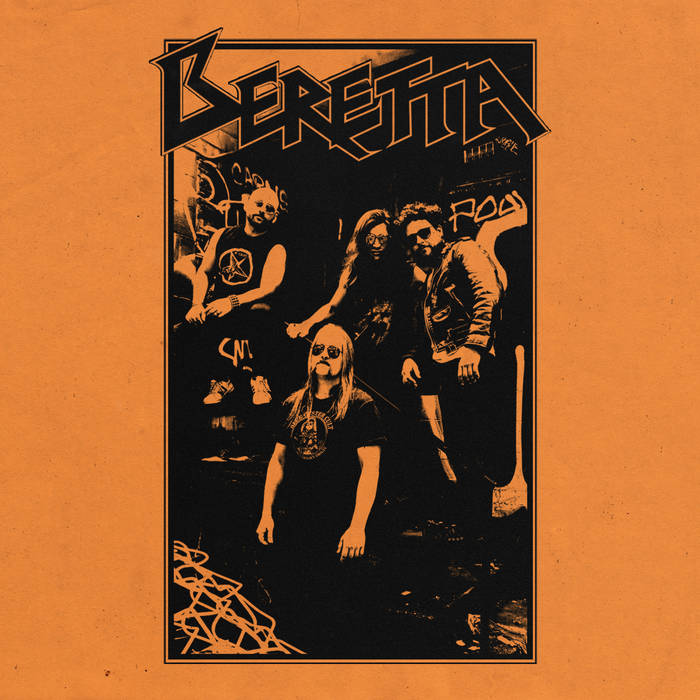 4. Your music style is powerful Hard 'n' Heavy. So, which are your main influences (Favourite Artists / Bands etc.)?

Van Halen, Jake E Lee-era Ozzy, The Cult, Diamond Head, Tank, Tygers of Pan Tang, 80s Rainbow, even older stuff like ZZ Top, Rory Gallagher, Pat Travers. I'm also into a lot of darker 80s stuff like Skeletal Family, Nosferatu (UK)
Witching Hour (UK), Fields of the Nephilim, Ian Astbury's voice from the aformentioned Cult but mostly this is a lyrical thing, as well as an influence on vocal delivery.

5. Do you prefer Vinyl, Tape, CD or Digital Format and why is that?

I'm personally a big cassette collector. I love the homage to the days of tape trading. It's a much more genuine, less pretentious way of exchanging albums and ideas with people.
The web is a great resource by which so many unsung bands have gotten their long overdue credit but it's insulated people from one another. Tapes are also pretty high quality these days.
So, the delta of sound quality between tapes and Mp3s is not nearly as pronounced as some "audiophiles" would have you believe. I've also found those curmudgeons tend to like overproduced music.

Naturally, compression, triggers, drum samples, even slight autotune - none of this our thing. The EP was recorded live on 2" reel-to-reel tape with vocal and lead guitar overdubs; the drums sound spacious and warm,
the guitar tone is totally unhinged and we couldn't be happier with it as a first effort.
The ethos is very much "analog or die", with very few exceptions; so, tape is only natural.

That said, we're all big vinyl collectors and we hope to have the EP on wax eventually, assuming there is interest from a label in putting it out.

6. Do you believe that Bandcamp and other Digital Platforms help the new Heavy Metal Bands? Which, do you think, is the ideal way for a Band to promote its work?

Bandcamp takes a cut but it connects those of us who play more niche styles of music to exactly the people who matter - those that buy music and pay cover at gigs. Streaming is a great resource
if only because of the sheer volume of music that's out nowadays; you simply cannot buy it all. However, Bandcamp gives artists control and I think it's always good to cut the corporate intermediatries out
as much as possible.

I obviously pay for Spotify as well as purchasing music on Bandcamp, but the latter is more important to independent music. When I say that it's important for niche artists, I'm talking about the inescapable
fact that trying to appeal to the general public with stuff that sounds like Van Halen in 2020 is sort of a waste of time, at least statside. Bandcamp will help you find the right demographic. Europe might be
a different monster as I see lots of classic sounding rock bands hitting the charts in many countries.

7. Which attributes, do you think, that a new Heavy Metal Band should have in order to gain identity and be unique?

Our main goal with this project was to do something different. The traditional heavy metal revival has produced a legion of bands since Canda and Sweden exploded with all those bands in the mid 2000s.
Yet, what would be the point in doing another sword and sorcery band when you have Gatekeeper and Visigoth already doing it really well? The festivals you have in Europe are fantastic but they are stacked
with these bands. Our hope was to make something with a different vibe altogether, one that gives us more freedom in the studio to keep it sounding warm, loose, and natural.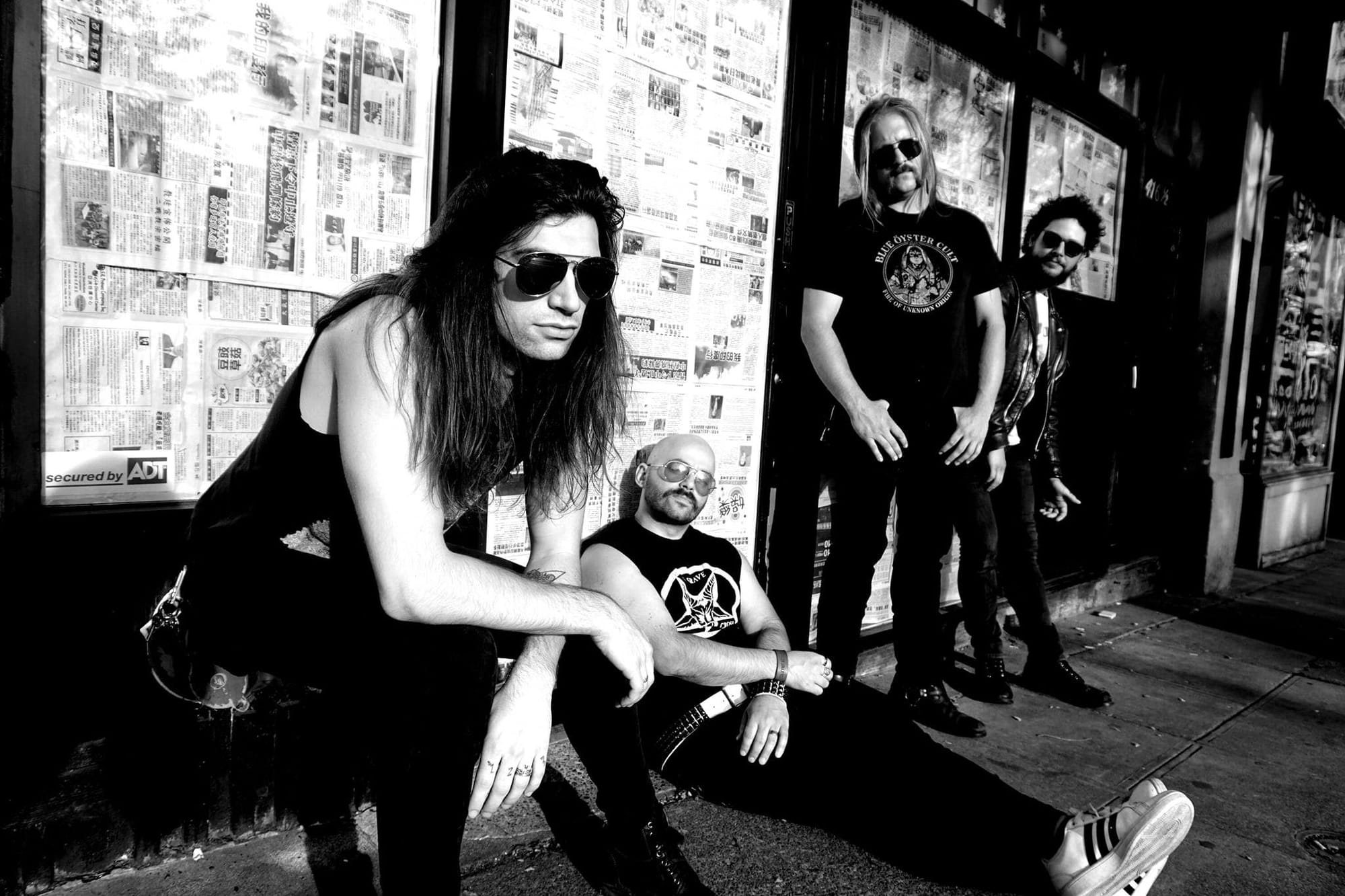 8. Describe your ideal live show as a performance Band. Have you already experienced that?

My personal goal would be to play in Sweden and Japan. I love what Muskelrock has become and I've been a pretty big proponent of classic Japanese 80s metal. Our first show was at a small punk rock bar locally and it was packed.
I guess you could say it's better to play to 50 people whose energy you can feed off of, rather than several hundred who simply stand around.

9.. Do you know anything from the Hellenic Heavy Metal Scene?

I think we were and are still fans of the early material from Rotting Christ, Varathron, Necromantia. This might be a passe kind of answer but that stuff was inescapable when we were exploring metal in
our teens. Those early albums still hold up so well. I've been following Nocternity for some time and love their style. As far as contemporary traditional heavy metal or rock bands, I have to say I'm
perhaps a bit ignorant. When I watch the lineups of festivals like Up The Hammers, I see that it's compiled entirely of non-Greek bands. It would be great to play in Greece and discover some likeminded bands
of which I might not be aware.

10. What are your Future plans?

A new released and some shows! At least one festival, hopefully two.

We'll be appearing at Legions of Metal in Chicago, IL alongside Exciter, Throne of Iron, Tower for New York, Midas from Detriot, who are an excellent new band, and many other that have yet to be announced. We're tentatively
looking towards a West Coast US Tour sometime in 2020, so long as that fits with the members' other obligation. Of course, Europe is a goal of ours as well and we would love to do that as soon as we can
but we'll have some new material released next year and that'll likely come first. Naturally, some label support would be great and we're actively looking for that. There's a lot of music coming out but it's
our hope that some nasty, unhinged rock n' roll might help set us apart.

11. Thank you very much for your time & Keep up the good work! The closure is yours.

No, thank you! We hope to see you all in Greece sooner rather than later! Thanks for everything you do.

By Steve the Filthy Dog.

Photo credit is Keelin Coyle.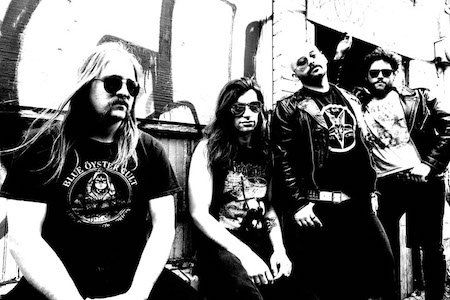 BERETTA CONTACT:
https://www.facebook.com/rockberetta/
https://rockberetta.bandcamp.com/releases