!!!PROG MELODIC METAL FROM NETHERLANDS!!!
We had a conversation with Gert & Bryan. Enjoy!
Welcome to the FILTHY DOGS OF METAL Webzine.
Thanks for the invite!
Tell us a few things about AUGUST LIFE (Members, Starting Year etc).
Gert: Bryan (Ketelaars) and I started AUGUST LIFE initially as a project. However, after recording NEW ETERNITY, our debut album 2018 with guest members from, amongst others, EPICA, AYREON and produced by Jack Nobelen (HORIZON), we found the material was just too good to not bring AUGUST LIFE live on stage. Hans (in 't Zandt - Praying Mantis, Vengeance, Mad Max) was the obvious choice on drums and on bass we have Ronald Pieterse (Disquiet, Divine Rebellion) as core members in the live band.
Bryan: I saw Gert performing with Highway Chile; he was the lead guitar player and I was impressed by his performance. After the gig Highway Chile's singer told Gert that we both live in the same city of Breda. Later when I was invited at Gert's place for a party, he told me he had some nice riffs and ideas for some songs. When I heard those tunes, I immediately had ideas for vocal lines; New Eternity, Draw the Line and Coming Home were the first results of our collaboration. When we continued writing new songs came in a strong flow. In 2017 we started playing these songs with a couple of local musicians to feel how they would sound in a band setting. We even captured that first rehearsal on video!
After that it went really fast; Gert and I decided to record our songs for our debut album New Eternity and invited guest musicians for the recordings. For instance, Helloise's bass player Marchell Remeeus did his amazing bass work on Turn Back Time:
You have recently released your EP ''The Broken Hourglass''. What is the Feedback from your audience as well as from the Press?
Gert: Feedback from the audience is really FANTASIC…. Even though our loyal fans would love to have had a full length successor for our debut already they can absolutely relate to the fact we choose to release this extra bonus Mini CD first. We notice mostly great reviews on the new song THE BROKEN HOURGLASS as well as the 4 live songs. We particularity get raving feedback on the instrumental version of NEVERMORE performed by Rene Kroon on Piano and Jacqueline Hamelink on cello. The latter makes me extra proud.
Bryan: We have a growing group of loyal fans and got a lot great feedback from them! Personal messages are sent to us and a lot of airplay and interviews on local and national radio stations in our country. Since the release of The Broken Hourglass, we get nice reactions from all over the world, which is great to see!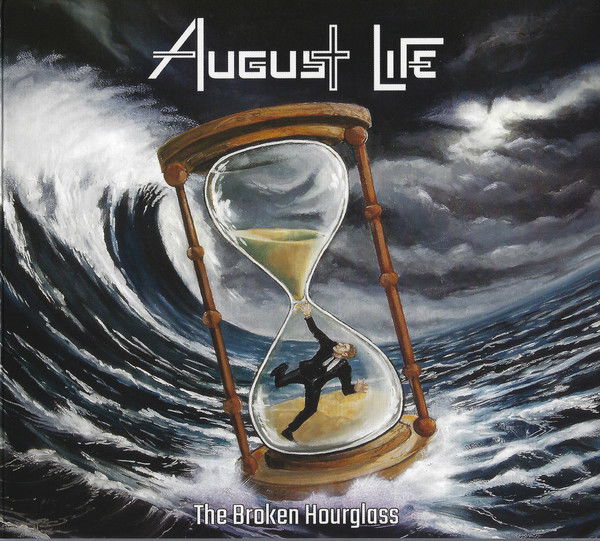 Label or DIY and why?

Gert: We are more than happy to work together very closely with an independent record label called NO DUST RECORDS owned by Henk van Delden. He does a really great job and moreover he is a great guy.
Bryan: Due to COVID all the recordings are done by us in our home studios; the mixing and mastering however are done by Jack Nobelen in his studio in Belgium.
Do you prefer Vinyl, Tape, CD or Digital Format and why is that?

Gert: I personally prefer CD as a collector. On the other hand on vinyl you can really see the art work come to life. The artwork for AUGUST LIFE is painted by Bryan by the way.
Bryan: A CD provides you the total of an album, but on the other hand I like vinyl because of the size of the artwork.
Your music style is Heavy Metal. Which are your main influences (Favourite Artists / Bands etc.)
Gert: Actually, because of our broad music taste, our style tends to vary a lot between (heavy) music styles. THE BROKEN HOURGLASS could be described as a more traditional Heavy Metal song perhaps, but we also write songs that go more into a progressive and sometimes even alternative approach. We are only limited by our imagination. The new full length will absolutely prove that! My personal list of favorite artist would therefor be way too long to elaborate on here but to mention some influences now I would go for DEEP PURPLE, VAN HALEN, RUSH and DREAM THEATER.
Bryan: I'm into Crimson Glory, Savatage, Dio, Pantera and lot's of other other metal bands, but I also like to listen to more progressive acts like Porcupine Tree, Transatlantic or Neal Morse. On the other hand, I like classical music as well; I started playing violin at the age of four. As a vocalist, I love the voices of Freddy Mercury, Ronnie James Dio, Geoff Tate and Jon Oliva a lot!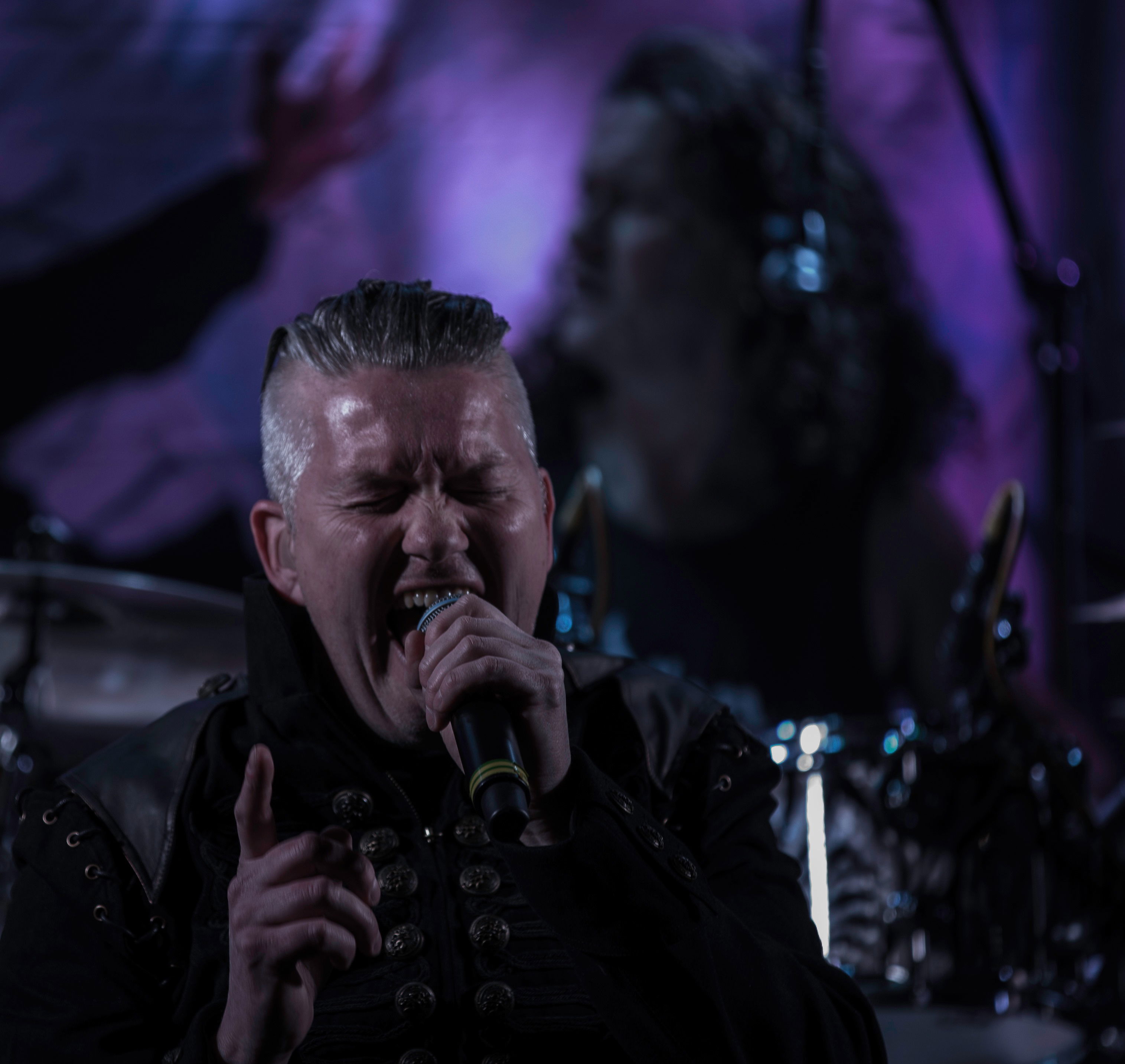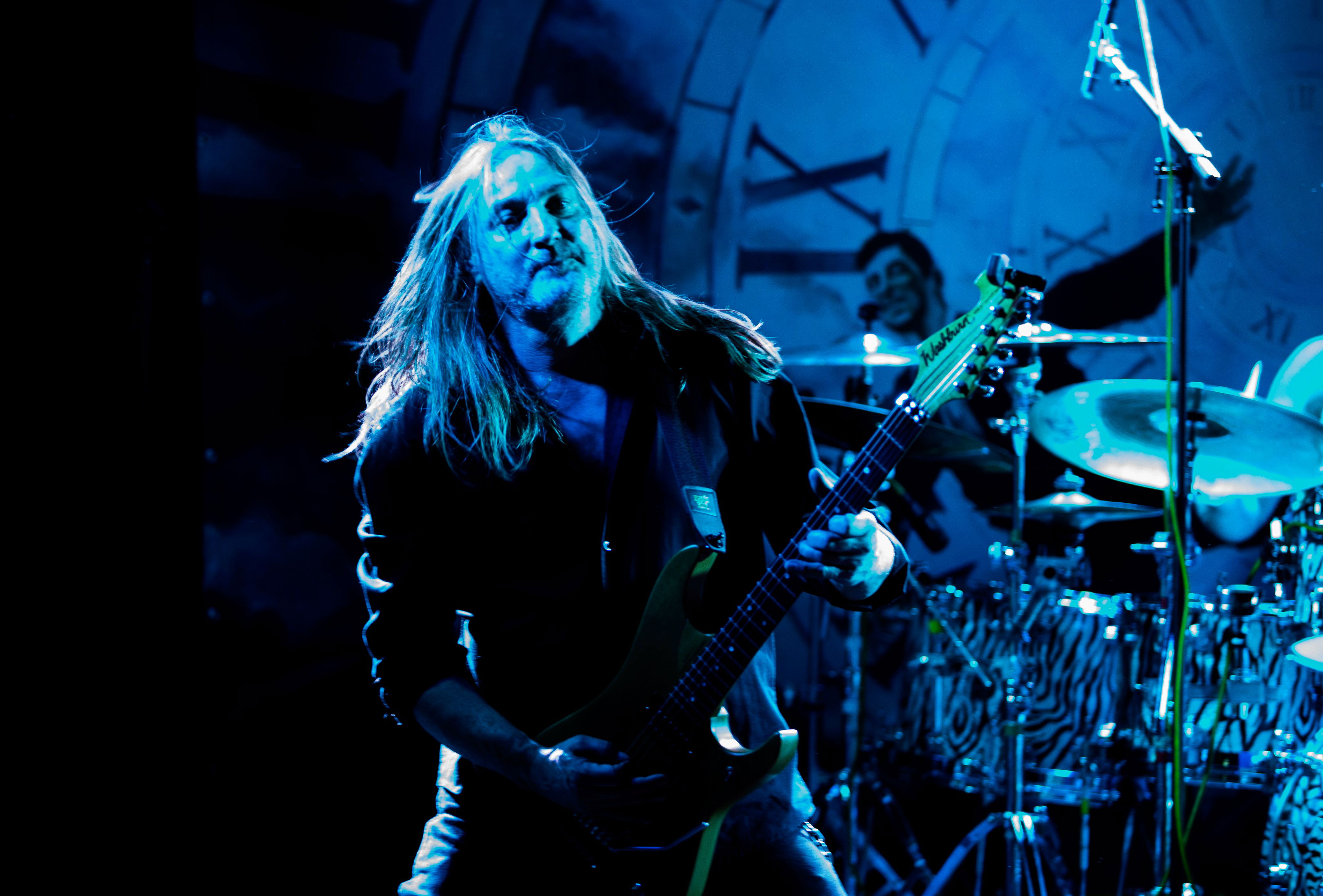 Which things, do you think, a Band should sacrifice in order to succeed? Have you ever sacrificed anything in your life for a better future of your Band?
Gert: I have always sacrificed a regular career, no matter how much money involved, in order to be able to play live and create new music with any band I play or played in. Full dedication can bring you success but there is never a guarantee. I will NEVER sacrifice my integrity. For me the real success is to be ale to create something beautiful over and over again.
Bryan: I'm not sure if I have to sacrifice something; in my life as an artist I have always been in the possibility to make music and art. At some points in life where I made my living as a painter for fairground rides, I was away from home a lot which was no good for love relations! But nowadays I work as an art teacher which gives me enough time to paint and sing!
Describe your ideal live show as a performance Band. Have you already experienced that?
Gert: Big festivals, small clubs, I don't really care actually. The people in the audience having the time of their life, the atmosphere you sometimes feel that everything, everyone kind of melts together as one spirit,THAT is the absolute for me and I am grateful to have had that experience on numerous occasions in my life!
Bryan: August Life has already performed live shows in the Netherlands and Germany in 2019 and 2020 till we were locked down. These shows went really well with great reply from the audiences. As a new group it was much fun to see more and more people in the audience singing the lyrics with us!
Which attributes, do you think, that a new Heavy Metal Band should have in order to gain identity and be unique?
Gert: Be yourself, be true to your art, don't try to compromise in order to gain success too much.
Bryan: As a vocalist you are the owner of an unique sounding instrument. I always try to use different styles of my vocal range. But then again, listeners always try to compare a performance with other acts they know.
Do you believe that Bandcamp and other Digital Platforms help the new Heavy Metal Bands? Which, do you think, is the ideal way for a Band to promote its work?
Gert: I don't believe they are much of an add on to, at least, our music style. You have to be a full time marketing manager yourself to gain some exposure and still the monetizing keeps criminally low. I rather spent my precious time creating new music. I would love to go back to the old days when there were solely LP's / CD's involved. The ideal way to have promotion is that others do it for you so you can concentrate on the music ha ha ha….
Bryan: I don't think Bandcamp would be something for us but may be for starting musicians it would help getting them started. Digital platforms are helpful to spread your music around the globe, but for a band it's hard because there's hardly any income from that. Instead of buying albums or CD's, when your device is cracked, there's nothing left to hold in your hand. So, I prefer vinyl or a CD instead!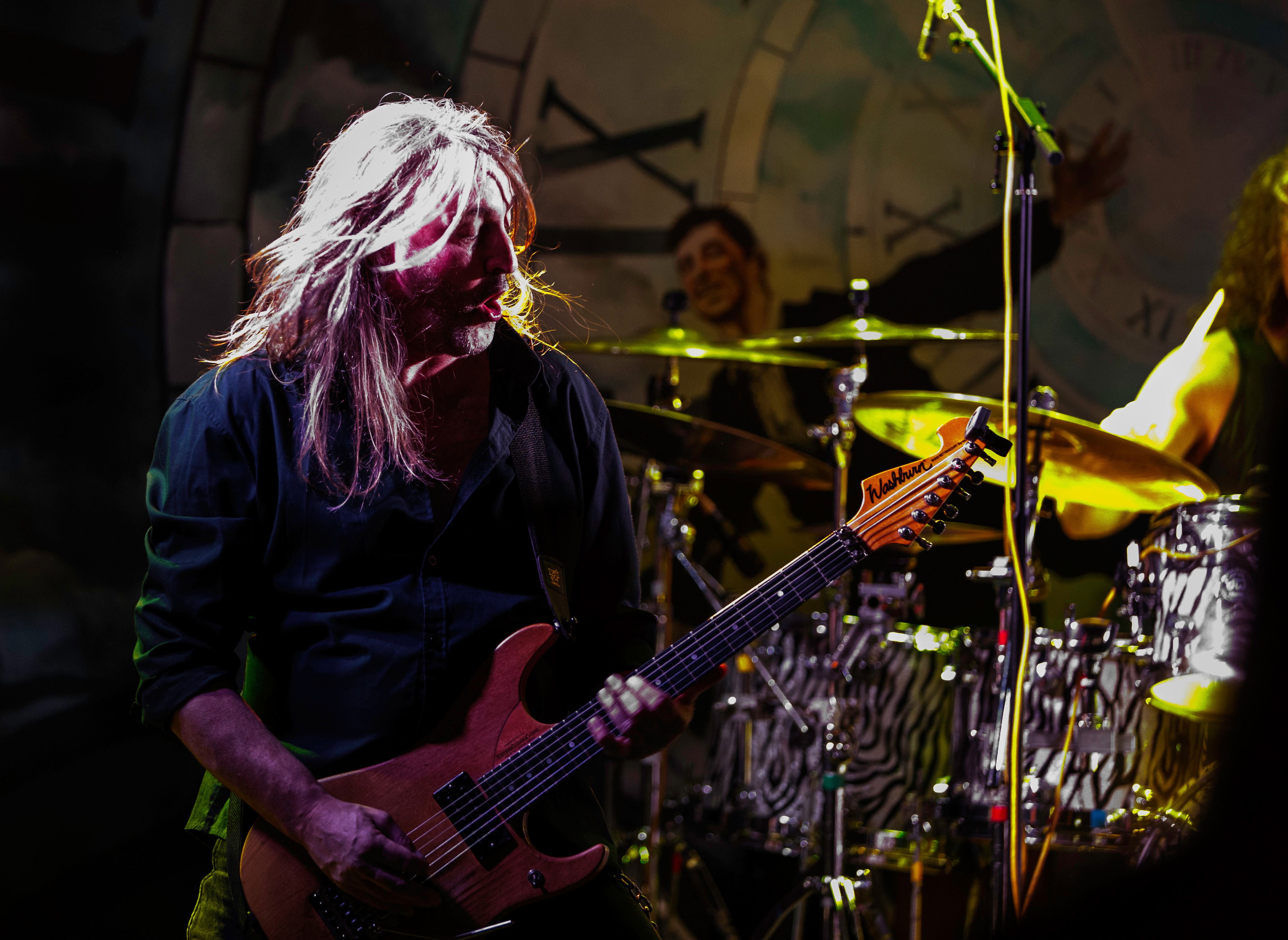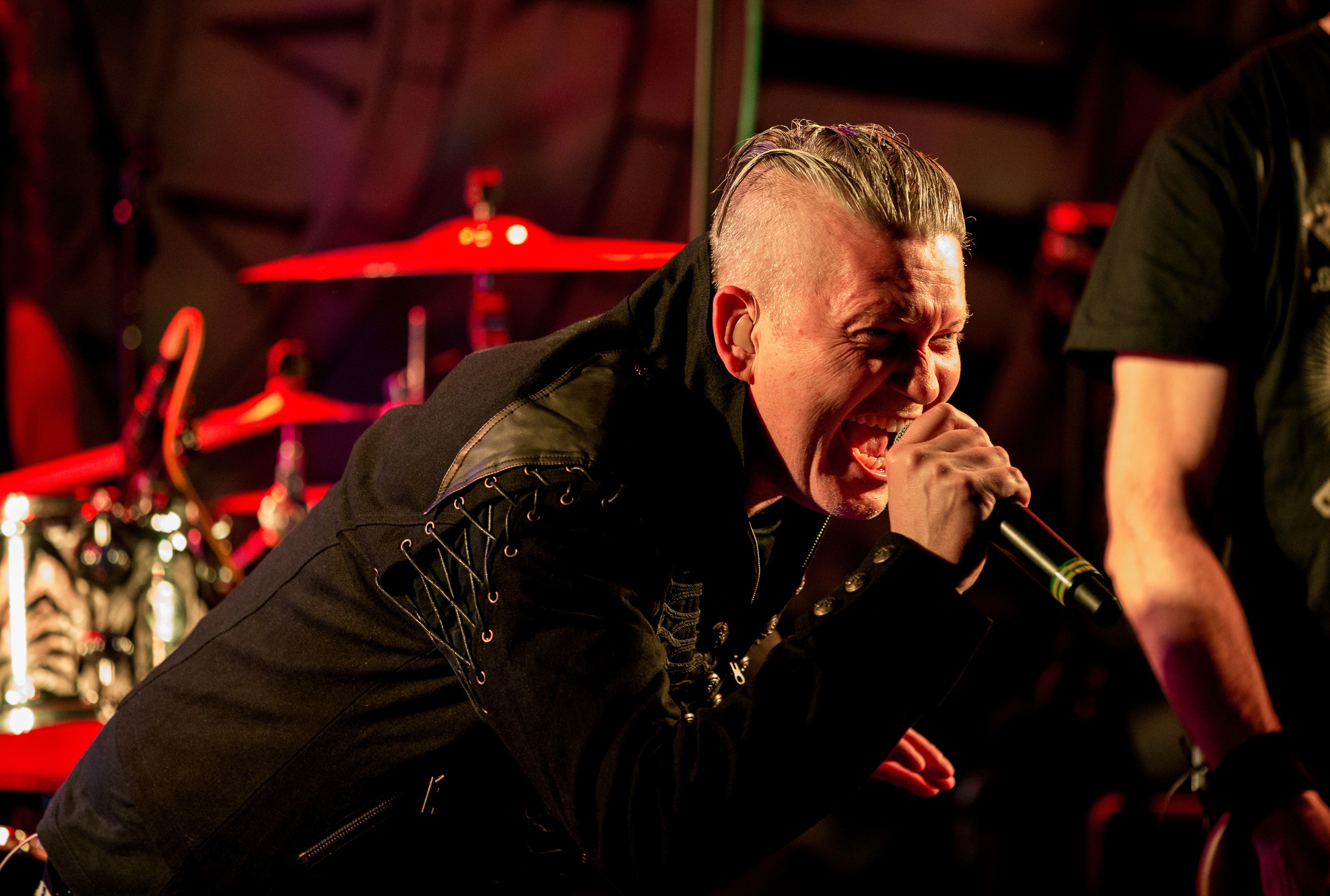 Tell us a few things about the New Underground Metal Scene in Netherlands (Bands, Fanzines, Webzines, Metal Clubs etc.)
Gert: Well, to name some highlight I personally endorse. Our record label NO DUST RECORDS started a fresh new Record store, specialized in Hard Rock and Metal, last year. People from all over the country, and even from abroad, pay a visit to buy lots of Metal classics, rarities, and other great stuff there. Furthermore, here in my home town a new small club called BEL AIR saw the light of day some years ago. They are now in negotiation for a bigger initiative for our and other music styles here. AUGUST LIFE already had the honor of playing in their club together with PRAYING MANTIS and TYGERS OF PAN TANG. Last but not least, not new but, I would like to mention BAROEG, a venue dedicated to Metal located in Rotterdam, celebrating 30 years of existence this year. They keep going on, strong against the tides, never giving up on Metal.
Bryan: Born in Oss, a town in de east southern part of the Netherlands all our friends played in bands Like Messina, Deafen, Armageddon and the Gathering. A lot of all my old friends are still playing nowadays. Another nice venue in our city Breda is Sounddog, started by a good friend of ours, it has a stage and rehearsal rooms.
Do you know anything about the Hellenic Metal Scene?
Gert: Even though I absolute love Greece, as my number one holiday country ever, not too much I must confess. I visited Alone Records in Thessaloniki in 2019 and left some AUGUST LIFE goodies there so I had the honor to meet the great people there. We were to play some shows there but corona came in unfortunately. Furthermore I know the band Crystal Tears, also from Thessaloniki, because a singer I worked with for years in a cover-band sang on their second album. That's about it. Oh yeah of course I know the brilliant Hellenic guitar Player Gus G. :)
Bryan: Not too much I'm afraid! I really would like to travel to your beautiful country once! (But I love the food from Greece!)
What are your future plans?
Gert: To make to best music possible, to reach as many people as possible with it, as long as I possible can!
Bryan: At the moment we're working on the new material, I'm also working on the artwork for our new album! And hopefully the lock-down will soon be something of the past! We want to hit the road again!
Thank you very much for your time & Keep up the good work! The closure is yours.
Gert: I would love to come to Greece and play our music for you guys an galls. I recon you to be one of the best audience, if not, the best audiences around! Long life Rock 'n Roll!
Bryan: What Gert says, I would really love to visit your country and let your people be part of an August Life live show! Yeaaaah! Thank you for the nice interview!
By Steve the Filthy Dog.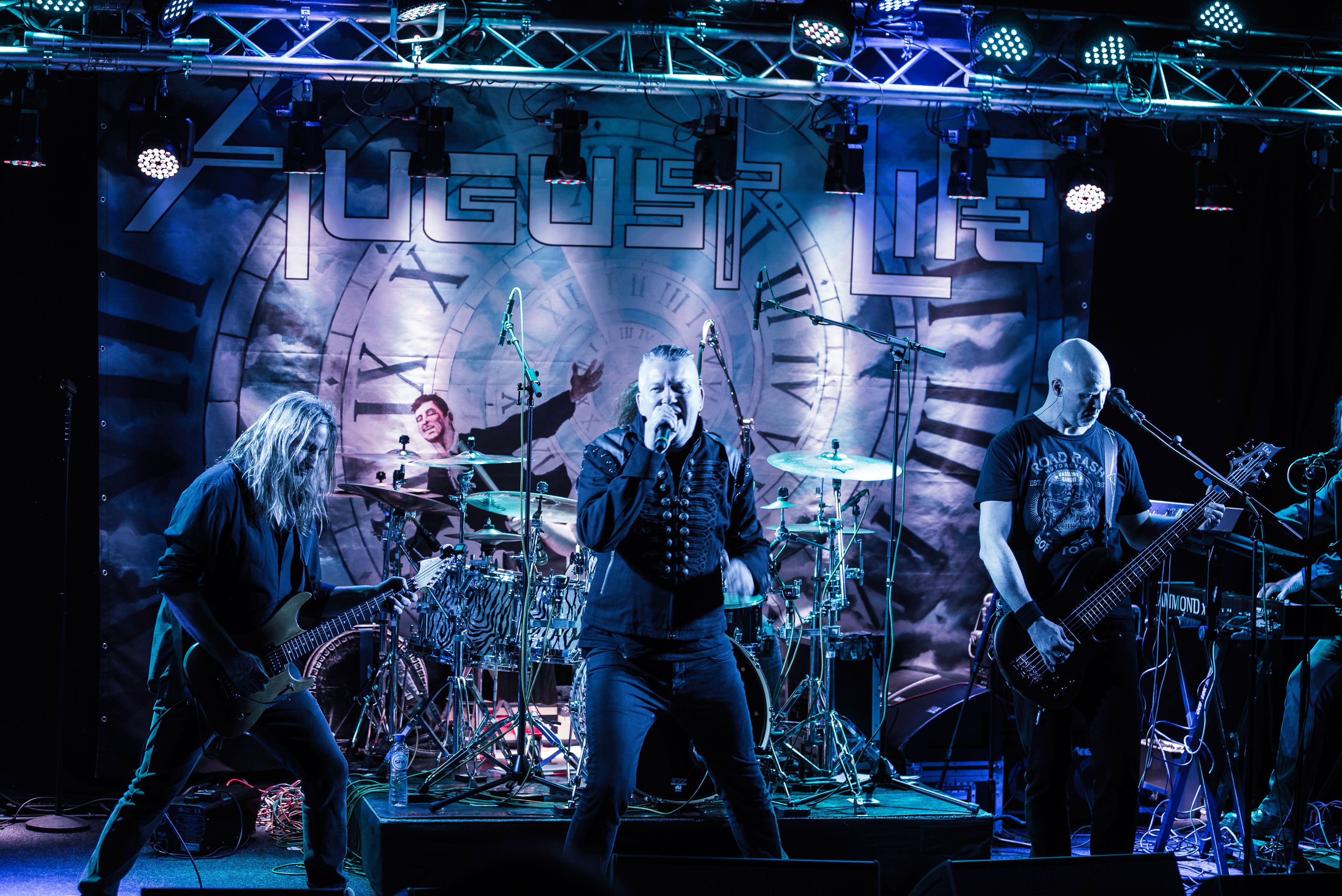 AUGUST LIFE CONTACT:
https://www.facebook.com/augustlifeband/
https://www.deezer.com/es/artist/50034892?autoplay=true
https://ahrendee.github.io/august-life/#/home
https://www.instagram.com/august_life_band/
https://open.spotify.com/artist/0VlP6X9sqgRkcu2slf2HVk